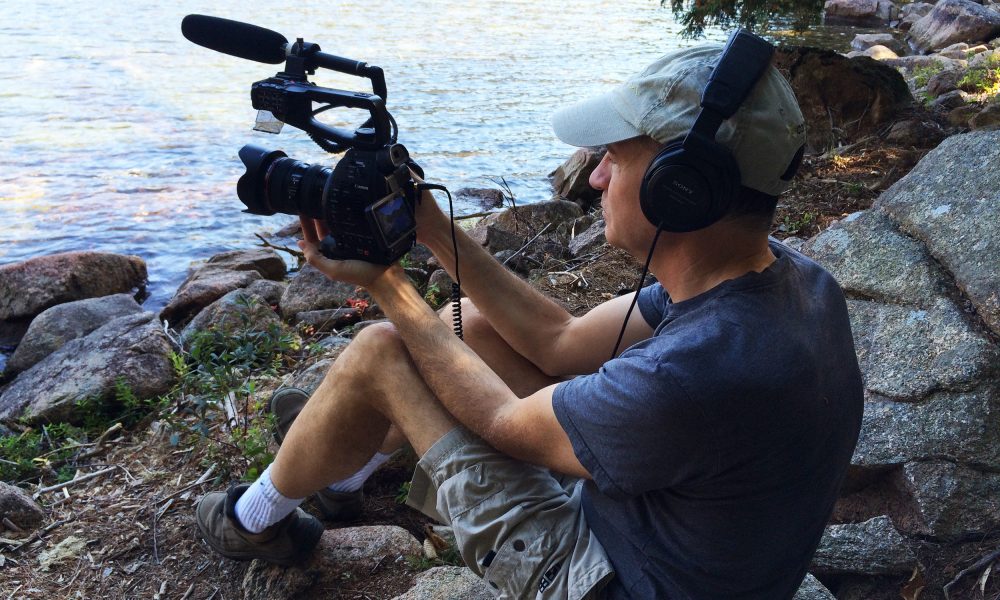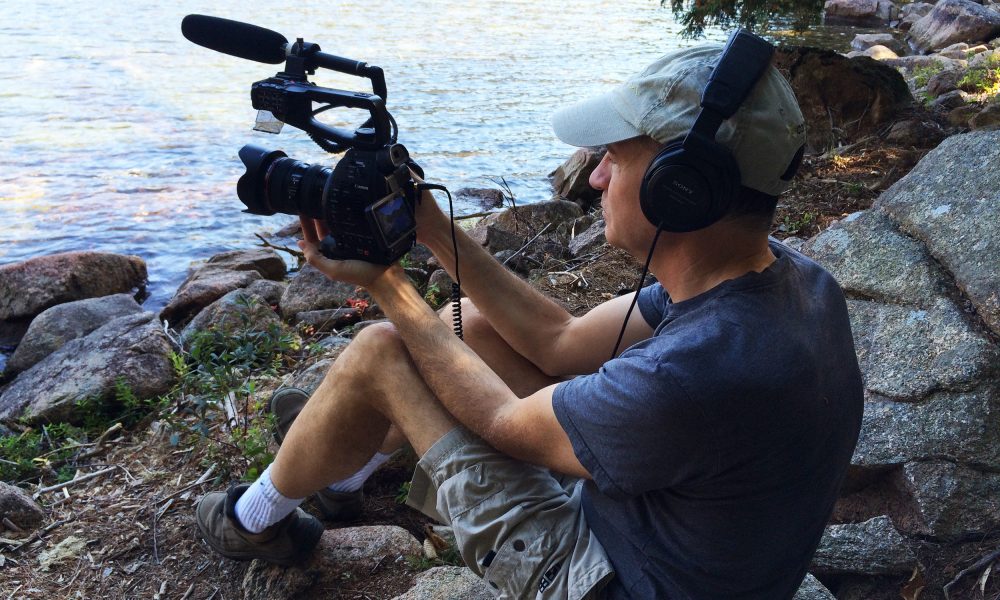 Today we'd like to introduce you to Wade Roush.
Wade, can you briefly walk us through your story – how you started and how you got to where you are today.
I make a journalistic podcast for people who want to know more about technology. It's called Soonish. Speaking for myself, I like to think about the future, how it'll be shaped by technology, and what we can do as citizens and consumers to influence that process. So that's what the show covers. But I work hard to make it interesting for everyone!
For me, starting the podcast in January of 2017 was a big leap into the unknown. I've been working as a writer covering science and technology for more than 20 years. But my medium was always text. It's the classic story for any journalist of my generation: I wrote first for print-only newspapers and magazines, then worked at hybrid print/digital publications for a while, and finally found myself at online-online publications. But throughout that time, I just kept scribbling. The Internet was creating a huge opening for video and audio journalism, and I was amazed by the quality of some of the work I was seeing—especially in podcasts. To be honest I was jealous, particularly of brilliant shows like Radiolab and 99% Invisible. But I had no idea how make that kind of stuff myself.
Finally around 2014 I got an opportunity to do a career reset. I'd spent seven happy years working for Xconomy, an online news publication about venture-backed tech startups. And then some colleagues at MIT, where I got my PhD in history of technology back in 1994, invited me to come back for a temporary gig. I spent a year as acting director of the Knight Science Journalism program, which is a prestigious mid-career fellowship program for science journalists. And I stayed at MIT for another year to run a big science writers' conference, study public perceptions of science and technology, and ask what else the Institute could do to improve science literacy.
I came up with an idea to start a new academic center to study public engagement in science. And one of the activities of this center would have been to publish a podcast. I knew what a powerful storytelling medium podcasting can be. And I thought a podcast would be a great way to look at public controversies involving science and technology and focus in on the engagement part. When scientists and engineers try to communicate with the public on hot-button issues, what works and what doesn't? What facts get through and what misperceptions remain? So I spent part of that second year at MIT, 2015-16, teaching myself audio production and learning about how to create a podcast.
In the end we couldn't find funding for the proposed center. My MIT gig ended in mid-2016 and I became a self-employed freelancer. I didn't mind being my own boss again. The only big disappointment was that I wouldn't get to make the podcast.
Then it hit me: I could make a podcast on my own! The idea for Soonish came to me in the summer of 2016. It would still be a show about science and technology, but it would have a much broader theme: the future and how it's shaped by technology. That would give me room to pursue almost any story I could imagine wanting to cover.
So, to complete this mid-career transition from text into a new medium, I asked some colleagues from the radio world to tutor me on making audio. I read a few books about storytelling for radio and podcasts, like Jessica Abel's fantastic graphical non-fiction novel, "Out on the Wire," and read just about every post at Transom.org, a fantastic resource for aspiring audio makers. I put together a basic field recording kit, learned how to use Adobe Audition, and started reporting some practice stories for one of Boston's local NPR stations, WBUR. Luckily, Boston is a huge mecca for radio and audio folks, and I started sucking up all the wisdom I could from them too, at places like the PRX Podcast Garage and a monthly listening group called the Sonic Soirée. And in the fall of 2016 I went out and started gathering tape for my first season of episodes.
My 50th birthday weekend was really special, because I decided to throw a big launch party for Soonish on a Friday night, and then have a birthday bash on Saturday. All my friends and family were there, and it was great to be celebrating both things at the same time.
Has it been a smooth road?
There are always hurdles when you're a writer and you're starting over in a new medium. But I'm having more fun now than I ever have. So I try to keep in mind that these are good problems to have.
One tough thing about making the switch from text to audio has been unlearning and relearning how to write. When you're editing audio you spend a lot of time listening to yourself. And you realize that the written word and the spoken word are almost two separate languages. In college and graduate school, and even in the magazine world, I was never really required to write in a clean, simple, punchy way. But in audio, that's the only way to be understood. So when I write scripts for the podcast, I'm gradually learning to use fewer commas and clauses. And I think that's making me a better writer for the page.
Another big thing about this podcasting life is that it's lonely. A few shows, like the ones based at public radio stations, are big enough to have a staff of reporters, editors, and engineers. But most podcasters work independently. The upside is that you have complete editorial and creative freedom. The downside is you have to do EVERYTHING yourself, including the business and marketing stuff.
My antidote to this problem has been to help start a collective of independent podcasts, beginning with a bunch of producer friends here in the Boston area. It's called Hub & Spoke, and it now includes six shows: Soonish, The Lonely Palette, Ministry of Ideas, Hi-Phi Nation, Culture Hustlers, and ICONography.
We're all cranking out long form, non-fiction, highly produced shows, which is basically the hardest kind of podcast to make. But within the group we can exchange editorial and emotional support and craft advice. And in every episode we tell our listeners about great episodes from the other Hub & Spoke shows, which gives all of us a built-in marketing machine.
But even so, podcasting is still a tough business. To earn any real advertising revenue from a podcast, you need many tens of thousands of listeners per episode. All of the Hub & Spoke shows are still striving to grow to that level. So, like most podcasters, I have a side hustle that pays the rent. Several, actually. I do some freelance audio editing and production, some freelance writing and editing, some book projects, and some startup consulting. You should see my to-do list! I've got it broken down into about a dozen separate categories to keep track of everything.
We'd love to hear more about your business.
In every episode of Soonish I try to pick some corner of technology or science that you thought you knew about, and make you think about it in a different way. The consistent thing is that I'm looking to the future, and I'm generally optimistic. Sure, technology is at the root of a lot of our problems, but it's also the most powerful tool we have to fix a lot of our problems. So what I say at the top of each episode is that it's a show where we ask what the world of tomorrow will look like, and how each of us can make it our own. Because the future is shaped by technology, but technology is shaped by us.
I put out episodes as often as I can, which ends up being every month or two. Being my own boss means I can take the show in any direction I want. So I've gone all over the map. I've looked at science fiction and how it shapes our expectations about the future. I did an episode about the future of protein, which could eating insects and lab-grown meat and other alternatives to meat from animals. I happen to love monorails, so I did a whole episode looking at the golden age of monorails back in the 1950s and 1960s and asking why we're not building monorail systems anymore here in the U.S., given their clear advantages over other forms of mass transit. I've got an episode coming up on the future of music—how it'll get made and who will pay musicians and performers in the future. And I've got ambitions to do a big episode on the future of time itself.
For each episode I go out and talk with the most thoughtful people I can find about how their fields are changing or what innovations are about to hit the mainstream. I weave that tape together with my narration, the sound I gathered out in the field, some music, and a bit of sound design.
There's still a lot of writing involved—every show is heavily scripted. And the audio editing is super time consuming. It'll take me a long time to get good at that part. But I do feel like I know what kinds of stories will work in audio. And in terms of style, I've got inspiration in the form of sound-rich shows like Radiolab, 99% Invisible, Jeff Emtman's Here Be Monsters, Tim Hinman's Sound Matters, and my sister shows at Hub & Spoke.
What are your plans for the future? What are you looking forward to or planning for – any big changes?
One of my fantasies right now is to have the financial freedom to be a full-time podcast producer. But as an independent, that's a very tough proposition. New revenue sources are emerging for individual creators, like Patreon and the other crowd funding platforms. But it's still totally unclear whether podcasting can ever be a self-sustaining business for small shops like mine.
For now, I'm pretty happy to have the opportunity to make a podcast at all. The community of audio makers is incredibly welcoming and generous. It's been a delight to learn from them, and to work with my indie audio-producer peers to build Hub & Spoke.
It's also been gratifying to see that people are listening and responding to Soonish. That's been opening other doors that are taking me in all sorts of interesting directions. For example, I edited a just-published anthology of "hard" science fiction stories from MIT Technology Review magazine and the MIT Press, called Twelve Tomorrows. It's got 10 short stories and a graphic novella, and they're all examples of this genre that people call "hard" sci-fi because it adheres to the rules of known science, with no dragons or magic or faster-than-light travel. That was an incredibly fun project, and it landed in my lap only because of the podcast.
So I'm grateful to have these other skills that I can still put to work and monetize. I feel like the podcast is already a success, at least as a vehicle for me to learn new ways to tell stories. And it will be for as long as can improvise ways to keep making it.
Contact Info: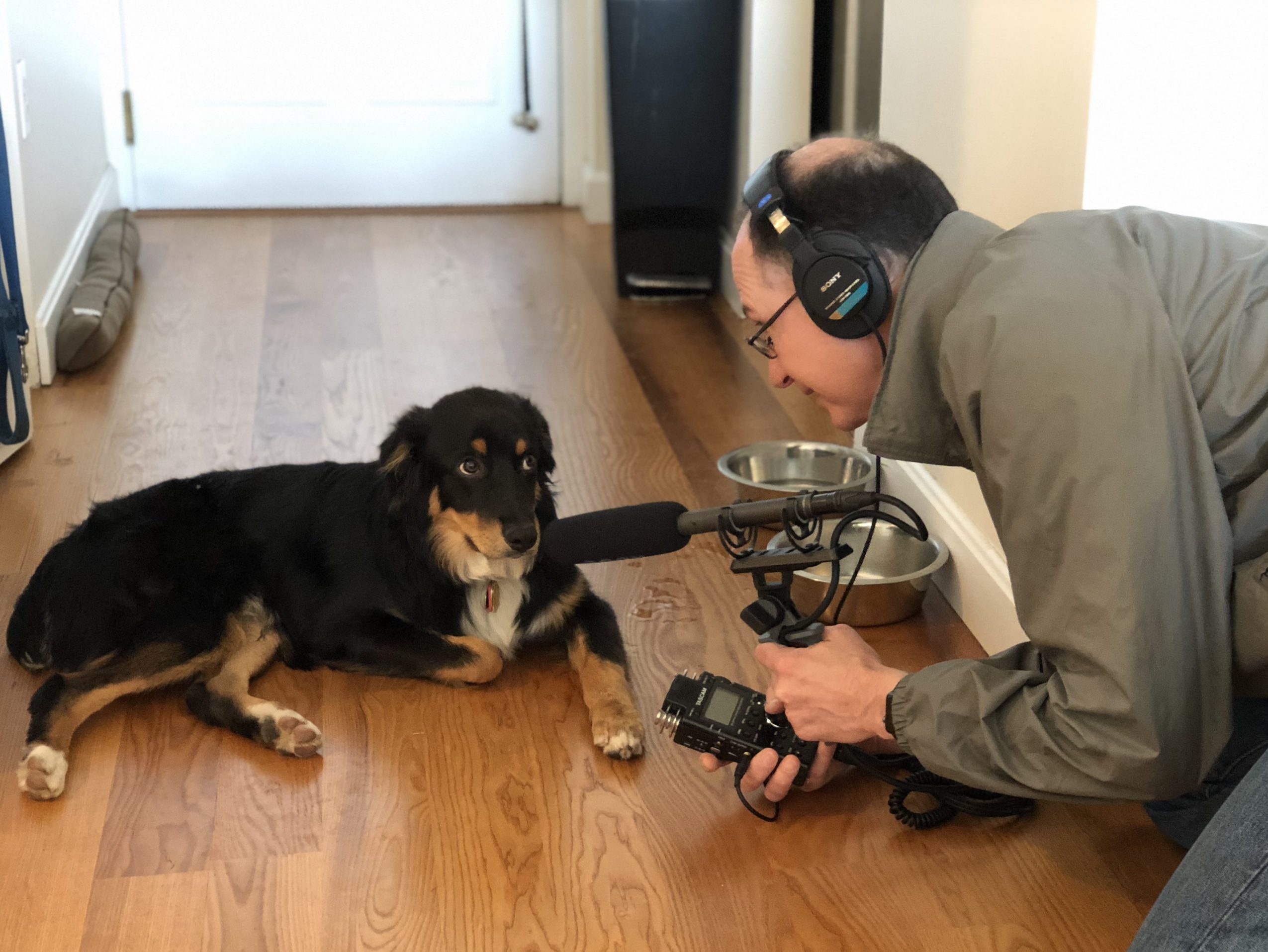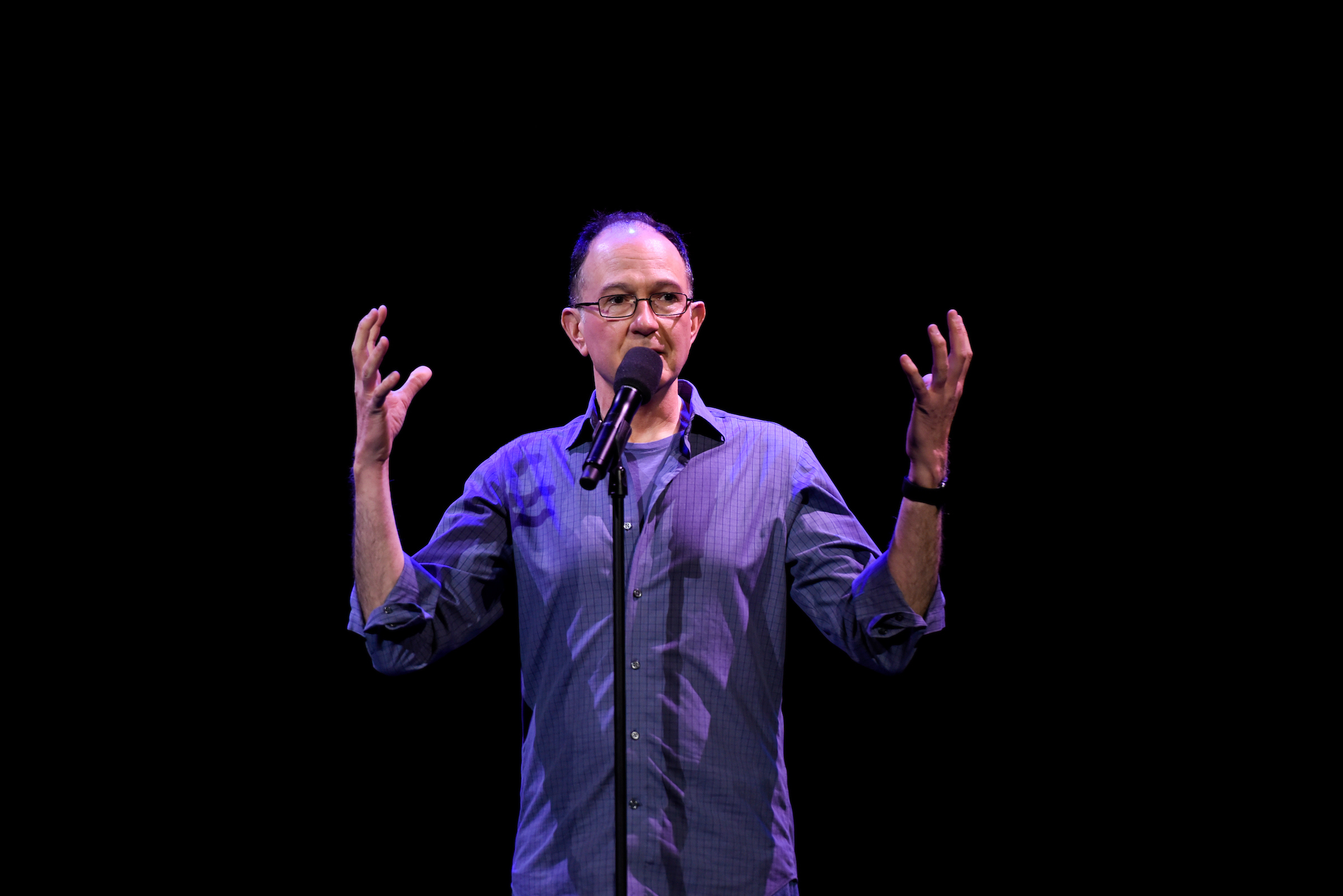 Image Credit:
Lakeside photo: Graham Ramsay
Podcast Garage photo: Graham Ramsay
Standing at mic with black background photo: Kate Flock
Dog interview photo: Wade Roush
Getting in touch: BostonVoyager is built on recommendations from the community; it's how we uncover hidden gems, so if you know someone who deserves recognition please let us know here.