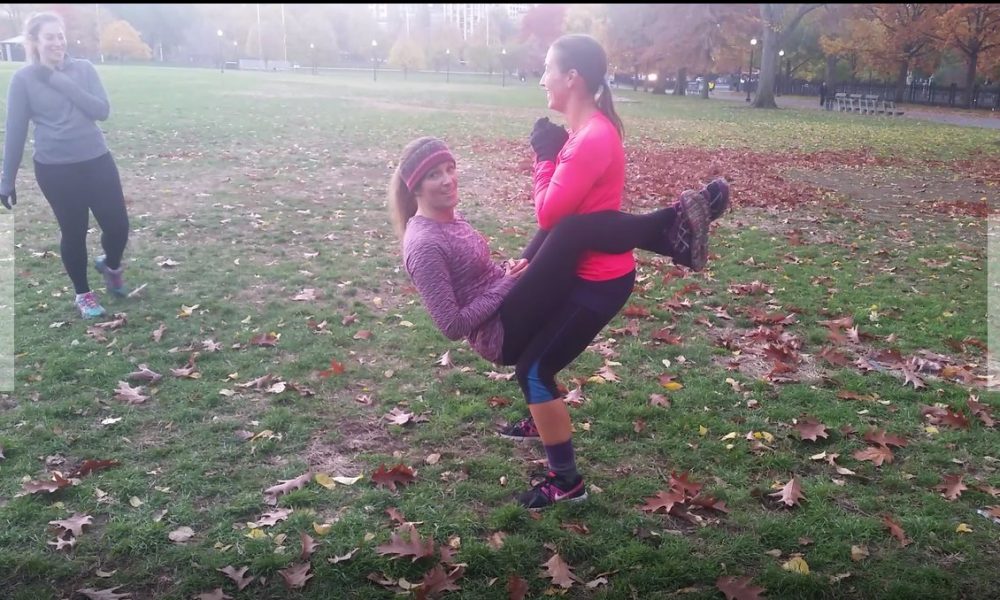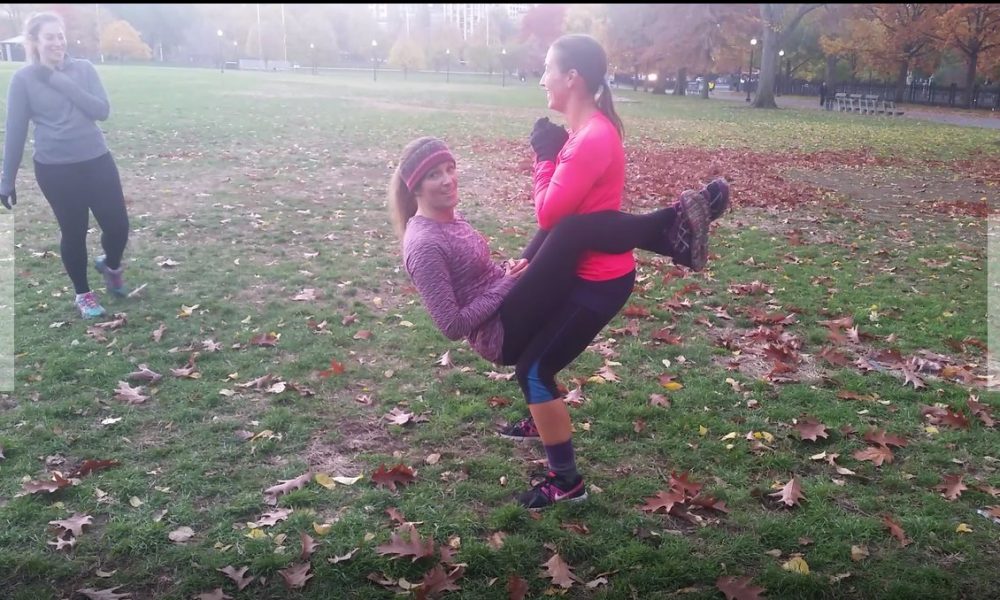 Today we'd like to introduce you to Shelley Devine.
Founded in 2009 by Fitness Trainer and Holistic Coach Shelley Devine, Evolve Bootcamp was inspired by Shelley's love of fresh air and the great outdoors. Her vision was to make the most of the lush fields and foliage of the Boston Common by offering a dynamic exercise program to Bostonians that would leave them breathless, energized, and loving every minute of it.
Shelley grew up in New Hampshire and spent her early years running around outdoors with friends. Whether it was through the woods along a river, in open fields playing kick ball, or climbing trees & buildings (when she shouldn't have), she found play time outdoors all year long; spring, summer, winter, and fall. That childhood spirit came back to her later in life when she started training in yoga and the martial arts. During this time she opened her own yoga studio and martial arts studio with her husband, and she loved teaching both arts! But life has its twists and turns and like any boot camp experience, Shelley's beginnings were not without adversity. The loss of her parents due to health issues at an early age taught her the importance of maintaining a healthy lifestyle. Divorce, loss of business, and the death of her younger sister followed by bankruptcy all propelled her into survival mode, forcing her entrepreneurial spirit to bring it or bust! What resulted was her authentic boldness to deliver a sense of warmth, friendliness and spirit, along with butt-kicking, hellishly fun workouts that embody the idea that Evolve Bootcamp is for every "body"!
It has been her joy to get down and dirty with her clients, working interactively with them by instilling a "Get Hooked" attitude to fitness. Evolve Bootcamp has become known for encouraging a sense of empowerment that stimulates freedom in natural movement not just in fitness workouts, but that also extends into other areas of their lives.
It's been Shelley's hope to inspire a holistic awakening in her clients' lives through boot camp style workouts that include martial arts, yoga and, healing disciplines. She found that after working with clients in these three arts, that three components were critical to overall health and wellbeing. The inspiration behind "Evolve" was brought to life when during her own practice, it became apparent to her, that her own body's recovery response to physical and emotional injury and illness was achieved consistently by physical movement, energetic balance, and mindful breathing.
During her boot camp classes, Shelley loves to encourage individuals to move beyond their comfort zone mentally, physically and even spiritually! It cracks her up when a student says over and over again "I can't do it" then suddenly they find they just did it, then use that experience as a metaphor for whatever unexpected daily life tasks that arise… Or into propelling them do something they always wanted to do but were afraid! Shelley has found that operating a business in the heart of Boston is truly satisfying when students realize there is nothing more energizing than running in open fields, up and down hills, breathing fresh air, gaining a sense of oneself that is unshakeable while maintaining and achieving greater stamina, endurance, agility, balance, mobility, flexibility, self-confidence, muscle tone, and inner and outer strength while enjoying an enhanced sense of health and wellness!
Evolve Bootcampers will attest that it is the best part of their day! And Shelley feels that it has been a great privilege to offer Evolve to Bostonians year round.
We're always bombarded by how great it is to pursue your passion, etc – but we've spoken with enough people to know that it's not always easy. Overall, would you say things have been easy for you?
Evolve Bootcamp emerged about a year after one of the most challenging times in my life! I was working for a company that went bankrupt. I had just finalized my divorce and my younger sister was dying. I was also going deeper and deeper into debt because my income had declined to poverty level. After my sister's death I became homeless and for a short period of time I moved out of state away from my children to live with my grandmother. I was scared all the time, not knowing how I would make it or recover from so many losses. It was the most emotionally challenging time of my life. I was in a constant state of survival mode and in the second year of running my bootcamp, I even had to file for personal bankruptcy because of the debt accrued during my divorce (which turned out didn't resolve my debt issues. I still paid all the money back). It was mentally and emotionally a brutally hard time. I was trying to find another job, but at that time no one was hiring. Thankfully boot camp required little overhead because I taught outdoors. Teaching boot camp part time was the only thing that was bringing in consistent money and put a smile on my face. It was SO hard! I'm welling up writing this. But even though it was hard and having little certainty on how my life would turn out, I knew that the boot camp…. "Evolve" was mine! And no one could force me out or take it away! It was all me and God or bust. It wasn't confidence that kept me moving in that direction it was necessity! And to this day I believe it was by design…God's that is!

So let's switch gears a bit and go into the Evolve Bootcamp story. Tell us more about the business.
There are many high profile gyms in Boston and some even run boot camp classes but Evolve Bootcamp is the only female operated program that provides year round training outdoors on the Boston Common! Evolve Bootcamp has also managed to be Ranked in the top 4 of Boston's Best Bootcamp's since 2012!
I design EBC programs for those avid fitness enthusiasts who are looking for something different, and are bored with the run of the mill gym scene. I do my best to provide dynamic workouts that are fun filled, offering functional movement & body weight exercises. Classes are rain or shine so your body acclimates to climate changes. Client can expect to see the great outdoors through my eyes, as a green gym filled with a variety of creative ways to utilize the urban terrain.
These are no ordinary workouts! Evolve Bootcamp is unlike other bootcamps in the area. Class size tends to be a bit smaller in order to give more individual attention and we use toys, including: medicine balls, small weights, kettle bells, resistance bands, jump ropes, agility ladders and more. At times I enjoy  introducing Muay Thai kickboxing and various styles of Yoga out on the Charles River docks, balancing bootcampers yin and yang constitutions. There is a lot of variety in these classes…it's not all just squats, lunges, sprints and bicep curls! Most newbie's get results in only 4 weeks!
One of the things I'm most proud of is helping my clients overcome fears. One client was afraid she would not be able to exercise and do the things she used to do because of 2 knee surgeries. After 3 years of training with me, she went on to run the Boston Marathon. Another client after training for months for a 5k Mud Run came very close to not showing up for it but did and later told me that her real fear was that she would not show up and do the run because it was a pattern of hers. She was so pleased to have broken that pattern because of the bonds she made to the group. Another camper had never seen themselves as athletic and with that discovery they felt more empowered and less fearful about making changes that moved them across the country. Something they never imagined having the courage to do. Having this kind of impact on people's lives and helping them evolve into the best versions of themselves makes teaching boot camp worthwhile and fulfilling.
What are Evolve Bootcamp classes like?
 Evolve Bootcamp Outdoor Workouts: are highly crafted workouts offering a variety of movements and skill development designed daily to keep things FUN. Most all workouts will begin with a warm-up followed by dynamic stretching.
Specific muscle groups will be focused on, but for optimum results plan on a full body workout for total body toning complete with high energy relay races, heart pumping cardio respiratory drills, interval based calisthenics, obstacle courses, circuit training, and plyometrics, are a given to reduce body fat and increase speed, agility, coordination and stamina.
Finishing strong with Pilates and Yoga based cool downs for core strength and flexibility. But most of all, you will receive the support of your fellow recruits and your coach who will keep you motivated and inspired by pushing you beyond your comfort zone boosting your overall fitness level to new heights!
Has luck played a meaningful role in your life and business?
Hmmm "Luck". I don't think luck has anything to do with where I'm at in life or business. It's more about choices I made and the consequences of those choices that played a role in my life and business. I've made some good ones and some bad ones that had severe consequences. I had to learn fast that the price can be very high for bad mistakes and that the good choices require patience. The good choices don't show their results as fast, they take perseverance, dedication, commitment over years….it's a labor of love. I'd prefer to say "Blessed" instead of luck because any unforeseen opportunity I received came from God when I reached or surpassed certain thresholds of development in my business and overall life. The fruits of thy labor take time and attentiveness, I'm still getting used to trusting that.

Pricing:
Boston Common: 1 month (4 weeks) Mon- Wed- Fri 6AM (12 Classes) $204
Jamaica Pond: 1 month (4 weeks) Mon & Wed 6PM (8 classes) $155
Assembly Row: 1 month (4 weeks) Tues & Thurs 6PM (8 classes) $155
Memberships Available
Contact Info:
Image Credit:
Photos by Shelley Devine
Getting in touch: BostonVoyager is built on recommendations from the community; it's how we uncover hidden gems, so if you know someone who deserves recognition please let us know here.