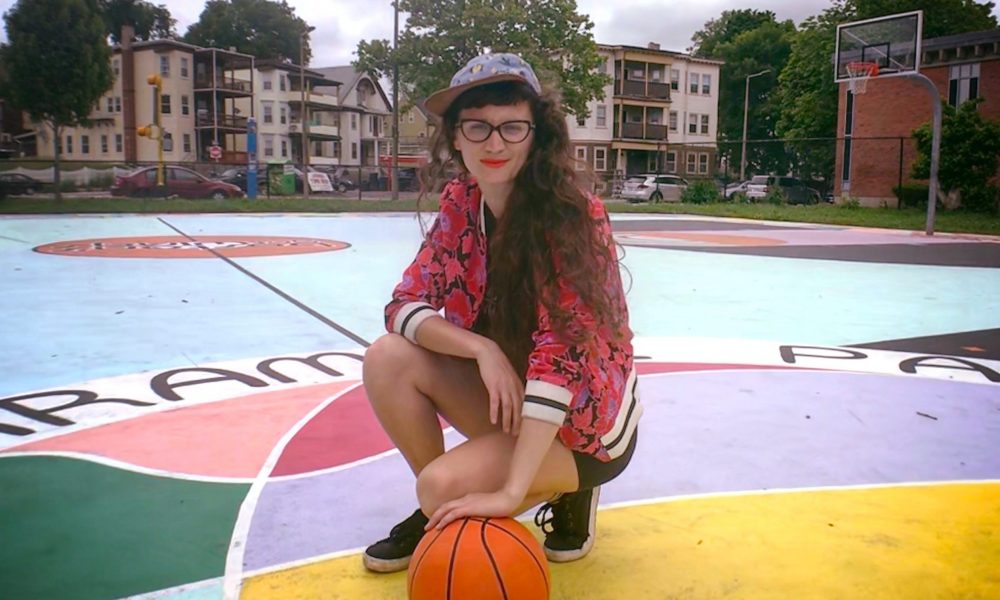 Today we'd like to introduce you to Maria Molteni.
Every artist has a unique story. Can you briefly walk us through yours?
I grew up in Nashville- both sides of my family are from and still live in Tennessee. I wasn't exposed to much fine art as a kid, but I clung to any creatively formative experience- watching my grandparents square dance, helping my dad make elaborate Halloween yard installations, reenacting drama and horror scenes from the lives of my favorite Catholic Saints.
I spent a lot of time in trees and creeks, but even more on athletic courts and fields. I've always been a bit of a weirdo stuck in conventional environments, but somehow, I find comfort in countering the main stream, even incorporating it via pop culture aesthetics. I move to Boston to study painting in 2002 at Boston University, a very traditional art program, and have continued to establish a sense of self while engaging and growing with my community. Boston and Nashville are very different in ways but both have their own flavor of sports fandom and conservatism that is fun to shake up.
Please tell us about your art.
I am a multimedia artist, educator and organizer. In college I gained formal training in drawing, painting and printmaking, normally working from observation of the figure or landscape. Since then, my work has expanded to incorporate performance, research, collaboration and social engagement. I am probably most known for my work that bridges art/craft and athletics or projects involving honeybees and the community. I love to work site specifically, delving deep into playful experimentation and research. I try to keep a balance between rigorous conceptual content and trust in my intuition and spirit. I have also made a lot of work about different means for channeling the Spirit. While interested in post-industrial popular culture, I remain critical of a polarized society that promotes consumerism and spectatorship over participation. I enjoy problem solving via traditional methods of production, introducing radical or absurdist designs as unifying, aesthetic solutions. I take interest in standardized systems that influence ritual in everyday functionality.
From fiber to found-object sculpture, movement to publication, I employ tactile and tactical processes to explore contemporary art, craft, urban planning, sport, feminism, and spiritualism. In recent works, that may incorporate dance, inflatable architecture, fiber arts and color theory, I playfully imagine being a PE coach at Black Mountain College. I hope that my work encourages people to make their own artwork and channel or share their own spirits.
Given everything that is going on in the world today, do you think the role of artists has changed? How do local, national or international events and issues affect your art?
This is a very complex subject that I think about a lot. Artists are much needed and have an immense responsibility. Many people don't realize how much research artists do outside of their perceived field. Most are incredibly smart, organized, plugged in and innovative. I think artists must spend a lot of time these days making a case for why we need art and why it's important. While I think that's a good thing, to think about why you do what you do and try to explain it others, it also takes up a lot of time and energy that we could use to make the work. In many other countries, like Canada or throughout Europe, it's a given that art is an important and valuable part of life. Artists ideally digest current issues and respond to contemporary contexts and create personal, spiritual, provocative, aesthetic objects and experiences that push society forward (or pull them backward if that's what is needed) and lift the soul.
As far as art and activism goes, it's sort of up to the artist how they may best engage. Some may choose to make their work overtly political- carrying a message or pointed content. Others may continue to make more personal work as its own political act of maintaining focus and values and pushing through troubling times. Whichever route we take, we still have to take on responsibilities of active citizens, voting, doing the dirty work that everyone does and isn't always transformed into glamorous artwork. Most importantly, we have to build our own awareness, within ourselves and amongst our community, to make sure that everyone is at the table. The Art World does not actually occupy one space or take one form- when people refer to it, they are usually pointing to the more oppressive, hegemonic, capitalist construct that makes space mostly for white men or people of a certain social class. We must push that world and use other worlds of art to experiment and perform the ways this can be different. If the worlds of art are more open and inclusive, reflecting all who engage with it, the content, as it responds to the world's atrocities, celebrations, complexities, and evolutions will be more rich, relevant and transformative.
How or where can people see your work? How can people support your work?
The easiest way to see my work is to pay a visit to Harambee Park (Talbot Ave, Dorchester, Boston) or The Point neighborhood in Salem, MA. Here, you'll find public basketball courts that I painted in collaboration with youth and neighbors who use the courts most (if you do visit, please be respectful of these communities, their safety and comfort in their own neighborhoods). I exhibit locally, nationally and sometimes internationally quite regularly. At the moment, the New Craft Artists in Action (NCAA) collective, that I founded in 2010, has hand-made basketball nets incorporated into an exciting group show about craft and activism at the Museum of Design Atlanta. It was curated by Betsy Greer, who literally wrote the book on craftivism;) You could also book my artist suite, that I designed and hand painted, in Studio Allston Hotel. I'll be hosting workshops and lectures in the coming months at Kohler Art Center in Sheboygan WI, Haystack School of Craft in Maine, as Massachusetts College of Art. There are other exciting shows and things in the works- I keep my website updated on upcoming news and events.
To support my work- spread the word about what I do and/or buy my work! The basketball court projects have been wildly inspiring and I'd love to do more of them, especially as development and gentrification sweep through. They could be funding more art projects, particularly ones that engage rather than alienate communities.
Contact Info: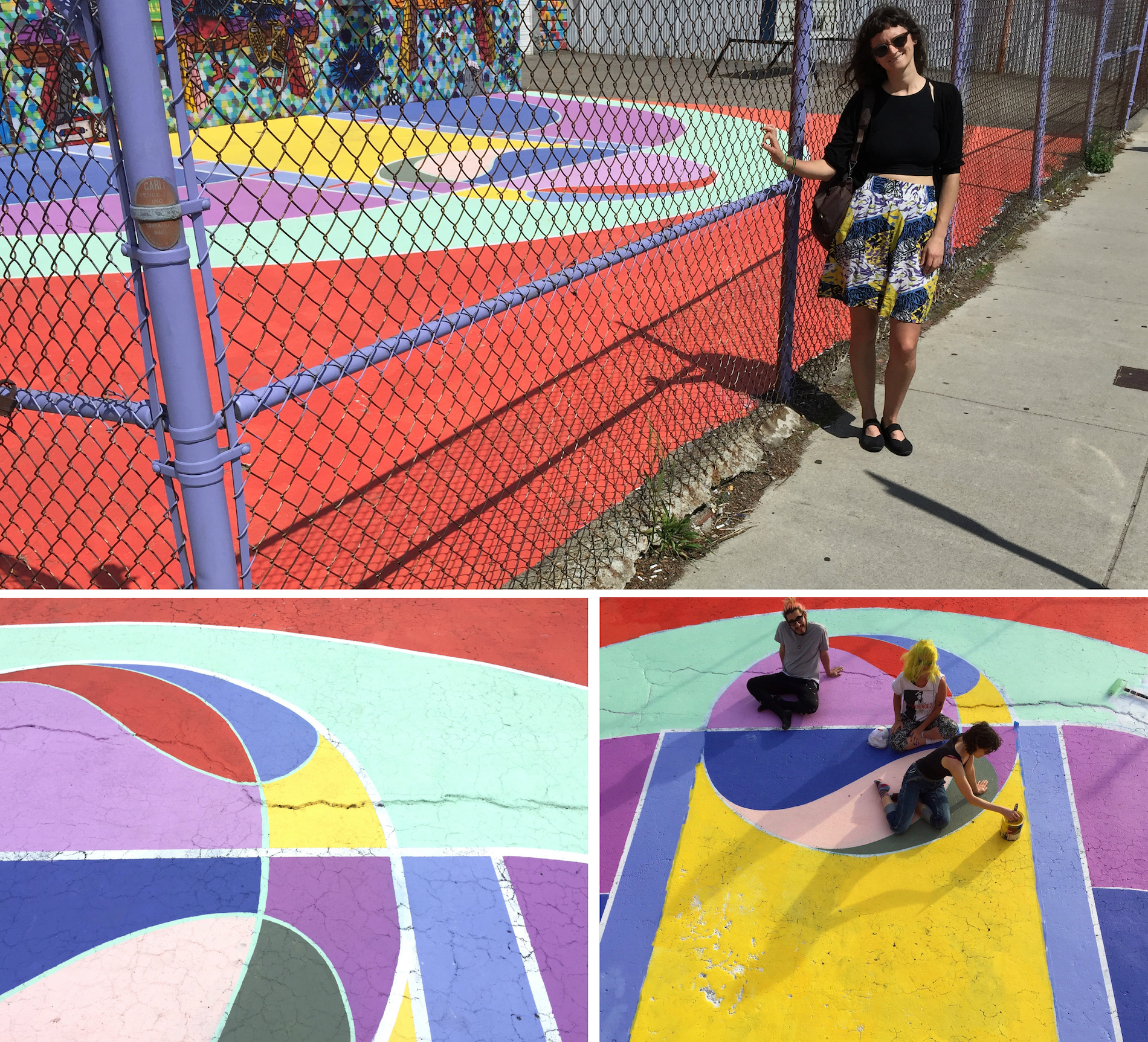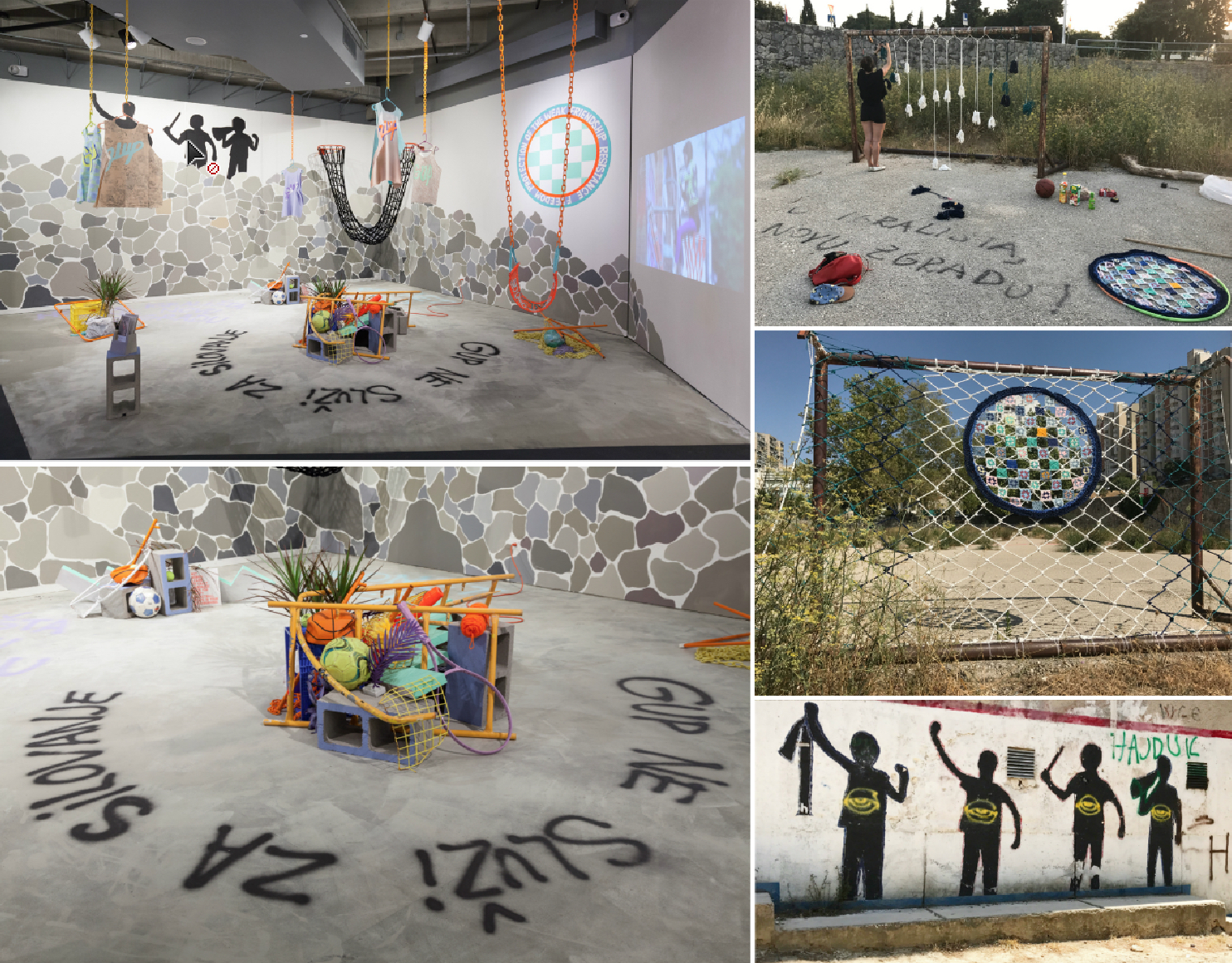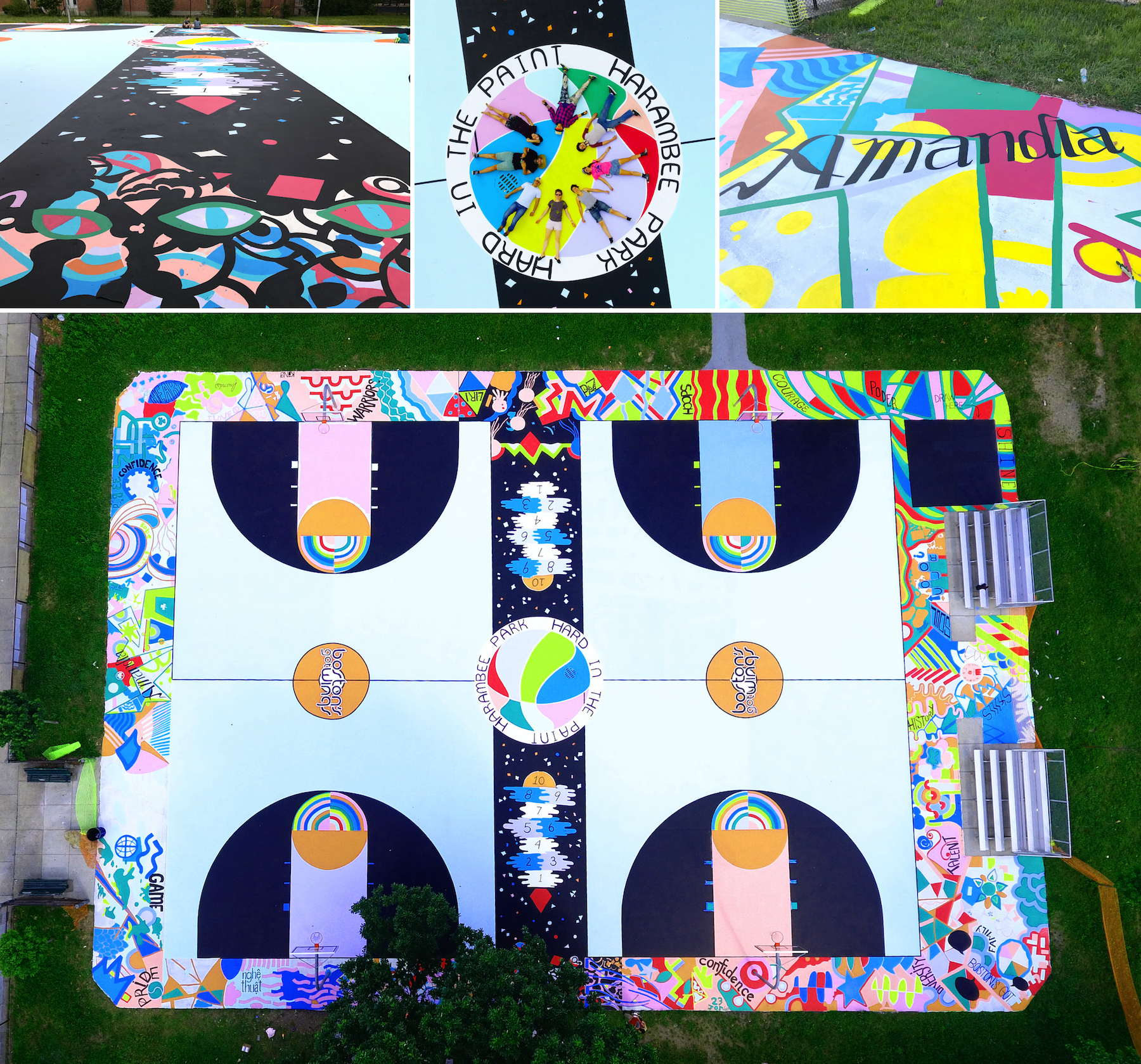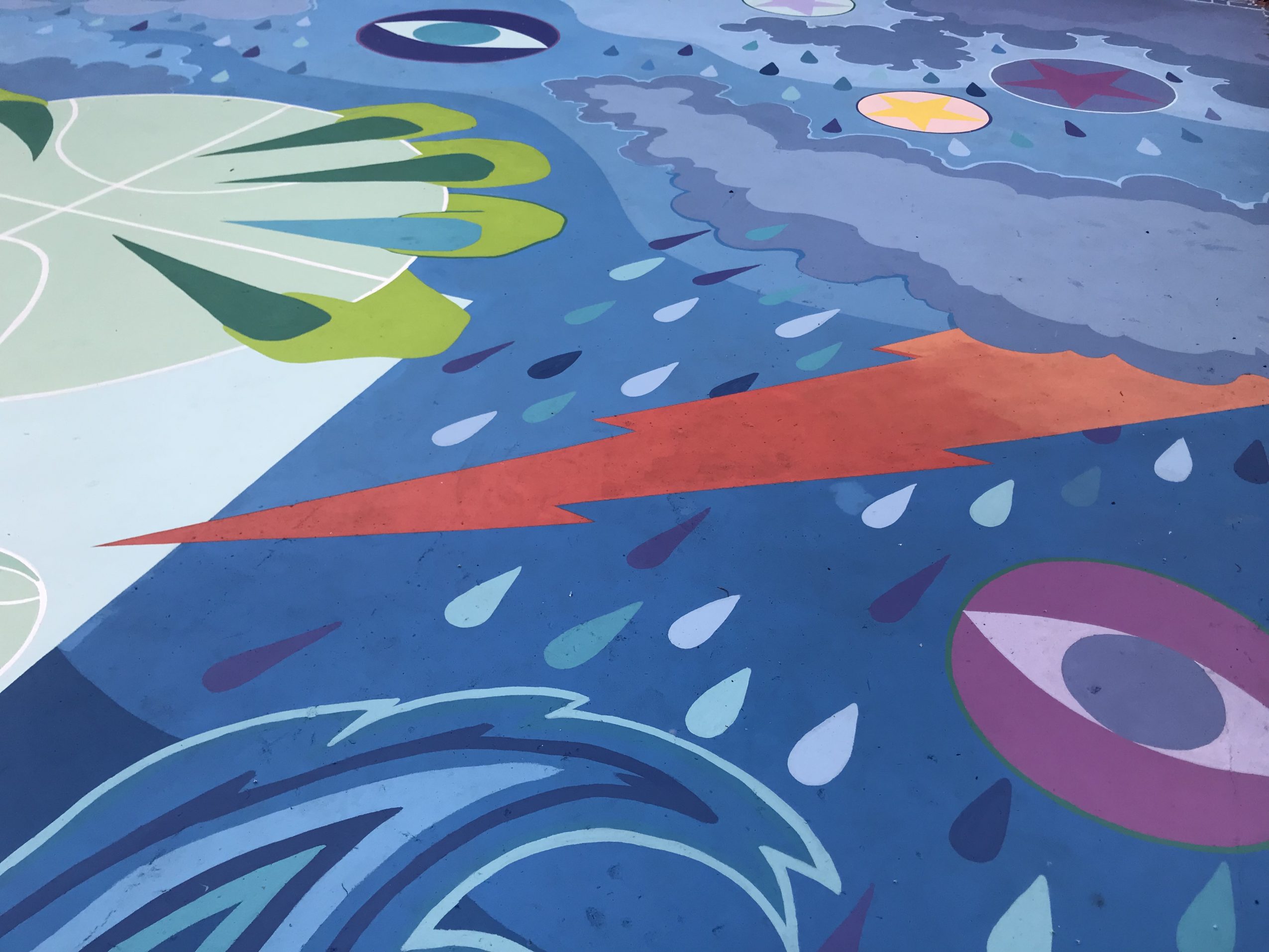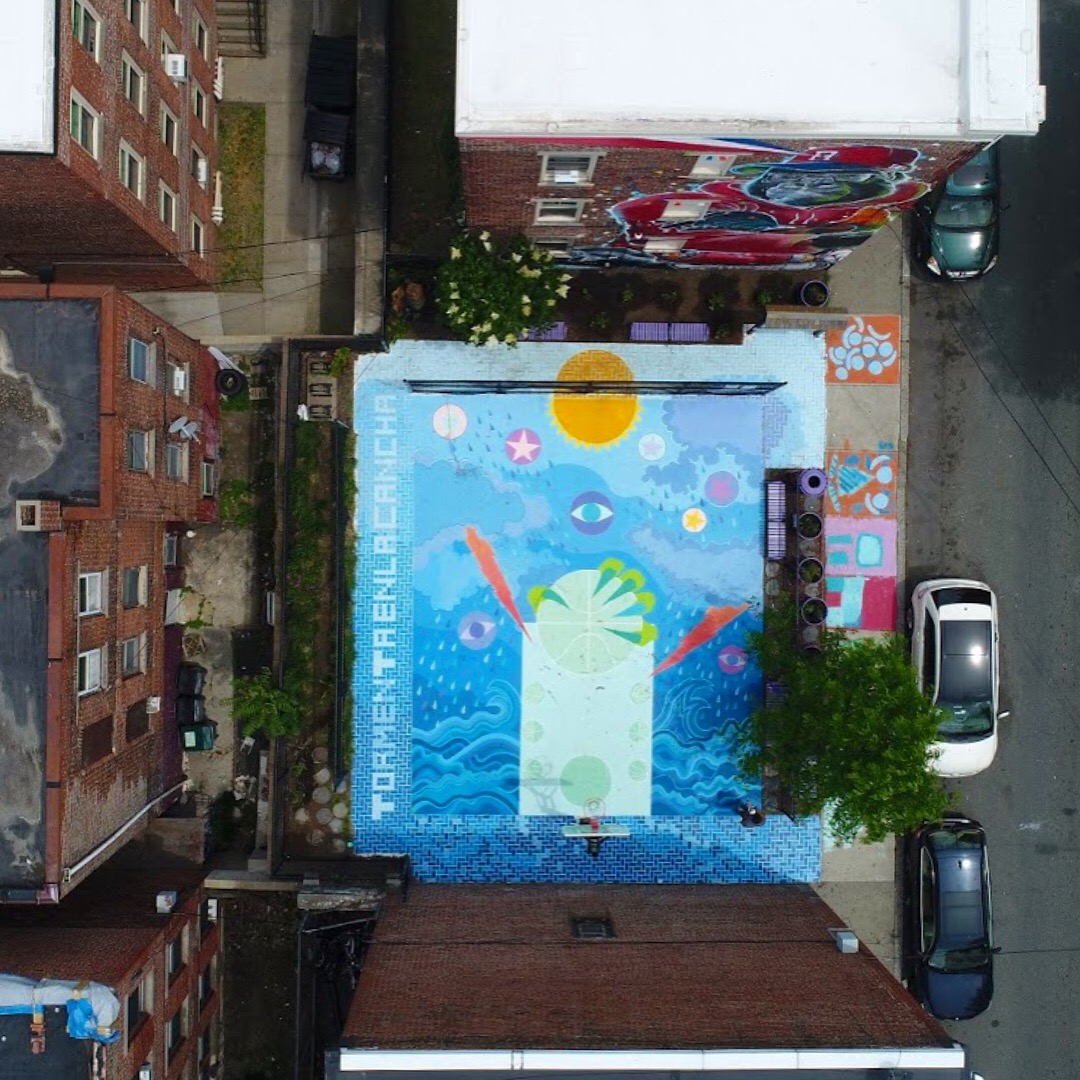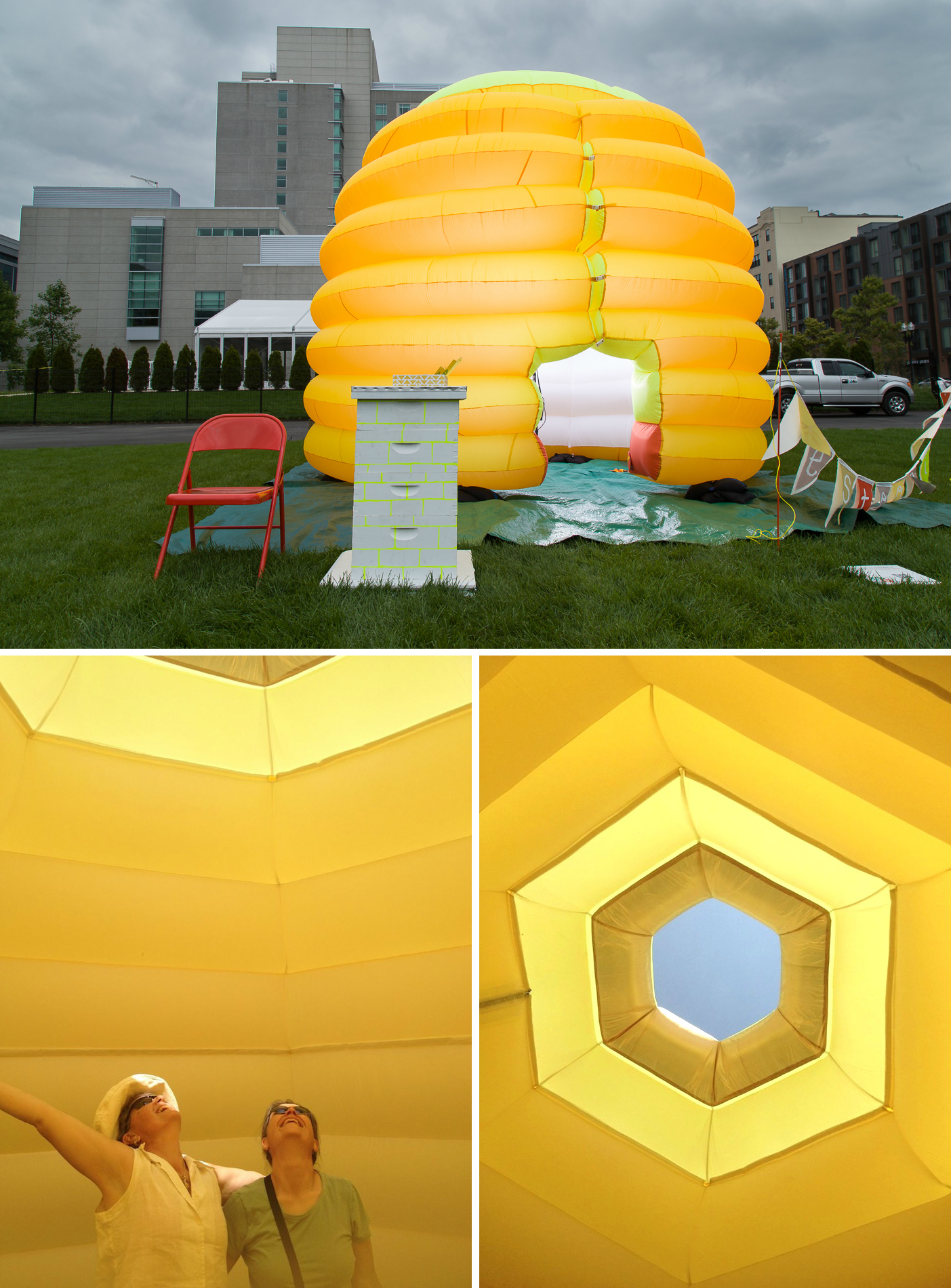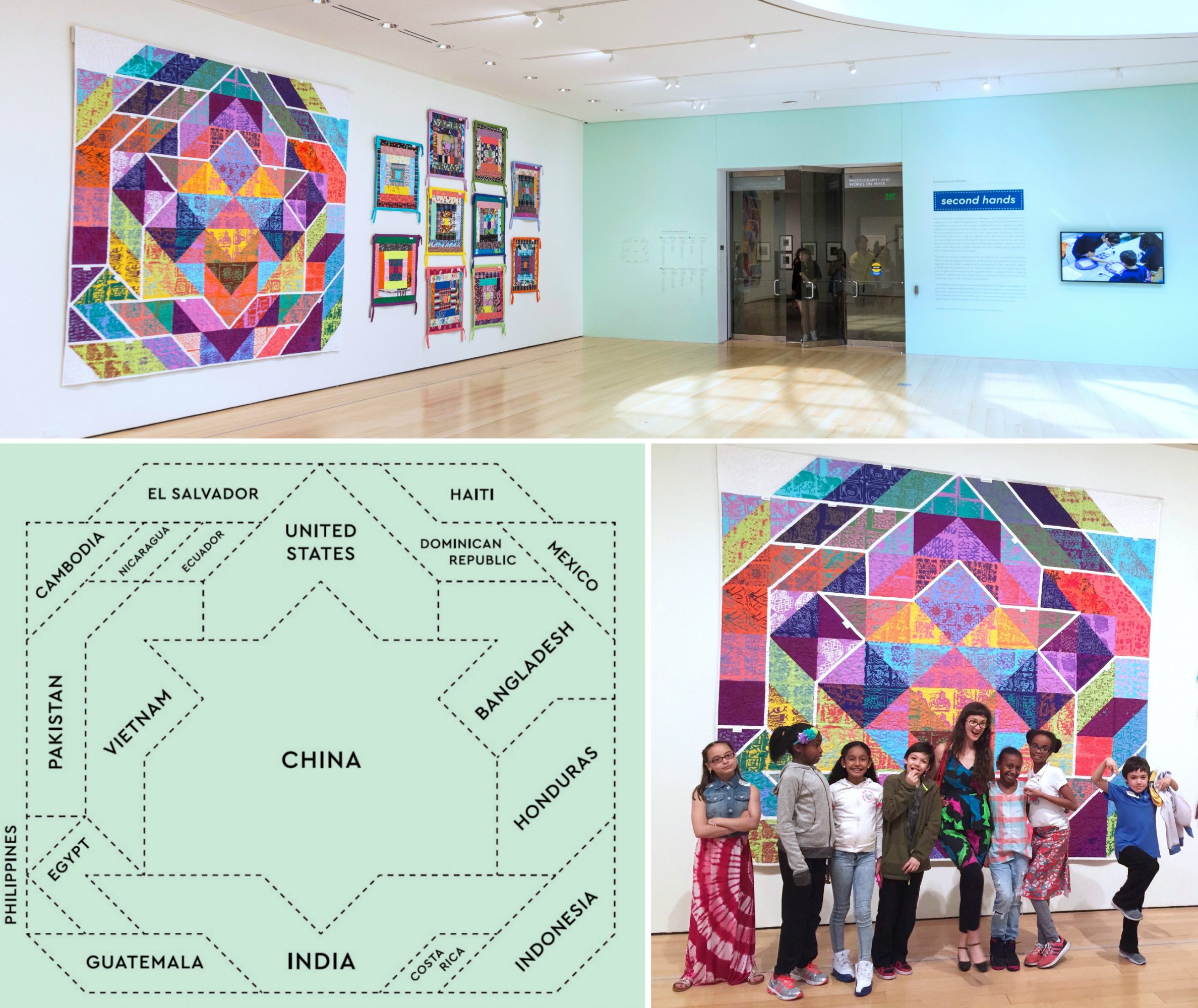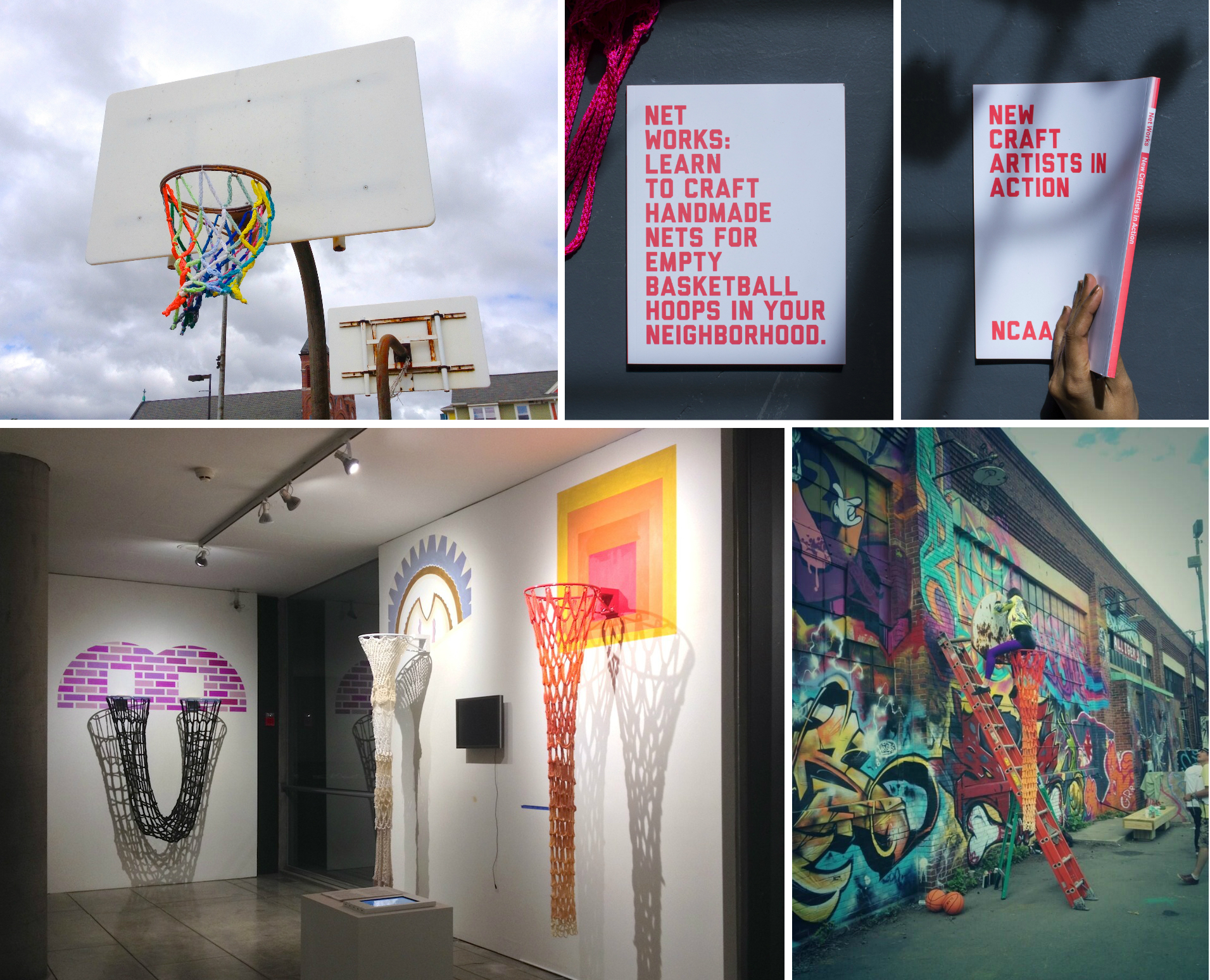 Image Credit:
Aerial view of one hoop court: Punto Urban Art Museum, Aerial view of larger 4 hoop court: Jesse Abruzzese, Installation with "GUP Glup" jerseys and outdoor soccer net: courtesy of Denver University, the rest are courtesy of the artist.
Getting in touch: BostonVoyager is built on recommendations from the community; it's how we uncover hidden gems, so if you know someone who deserves recognition please let us know here.