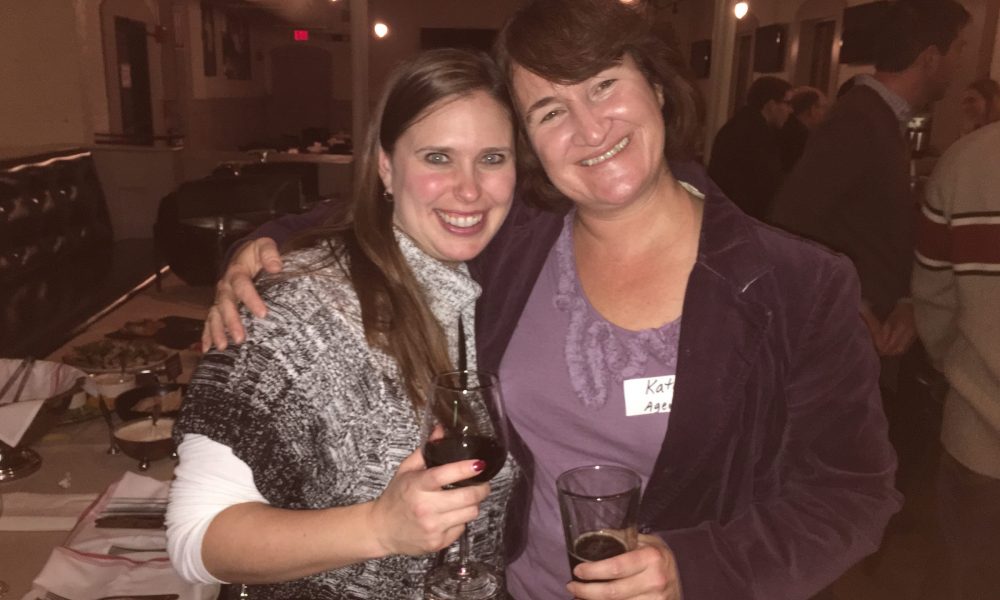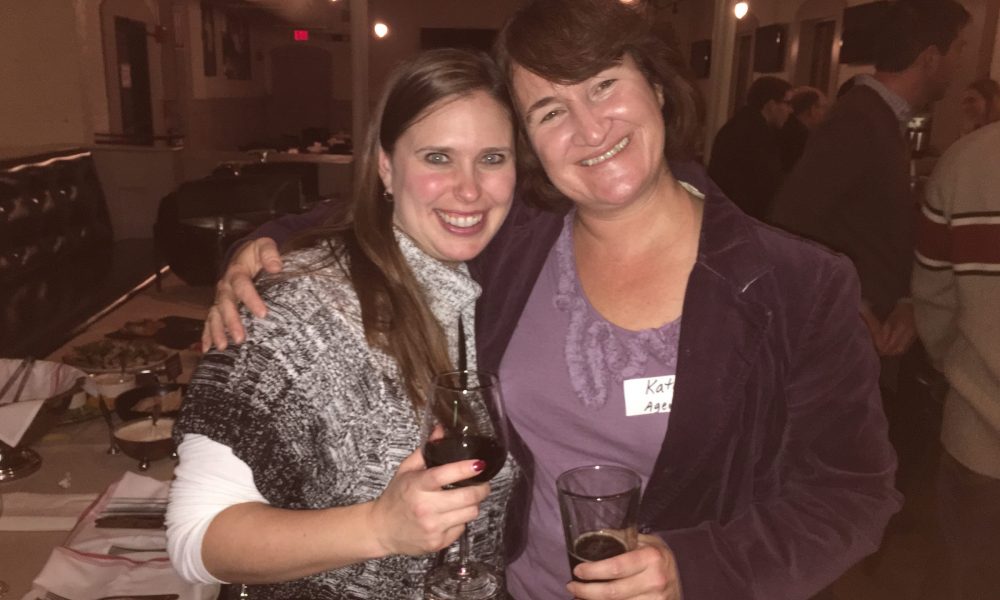 Today we'd like to introduce you to Kathy Mahoney.
Kathy, let's start with your story. We'd love to hear how you got started and how the journey has been so far.
Without planning it, members of my family appear to have gravitated toward real estate. My uncle, Joe Mahoney, was a real estate attorney for many years, my brother John Mahoney is a real estate attorney, and another brother, James, is an interior designer. My background was in sales, marketing and events, and I was used to working long hours at events at night and on weekends as an independent contractor and enjoying the face to face interactions with customers.
As a result of the tragedy of 9/11, the marketing company where I was working to promote trade shows online ended up closing its doors, as most Americans were too afraid to travel for a while, and many trade shows were canceled. My brother, John the real estate attorney, was moving his office to a new location and needed help screening applicants for an assistant position in his office, so I worked with him for a while to give him admin support until the position could be filled. I thought the client work and all the different moving parts of real estate was really interesting. After I referred John to several of my friends who were first time homebuyers, he suggested that I get my real estate license so I could get paid for giving him client referrals and also get paid to help ensure that my friends got the best level of client service possible while searching for their next home.
I have always had an entrepreneurial mindset, so transitioning from a sale/marketing/event background to working in real estate was not a drastic change. Working outside of an office environment (mostly on the road) and interacting with many different types of customers is natural to me. John introduced me to Sam Schneiderman, an experienced real estate broker who was so busy with so many clients that he was struggling to find the time to drive them all around showing them houses and give them all the attention they deserved. He worked on several transactions with John as the closing attorney, and told John he was looking to expand his team with a like-minded agent who wasn't afraid to hustle and go above and beyond to serve the company's clients. Sam and I have the same high energy level and we hit it off immediately. We spent the next 21 days together showing houses to his buyer clients, and after that intense 3 week hands-on real life real estate training bootcamp, he said he was confident having me handle client showings on my own, giving both of us the time to give focused individual attention to each of our clients.
Sam and I have now been working together for 14 years at Greater Boston Home Team and are still going strong. I found my purpose and my passion, and I truly enjoy helping people buy and sell their properties and just talking with people about real estate. I like helping people in general, and real estate is a vehicle that allows me to do good for other people and for myself while still doing well. Sam and I really enjoy spending time with our clients, and many have become good friends.
We're always bombarded by how great it is to pursue your passion, etc – but we've spoken with enough people to know that it's not always easy. Overall, would you say things have been easy for you?
Real estate is a people business. And people can be quirky and unpredictable.
Keeping a cool head when someone on the other side of the transaction becomes unreasonable or unresponsive is a challenge. Most transactions go very smoothly, because we are very experienced and prepared, and both sides emerge happy with the deal. But occasionally the buyer or the seller or someone else on the other side gets personally offended or outraged at the process for some reason and the agents are on the receiving end of the unhappiness. One seller yelled at me while we were at the property getting a contractor quote for a repair, "You people are almost stealing my house for this cheap price (they signed the offer agreeing to the price) and now you dare to ask me to make repairs? You are not buying a new house!" The sellers built the house 30 years before and were personally offended that the buyers were saying anything was wrong or unsafe with their house. I took the verbal abuse and reassured the seller that my buyers loved the house that the sellers built, and they understood that the sellers have lived there a long time and probably were not aware of the safety issues that had eroded over the long time the sellers had lived there. I acknowledged the sellers' frustration and told them they were not to blame, all houses get old and eventually need repairs. They calmed down and the sellers agreed to the repairs. 
Another challenge to this business is that agents have to learn to be ready for ANYTHING, and get creative and get the job done no matter what crazy issue occurs. Once I was representing the buyer for a transaction and the sellers side called us the day before the closing to say we can't close tomorrow because the current tenants refused to move out the day before. The apartment they had lined up fell through, so they just decided to stay a while longer until they could find a new place. Sad story, but my client would be homeless if we didn't close soon, since she gave her landlord 60 days' notice and he already had a new person lined up to move into her place soon after her planned closing date. The sellers were upset that the tenants wouldn't leave, the buyer was upset she couldn't move in, the tenants were upset they ran out of time to find a new place. OK, everyone stop and take a deep breath. Our team worked together with both attorneys to resolve the issues and we finally closed on the property in time to prevent our client from becoming homeless, the tenants moved into a new place, and the sellers got their money. It is up to the agents on both sides to maintain control and try to calm everyone down and do what needs to be done to get the transaction completed. Real estate gets very emotional for people on both sides, and agents have to be the rational voices of reason to keep everyone focused on the goal of closing the transaction.
It is also challenging when we set expectations for the clients, laying out the plan step by step so everyone is on the same page and we can move forward together with the same goals and same action plan that we all agreed on, but then the client chooses to ignore our advice and do something different. We give a seller client our recommendation for a listing price that will attract the most buyers and hopefully result in multiple offers and we show them comparable sales data to support our pricing. But sometimes the seller decides to not take our advice and wants to list at a higher price anyway to "test" the market. The client is ultimately in charge, so we will carry out their wishes, but we make an effort to remind them of the action and marketing plan we all agreed to follow, and why we came up with our recommended price. In the rare occasion a client does not follow our advice, we will then help them fix the situation when their choices do not result in a quick sale as they expected. We do not place blame, we just encourage and advise our clients and work together to reach a profitable conclusion. When the client listens and trusts the process, the listing usually results in multiple offers. We can't guarantee that result, of course (it also depends on the location and condition of the house), but most of our listings result in multiple offers when our team and our client work together, follow the plan and trust the process.
Learning all the various parts of a house and how they all work was an education they don't spend much time on in the real estate licensing course, but luckily Sam was very experienced in owning and rehabbing houses and taught me a lot. Also, over the last 14 years I have attended hundreds of home inspections and attended rehab/real estate investing seminars as well to learn more about the subject. Now I have several real estate investors as clients because I understand the type of properties they are looking for and what their particular level of rehab preferences are and I know how to determine the various levels of rehab. This knowledge also helps us better prepare a property for sale, knowing which repairs to recommend to the seller before listing it to attract a higher price for the house.
We'd love to hear more about your business.
Sam and I have now been working together for 14 years at Greater Boston Home Team. Sam has been in the business over 30 years and he has seen and done it all in real estate. He was one of the first buyers agents in the state, and was president of the Mass Association of Buyers Agents (www.massbuyeragents.org) for several years. We represent sellers and buyers during their real estate transactions, which may be the largest financial transaction of that person's life. Having a professional on your side, representing your interests throughout the transaction, keeping track of important deadlines and protecting your interests and your money is a very good idea. 
Sam and I work well together because we share the philosophy that the quality of service is more important than the quantity of clients. We deliberately only work with a small number of clients at one time, in order to provide a high level of individual service to each client. If clients become raving fans of the service you provide them, then more business will naturally follow. Unlike most agencies, Greater Boston Home Team is a single agency – our entire office will only represent ONE side of the transaction, either the buyers or the sellers, and we will never represent both sides. That shows our clients that we are 100% dedicated to getting them the best possible price and terms for their side of the transaction, and they know that there will never be a conflict of interest in our representation of them.
Our loyalty and dedication to our clients results in strong loyalty and dedication from our clients in return, and currently 98% of our business comes by referral, so we can focus our time and energy on serving our past and current clients and not spend so much time on constantly trying to find new clients. We offer our clients almost 50 years of combined experience in different types of markets, both up and down. We are based in Chestnut Hill and Jamaica Plain, but cover 52 towns and cities in Greater Boston.
We are experienced in creating multiple offer situations for our seller clients, and positioning buyer clients to make very strong offers that can compete in the multiple offer bidding war environment of the hot Boston area market. We help investor clients target properties to flip or to hold and cash flow, we help clients with 1031 exchanges to utilize tax advantages and save them thousands of dollars, and we help clients convert multifamilies into condominiums to maximize the profits on their investment properties. We provide high-level personalized service for our first-time buyer clients as well as for our multi-million dollar clients.
In addition to our experience, possessing a great sense of humor during unexpected issues that can pop up in a real estate transaction serves us both well. Our favorite saying is, "We should really write a book" about the crazy situations that sometimes occur in the course of helping clients buy or sell a house. Sam and I work hard to create the smoothest possible transaction for our clients and we always enjoy following up with past clients to offer them support in the future with contractor referrals or answer housing questions, or just to catch up and hear how much they enjoy their new homes.
What were you like growing up?
I grew up as the only girl, with three brothers, in the suburbs of North Andover. Funny, I am not sure how I turned out to be the athlete in the family, but that is what happened. Always trying to keep up with my brothers and make sure my voice got heard in the chaos of a house with 4 kids. I was the tomboy playing sports outside with all the kids in the neighborhood after we got home from parochial school. Sports came easily to me and I was always up for another game until it got dark and we had to go home. My brothers and I were always very competitive in other ways – whether it was playing board games, playing trivia, fighting to NOT get the hump seat of the station wagon on family trips, etc. We were good kids, mostly following the rules and staying out of trouble, but still very energetic and kind of smart alecky.
Playing outside for hours with all the neighborhood kids, without adult supervision, was a great way to grow up and I am sad my nieces will never experience that. We had to figure out on our own how to settle disputes (the magical "do over" was used often and all parties agreed to abide by the results), how to take turns, how to be a gracious winner and how to be a good loser. You didn't like losing, but you still were friends after the game. Playing organized sports later taught me discipline and time management skills that are very handy for a real estate agent who is technically self-employed, works strictly on commission and makes her own schedule each day. I have the drive and the focus to be very disciplined to reach out and make client appointments, keep a tight schedule for showings and client meetings and pushing myself to go the extra mile for my clients to find them just the right house to buy, or to attract the perfect buyer for their home.
We lost my father when I was very young. He was a Mass State Trooper who was killed in the line of duty when I was 8 years old. He and my mother were always teaching us by example to help other people in need. That event shaped me more than any other in my life. I saw my mother, a suddenly single homemaker with 4 little kids, get back on track and go back to work to provide for us, and we all had to start chipping in to help out while Mom was at work. We got home from school before she got home and we followed the house rules about snacks and homework and no friends in the house without an adult. We learned about teamwork and how to compromise to get things done. And I watched Mom and learned how a woman can be strong and independent and do things on her own without needing someone else's help if circumstances required. She was strong and capable and a great role model during a very hard time, and she still is! We had a great suburban childhood, took fun family vacations, everyone did well in school, we each had our own car in high school (which Mom made us earn some of the money ourselves to appreciate it more) and we all are now successful adults with good jobs. Way to go, Mom!
I grew up loving reading and playing sports. Still do. Education was very important in my house, and we all started reading at a young age. The day we each got our library cards was a very big deal in my family. I ended up getting a master's degree and developed and ran an adult sports league business (Fun Sport & Social Group) here in Boston for 15 years as a side business, so I guess my two favorite activities haven't changed that much since I was a kid.
I have always been outgoing, chatty and friendly. My mother taught me self-confidence and she has been my biggest supporter throughout my life. She was a soccer mom before they were a voting block. I was always a bit of an entrepreneur, running a lemonade stand, or babysitting local kids, or finding ways to make extra money beyond our usual allowance, so becoming a real estate agent was not a huge stretch. Being chatty and self-confident, the two things that I was constantly getting shushed in school for, turned out to be the perfect combination for a career in sales and real estate, who knew?
My family is still very close – literally, we all live in Mass – and we all see each other often. I live in Jamaica Plain and love my neighborhood and help many clients become my new neighbors.
Contact Info:
Address: Greater Boston Home Team
675 VFW Parkway #332
Chestnut Hill, MA 02467
617-469-4200
Website: www.kathysellsboston.com
Phone: 781-492-4161
Email: kathy@greaterbostonhometeam.com
Getting in touch: BostonVoyager is built on recommendations from the community; it's how we uncover hidden gems, so if you know someone who deserves recognition please let us know here.