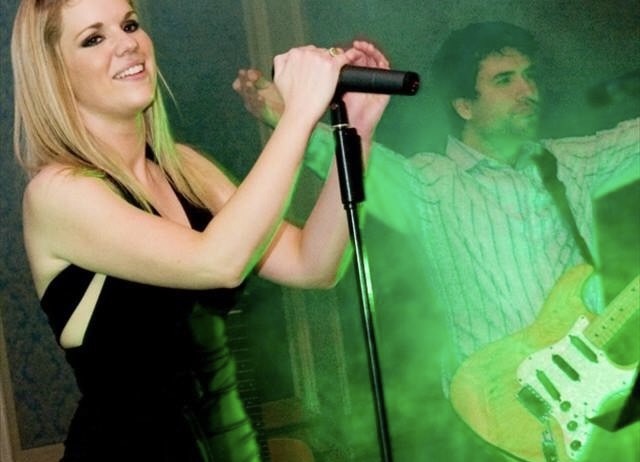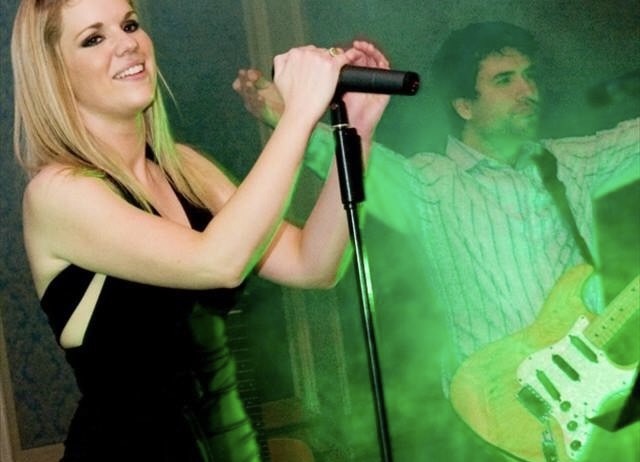 Today we'd like to introduce you to Julian Morelli and Christianne Reiniger.
Brick Park started out as an all-male cover band in the early 2000's, performing at Boston nightclubs. Julian began his career with Brick Park as an intern while attending Berklee College of Music. After graduation, he was hired by the band as a musician, vocalist, and sound engineer. In 2004, Julian and his bandmates decided that they wanted to venture into weddings. They identified a growing demand in the wedding market that was going largely unserved: engaged couples were beginning to looking for non-traditional, modern, youthful bands that could make their wedding reception feel like a party. Brick Park was the answer to that gap in the market. There was just one problem. They needed a strong female lead vocalist who could help expand their repertoire into pop and R&B, while also allowing the band to stay true to its rock n roll roots. Despite months of auditions, they could not find a female singer who was the right fit, and they were about to give up. However, fate is a funny thing. In December of 2005, Brick Park was hosting a "live band karaoke" night at the now defunct Purple Shamrock bar on Union Street in Boston. Bar patrons were invited to sing a song with the band, for the true rockstar experience. One of those patrons happened to be Christianne. At the urging of her friends, she got up on stage with the band and performed "Respect" by Aretha Franklin. Brick Park hired her on the spot. Within a few short years, Brick Park became one of Boston's top, multi award-winning wedding bands, earning the title of "Boston's Best Band 2012" by The Improper Bostonian, along with numerous other awards (including "Best of Weddings" by The Knot several years in a row, "Couple's Choice" by Wedding Wire several years in a row, and "Hall of Fame" by The Knot). After a few years, Julian was promoted to bandleader of Brick Park, and in 2014, he took over the reigns of the business entirely, becoming the owner and manager of Brick Park. In 2015, Julian and Christianne were married to each other, and they have continued to perform full-time with the band, in addition to managing and running the business. Under Julian's leadership, Brick Park has expanded into a full-service entertainment company, offering two incredible live band lineups of 5 to 7 pieces, professional DJ services, and up lighting. Despite its evolution into a high-end wedding entertainment company, Brick Park has maintained its original mission of providing clients with a modern, exciting alternative to the traditional stuffy wedding band. To ensure that the newlyweds are the true rockstars of the wedding, Julian and Christianne often invite the Bride & Groom on stage to sing the last song of the night with the band. This never fails to bring the house down. Brick Park has also has kept true to its roots by continuing to perform in nightclubs throughout Boston and New England. You can catch a Brick Park show in Boston at The Bell in Hand Tavern, Hennessy's, and The Green Dragon Tavern, or on the North Shore at Rockafellas (Salem) and the Stonewood Tavern (Peabody), along with other venues throughout New England.
We're always bombarded by how great it is to pursue your passion, etc – but we've spoken with enough people to know that it's not always easy. Overall, would you say things have been easy for you?
Julian: My transition from bandleader to the owner of the entire business in 2014 was an exciting challenge. I think becoming a business owner for the first time is challenging for anyone. However, I was very lucky in the sense that I had already been managing the majority of the band's day-to-day business during my many years as bandleader. As such, the transition to business owner felt pretty natural and I was prepared for it. I also have an excellent "advisor" in Christianne. She has a mind for business, and is always coming up with new ideas which has been incredibly helpful in terms of helping the company evolve and progress. As a performer in Brick Park, I was always focused on keeping the crowd engaged and the dance floor packed. As the owner of the business, I am also now responsible for ensuring the happiness of our incredibly hard-working musicians and for delivering exceptional customer service to our clients. Weddings are high-stakes events, insofar as our clients expect, and deserve, perfection. After all, it is the biggest day of their lives and they have poured considerable time and resources into their wedding. We may have performed at 500+ weddings, but I never approach weddings as a jaded wedding industry professional. I know how lucky I am to be entrusted with the happiness of our clients during the most important celebration of their lives. It's truly humbling, and it's the reason I can say, without reservation, that I love my job.
We'd love to hear more about your business.
Christianne: We are a Boston-based wedding entertainment company with a focus on live music. We provide our clients with the option of a 4 to 7+ piece live band, along with professional DJ services and uplighting. We're known for being one of the very first non-traditional, modern wedding bands in Boston. We started doing weddings in 2005, most wedding bands were very traditional and, frankly, a bit outdated. We offered couples something completely new and different: an extremely lively, entertaining show with a focus on modern music with some throwback hits woven in. A lot of clients have described their wedding with us like being at a private rock concert. We encourage a lot of crowd participation in an organic way, rather than forced through awkward line dances. We're the antithesis of a stereotypical, cheesy wedding band (a la Adam Sandler in the wedding singer). We know how to get the party going and keep the dance floor packed with people of all ages. If we can get the flower girl to rock out to AC/DC, and the grandparents to get down to Bruno Bars, then we've done our job. Making sure that every single guest dances more than they ever have in their lives–that's definitely our "thing."
What were you like growing up?
Julian: I'm originally from Argentina, though my father was a diplomat so I grew up all over the world. I attended an international high school in Jakarta when my father was stationed in Indonesia for several years. That's when my desire to be a professional musician was firmly cemented. My first instrument was the drums, and I would practice drumming to Metallica and Pantera albums for hours. Looking back now, I'm amazed that my parents tolerated it (and the noise) as much as they did! I was definitely a "metal-head" during my youth (and, if we're being honest, my adulthood, as well). As a teen, I think I considered myself to be bit of a rebel, growing my hair out very long and being in a punk band with my friends. I'm sure it seemed rebellious to my parents, since they were constantly hosting dignitaries in their home and probably had some awkward conversations trying to explain my appearance to some of their more conservative guests. Of course, I was really just acting like a typical teenager. My dream was to attend college at Berklee in Boston. America is the birthplace of rock n roll, so there was no question about where I wanted to end up. I was very lucky that my parents finally agreed to Berklee (though it definitely took some convincing). I remained in Boston after graduating from Berklee and subsequently obtained my U.S. citizenship. I've always loved the unique musical culture in this country, and it's where I feel at home.
Christianne: I had a very different experience than Julian growing up. I was born in New York, but I moved to Massachusetts as a young child and have lived there ever since. My parents were very laid back and encouraging about pursuing a career in the arts, so I never really felt the urge to rebel. I definitely knew that I wanted to be a singer from an early age. I was completely obsessed with Whitney Houston and Mariah Carey, and spent countless hours singing along to their albums, trying to emulate them. I performed in a lot of musicals as a kid, so I was comfortable being on stage fairly early on. I also performed with acapella groups in high school and college. It's where my love of harmonies came from–I honestly enjoy singing harmonies as much as I do lead vocals. A song without harmonies feels like a missed opportunity. Julian mentioned that he was a metal head growing up. I was the total opposite. I was obsessed with r&b and hip hop during the 90's and early 2000's. I didn't really get into rock until I joined Brick Park in 2005. Now, I love rock just as much as r&b and hip hop. In fact, rock is by far the most challenging style for a singer in my opinion. I think rock requires more vocal skill and stamina than any other popular music genre. That was one of the biggest surprises for me upon joining the band. I figured that if I already had the R&B thing down, rock would be a piece of cake. However, that was not the case. It actually took me a while to find my rock voice. Now rock is my favorite genre to sing. I think it's easy for people to be dazzled by the vocal gymnastics involved in a fancy R&B run. What most people don't realize is that holding out a high note, while adding a convincing rock growl to it without hurting your voice, is much harder. As a teenager, I didn't look up to rock singers. Now I have so much respect for them, especially Janis Joplin, Ann Wilson, Lane Staley, Steven Tyler, etc. What they accomplished vocally was nothing short of masterful.
Contact Info:
Image Credit:
Wilton Brothers Photography.
Elizabeth Woodbury Photography.
Getting in touch: BostonVoyager is built on recommendations from the community; it's how we uncover hidden gems, so if you know someone who deserves recognition please let us know here.