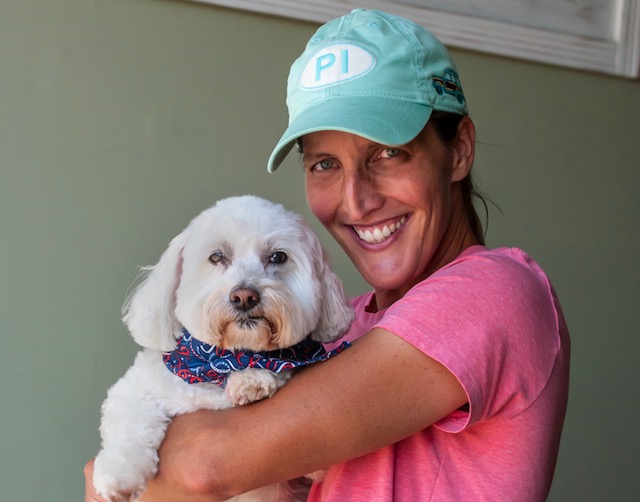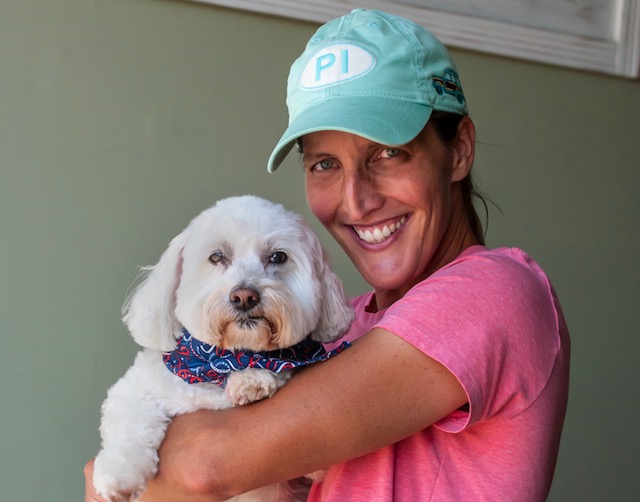 Today we'd like to introduce you to Jill Keaton.
Jill, can you briefly walk us through your story – how you started and how you got to where you are today.
Oddly enough, my road to becoming a dog trainer and doggie daycare owner began when I was a logger/editor at NBA Entertainment in Secaucus NJ. One day a co-worker of mine wore a shirt that had an interesting logo on it. When I asked him about the logo, he said it was for a dog walking business that a friend of his had just outside of Boston. Seriously I asked "he makes a living walking and playing with dogs?" I couldn't believe that someone could make a living doing this. He assured me that he actually did quite well. The conversation ended at that but I never forgot this dog walking guy and his seemingly perfect job.
Several years later, I found myself thinking about this guy once again. After having left NBA Entertainment to take a job with The Boston Celtics as their Promotions Production Coordinator I started to get the itch to venture in a new direction. My time with the Celtics was exciting and challenging to say the least but I couldn't help feel there was something missing. So I gave my old coworker a call and asked him if his buddy was still walking dogs outside of Boston. He assured me that he certainly was and that he could probably use my help if I was interested. Everyone thought I was nuts to leave such an amazing job with the Celtics to go and walk dogs, but I felt it was time to move on and begin a new adventure.
So dog walking quickly became my full-time job. For nearly three years I trudged thru the heat, the cold, the rain, the snow and I learned more about dogs than I could have ever imagined. One day, a client of mine named Kay Matlbie gave me a book called "Don't Shoot The Dog" by Karen Pryor and that book turned my world upside down. It was so amazing and gave me a whole new perspective on dogs and dog training. After finishing the book I wanted to learn more so I read all the suggested readings found at the back of the book. Then I read all the suggested reading in the back of each and every one of those books. Before I knew it, I had read nearly 100 books on dog training. Gradually my dog walking got easier and easier as the dogs who were once pulling me down the street were turning left and right and stopping on a dime with just my verbal commands. This job was getting better and better by the day. Then one day, I asked 6 dogs to "stay" on the sidewalk while I helped a turtle cross the road. Yes as silly and farfetched as that sounds, I just had to help that turtle. Little did I know that someone was watching me do all of this from their living room window. Several days later this nice older woman came up to me on my walk and informed me that she had told all of her friends about what she had seen with my dogs and the turtle. She couldn't believe what control I had over the dogs and that I was quite a talented trainer. Really, she thought I was a trainer. I guess I'd certainly read enough about dog training to think of myself as a trainer but it wasn't until I spoke with this woman that I thought about taking the next step. Well soon thereafter I got my first few clients and those clients referred me to their friends and then their friends referred me to their friends and so on and so forth. Before I knew it, my dog training business was taking off and just when I thought I had everything figured out, in walked Meagan.
Meagan was a 10 month old rescue from the Derry Humane Society and boy was she a character. Being a fledgling trainer, she kicked my butt. She was as tough as they come but in time the challenges I faced with her would undoubtedly shape me into the trainer I am today.
Together Meagan and I became quite the pair. She quickly became my best buddy and by biggest teacher. Together we ventured from the world of dog walking to the world of dog training. As a full-time trainer my clients challenged me with behavioral issues of all kinds but my specialty was quickly becoming fear based anxiety issues. Little did I know, Meagan would go on to teach me all I needed to know about this topic.
After moving from Watertown, Ma to Littleton Ma, I continued to hone my skills as an in-home dog trainer and eventually expanded my services when I opened The Social Canine doggie daycare and training facility in Westford, Ma with my husband Jim.
Since opening the business in February of 2010, I feel fortunate to have helped hundreds of dogs and their owners with not just daycare services but advice on health, nutrition, training, behavioral modification and much, much more.
Jim and I treat our dogs and their owners like family. While our daycare caters exclusively to dogs 40 lbs. and under, I continue to offer in-home training to dogs of all ages and sizes.
Great, so let's dig a little deeper into the story – has it been an easy path overall and if not, what were the challenges you've had to overcome?
Starting The Social Canine was an uphill battle from the very start because of my desire to make it so unique. I didn't want to create another typical daycare that was filled to capacity with barking dogs or a daycare where the dogs were forced to stay in crates for hours at a time. I also didn't want my daycare dogs to go home with bad habits because they are being encouraged to eliminate indoors or far worse, go home full of tension and anxiety because their daycare environment was far too stressful for them. I wanted to create a much different daycare. One that would cater to dogs 40 pounds and under. One that would provide the dogs with a reasonably quiet, calm and controlled environment. I wanted the fun loving dogs to have a safe place to play as well as the shy nervous nellies who would might otherwise never venture into a daycare. Creating a controlled environment wasn't an easy thing to do because it meant I had to screen the temperaments to find the ones that were right for my daycare. I didn't want dogs who exhibited aggression or acted like bullies. I wanted my daycare to be filled with nice, playful dogs 40 pounds and under. This I soon found out was not an easy task. It took a great deal of time to find these dogs and each and every time one would come thru the door I was grateful.
Creating a daycare for dogs 40 pounds and under was challenging but creating one where all the dogs had great temperaments was even more challenging. Needless to say, it took us several years before we had a good base of clients and could pay the bills.
As slow and difficult a process as it was, my husband Jim and can look back and say we wouldn't change a thing. Our dog owners can't say enough about how wonderful they think our daycare is because we care enough to do what's right for the dogs. Our mission isn't to fill up the place with dogs and get rich, our goal is to create a safe, fun and positive environment where shy dogs, young dogs, old dogs, and super playful puppies can all coexist in peace and harmony.
The Social Canine – what should we know? What do you guys do best? What sets you apart from the competition?
As a doggie Daycare for dogs 40 pounds and under, we cater to a small and medium sized dogs only. Since we are the only daycare in our area that does this, it makes us unique. Unlike most other doggie daycares, we do NOT crate our dogs. Our thinking is that if people want to crate their dogs, they might as well just leave them at home. We are also very unique in the fact that our dogs have unrestricted access to the outdoors at all times. Our dogs can move from our indoor space to our outdoor space without human assistance. All they have to do is either exit thru a doggie door or simply walk out thru the large garage door that is always open when the weather is nice. Our outdoor space is directly linked to the back of our indoor space so the dogs get to choose when they want to be inside and when they want to be outside and this believe it or not, is unique. This unique feature greatly reduces indoor eliminations which then keeps the daycare clean and smelling good (especially when we burn coconut incense or Yankee candles in the wintertime). According to the Westford dog officer we are the cleanest daycare she has ever seen. Again, another thing that sets us apart.
Our daycare is also very unique in the fact that when you walk in our front door, you see it all. Our dogs are all right out in the open to be seen and heard by all. Unlike most daycares that escort their dogs behind closed doors to the play areas, our owners enter and see it all. Our fenced in area is also completely viewable. The owners can see in and the dogs can gaze out at the beautiful conservation land that directly borders our daycare. Our chain-link fence and wrap around driveway allows owners to drive by and see their pups at play when they are outside as opposed to most places that use privacy screening or stockade fencing thus limiting one's ability to see the dogs outdoors. Keeping an open environment is what we are proud of and certainly makes us unique.
We are also happy to note that our daycare dogs only drink filtered water and in the months when the windows are closed, we run UV air purifiers to create a healthy breathing environment for all.
As the owners of The Social Canine, my husband Jim and I believe in the importance of being at the daycare each and every day. As a dog trainer/behaviorist for the past 15 years I believe it is essential for one if not both of us to be at our business on a daily basis to not only mange the environment but meets the needs of all our clients with our daily face to face interaction. This is something we are proud of and something that sets us apart from the rest.
What moment in your career do you look back most fondly on?
The thing that I am proudest of without a doubt, is my relationship with my dog Meagan. From the get go, Meagan has been my teacher. She has taught me everything I need to know about dealing with fear based anxiety issues in dogs. She has taught me the benefits of both traditional and holistic healthcare. She has also taught me so much about dietary issues because of her lifelong health and digestive issues. She has taught me how to be a great and capable dog owner, teacher and leader. Meagan taught me the importance and the benefits of not only reading canine body language, but being in tune with even the subtlest of cues. Through my relationship with Meagan, I have learned that all dogs can communicate with their owners, if their owners know what to look for.
All of these wonderful teachings have not only impacted my life but the lives of thousands of dogs and their owners. I carry this information with me as I manage my daycare and as I help each and every dog and dog owner that I have the privilege of assisting with training. I even attribute her to my ability to have written and self-published two books called "Don't Ruin The Dog" and "Choosing The Right Shelter Dog" both available on Amazon and Barnes & Noble.
I constantly utilize Meagan's teachings, even when it comes to my two children. For instance Meagan's digestive issues have certainly helped me when managing my two young daughters, both of which are on the Autism spectrum. My oldest daughter who is 6 years old is non-verbal so when she is not feeling well it's pretty tough to know what is wrong. Well after dealing with Meagan's off and on acid reflux for nearly 10 years I've been able to better understand and manage my own daughter's acid reflux. Ironically I told her gastroenterologist that my Pepcid dosage of 10 mg per 30 pounds of body weight was based on my rule of thumb for dosing Pepcid to my dog. She laughed and assured me it was the same for kids as well.
Meagan's lessons have been so enormous and she's had such a positive impact on my life but it wasn't until this past August 17th that I was able to show her that her lessons had not fall on deaf ears. This was the day that Meagan collapsed in my driveway after a fun-filled day at our daycare. Because we had such a deep bond, her eyes told me everything I needed to know. As she collapsed, she just looked at me as if to say "Sorry Mom, I need your help." After running her to our vet a few doors down from our home, it was revealed that she had a large tumor in her abdomen. Her breathing had become labored and her heart rate erratic and I knew just from that look in the driveway that it was her time. She had been an amazing dog and I wanted her to pass with dignity and minimal suffering. Her vet Dr. Mockler (of Middlesex Veterinary Center) and I agreed to give her peace and help her to pass. This was the hardest decision of my life, but it was the right one. I had come to know Meagan so well and she had taught me just so much that it was the least I could do. It was my last gift to the 15 year old dog who had already given me so many gifts in this lifetime. Thank you Meagan for making me the trainer, author and Mom I am today.
Pricing:
Daily daycare cost is $30 per dog or $46 for two dogs from the same household.
10 visit passes are also available and cost $290 for one dog and $440 for two dogs from the same household
In-home training cost is $275 for a standard 2-hour session and is available to dog owners who live within 20 minutes of Westford.
Contact Info:
Address: 369 Littleton Road
Westford, MA 01886
Website: www.thesocialcanine.com
Phone: 978-692-1111
Email: jill@thesocialcanine.com
Facebook: The Social Canine

Image Credit:
Thomas Brier
Getting in touch: BostonVoyager is built on recommendations from the community; it's how we uncover hidden gems, so if you know someone who deserves recognition please let us know here.