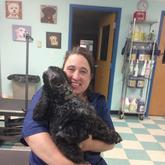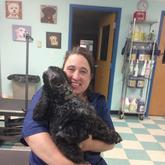 Today we'd like to introduce you to Brian Burke.
Brian, please share your story with us. How did you get to where you are today?
My wife, April Burke (our groomer and co-founder) and I moved to Hudson in 2014. Soon after just purchasing our house and settling into a new community, we eventually both left our "real" jobs for different reasons. I left mine first. I was a Marketing Director at a security and alarm company. I started doing some marketing consulting to help with my transition.
But I wanted to get more involved in my community. This was my shot to start fresh and establish a new business doing something that I was passionate about. I decided to start a full-service dog care company. I believed that my marketing and strategy skills would complement my interest in this field particularly.
Many companies provide dog walking, pet sitting, etc. We offered that also. But since my wife was about to leave her job as well, we thought we'd create more services for her to be involved with as well. That ended up being dog grooming.
We also wanted to portray an image of high-class service. We didn't want to have a funny cartoon logo and "cute" dog business name. I created a logo of a doggie butler, complete with a top hat, monocle and bow tie.
April and I both worked at world class customer service firms. She had previously worked at Walt Disney and I previously worked at Marriott Corporation, where I won the Corporate Service Award while in Guest Relations. It was natural that we would want to separate ourselves from the "pack" of typical dog service companies.
I attended all the local networking organization meetings, joined the chamber commerce, posted up flyers, etc. This was valuable. But I also worked smart. I obtained lists of dog owners from the town halls surrounding me, who purchased dog licenses. I then designed and mailed out postcards directly to these people–the ultimate target marketing.
Due to the skills I learned as a marketing director and marketing consultant, I was able to build our website and get it found on the first page of Google for local searches. I built it to be an overall advisory site, instead of just a sales pitch. It had videos, links to local parks and trails, advice and more. I wanted our company to more than just a transactional dog walking company–I wanted to be a trusted adviser and community-involved small business.
We hired our first employee during that first year and eventually topped out at 16 employees. We served approximately 500 customers since 2014. This is all after starting with literally nothing: no seed money, no logo, no customers, no bank account, no idea how to run a dog walking company!
April got certified as a dog groomer at the beginning of our first year. Instead of getting a job at salon, we decided that she would start grooming on her own, after doing some temporary work at a salon where she was mentored. But she needed to service our own clients somewhere else. As luck would have it, there was a self-service dog wash and groomer in Hudson, our home town. April worked out a deal with the owner to groom our customer's dogs there.
After we landed a dog walking customer, we would offer them grooming also. Since we did not have a salon, April rented a table at this local shop (like a hair dresser would do at a hair salon), and we were off and running.
But with the same need to offer more and be unique, we provided pick up and drop off for the grooming. Are you kidding me? You're at work, your dog is walked by a dog walker and then brought to a grooming salon for a spa day, then it is dropped back off. You don't lift a finger!
The grooming service has now come full circle. In just two years, April opened her OWN brick and mortar grooming salon, Burke's Dog Grooming, It is located at 1029 Boston Post Rd East, Marlborough, MA 01752. It has a warm and inviting atmosphere, complete with refreshments for both humans and canines.
The reviews have continued to pour in for both the dog walking / pet sitting as well as the grooming. To this day, we have a perfect 5-star rating on Yelp, Google, Facebook and more. We literally have never received anything lower than 5 stars in almost three years. About 50 reviews in all over these platforms–not to mention the scores of reviews and compliments that our clients sent us directly.
In addition to grooming, we also experimented with other services such as an online store for pet supplies and apparel, a monthly membership for clients for saving opportunities, extra benefits and more. I learned that I needed to focus on the "boots on the ground" aspect of our business instead of trying to compete with the major online discounters in the pet industry, so we did not continue with the online store.
Today, we are focusing mostly on the grooming business in terms of growth. April is thrilled to have a local brick and mortar business, be a part of the business community and continue to offer 5-star service to her clients.
I am also starting a business to teach others how to start a quality and top notch dog care company. I thought it would have much more of an impact, to dogs everywhere instead of just the ones I can touch. It's called My 250k Pet Business, My250kPetBiz.com. I will offer instructional downloads, free online resources, and I'll give talks to groups.
I mentored and trained several dog walkers who came to work for us, and then subsequently left our company to start their own dog walking businesses.  The rewarding feeling I received by completing this process–with people who had no dog walking experience before they started with us–propelled me to want to offer this training and advice to exponentially more people via an online resource.
Here are some stories from the field:
Showing up to a stoned dog who ate an entire tray of marijuana brownies, then having to transport her to a vet and then a specialized animal hospital…while still having a full slate of dogs to visit that day (she ended up being fine).
Before hiring employees, I performed 22 walks on my own one day, after having injured my foot while coaching my girls' soccer team. So I used a broken golf club from my trunk as a crutch during the entire dawn-to-dark day of walking.
Sleeping with a dog on her dog bed while a client was away, instead of tending to her and leaving, because the upstairs thermostat was broken (where her kennel was) and I wanted to make sure she stayed near the A/C vent and stayed cool (in the kitchen downstairs).
Having over 30 people (employees and their families) in our home for a holiday party at the end of our second year…again, after starting with nothing just two years earlier.
Being threatened by an elderly man who wanted to "bury me alive" because he thought I placed a filled poop bag in a random yard in his neighborhood…it was the actual dog/client's yard that I placed it in. And of course I put it in the trash barrel when we finished our walk.
Having a discussion with an employee in a client's home (while they were supposedly at work), standing outside the bathroom as I was talking to my employee.  Then I started to enter the bathroom and the husband was inside the bathroom the whole time–hoping like heck I was not heading in…Oops.  I was quite surprised when a heard a muted voice say, "I'm in here".
Giving a complimentary groom to an old dog belonging to a client at a retirement home who we visited for the first time. It was in severe need of sanitary services. We asked permission of the client, brought him to the grooming shop, April cleaned him up–not an easy job—and returned him to the retirement home client and didn't even mention a charge or payment.
Showing up at 11pm for a last call pet sitting visit to a client who was away. The cats had bumped into the kitchen faucet earlier and moved its position so that it was pointing at the counter and not into the sink. I showed up to water all over the house floors. Needless to say, I found the mop and went to town.
Taking two hours to finally figure out how to break into a house of a client who was on a six-hour flight to California.  His dogs were dogs in their crates inside—awaiting my visit.  But the client had given me the wrong key before he left for his trip. The neighbors were very curious.
We're always bombarded by how great it is to pursue your passion, etc – but we've spoken with enough people to know that it's not always easy. Overall, would you say things have been easy for you?
Not easy, no.  But I do believe things can be simple while not being easy.  It's a simple concept to provide a service that is unique and top quality, especially when you love doing it.  But it's not easy.  If you are convinced that your service can solve problems and help people and their pets by filling a need, then this confidence helps when things aren't easy.
We moved to a brand new community with no connections or network and got 500 clients and multiple employees to trust in us.
Offering dog grooming but not having a salon was a challenge, but we were innovative and took risks.  April's expertise behind a grooming table certainly was impactful also.
Offering overnight pet sitting without having a facility.  We solved this by visiting people's homes several times a day, including late night and early morning, so the pet could stay in its own home).
Not having any formal pet care experience and needing to learn on the fly.  We took the need to educate, train and insure/protect ourselves seriously and always offered the safest and most conservative approaches to dog care.
Growing exponentially fast and having to consider hiring an employee for the first time, not understanding payroll, workers comp and other responsibilities.  Consulting with legal experts, insurance advisers, etc, and teaming up with a major payroll company with extensive resources certainly helped.
Driving to visit dogs who had to be seen during blizzards, getting stuck on back roads, flat tires, road closures, etc were a challenge.  But writing policy that protected us in terms of potential delays and other unavoidable situations was the key here.
Needing to ensure that our employees cared as much about their job as we did was important.  We made sure to not only train them properly through company meetings and more, but most importantly, we made sure we hired the right people. These people would have keys to our clients' homes and were responsible for caring for their most prized possession.  We weren't as concerned with their previous dog care experience.  We were looking for trustworthy and coachable candidates.
He had to learn about taxes and record keeping, company structure, filling out workers compensation claims, etc.
Handling demand as a fast-growing company and maintaining superb quality is always a challenge to any business.  We made sure to continue to take on new clients only if we weren't diluting our impeccable customer service levels.
So, as you know, we're impressed with Burke's Dog Care & Burke's Dog Grooming – tell our readers more, for example what you're most proud of as a company and what sets you apart from others.
We made sure our goal was to solve a problem and address a need in our community, instead of to just start a business.  When this is your guide, you can't go wrong.
So many new clients mentioned that their previous provider didn't provide the peace of mind they were looking for, that they cut corners, didn't have proper systems, etc.
We realized that dog care shouldn't be viewed as a transaction where time is traded for money.  We knew that if we removed clients' anxiety and, in some cases guilt when they left their dogs home, that we couldn't lose.
We "scratched this itch" by investing in top-notch client communication systems to keep them in touch while they were away, highly trained and insured personnel, and of course going way above and beyond by the doing the extra things, taking the extra time, etc.
Besides high-quality service, great systems and even better employees, we also provided so much extra value added.  For example, we would have community dog walks for both clients and guests at local parks.  I would invite dog care professionals such as dog trainers to walk along with us and answer customer questions.
So, what's next? Any big plans?
We are now completely focusing on Grooming only in terms of growth and new clients. Now that we have a brick and mortar in Marlborough, MA, we have decided to focus our growth strategy there.
Also, since we are not focusing on growing the walking / sitting side as much, I am moving towards teaching other people how to start and succeed at their own pet care businesses, as mentioned previously. I feel I can have so much more of an impact, if I can spread the message about how we provide top quality care to pets. The goal is to have exponentially more pets receive the best care possible if I can teach others in addition to the local group of pets we can reach.
I am starting to provide this through online instruction downloads, other online educational resources, talks to groups and more, My website (currently under construction) and name of the company is "My 250k Pet Business" — My250kPetBiz.com. It will be fully operational by the time this piece hits the presses.
Pricing:
Grooming is custom-quoted based on the condition of the dog's coat, etc. Market Prices.
Walking is pretty much market price, range is $13-19 per walk.
Contact Info:
Address: Burke's Dog Grooming
1029 Boston Post Rd East
Marlborough, MA 01752
*April's brick and mortar grooming salonBurke's Dog Care, LLC
10 Technology Drive, Ste 40301
Hudson, MA 01749
*Not suited for client visits, we do outgoing service
Website: BurkesGrooming.com and BurkesDogCare.com
Phone: 617-515-4609 grooming, 508-525-5704 walking/sitting
Email: april@burkesgrooming.com brian@burkesdogcare.com
Getting in touch: BostonVoyager is built on recommendations from the community; it's how we uncover hidden gems, so if you know someone who deserves recognition please let us know here.