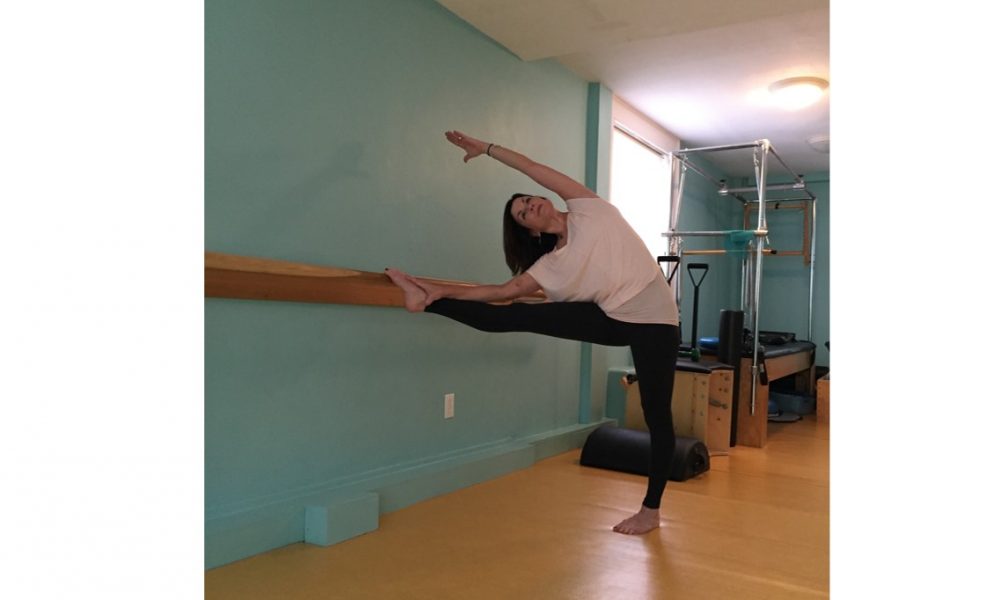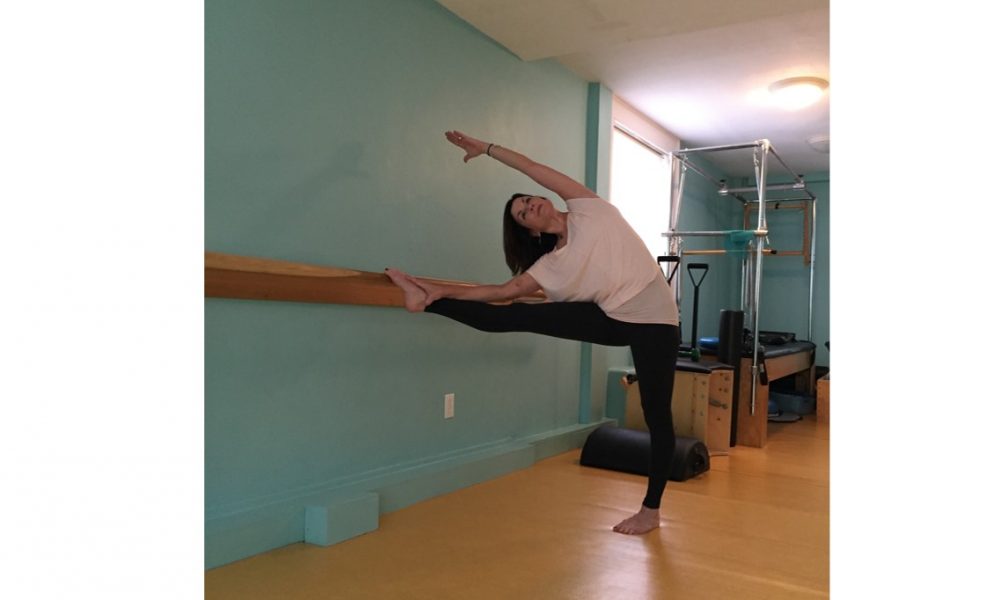 Today we'd like to introduce you to Donna Ognibene.
Donna, let's start with your story. We'd love to hear how you got started and how the journey has been so far.
I began as a gymnast and that was my world, daily practices, the best coach in the world, and being able to move and challenge my body, mind and spirit. I particularly loved floor where I could dance a bit and express my passion for movement. I was to go to UCONN on a full scholarship for gymnastics but shattered my ankle in a fluky landing off the high bar.
This was a pivotal moment for me as I had to rebuild, continue to work out (all on one foot) and strengthened my weakest event which was the uneven parallel bars. I enrolled at SUNY Stonybrook in the Physical Therapy program but switched over to History and Education thinking that would be a better fit. After finishing my B.A. at Suny Stonybrook and Masters at BU in Teaching, I spent a few years as a middle school history teacher. At this point I became a serious runner and met my goal which was to qualify for The Boston Marathon. By the time I ran Boston, I had 2 kids and decided I would either run the NY Marathon or have a third child. Well, many of my blessings come in 3's and I became pregnant and became a more regular runner. As you can see movement, education, challenge and variety is who I am and the number 3 has always been very special to me.
Now with 3 girls and happily married to a man that has been there for every high and every low, I had the support needed for the next chapter of pain, setbacks and being able to take a big step and open my own business. Once I left the teaching world to stay home with my girls I always had 2 or 3 jobs. I taught at Health Clubs, created a program for MIT women while living on campus, was a Family Day Care Provider, and started to create after school programs at my daughter's elementary school. I enjoyed blending different formats, one of my inventions was "Triple Treat"- a fusion of kickboxing, Tai Chi and Yoga. This was the training ground for Bodytrio my business. As I taught after school, my daughters 4th grade teacher invited me in to help the students during exams and MCAS. I created a Chair Yoga Stress Reduction Class.
Things started really taking off and I became a Personal Trainer for those too busy (and very successful), people that needed to move and have a custom program that would allow them to not only move better but have more energy for their demanding jobs.
While all of these exciting developments were taking shape, I had another flukey accident. I was the third car in of a rear end collision and suffered a major concussion after my airbag went off and broke on my face. This was in 1998 and air bags were tough, and concussions were not talked about. I suffered years of severe headaches, chronic fatigue, depression, weight loss and a loss of identity. I kept going, teaching, running and being a stay at home mom to my three incredible daughters. This was another formative and pivotal time as I learned more about how to deal with setback, loss of energy, pain and mind body work/experience. I taught myself to meditate and incorporate breathing exercises. I was greatly misunderstood in the medical world and was being worked up as a young runner/athletic mom with an eating disorder. Once I started teaching the techniques I learned to heal myself, I began incorporating these life lessons and techniques into my work and private training clients. I knew at this point I wanted to teach, but this is what I wanted to teach – Mindful Movement vs. History. In 2008 the worst economic era my generation would face, I decided I would open my own studio, and this gave birth to Bodytrio. I found a special, bright and inviting space in Belmont Center and feverishly went to work on trademarking Bodytrio, setting up and creating a team. I was fortunate that Bodytrio took off and as always, offered a combination of three – Yoga, Pilates, and Personal Training. The studio was thriving, I was asked by Lululemon to be and Ambassador, and my other side job and hobby Fitness Modeling and Commercial Acting fit right in. Well, as my path was unfolding, and I was at my strongest and most satisfied personally and professionally, I made a fateful choice. I went to visit my best friends on 4th of July weekend and went waterskiing as I always do. I told 3! people the day before that I better be careful skiing because I love to go hard. I was afraid I would fall jumping the wake and hurt my neck or back and then have trouble running the business.
Being in beautiful Chatham with my favorite family and friends I decided to ski. Getting up on one ski in the ocean is not a casual decision, I have been a water skier all my life.
Just the way of life, my ski was too big, and the boat too slow, and as I attempted my 3rd and final attempt to get up out of the water my hamstring completely tore as my ski was being pulled off. The word flukey cannot even describe this unfortunate moment. We were all set for a festive weekend, I could not be more psyched to ski, and my friends so happy to give me the opportunity. Although this major injury would cause some tough operations (3 hamstring and 2 shoulders), I am here to tell you it has given me the most incredible learning experience, professional growth and chance to meet the most talented and generous people I get to work with and share my work with. As I set out to heal, I was not progressing with traditional Physical Therapy, and I had the very best. My unusual injury needed a whole other realm of movement and Therapists. With thanks to one of my teachers, I attended a course called Chain Reaction by The Gray Institute. I had a weekend to learn from the "Father Of Function" Gary Gray and decided to study with Gary, Dave Tiberio, and Doug Gray and become a GIFT Fellow. This functional approach and all of the learning allowed me to experience first hand and share this approach with all of my clients and teachers at Bodytrio. It has taken a solid 6 years to get some decent function back myself but I am incredibly fortunate that this strange accident has turned into a true "gift". I have now trademarked my own movement system and call it TRIOGO, it is a blend of Yoga, Pilates, and Applied Functional Science (what I learned, studied, and mastered to become a Gift Fellow). TRIOGO is what I have developed with the support and expertise of my Business Advisor Bob Wiersma who is also a big part of The Gray Institute. I could not be more fortunate to have had the Gray Institute to help me heal while learning how to heal others, and that is what I share at Bodytrio. Now going on 9 years we have a team of super talented teachers who regardless of whether they are teaching Yoga, Pilates, Barre or Personal Training use movement to strengthen, uplift and heal others. This Fall we will officially launch TRIOGO and I will begin to share this approach with Harvard Swim and Dive, my good friend and World Marathon Challenge First Female Winner Becca Pizzi and her track group (another story how I met Becca and became her Energy Coach) Lululemon, and all of the amazing men, women, kids and teens that have been the backbone of Bodytrio and TRIOGO.
Great, so let's dig a little deeper into the story – has it been an easy path overall and if not, what were the challenges you've had to overcome?
It has been a very special struggle!! Injury, concussion, and operations while raising children and continuing to grow a business that requires exceptional energy and movement.
Please tell us about Bodytrio.
My business is called Bodytrio- Pilates, Yoga, Personal Training, and Barre Classes. We are known for being an inviting, engaging, and versatile studio that delivers results.
What I am most proud of is creating our own niche in a sea of other Fitness and Yoga Studios. We put the "personal" in Personal Training, and we customize and personalize each class and session for our clients and students.
Bodytrio is a warm and welcoming space for High School and Middle School students, as well as athletes and those experiencing hard to impact injuries. Our High School Students come to destress, build up, and learn about Yoga and their own bodies while earning gym credit. Our Middle School students come to cross train, build up and learn about Pilates and Yoga to strengthen, lengthen, and support their other activities.
What sets us apart is being able to integrate different modalities and options to reach a variety of needs. In any given class we have multiple levels, injuries, health issues/challenges, and everyday athletes looking to cross train and enjoy a change from sport.
Bodytrio is the only studio in the area to offer TRIOGO™ Tune Ups and Transformation sessions to all types of sports teams as well as our clients, This Fall we will provide on-site TRIOGO™ Tune ups at tennis courts, basketball courts, Havard's Blodgett Pool and The Belmont Track where Becca Pizzi trains.
Do you look back particularly fondly on any memories from childhood?
Creating and performing my floor routine to the theme song from Rocky!
Pricing:
You can take two weeks of classes as a new student for 30$
We offer packages of 5 ($95), 10 ($185) and 20 ($350)
Private lessons are $90 for one or $850 for 10 lessons
Contact Info:
Address: 21 Alexander Ave. Belmont Ma
Website: www.bodytrio.com
Phone: 617 489-1319
Email: info@bodytrio.com

Image Credit:
Elena Tkachenko, Jo Shapiro, and Kathy Berger
Gretchen Hanley, Maddy Morawski, Ava Dargon, Daniele Bufano
Ariana, Corinne and Katherine Ognibene
Donna Ognibene
Getting in touch: BostonVoyager is built on recommendations from the community; it's how we uncover hidden gems, so if you know someone who deserves recognition please let us know here.