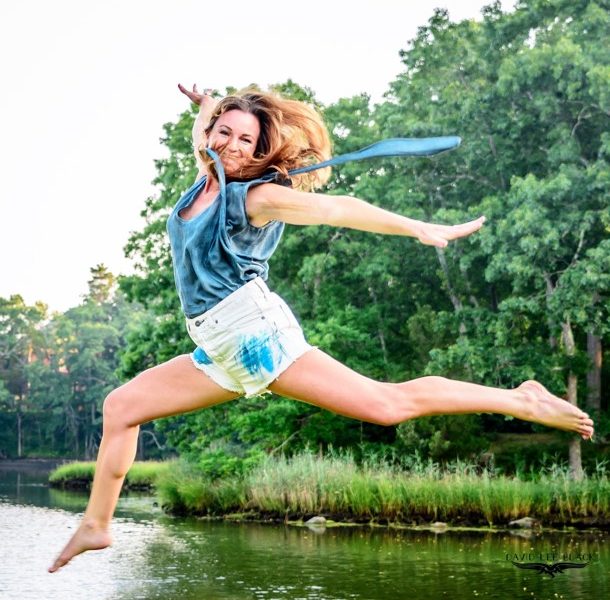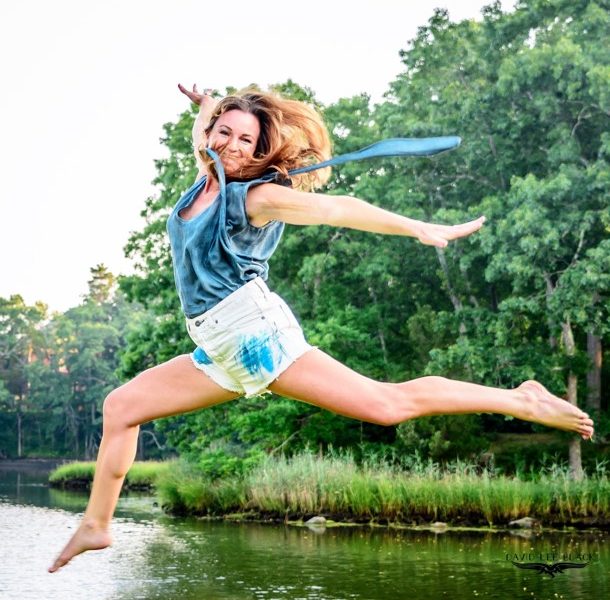 Today we'd like to introduce you to Janelle "Elle" Feigley.
Janelle "Elle" Feigley is an authentic magic-maker that does not believe that "hope is a strategy". Born with a wild imagination and an innate need to create and to use her body and hands, Janelle has always found herself immersed in athletics and canvas from the start. Elle has created while others were watching television and found herself doodling in the classroom and sketching objects and people. Her greatest inspiration still comes from people and her surroundings, most notably, travel destinations and the influence of the sea in The Ocean State, where she currently resides with her 2 boys and husband in Wickford, where she also runs a studio-boutique, Gossip. At Gossip, if you are lucky, you may catch her painting LIVE or styling a celebrity. She has painted Taylor Swift, Johnny Depp, Iris Apfel, Joe Perry, and Alice Cooper, as of late…
Gossip started out as Elle's first business plan at age 12 and grew into 4 distinct boutiques, each catering to the varying demographics of the clientele. Elle graduated from college in 3 years, playing two Division I sports, on a tennis and academic scholarship, while also holding 3 jobs. Elle excelled in the corporate world at Kraft and Pfizer Pharmaceuticals, while revamping her business plan and saving funds to launch Gossip. Curating each boutique with an artful eye and attention to detail, consistent with the delivery of offering one-of-a-kind and unique items from her travels and private designs, was her clear advantage in the marketplace. Elle excelled at offering personal styling and cultivating relationships, and ironically, the name Gossip, was well-suited, as her interest in people and their stories, attracted loyal customers at all locations. An entrepreneur and stylist by day, Elle painted all night, during the quiet hours to soothe her soul or to relax after a long day. Elle began selling paintings, at large, under the signature "elle" (the last four letters of her name, Janelle) to remain unanimous and did not disclose anything about herself to art collectors, other than the fact that it was a local artist, at the time of interest, or point of purchase. Elle was comfortable with keeping her identity in the fashion and art world separate and private, for a while.
Her art was a direct extension of self and was and still is her form of therapy, with great art being brought to life from extreme joy or even sadness. Elle creates from a place of the heart and had to be ready to introduce the world to her work with a personal association to her true authentic self when the time was right.
After losing two friends last year, Elle gained a new perspective on life and made some changes. She dissolved 3 of her 4 boutiques. She kept her flagship boutique, Gossip, in Wickford. She threw herself into THE PEOPLE PROJECT for breast cancer research and awareness. She painted 44 real women in 31 days, during the month of October 2017. It was the vulnerability of the women and the exchange of stories between herself and the models that gave her the courage to "come out" in the art world, so to speak… Elle saw how her paintings were liberating and healing to the women. Elle, herself, suffered from first, second, and third degree burns from boiling water on her body when she was 16 months old which left her with visible and emotional scars. There were connections and parallels between so many of the stories and consistent messaging shared among all the women. Elle realized at this point in time, that it was her turn to share her story and to use her talent and paintings as a way to share joy and love with others. It was in this moment that Elle discovered her greater purpose. She has painted numerous hours every day since the execution of THE PEOPLE PROJECT.
Elle continues to cheer on anyone that crosses her path… as we all know, life is not easy. Elle is a lover of people, places, and things. She does not take any time for granted and lives each day, fully. Her artwork is now featured internationally and resides in many private collections, as well as on-going gallery exhibits and event-happenings. THE PEOPLE PROJECT will be an annual October charity project and will eventually travel to The Guggenheim Museum if the stars align…
Elle is known internationally for her use of color. She presents the world to the viewer on canvas in a way that begs you to jump into the scene… whether it is hopping on and off a sailboat or yacht, floating away at sea, dancing at sunrise, or reminding others to love themselves, first, in her figurative work.
Elle is an extroverted artist and loves people to watch her paint LIVE. A true believer in abundance to all and that art can heal and should be shared and celebrated, you will find her immersed in multiple projects at the same time, all of which pull on her heartstrings…
Has it been a smooth road?
Elle says, "No one can compete with passion and work ethic. What I find most attractive and interesting in people, is what they are passionate about… I don't care if it is football or mint chocolate chip ice cream, tell me about it!" Elle believes that finding your passion and throwing yourself wildly into that thing, whatever it may be, where TIME STANDS STILL FOR YOU… that passion is at least going to reward your heart, maybe not always your bank account. But, with tenacity and time, she likes to think the universe has a way of rewarding those who do all they can to live out their dreams. "I don't think many people would describe their journey as smooth, and my road (definitely the one less traveled) is certainly not an exception." As the oldest of 4 children, she was working 3 jobs at age 12… pretty much, single-handed, running a concession stand at the local baseball park and killing it in her " tips for college" jar. She rode her bike to and from all of her jobs, some of them 10 – 15 miles away from her home. She woke up early in high school at 4 am to ride her bike to Dunkin Donuts (ironically, she got fired from DD because she talked too long to customers) to work before school, all while playing varsity athletics, all seasons, and then leaving practice to work serving the elderly their meals at a convalescence home and offering them, often, their only conversation of the day. Her parents would pick her up at 9:30 or 10:00 pm because it was too dark for her to ride her bike home and she would stay up doing school work until 2 or 3 am, often getting distracted and finding herself doodling or drawing, once again, to calm her mind. "Much of my childhood is a blur, to be quite honest. What I do know is that I was always into ART & FASHION. I would cut apart my tights and sew together a different color for each leg or cut, rip, or decorate things in my own way. I talked my teachers into allowing me to give oral presentations, instead of the 24-page term papers due, because I was so busy working jobs and enlisted in all AP classes. I was a straight A + student and a serious, over-achiever. I learned early on that kindness ALWAYS WINS and that not everyone is going to like you, and that is okay. I struggled to find friends that saw my true heart, as my body was scarred and I was embarrassed to wear clothes that did not cover my scars because people would ask, "what is wrong with you?" There were a lot of mean girls and I did journal daily and draw consistently, out of necessity."
ART for Elle now is still an absolute necessity. " ART is a lifestyle choice that I must make, daily. I know that I am a true art addict, but, at least it is a healthy addiction. Art is the reason I get up in the morning and why I stay up late…" Her advice to all people is to follow your HEART, it knows the way. Andy Warhol once said, "Don't think about making art, just get it done. Let everyone else decide if it's good or bad, whether they love it or hate it. While they are deciding, make even more art." Elle has always created ART for herself, and for that reason, she feels her art is the truest, most pure extension of herself. Because she creates from the heart, whenever she sells a piece of art, there is an absolute exchange of gratitude between herself and the art appreciator.
"For young women, the best wisdom I can offer is to be kind to yourself. Everyone has a story — not everyone deserves to hear it. Also, not everyone deserves to get to know you or your intimate details. Try to live in the moment the best you can. Each day is a part of your journey." Elle feels that if she loved herself the way she does now when she was in her twenties, HOLY MOLY, watch out world! "If people mistake your confidence in yourself, as conceited, they are not your tribe. No one is perfect. Forgive yourself and forgive others. Commit to curiosity. Remember that you don't always have to stay on the same trail, just because you thought it was the best place to start walking." If everyone was on the same path we would not have each other to learn from. "If you obey all the rules, you miss all the fun." – Katherine Hepburn
So, as you know, we're impressed with Gossip / Elle Art Design – tell our readers more, for example, what you're most proud of as a company and what sets you apart from others.
Elle has a distinct style that is recognizable in all media. Although she enjoys the movement of oils, she primarily works with acrylic at the moment because she is a prolific painter. Elle notices that those most attracted to her work are those with open hearts, full of life and kindness. "When my paintings evoke emotion in the viewer, not only is there an exchange of gratitude between myself and the admirer, but, there is also some level of synchronicity… an unspoken, I get you and you get me, so to speak." Elle is influenced from the mundane to the extravagant. Daily life of routine or breaking routines often become series of abstracts, as do emotions that run unusually high or low. Summers by the sea, inspire ongoing series of new work that has a nautical influence, whether it be from watching a sailboat glide by her home in Wickford or yacht-hopping in Newport. The sensory overload of visual stimulation, coupled with the smell and taste of salt water and the sound of the ocean lend themselves to countless seascapes of all sizes.
Elle is definitely drawn to water and natural elements such as sticks and stones that reappear in countless works of art. However, because of her obsession with people and the psychology of humans — she allows herself time to explore the human figure and loves gesture-drawing and painting. She consistently produces self-studies and self-portraits, since she, herself, is always available as a model/muse.
Elle only offers fine art and will not take on commission pieces because she finds that it compromises her need to self-medicate with true art therapy. She creates everything from the heart and wants her collectors to end up with an investment piece that moves them for years to come, rather than purchase a painting, that may be an obligatory purchase, after commissioning an artist to create something specific. The only exception is when she is hired to paint LIVE at events, as edgy new-age entertainment, where locals and celebrities alike can hire her to react to their specific scene. During this type of cutting-edge, voyeuristic pursuit, there is no promise to what will unfold on the canvas…only a commitment to the moment-in-time, which can never be reproduced. The paintings are often auctioned off for specific charities upon completion, or purchased by private collectors, but, there is never an obligation to buy.
Elle has always created to soothe herself and to calm her nerves. Her goal is to inspire others to create art or to enjoy the arts and to celebrate one another. Elle's process and working through her own mind-body connection is what makes her art very personal to herself and collectors, abroad.
Often it feels as if the media, by and large, is only focused on the obstacles faced by women, but we feel it's important to also look for the opportunities. In your view, are there opportunities that you see that women are particularly well positioned for?
Janelle "Elle" Feigley has never found her sex, as a female, to hold her back from her dreams. If anything, she is very aware of the influence of art on communities and the world and wants to continue to be recognized for her talent as an artist, rather than noticed for sex appeal, or recognized because she is female. "In a world where technology dominates most of our lives, I find it refreshing that viewing art and meeting an artist, in person, has a residual effect on viewing pleasure… I relate it to hitting a xylophone. When I meet an artist I admire or get an opportunity to visit their studio, my reaction is magnified and my pleasure resonates far beyond any reaction to a simple JPEG."
Elle has mentored over 20 students at colleges and universities in ART & FASHION. She enjoys working with both males and females and believes that people all over the world need to start celebrating each other, regardless of sex, politics, and religion. "One thing truly remarkable to me about the ARTS is its ability to inspire and heal people from all walks of life. When you are viewing a painting or listening to a song written by a musician, you get lost in the artists' soul. You can often relate or not… but, something makes you want to look more, listen more, or walk away. As with anything in life, art is subjective. Some humans will get what you are up to and some won't, and that is OKAY."
Janelle "Elle" Feigley does find it difficult juggling the demands of motherhood, entrepreneurship and an artist lifestyle. For this reason, Elle seeks out opportunities and wisdom from women to whom she can collaborate or learn from… "Why our struggles are so hidden from others, I'll never understand. I'm a hugger, a close-talker, and I overshare and give in abundance. I think my art shows so many facets of myself that show how complex we all are as humans." "I'm always striving to find balance and other humans that I can share with on a deeper level…"
Contact Info:
Address: ATTN: Janelle "elle" FeigleyGossip / Elle Art Design
16 Main Street
North Kingstown, RI 02852
Website: www.elleartdesign.com
Phone: mobile: 484.919.7982
Email: Sales@shopgossip.com
Other: www.shopgossip.com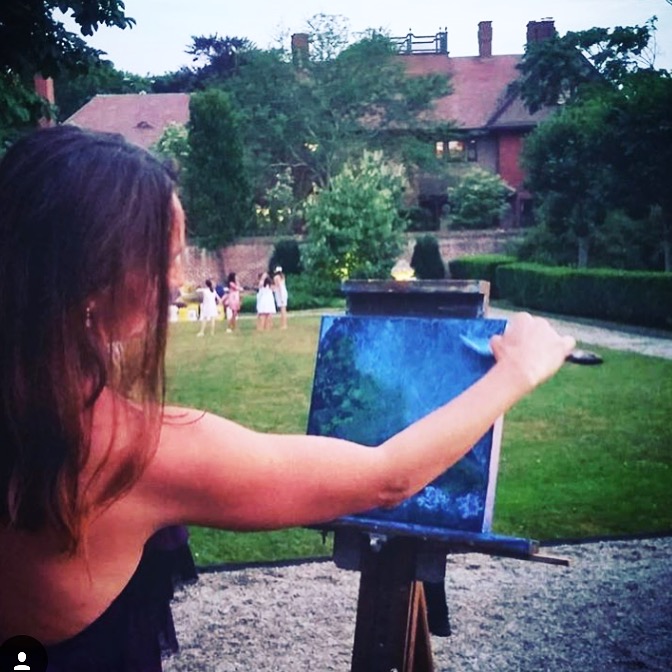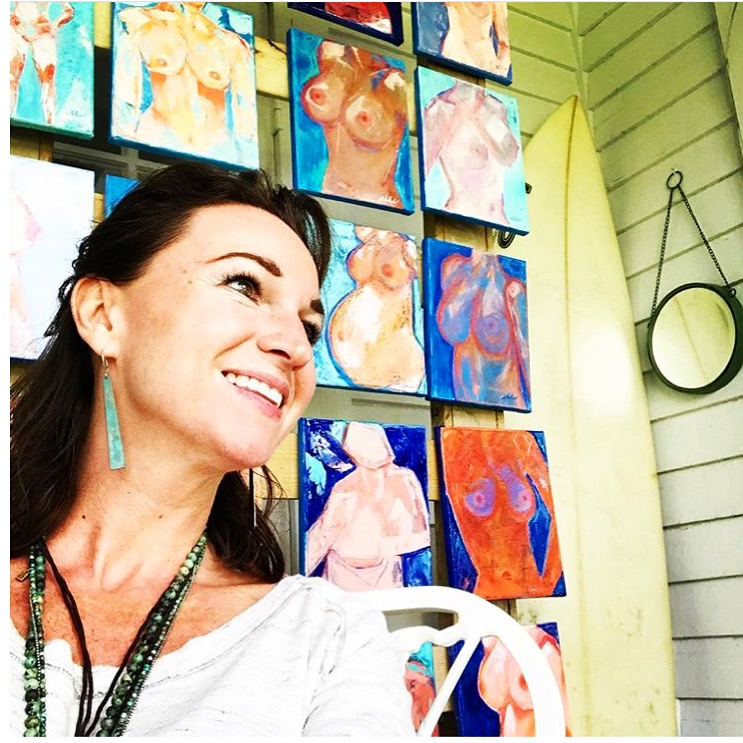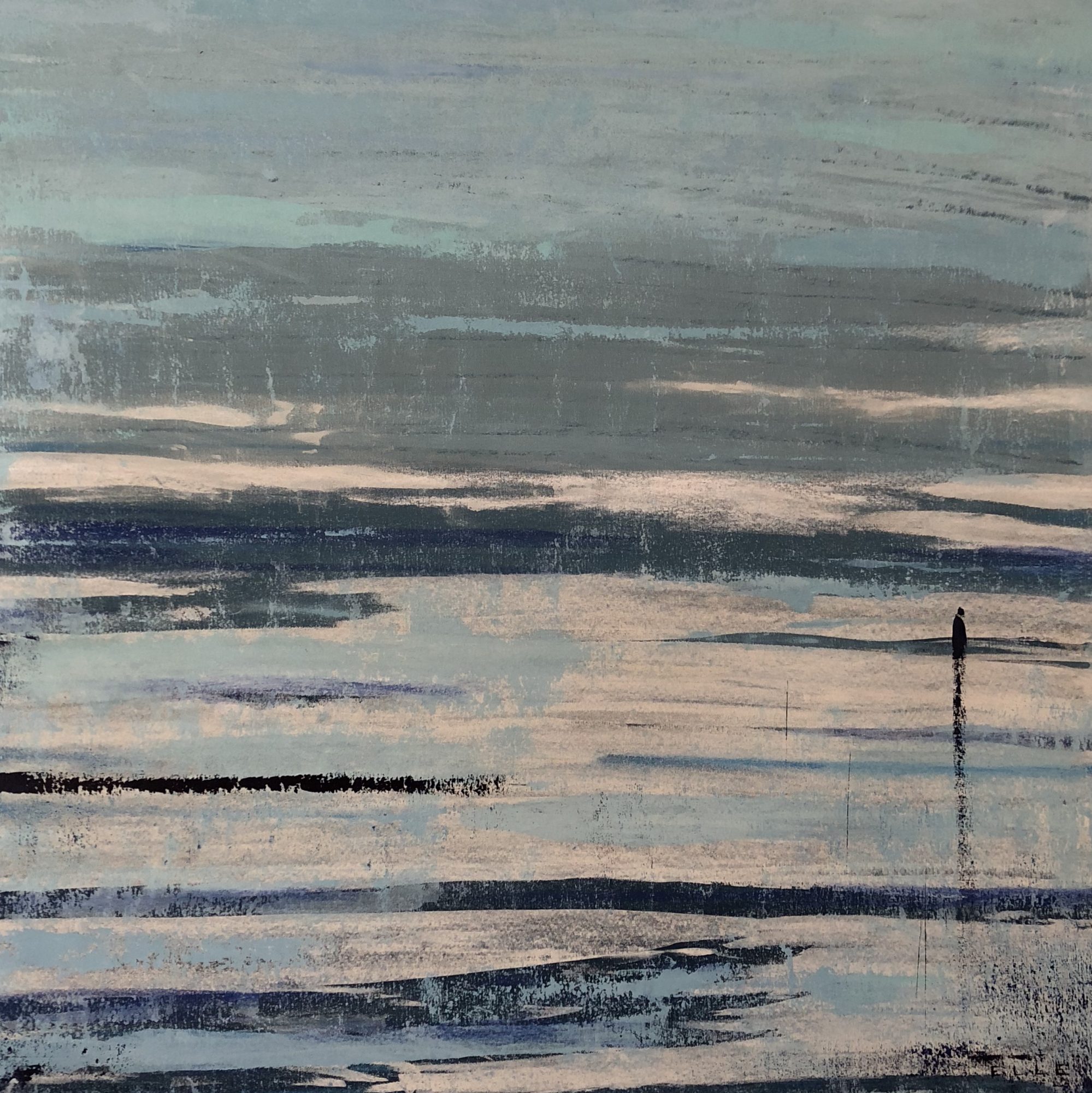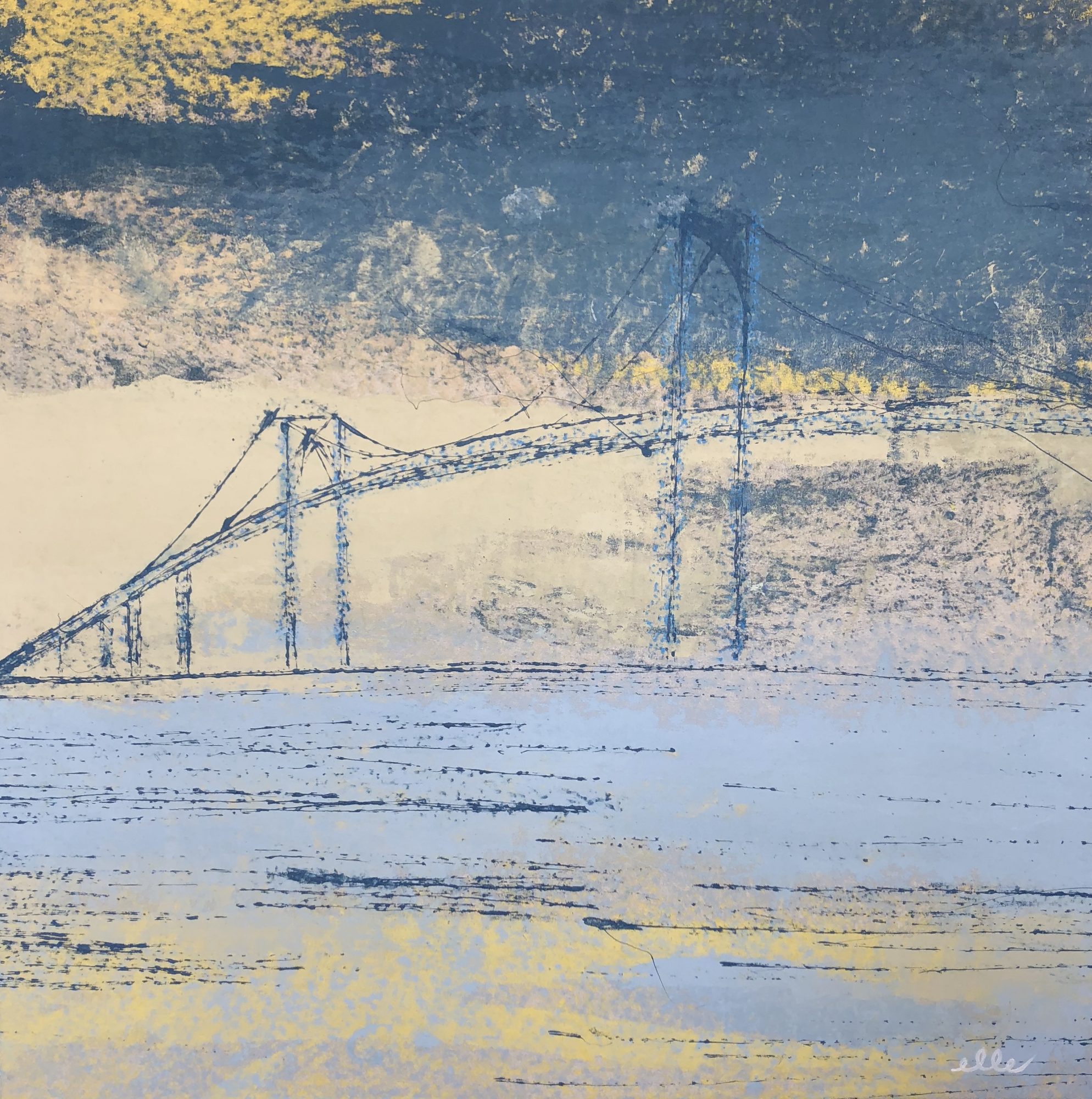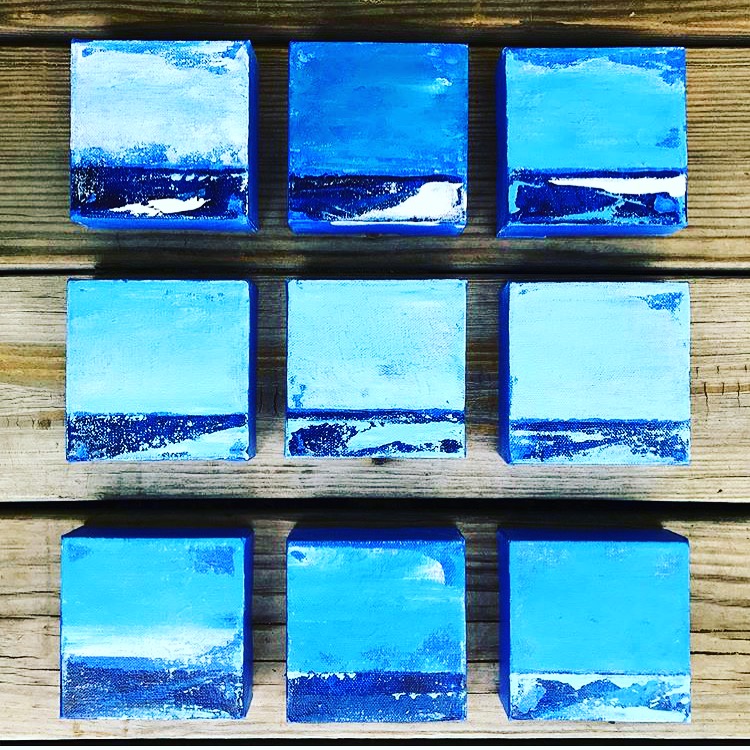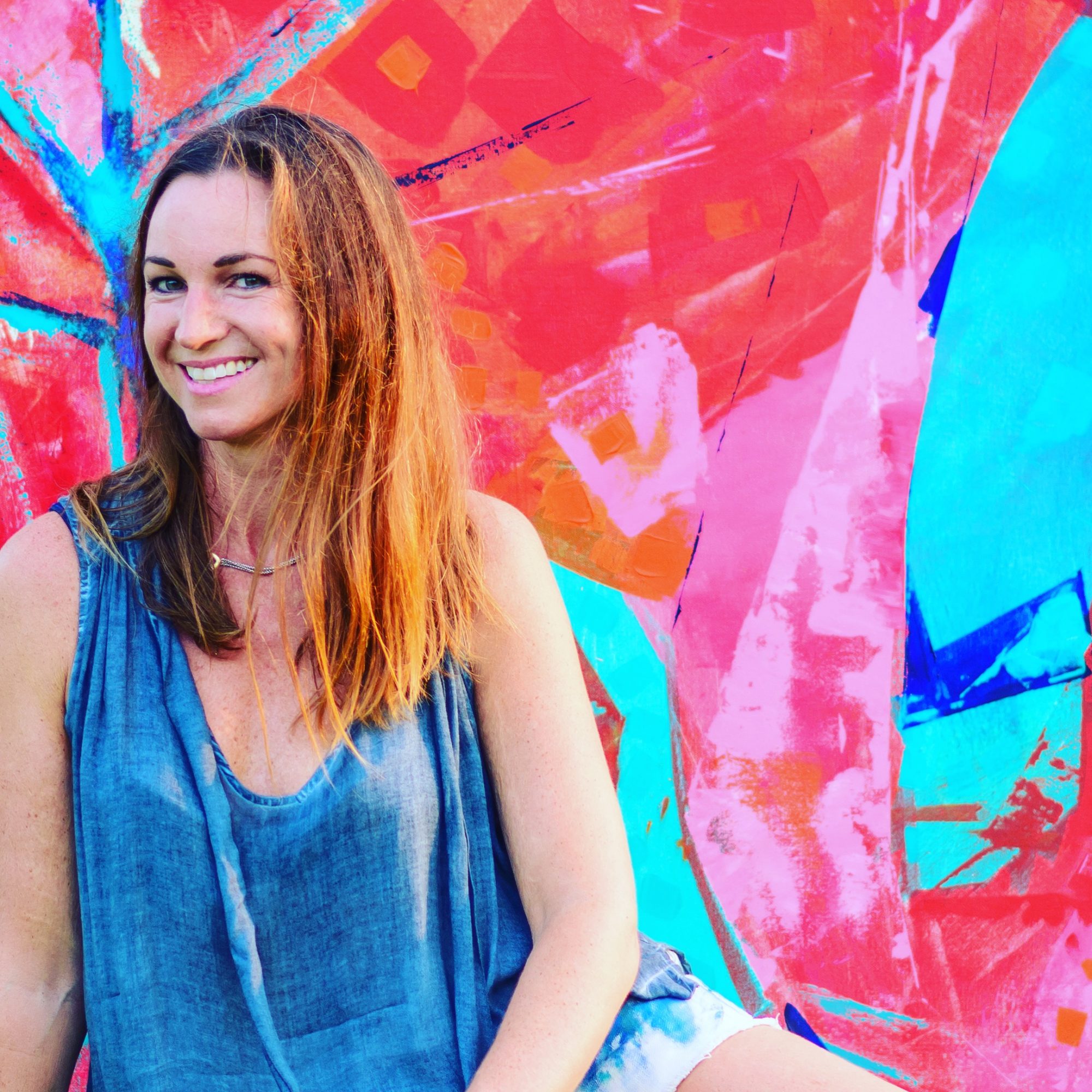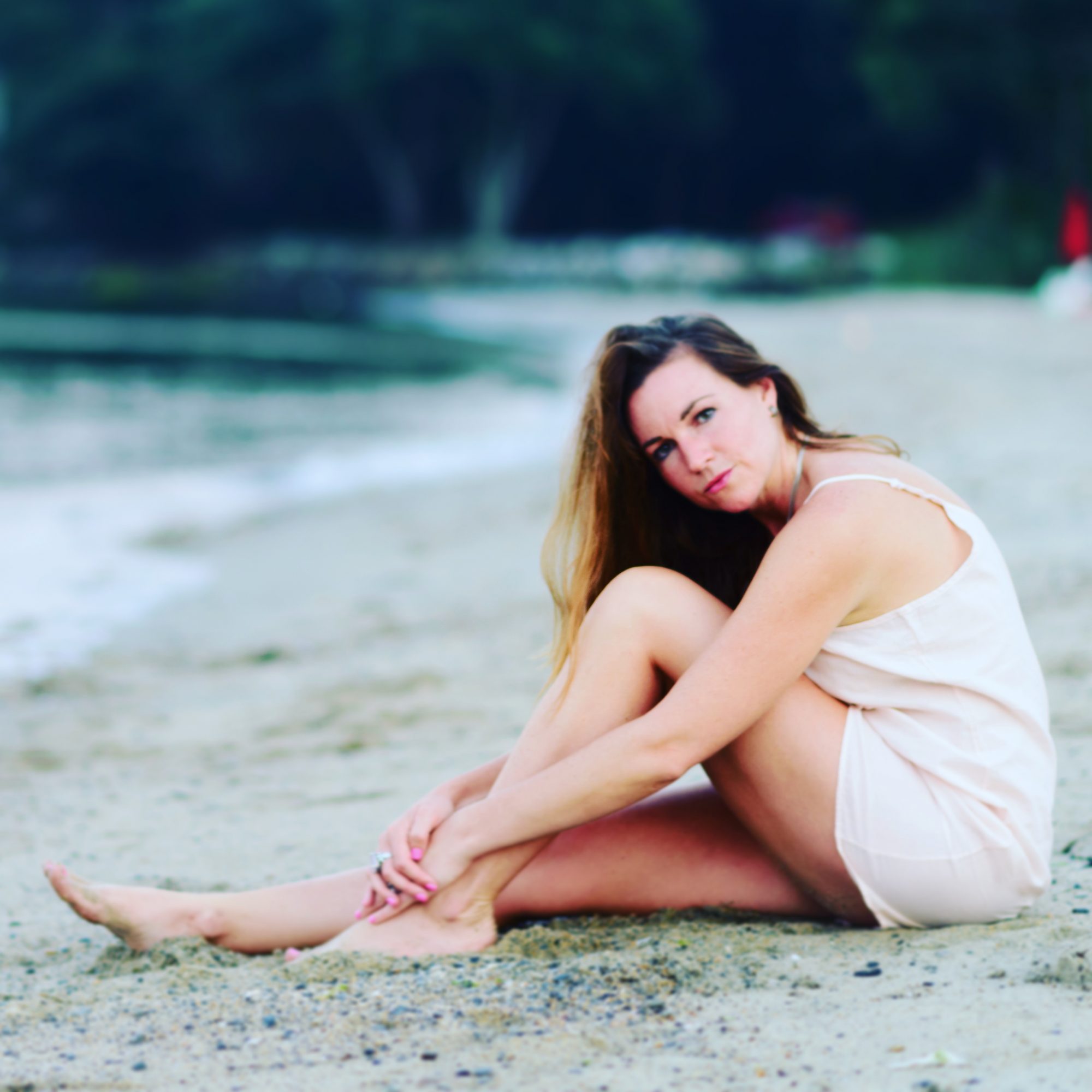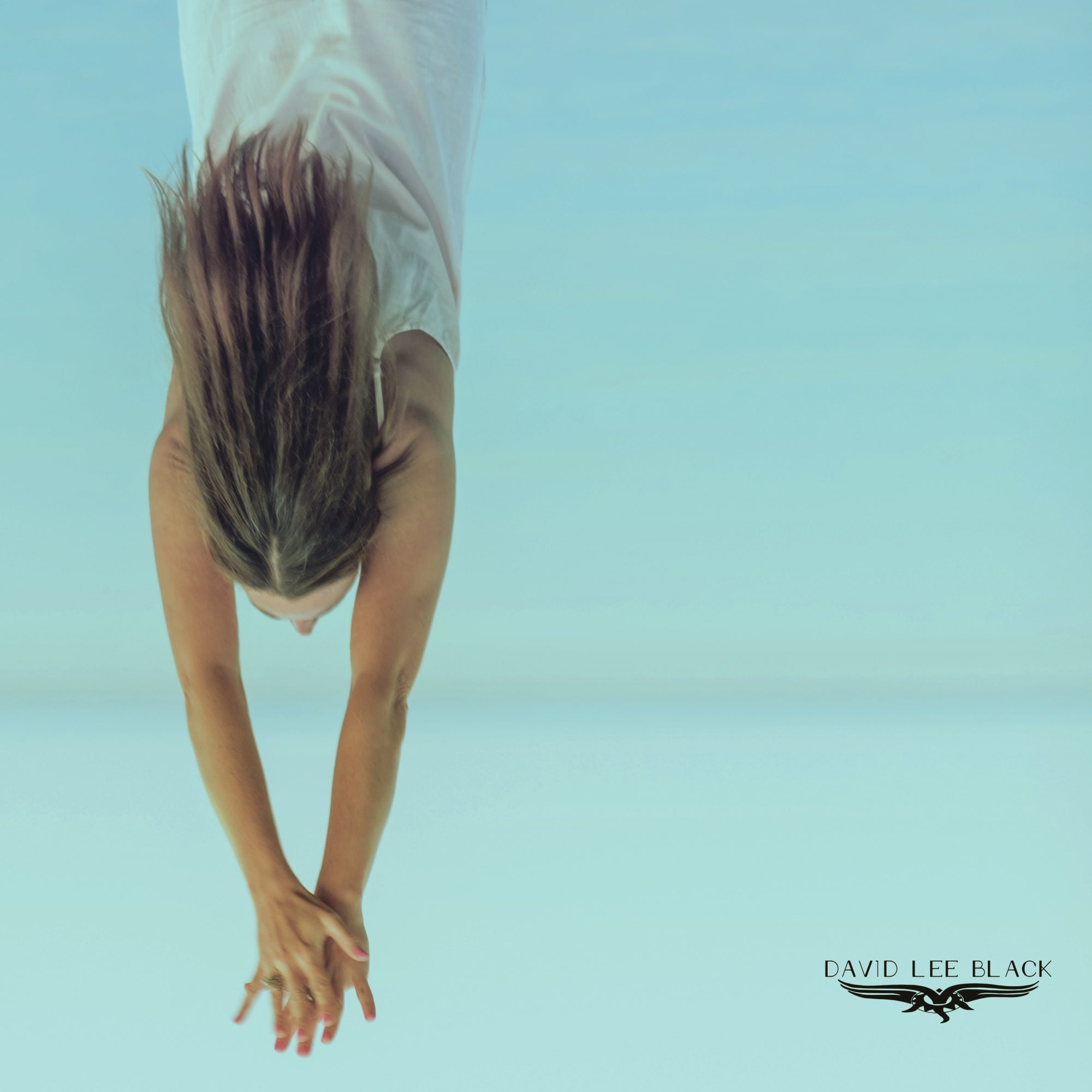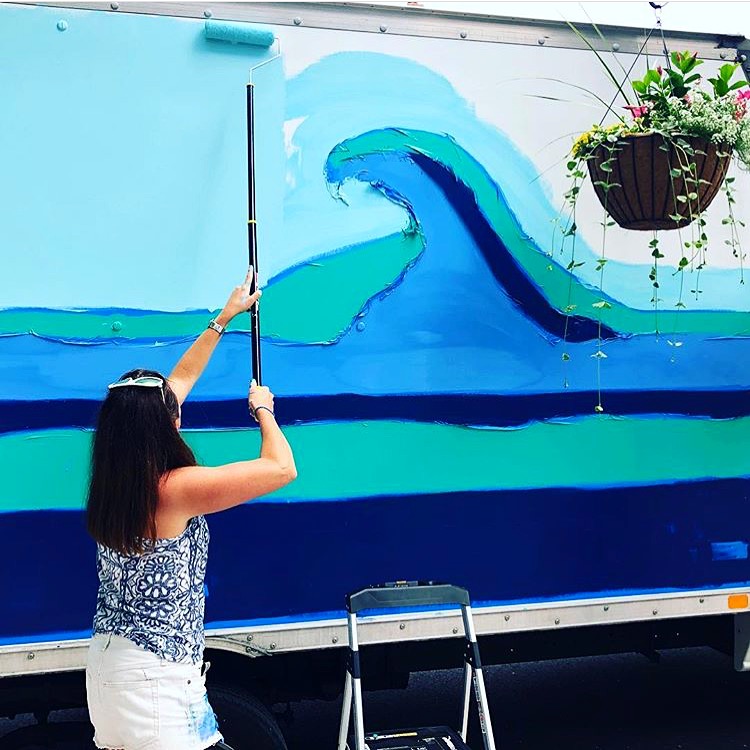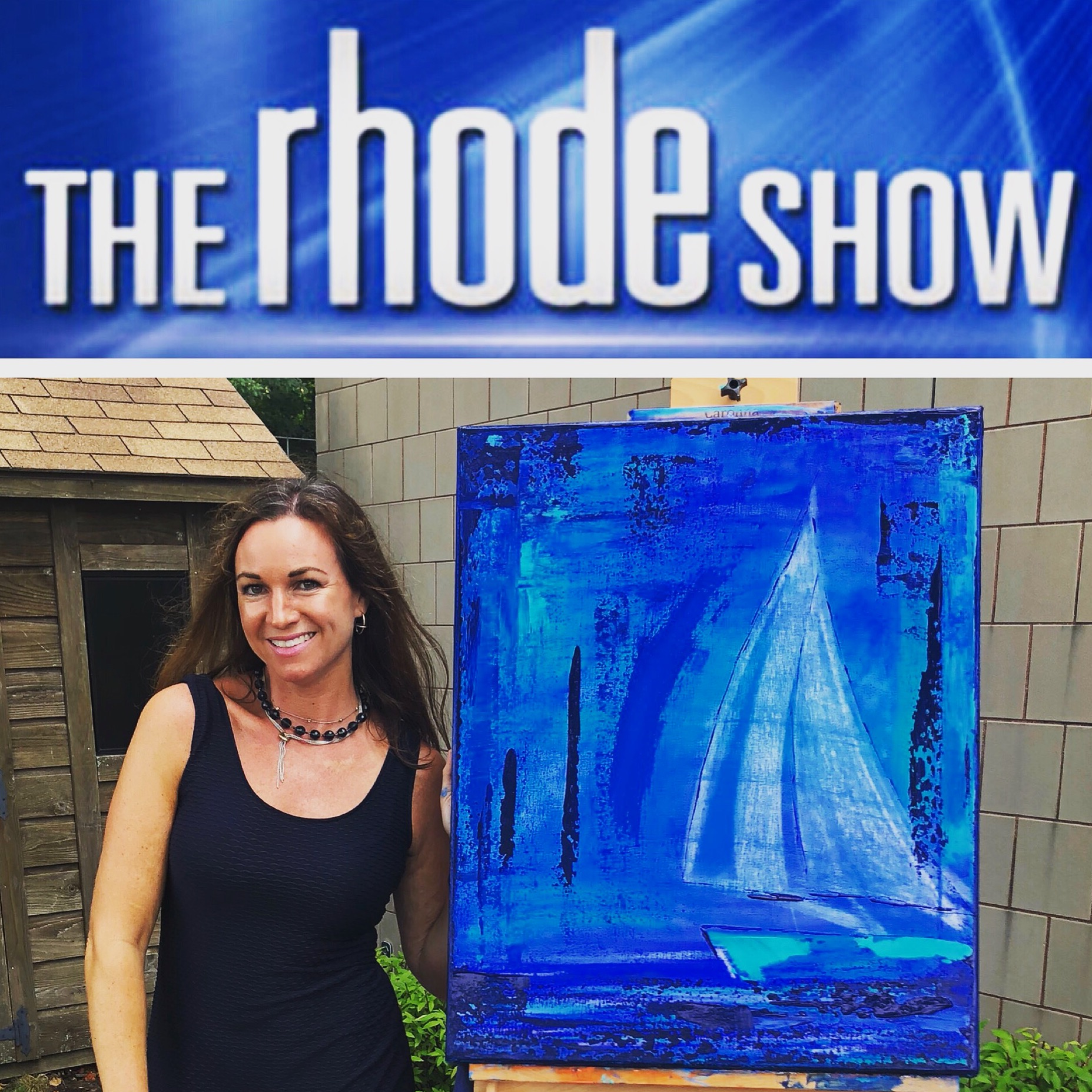 Image Credit:
Janelle "Elle" Feigley, David Lee Black
Getting in touch: BostonVoyager is built on recommendations from the community; it's how we uncover hidden gems, so if you know someone who deserves recognition please let us know here.