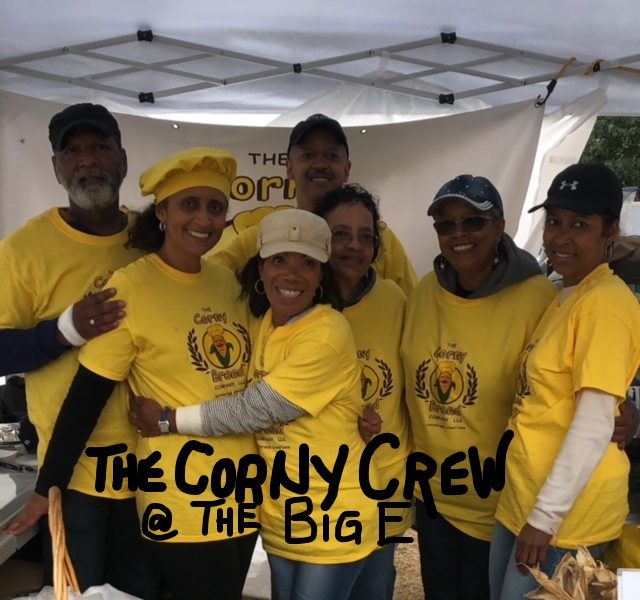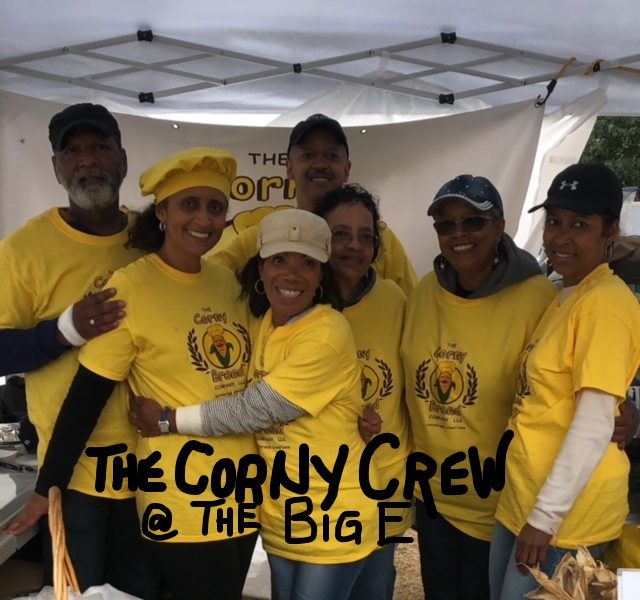 Today we'd like to introduce you to April Teixeira.
April, please share your story with us. How did you get to where you are today?
It was November 2010; I was in the middle of a divorce process when I also became unemployed. During a phone conversation with my Cousin Steph, I expressed uncertainty about the future for myself and my children, and that I needed additional financial resources; she suggested: "sell your cornbread to make some money." I hemmed & hawed, and said: "who's gonna buy cornbread??" Being a very spiritual person, she quoted a Bible verse that basically states: speak of things that are not, as though they are! Immediately upon hanging up the phone, my attention turned back to a TV program I had been watching as the announcer pointed (seemingly) right at me saying "God has placed something on the inside of you, and it's up to YOU to figure out what that is, and what to do with it!" Moments later, a realization came over me that these two messages were likely not a coincidence, and I found myself searching for images of corn for inspiration, but the image I found was "SO CORNY!" Then, I burst out laughing: "The "Corny" Bread Company!" You see, my cornbread had whole kernels of corn baked in!
I sent out email and text message blasts announcing my "business" to family, friends and former colleagues and to my delight received the very first orders instantaneously!! After checking with my local town government on the legalities, The Corny Bread Company was up and running from my home kitchen! I developed a rudimentary business plan, determined serving sizes, costing, and a production & distribution schedule to deliver "Corny Bread" in my minivan dubbed "The Corny Bread Mobile;" I even promised a corny joke with every order and customers held me to it!!  My only intent at the time was to make enough money to ease me through the holidays, however, I continued receiving orders for Corny Bread for office parties, birthday gatherings, graduation parties, etc.; it was quite amusing to me, especially with a name like "The Corny Bread Company!" What I didn't understand at the time, is that I was developing a "brand;" soon after, Corny Bread had become a household name amongst family, friends, and new customers alike!
When I first began making this cornbread as my standard take-along dish for events I attended, I did so with on a recipe that had been passed along from family friends. As I began my home-based business, I made a few tweaks to the recipe and the process, though it was still that same basic recipe. When I relocated to Boston from CT in 2014, the passion to turn my "hobby-business" into a fully-fledged legal entity took on a new life, and I began seeking free or low-cost business classes & workshops.  Those workshops were offered by organizations committed to increasing learning opportunities for early-stage Entrepreneurs: CWE (Center for Women & Enterprise), SCORE (the Service Corps of Retired Executives), and The Lawyers Committee for Civil Rights & Economic Justice. It was at one of those programs that I learned of CommonWealth Kitchen – a food business incubator, and the world of possibility increased exponentially! It was at that point when I realized if I was going to make The Corny Bread Company into a bonafide business, I needed to develop a proprietary recipe from scratch, and that is what I spent the next 18 months doing, learning "the science of baking."
Once the recipe was perfected, I had a fully prepared, moist, and versatile cornbread; the flavor profile is so unique that it complements any meal from breakfast (#TossTheToast) to Thanksgiving Dinner!!  I then went on to develop a line of "cornbread creations" from that very same proprietary dry base. In addition to Corny Bread, we now offer HOPcorn: bite-sized Corny Bread made with BEER, which I specifically developed for the Craft Beer/Taproom Industry. The idea for HOPcorn was brewed (pun intended) from a day-after-Thanksgiving discussion with my family; I was sharing some information about a pitch competition sponsored by Sam Adams Brewery and mentioned that I was going to develop a variety of Corny Bread with beer baked in. My Uncle Mike commented: "if you could make it in bite-sized portions that would be more appealing for a bar atmosphere;" well it was 3 a.m. the next morning when the imagination took over and the idea for HOPcorn popped!!  I am also now offering "customization" of HOPcorn where we prepare the batch using specified beers from local breweries, for events to be held at their location.  Recently developed is "Corny Bread~Wheat Free" for our customers with gluten sensitivity; I wanted this product to maintain a comparable taste & moist texture to Original Corny Bread, and my test-market families approved!! I'm also excited about introducing our newest character in the line-up, Nibbles: snack-sized Corny Bread … so you can nibble all day!  (Note: Nibbles are square mini-muffins!)  The creation of these additional products enhances the company tagline: With Corny Bread, Your Meal Is Now Complete!!!
Has it been a smooth road?
It's interesting that if I had been asked that question 4-5 years ago, I might have responded by saying "I WISH it had been smooth;" however, in that span of 4-5 years, I have learned so much not only about business, but more importantly about myself. I've learned that it's the road shaped by challenges and obstacles that provide the stretch for us to become AND DO, that which we didn't know we could achieve. During that time, I became an avid student of personal development; I understood that there were some things standing in the way of my becoming the person that "I" truly saw myself as, the person that I felt I was destined to be. I also embarked on a new journey towards spiritual growth & healing and WOW… you know the saying 'when the student is ready, the teacher(s) will appear?' That is exactly what happened! And as I journeyed through these two studies in personal development & spiritual growth, I finally began to experience true feelings of authenticity, which allowed me the inner strength and courage to forge ahead with the dream of starting this business. THAT was the struggle for me… believing that "I could."  As Maya Angelou so beautifully stated:
"A woman in harmony with her spirit is like a river flowing. She goes where she will, without pretense, and arrives at her destination prepared to be herself, and only herself."
Of course, I also had to become a culinary student as it pertained to the knowledge of baking, which required a great deal of product development; the result was a lot of "less-than-desirable" Corny Breads in the process, yet, this was my self-defined passion and I had to commit to mastering it! And then there's the business side of the business which I knew nothing about; I mean there are legal and financial considerations that need to be made BEFORE starting your business, and then there are legal and financial considerations to be made in order to STAY IN BUSINESS. Having the passion & creativity to work "on" your business can be fun, but maintaining the tenacity to continue striving with every step you make working "in" your business is hard work, yet so necessary for a desirable outcome!  ADVICE: commit to being a student.
So, as you know, we're impressed with The Corny Bread Company – tell our readers more, for example, what you're most proud of and what sets you apart from others.
I'll have to admit, I am quite proud of The Corny Bread Company Brand and perhaps more-so tickled that it really works! You see, starting my business was an idea wrought from a disappointing and financially tough period in my life; what I needed most was laughter and a spirit of optimism, which is hard to come by when things appear bleak. Fortunately, the corny name for the company came about organically, then the corny jokes provided a platform for laughter; but the day I saw a yellow Kia Soul drive past me and a friend dubbed it "cornbread yellow," I knew it had to be part of the branding! A few months later when I received notification from the MA Registry of Motor Vehicles that my requested vanity plate was available, it was cinched: CORNY!!!  People often point, laugh, and take out their cell phones to snap pictures when behind me at a red light – I get such a kick out of watching them through the rear-view mirror!! Now that I am doing weekly farmers markets & pop-up markets, when people come to peruse The Corny Bread booth with a serious and inquisitive expression, I say "Hi! Are you here for a corny joke?" It takes them a second to process what I am asking but that's almost always followed by laughter! So, I've come to establish that the culture of The Corny Bread Company is to make people smile and laugh, and of course, to offer them delicious and unique cornbread creations with creative pun-intended names! We often don't know what is on the other side of a person's expression, and if they walk away from me smiling and feeling a little bit happier, then that pleases me! I love the customers who come back for their weekly "Corny Bread fix" as they say, and have been holding onto a corny joke to share with me; that's TRUE CUSTOMER ENGAGEMENT- and I love it!!
Additionally, I've set the course for The Corny Bread Company to have a social impact by partnering with a Boston-based transitional shelter for single Moms. My aim here is three-fold: 1) to provide Corny Bread for their joint holiday/event gatherings 2) to offer employment & mentoring opportunities thru the growth stage of the company, and 3) to share a community platform I created, titled: "My Sister's Salad." As the owner of The Corny Bread Company, LLC, I facilitate this platform with the Moms as an avenue to foster increased self-esteem and encouragement. The mission of "My Sister's Salad" is actually a metaphor to encourage women to bring their contribution (their talents, internal strengths, intellect, personality, concerns, etc.) to the table. Each Mom brings a 'secret salad ingredient' to contribute; aside from the fun this gesture creates, the message in bringing a "secret" ingredient is that it doesn't really matter 'what' you bring to the table, what matters is that you bring it!" Conversely, the message is that we are to feed our "Sister" only that which is good for her. Furthermore, this platform allows me to share my story of "Dream to Delivery," a story of hope & perseverance during a time of uncertainty, thus engaging the moms in various discussions around personal development, self-esteem, potential, and the like. My wish is to provide a measure of the hope that kept me moving forward; to encourage them to "believe in themselves and to never give up on their dreams!"
What advice would you give to someone at the start of her career?
First, for the aspiring Culinary Entrepreneur, I'd say apply yourself to being a member of a "culinary incubator." An incubator, as the name would relate to an incubated and premature infant, is where that infant is provided with appropriate support and nourishment towards being healthy, and for the best outcome of full growth potential. This is the case with CommonWealth Kitchen Culinary Incubator, a shared-use commercial kitchen facility in Boston (Dorchester) where I am a member business. In this community of new and established businesses, there is a wealth of knowledge and experience where new entrepreneurs have access to existing business owners who are more than willing to share their learning curve; in other words, to help you quickly learn what not to do! And by having the first-hand ability to see their teams in action on a day-to-day basis, new Culinary Entrepreneurs also get to quickly learn what they "should" be doing to take their business from incubation, thru launch phase, and onto the road towards success! Additionally, as a member business of CommonWealth Kitchen (CWK), I am exposed to numerous opportunities for growth and distribution I would not have otherwise been privy to.
Now, for ALL women blazing the path of entrepreneurship: set your compass towards "becoming." Simply put by one of my mentors: Learn. Grow. Do. That means absorb what you don't know and refine what you "do" know: research, talk to experts in your field, test market your product. Then, allow that new knowledge to develop you and even change some of your perceptions if necessary. Most importantly, be willing to APPLY that knowledge tirelessly! For the young woman: STAY IN ACTION! For the more mature woman: STAY IN ACTION!! At age 54, I am just getting started on my business; I can certainly tell you that it would have been physically less of a strain on my body had I started a business in this particular field 20 years ago … however, I'm getting it done!! In fact, it's actually taught me several things about myself as it relates to passion, perseverance, and the WILL to succeed!  I still chuckle when I think about what I said to my cousin "who's gonna buy cornbread??!!" But when a friend asked me to consider "what if Mrs. Fields didn't introduce her chocolate chip cookie (my favorite!) because there were already numerous cookies in the market space?" That realization was an "aha" moment for me!
ADVICE: take your passion seriously; develop the vision necessary to convey your business plan to others, and keep in mind that the first "NO" you get, simply means "Not Yet!" Let that be your fuel for blazing the path of your dreams, and be committed to not letting that dream fade! It took me 18 months to develop a proprietary recipe for Corny Bread, and more than two years to become a member business at CWK; celebrate your every step and know who you are becoming! When a baby takes that first step, they quickly learn more steps like that will get them to a different place! That is not meant to be a simplistic statement, what I mean is, if you are the one making voice memo's in the dark at 3 a.m. because something sparked your imagination, then continue to be a Visionary; if you're handling the strategies for SM posts, website design & edits, email campaigns, or getting advice from the best in the industry – credit yourself as Social Media Manager or Marketing Strategist; running crowdfunding campaigns, bootstrapping, recording receipts and making day-to-day decisions about product distribution, YOU are the CFO and COO; stand proud and affirm yourself as CEO of your Enterprise!! I formed The Corny Bread Company, LLC as a legal entity in March 2018, was accepted into CommonWealth Kitchen in April, and received my permit to operate a food establishment in May; for the first four months, I was reluctant to refer to myself as anything other than "the owner." Though "titles" have low-priority impact on me, I now understand that in "being" the Visionary, Marketing Strategist, and CEO, there was a mental shift which provided the resolve to think beyond the title of owner which a person becomes simply by paying the legal fees for a business license. As a female founder, I had to BELIEVE that I could be whatever I needed to be for myself. I want my journey to provide encouragement for other women who may look to me for inspiration, especially for my daughters & daughter-in-law, who themselves have been amazing examples of the tenacity and intelligence of women!
In summary, I want to share some of my thoughts on personal & small business growth that came from understanding the growth of the bamboo plant; to understand this, simply may be some of the best advice for new entrepreneurs:
"Plants, like with much in life, require nurturing for maximum growth. The growth of the bamboo plant provides a parallel for 'success that is nurtured.'  When planted, bamboo can lie beneath the soil in what appears to be a dormant stage for an astounding 3 to 5 years before any sign of growth is visible. Yet, the planter must provide fertile soil, and nurture that 'expectation of growth' continually by protecting the territory around the plant, watering it daily, and assuring proper exposure to sunlight.  The planter cannot lose faith after year one, not even after years 2 & 3, rather staying steadfast in the belief that 'what was planted has an expected outcome.'  What this planter knows is that what is not visible 'above ground,' is taking root below ground; strengthening and growing in resilience until such time that its' survival above ground is assured BECAUSE it has been established by patience, consistent behavior, and an unyielding belief. And when the bamboo finally breaks the surface of the soil, it does so with an irrefutable tensile strength and extreme acceleration, with some species growing 2 to 4 feet in a single day!"
As I journey through the next phase of my business, this is the very advice I speak to myself daily: Be patient with yourself. Apply consistent behavior (routines). Maintain an unyielding belief.
I am so very grateful for the many opportunities I am a part of, especially the XcelerateBos 2.0 Entrepreneur Network & Business Accelerator (a product of The Urban Labs, Boston, MA), and for the many women (My Sisters), who "feed" me.  I wish also to acknowledge the men in my life who willfully support my endeavors!  And of course, for the loyal "Corny Bread" customers, to whom it has been my pleasure to serve, THANK YOU!
And now, I have one question for YOU:
Is YOUR next Meal Complete?
Contact Info: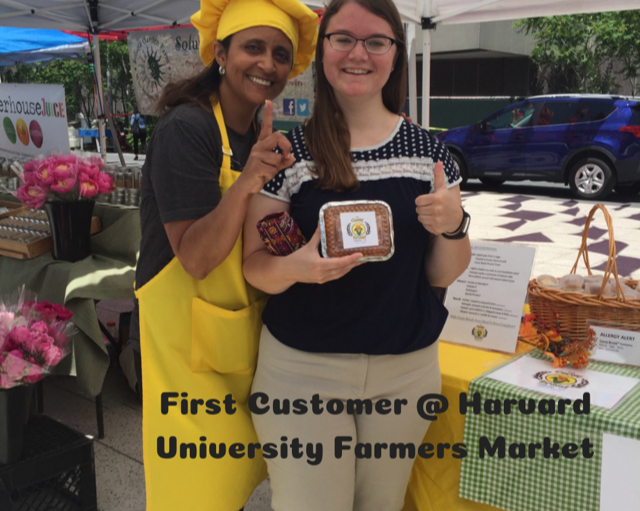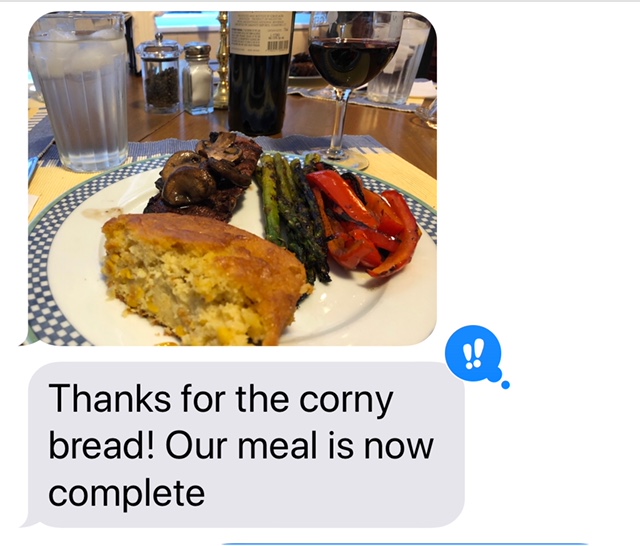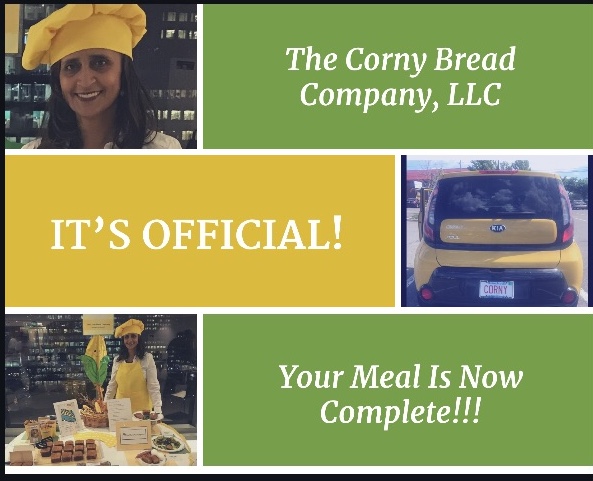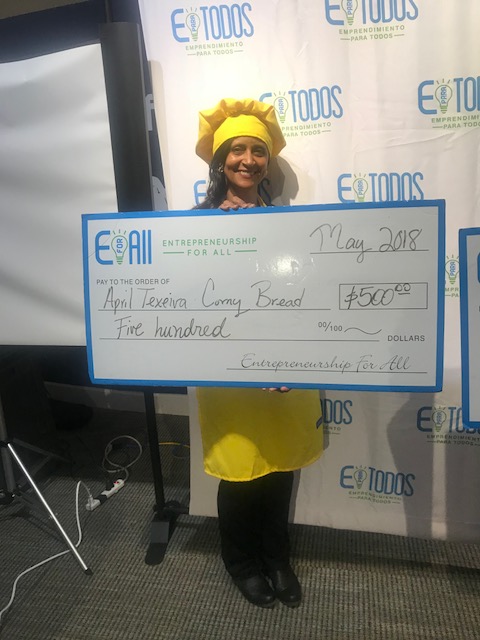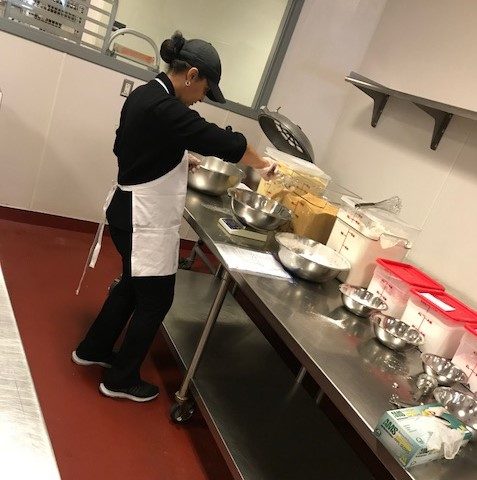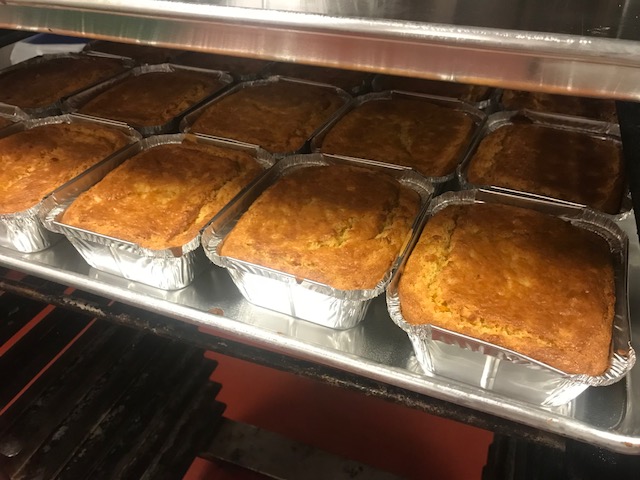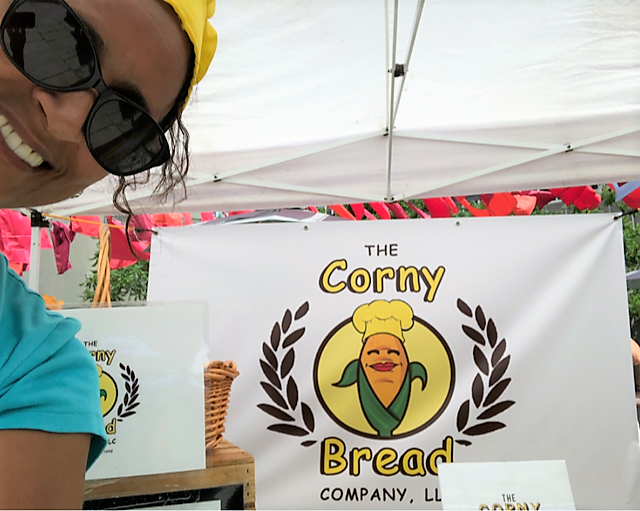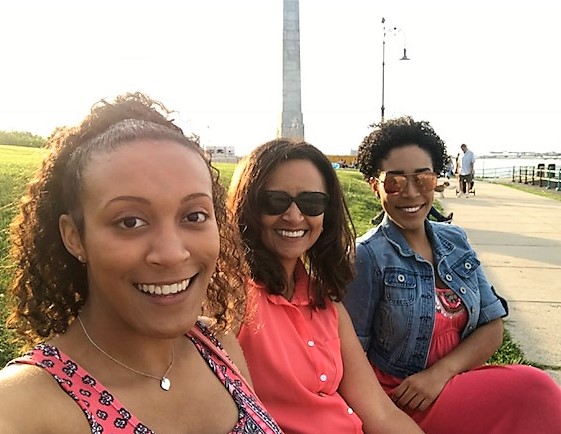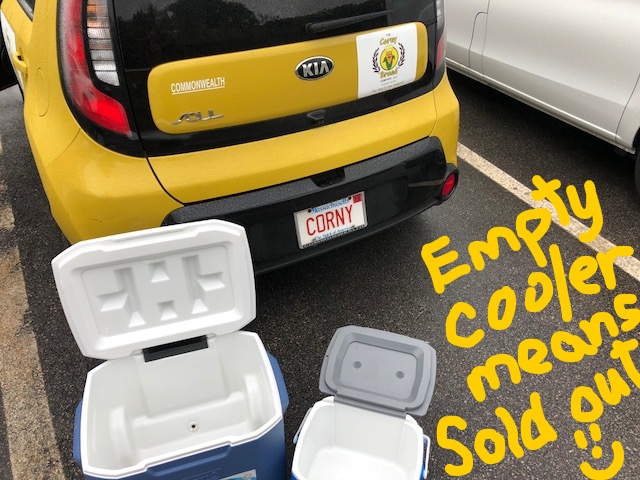 Getting in touch: BostonVoyager is built on recommendations from the community; it's how we uncover hidden gems, so if you know someone who deserves recognition please let us know here.