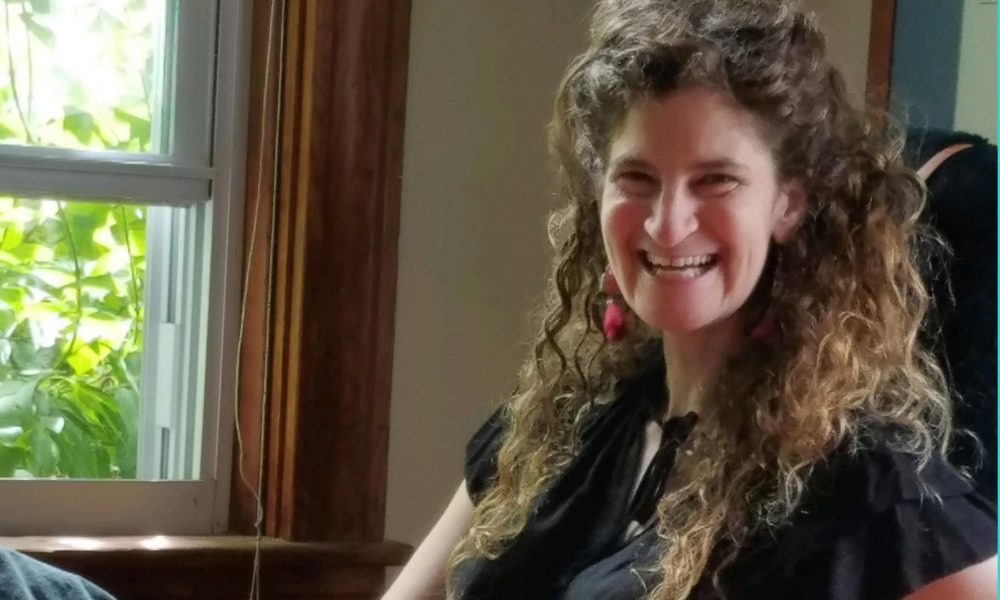 Today we'd like to introduce you to Sarah Jane Lapp.
Sarah Jane Lapp is an American artist. She also likes to make people laugh. Over the last twenty-five years she has made images for stage, page, screen, and bean, producing essay-films, hand-drawn animations, short plays, jigsaw puzzles, music videos, telematic productions, anti-fascist greeting cards, and photovoltaic solar installations.
Two very funny Minnesotans spawned SJL and sent her to earn a B.A in Playwriting at Brown University before she moved even farther east as Fulbright Scholar at Filmova a Televizni Fakulta Academie Muzickych Umeni (FAMU) in Prague. She apprenticed at Studio Bratri v Triku and completed her MFA from the Department of Filmmaking at the School of the Art Institute of Chicago. After a brief stint in NYC typing for R.O. Blechman and Wall Street tycoons alike, Ms. Lapp spent the next eight years in Seattle, vending her drawings at Pike Place Market, contributing editorial cartoons to the Hearst daily, Seattle Post-Intelligencer (RIP!), and producing animations, primarily for social justice and arts-dedicated entities. These animations, including her collaborations "Chronicles of an Asthmatic Stripper" and "Chronicles of a Professional Eulogist" with contrabassist/composer Mark Dresser, earned SJ internationally peculiar museum and festival exhibitions, an almost-Genius Award, and numerous stalkers. Lured back East for teaching appointments at Wellesley and Harvard, Sarah Jane dropped anchor in Seekonk, MA with her partner, the musician Skyjelly. Living among turkeys, deer, and other people's dogs Sarah Jane uses comedy and compassion to generate free and off-grid renewable energy.
We'd love to hear more about your art. What do you do and why and what do you hope others will take away from your work?
I started drawing when I was four. On a white chair, I think.  At some point I moved from chairs to paper. And then from paper to celluloid, making experimental non-fiction animations and films. The films allowed me to explore the religious imaginations and comic impulses of displaced persons, primarily denizens of Prague, among whom I lived and trained artistically during the nineties.
I hand-drew every animation, mostly with India ink and a #512 nib, a tool to which Brown University professor Walter Feldman first introduced me. I was still using this method when Walter died last spring 2017, shortly after telling me a joke. I like jokes. I like to make people laugh. So does the Universe: Mann trakht und Gott lakht.
In 2010 I relocated from Seattle to New England and began producing immersive, color-rich, maximalist images, which, in one pictorial field, contained as many marks on the page as an animation. When the film labs closed I found a way to engender incremental time-based movement of these images – albeit with fingers instead of projectors. With my art as the image and cardboard as the medium, I created jigsaw puzzles from my color-intense paintings – as well as anti-fascist greeting cards from my gouache and India ink drawings, making the images more accessible to my community.
Do current events, local or global, affect your work and what you are focused on?
Absolutely. My university thesis reader – a very wise playwright named Paula Vogel – insisted on teaching our cohort basic precepts of Russian formalism: the purpose of art is to break habit.
We, as humans, have a habit of shitting on one another. You can call this process "Dark Money"; You can call it The Inquisition, You can call it Genocide du Jour. The barbarism doesn't seem to go away with new generations of our species. And yet – I grew up in a community aligned with the principle of "tikkun olam" and that principle guided me from the get-go.
When I made films in the1990's in Prague both my crew and my film's participants were survivors from various generations of war.  Artist Jenny Perlin and I made a film called "Happy are the Happy, Your Best Joke, Please" collecting jokes told by these survivors. This was twenty years ago. We could make this same film after every war…
Now I express my crankier politics through my editorial cartoons and greeting cards. At the same time I still believe in the primacy of using creativity to connect people and create community. To that end, I served on the board of directors for the artist cooperative Made in Warren this past year and also participate in the Seekonk Artist Network. I belong to a right livelihood think thank which helps understand how to earn a living in the most ethical way possible. And then, of course, there's my public puzzle projects…
Filmmaker Charles "Killer of Sheep" Burnett once told me he viewed his film as prayers and the theatre as a kind of sanctuary. I could be making this up. My mind also thinks our conversation was accompanied by cherry pie.  When I vend my work at outdoor markets or host my Pie and Puzzle Happy Hours I feel like I'm running an ad-hoc ministry – the jigsaw puzzles = prayers; the participants = congregants. And everyone is eating pie. Because everything is better with pie.
World peace, piece by piece…
Do you have any events or exhibitions coming up? Where would one go to see more of your work? How can people support you and your artwork?
Over the years I've been very lucky to benefit from the support of art dealers, editors, neighbors, friends, curators, and film programmers, many of whom, alas, have retired, even died. My gratitude is infinite.
Back in the day I cut my commercial teeth at Seattle's infamous Pike Place Market. I will never forget the generosity of vendors – like fellow vendor Chikako Nichols, a Hiroshima survivor, who surprised me one day with a green cloth she had hand-sewn for my stand. In recent years I have rejoined market communities, working at Mike Bryce's Providence Artisans Market and, in the winter, at Maria Tocco's Providence Flea. I really cherish interactions with market-goers and with my fellow marketeers, and maintain life-long relationships with many of the folks I encounter in these communities.
When the weather is inclement you can also find me or my work inside commercial galleries and shops – the aforementioned Made in Warren as well as at ArtProv Gallery (see images from recent solo exhibition) in Providence.  I'm always open in  cyberspace and offer a portal for purchase of works on paper, cards, puzzles, etc. When people purchase artwork at my studio I tithe to about forty different humanitarian agencies under my "Valentine for the Planet" project
If you're on the road this fall you can visit my studio and hear Skyjelly play in tandem with the Seekonk Artist Network Open Studio, Oct 13th and 14th or meet me during ReImagine End of Life Festival in New York for which I'll be screening my animation "Chronicles of a Professional Eulogist" and sharing drawings… Or maybe we can meet somewhere for puzzle and pie…
Contact Info: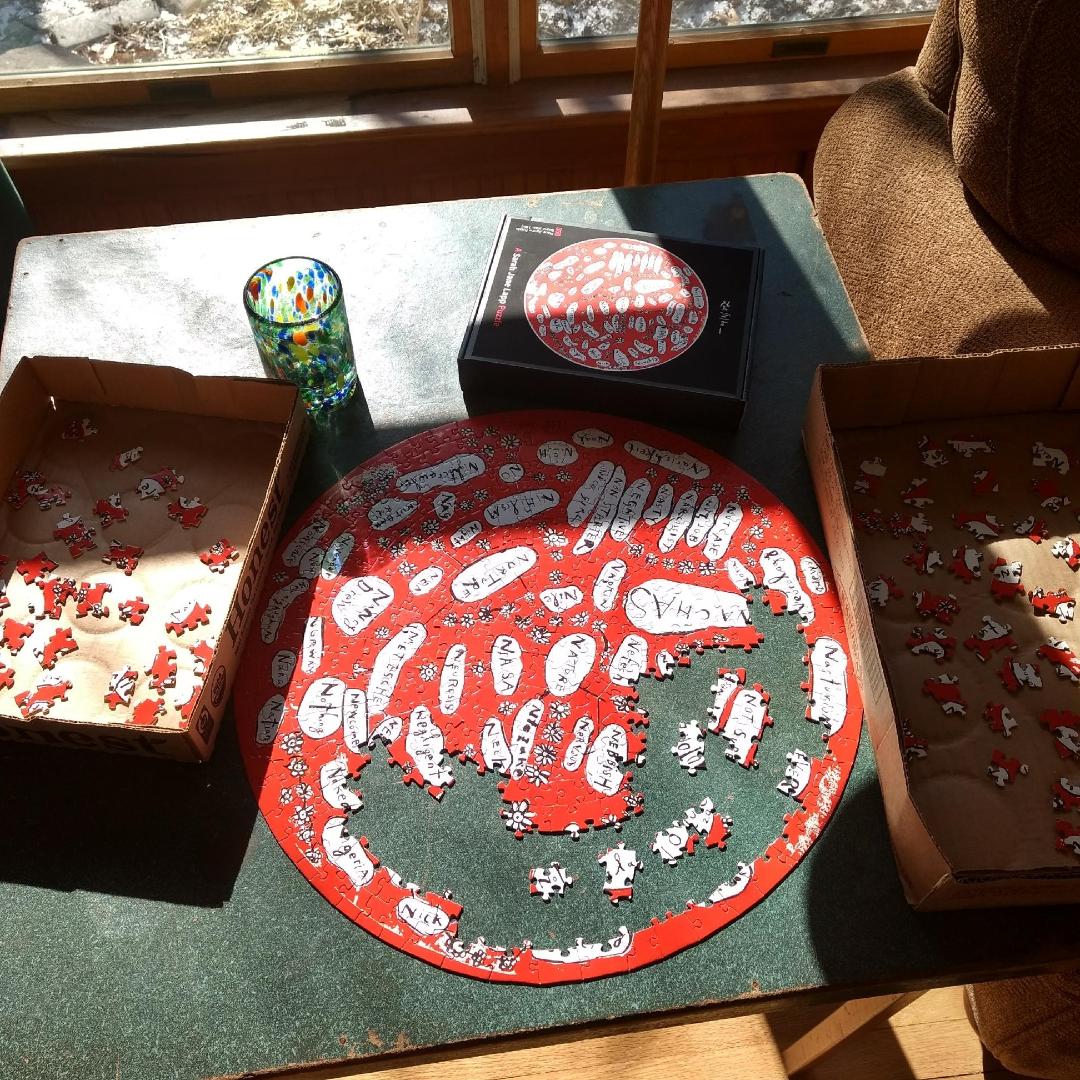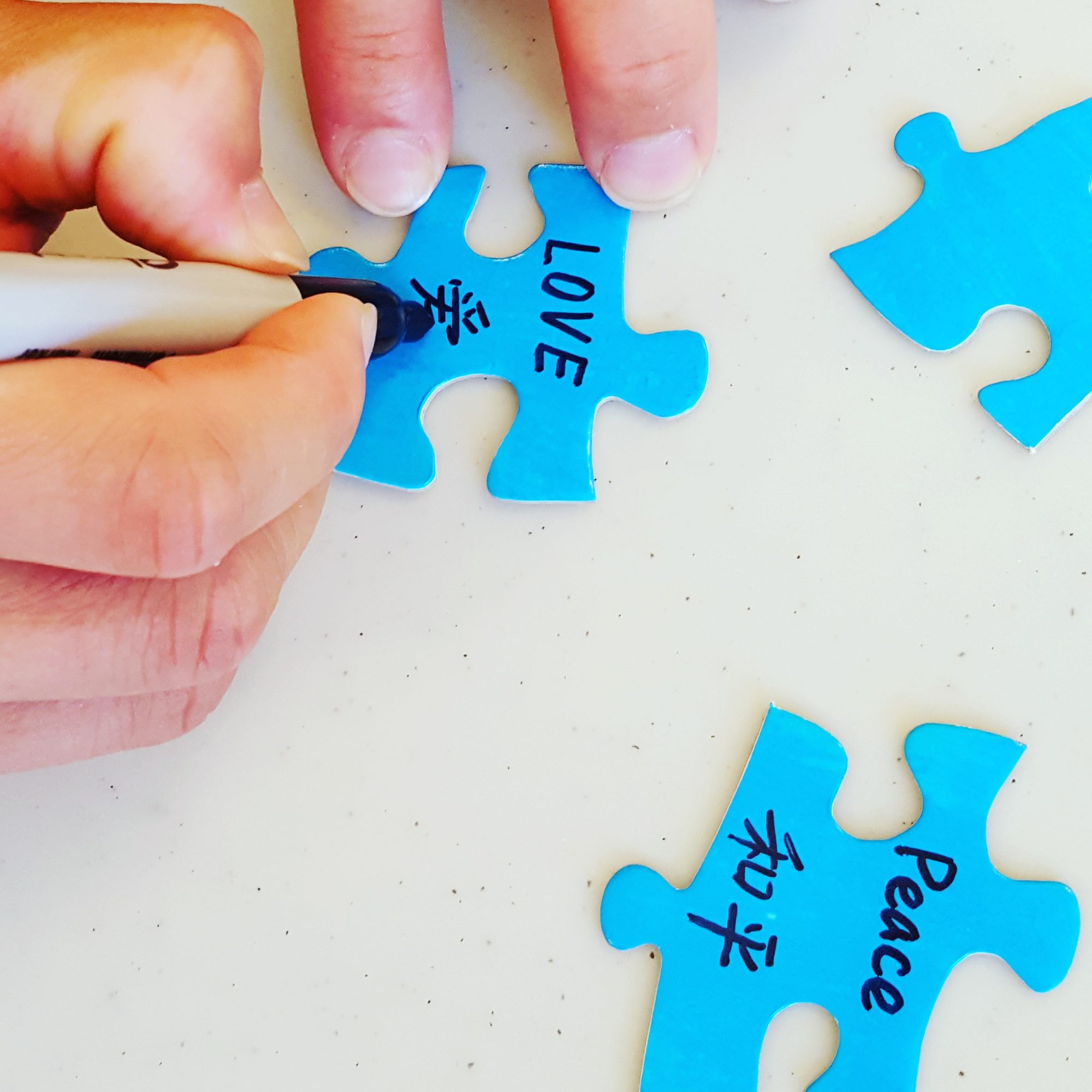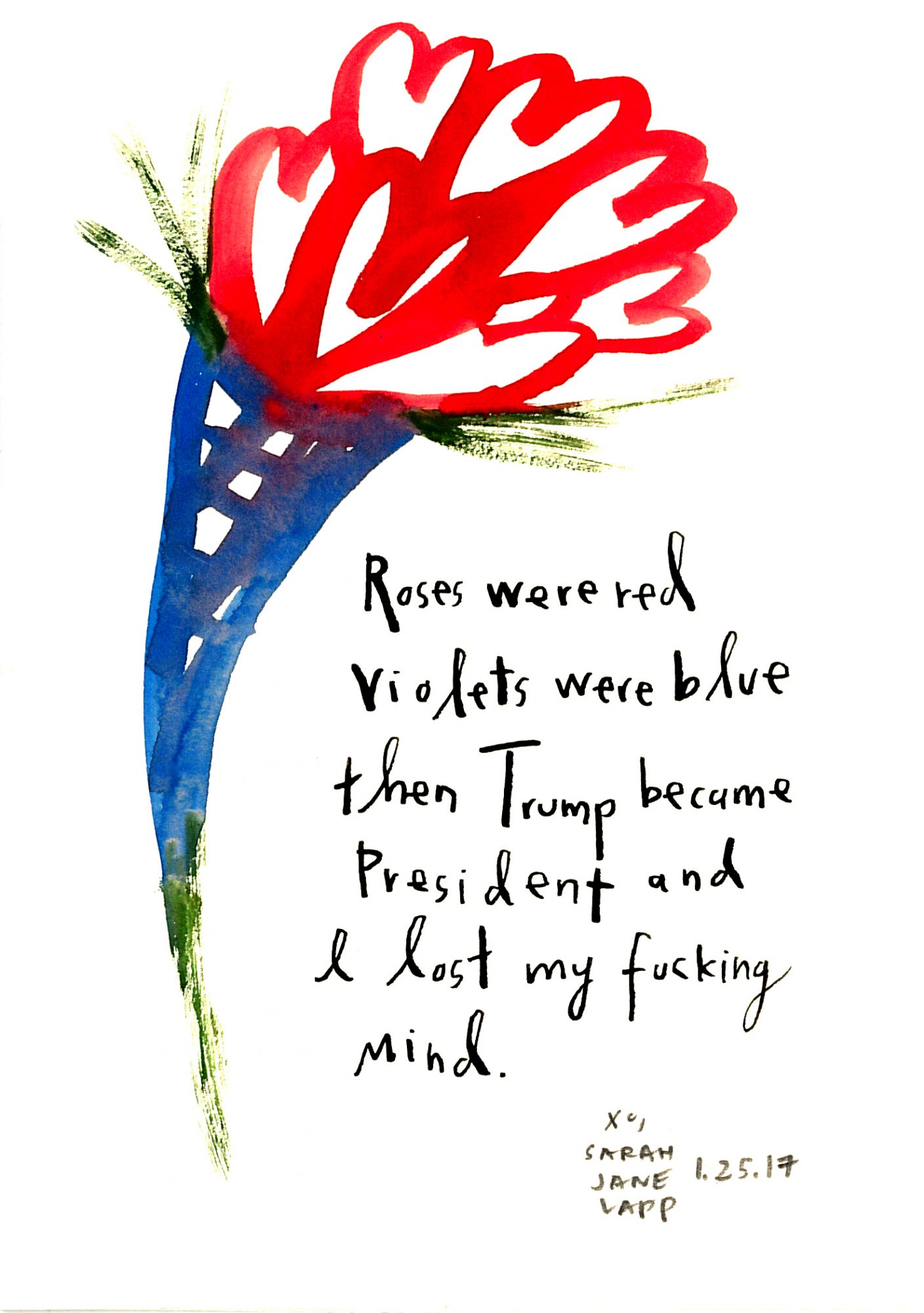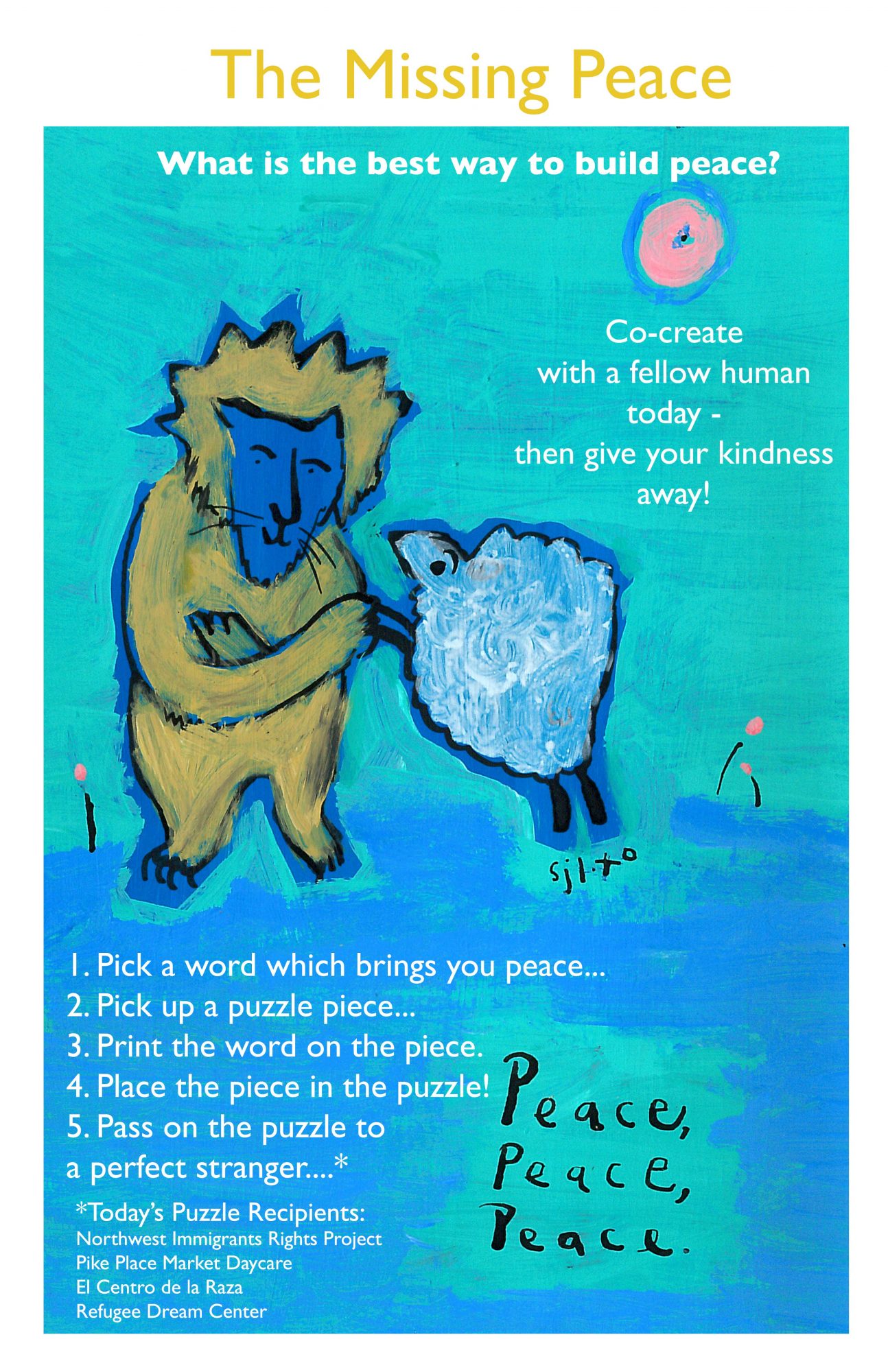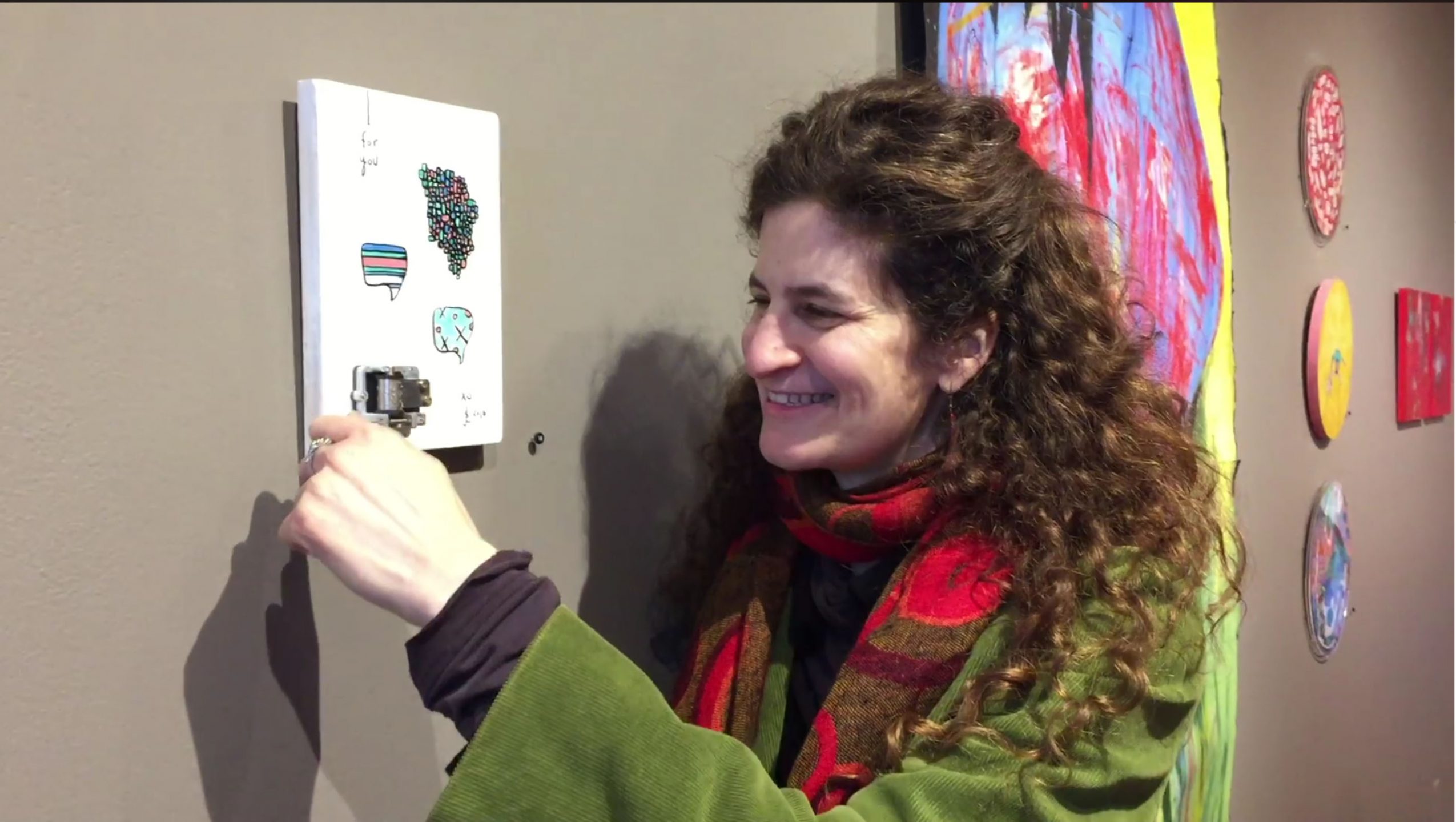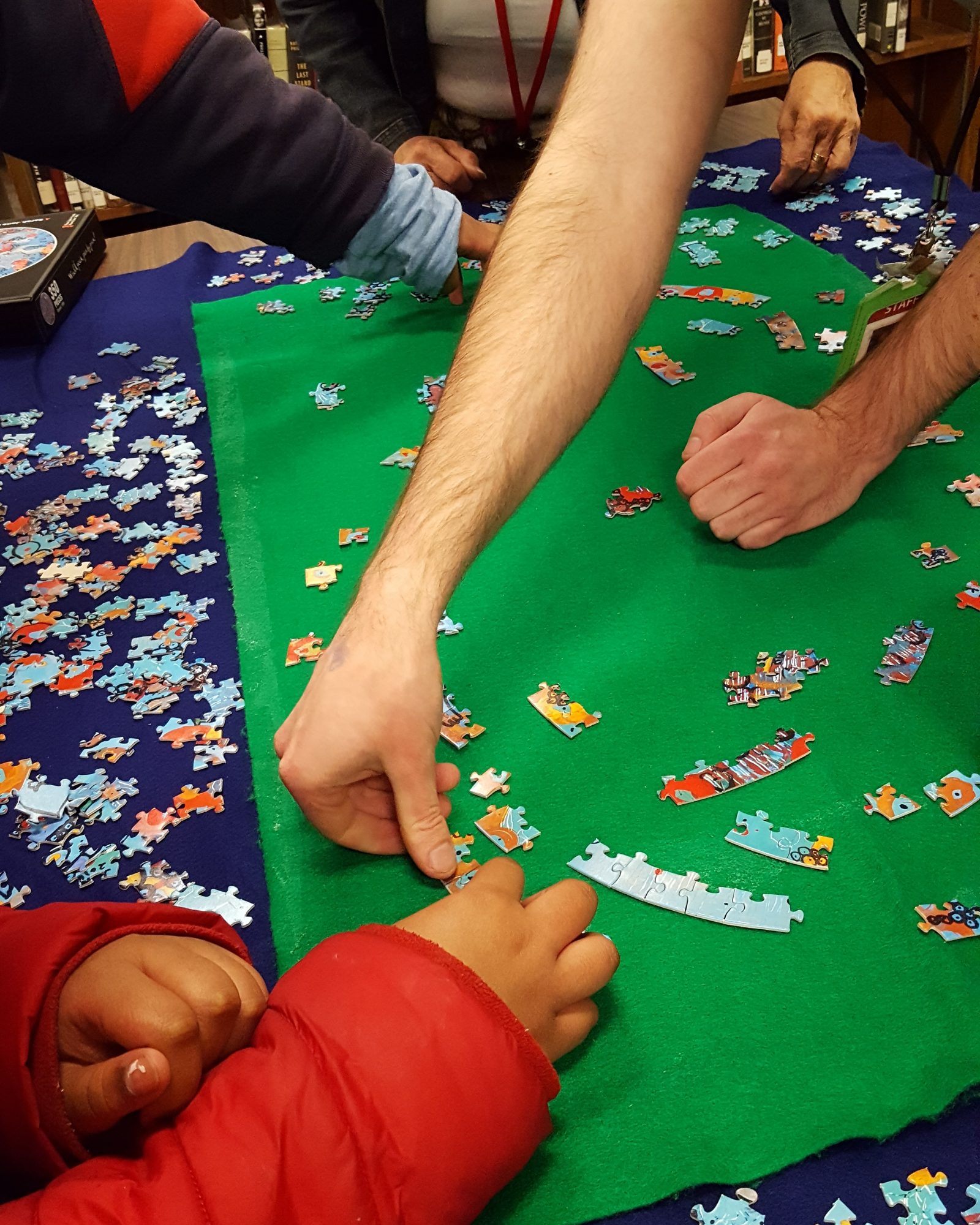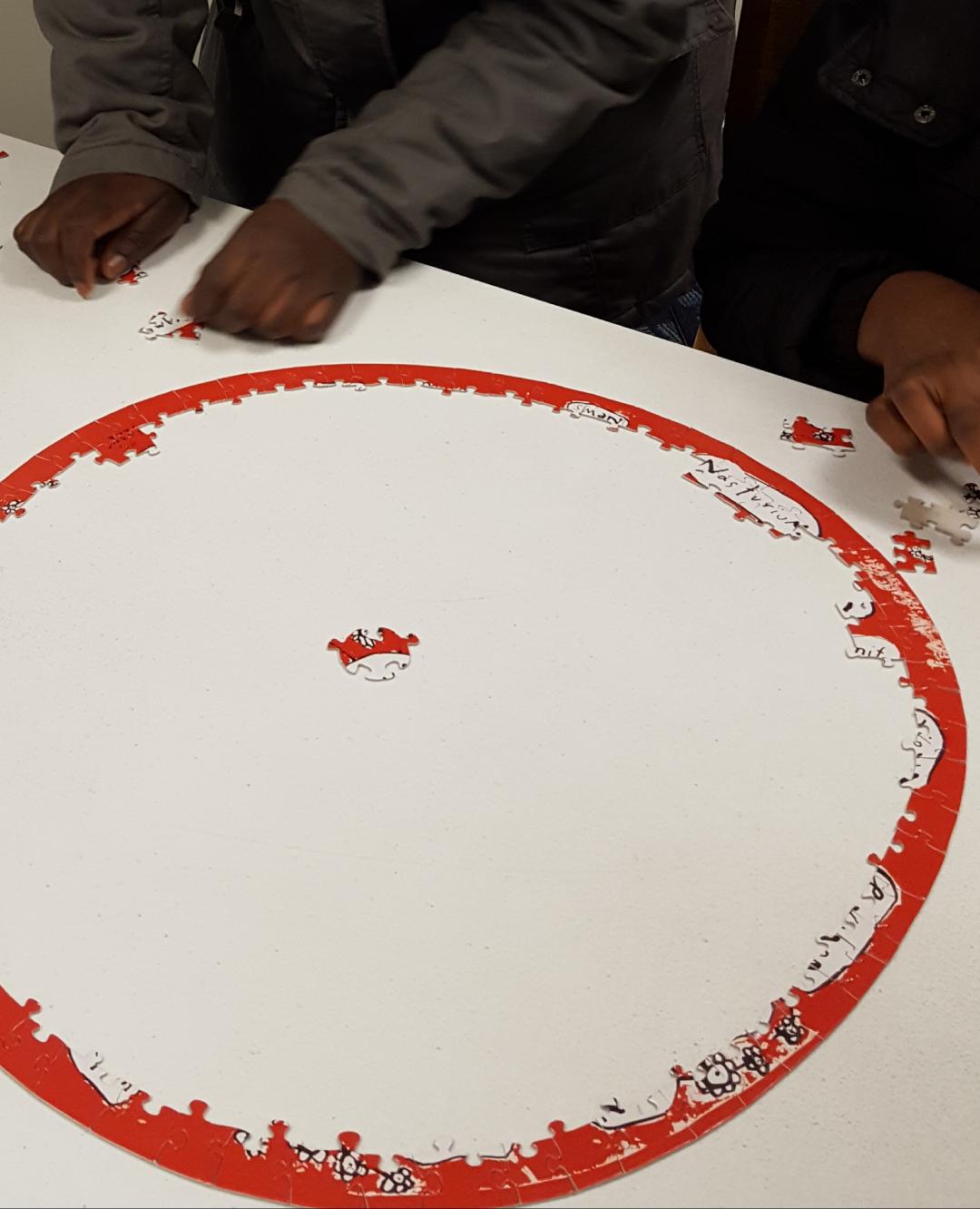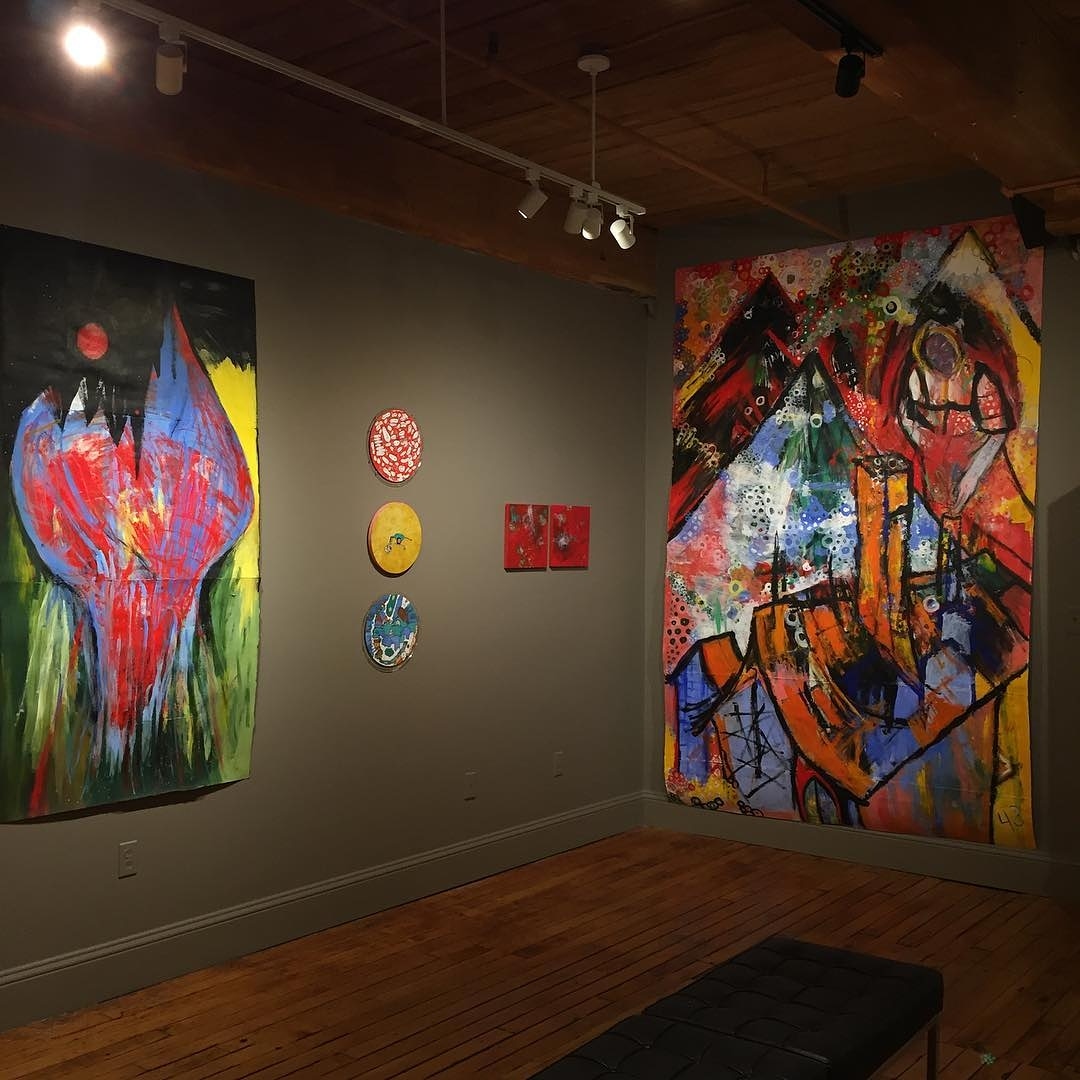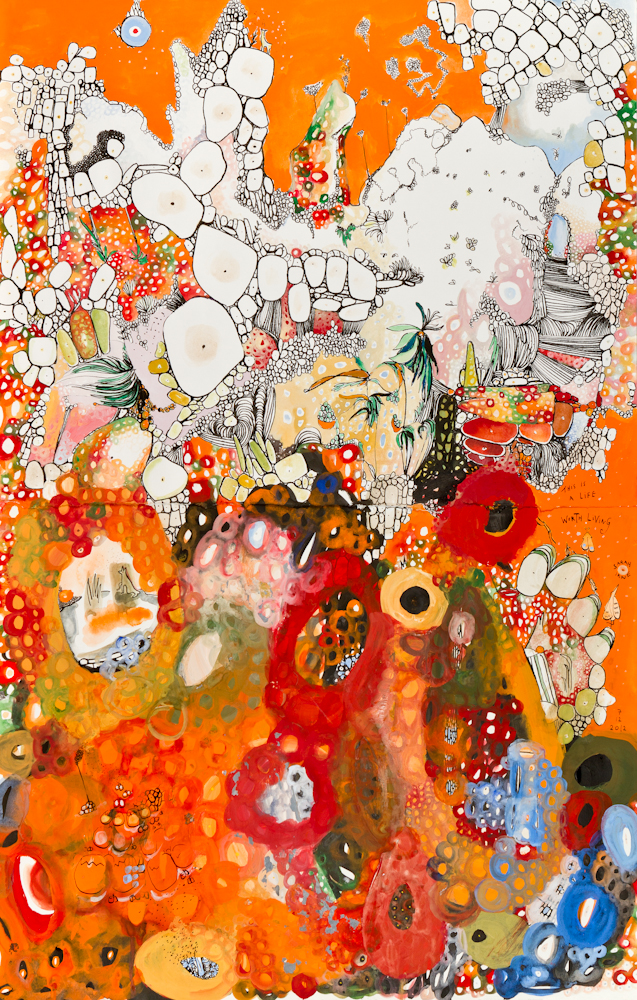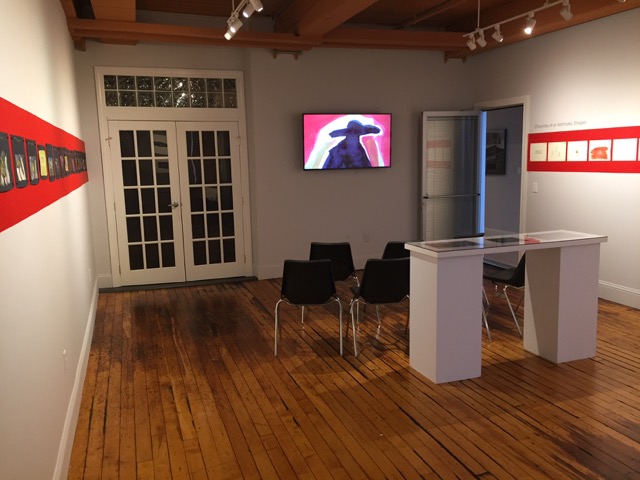 Image Credit:
Gallery images courtesy ArtProv Gallery
"Let (N) Be Puzzle Assembly courtesy Kaz Kahn
Other images courtesy Sarah Jane Lapp
Getting in touch: BostonVoyager is built on recommendations from the community; it's how we uncover hidden gems, so if you know someone who deserves recognition please let us know here.