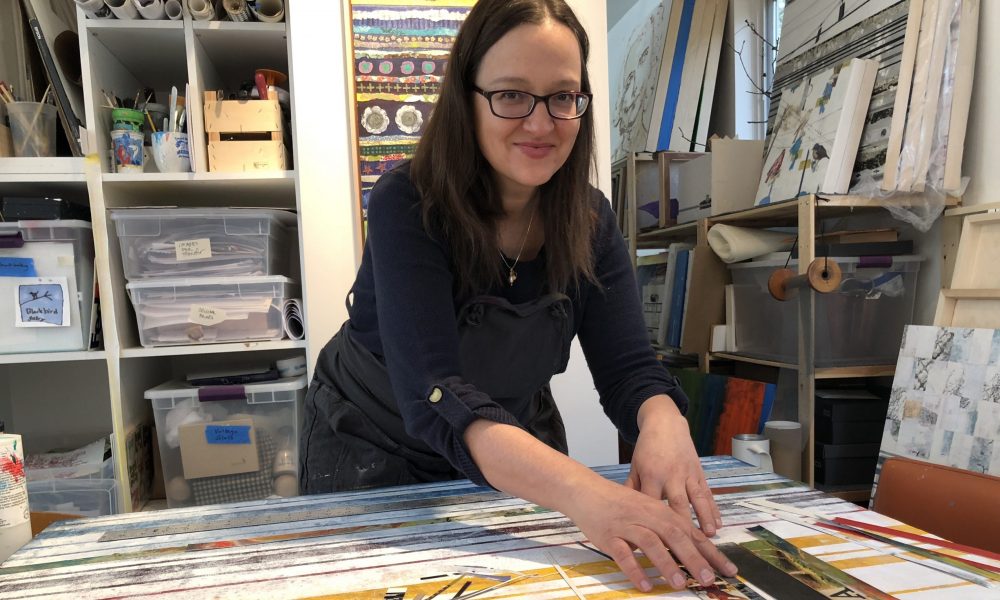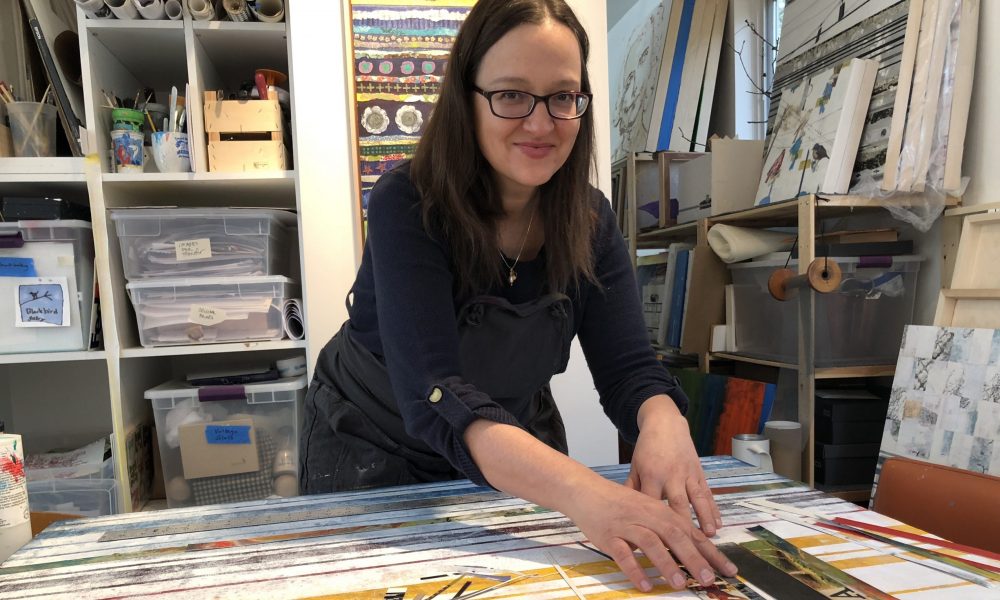 Today we'd like to introduce you to Holly Harrison.
Holly, please kick things off for us by telling us about yourself and your journey so far.
Although I have always loved making things with my hands, I didn't become a visual artist until after I became a mom. Before that, I was a writer and a poet. Professionally, I've done a lot of different kinds of writing and editing: scholarly books, newspapers, magazines. Even so, I kept being exposed to the visual – I helped edit a book about the English designer William Morris, worked at a design magazine and later wrote books about art for Rockport Publishers. Once my daughter was born, I found that the choppy nature of my schedule made it harder to sustain book projects but really lent itself to working on art projects. Whereas I need a proper chunk of time when I'm writing, even just 20 minutes in the studio can be productive because you can gesso a canvas or create collage materials.
My feeling about creativity is that it doesn't matter what medium you use, being an artist is about how you see and experience the world. Poetry and painting are both about perception, so in a way, what I'm doing now is not really so different from what I used to do. I'm still interested in the same themes I explored as a poet: how memory works, what beauty is, and the creation of meaning through juxtaposition. It's not a coincidence that I found my entrée into visual art through collage and mixed media.
Can you give our readers some background on your art?
Generally, my pieces are a combination of painting, photography/image transfer and collage. I love the materiality of making art and often my inspiration comes from just messing around with whatever I have in the studio and seeing what happens. I enjoy working in a series, so I often spend months or even years working on a specific theme. There are lots of times, though, where I'm just exploring and I only end up making one-offs or a couple of related pieces. My first fully realized series is called Strata. It's a series of striped paintings comprised of stacked layers of texture and imagery. To me, they are a visual manifestation of poetic structure, where each "section" is like a stanza in a poem. For my first show with Abigail Ogilvy, I created a whole body of work that was focused on birds. At that time, I was especially interested in the visual interplay between the organic shapes of birds and striped elements in the paintings.
Recently, I've been working abstractly, still exploring stripes and going more deeply into the relationships between vertical and horizontal lines. Much of my work is about the relationships I'm creating and exploring on the canvas. I sometimes bring my own relationships in through the materials I use: transfers of my daughter's toddler-age drawings and collage materials I make by cutting up my husband's discarded paintings. My family's contributions mean something to me personally but also bring their own wonderful energy to my work.
As an artist, how do you define success and what quality or characteristic do you feel is essential to success as an artist?
I think artists are successful when they can create work that connects with an audience, whether it's an audience of one or two people or a much larger platform. I am really enthusiastic about the work being done by non-profits like Concord Art, the Attleboro Arts Museum, the Cambridge Art Association, etc. I got my start showing at non-profits and those experiences were so valuable to me while I was finding my voice. I saw tons of original artwork and met a lot of really talented artists. For me, art is about connection. When I first started making work, it was usually as a gift for a specific person. Later, when people bought work out of my studio, I felt so honored that they wanted it for their homes. That feeling has never gone away. I've also been able to do some curating at Concord Art and that has connected me to a larger community of artists in Boston and New York.
You have to keep moving forward and taking risks, even when you aren't totally sure you can pull something off. You need to make studio time a priority, but it's also good to leave it occasionally: go see art — in museums, galleries, at open studios — and talk to other artists, ask them who and what they are excited about. If you are just starting out, show your work wherever you can — I've sold pieces off the walls of a local yoga studio. And just keep making art. I know people who get tied up in knots, who want to be creative — who are creative — but keep standing in their own way. I always encourage them to just make stuff and see where it leads. And when you are making work you feel good about, get it out into the world. Even if you are really introverted and don't want to go to your own openings (I know a few artists like this), just the act of editing and preparing a show can really teach you a lot.
What do you think is the biggest challenge facing artists today?
Maybe it's that we are expected to wear so many hats, it can be difficult to find the time to focus on developing a body of work. Just the digital piece alone can be so time-consuming — creating a good website and keeping it up-to-date, not to mention promoting your work on social media. Additionally, the art world is in flux, so there are not a lot of guarantees. Commercial galleries are still important players but even if you are lucky enough to find representation, so many of them end up closing. So, you still need to keep creating opportunities for yourself. All of that means time away from the studio.
What's the best way for someone to check out your work and provide support?
My work can be seen at Abigail Ogilvy Gallery in Boston, on Instagram, on my website or in my studio. People can sign up on my website to be on my mailing list for studio updates or they can follow me on Instagram, where I post new work and updates about shows and events.
Contact Info: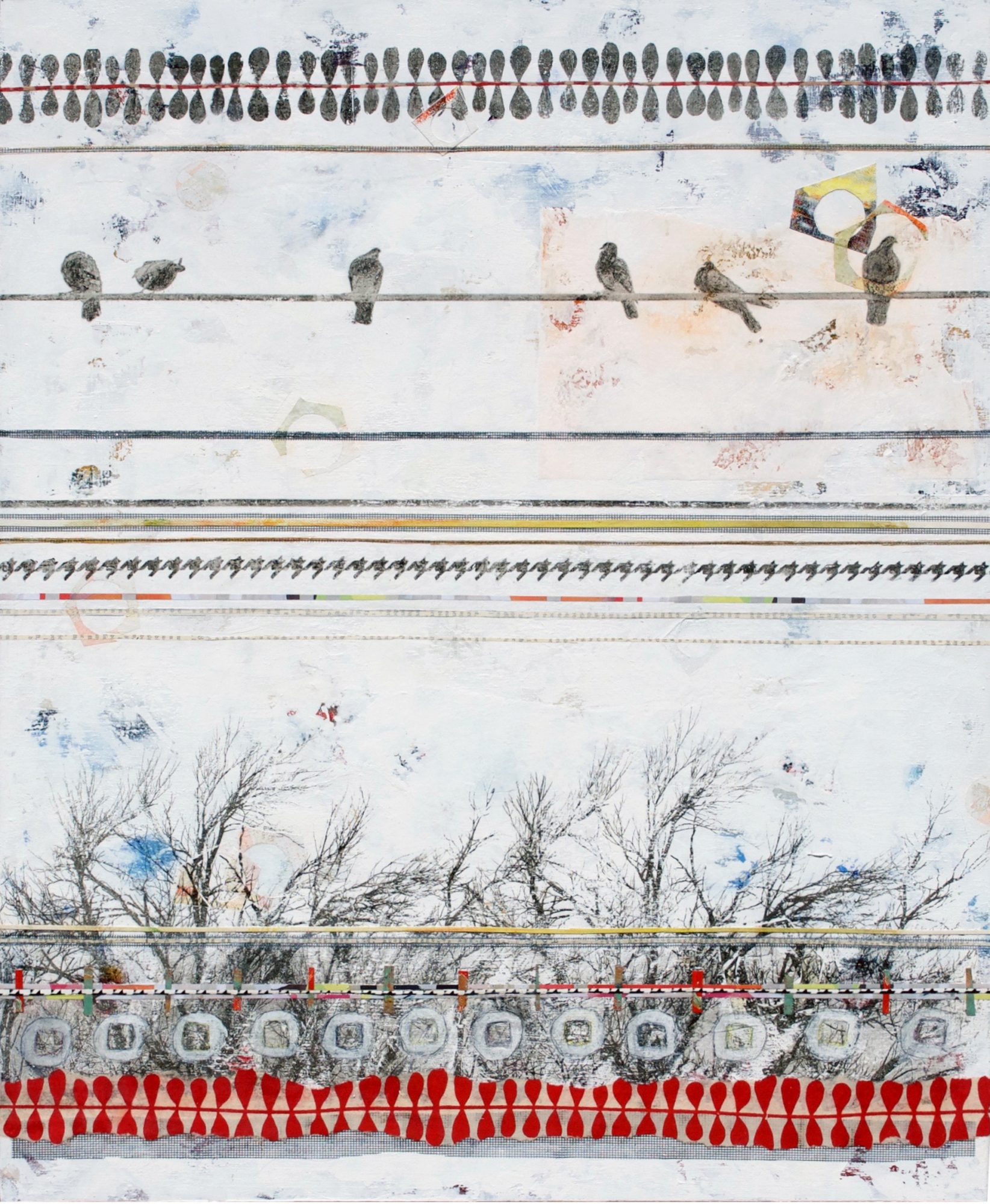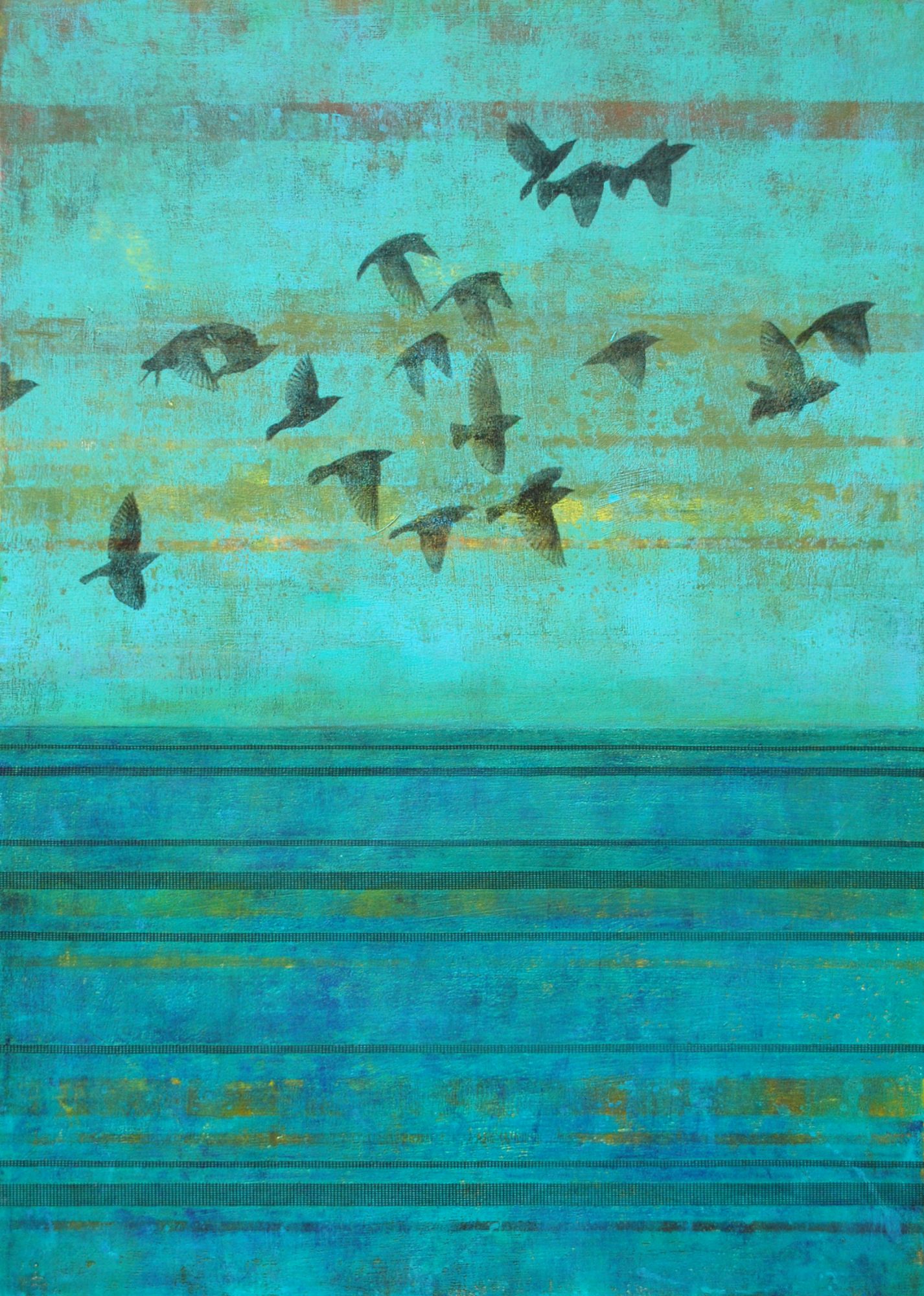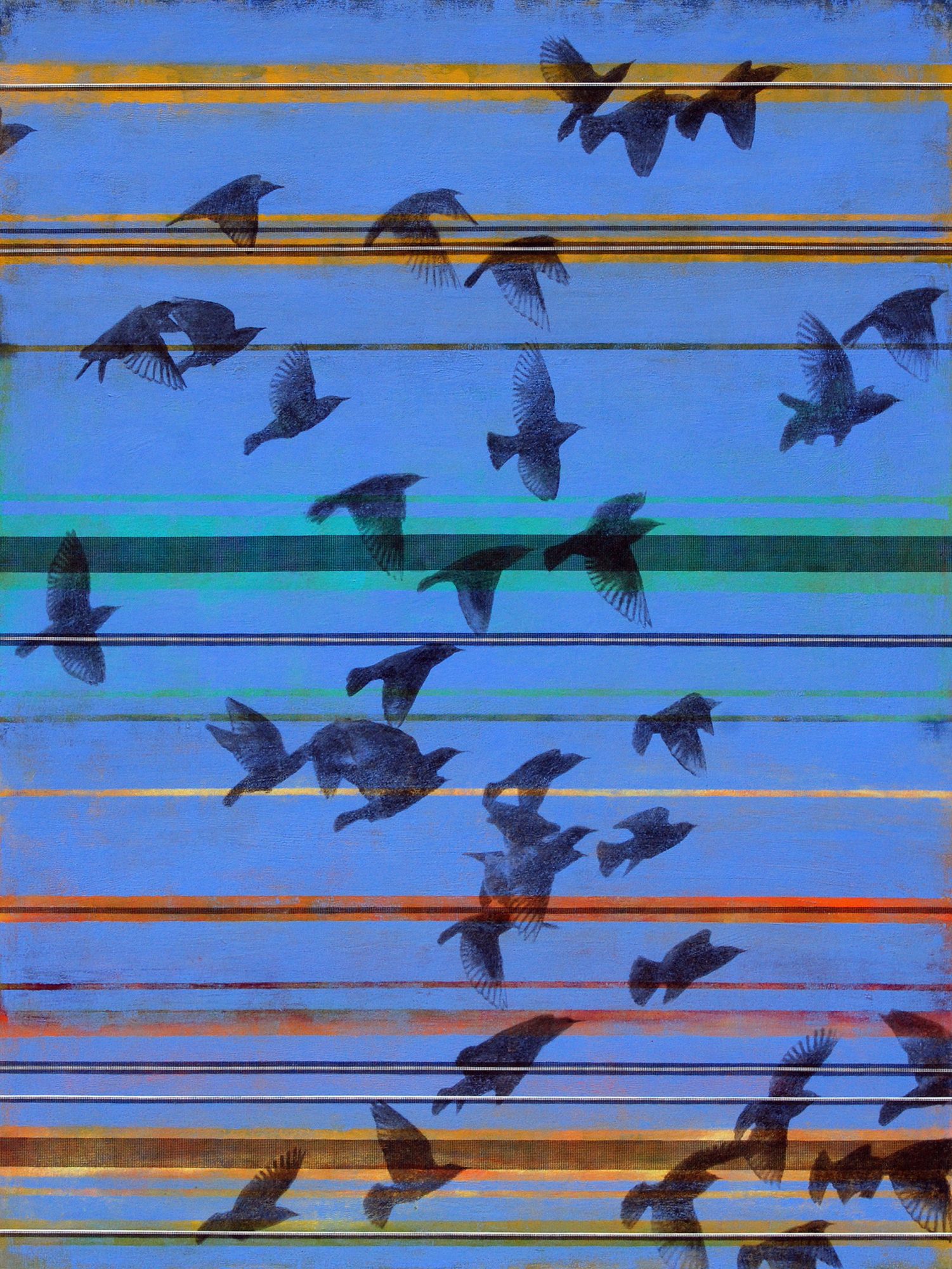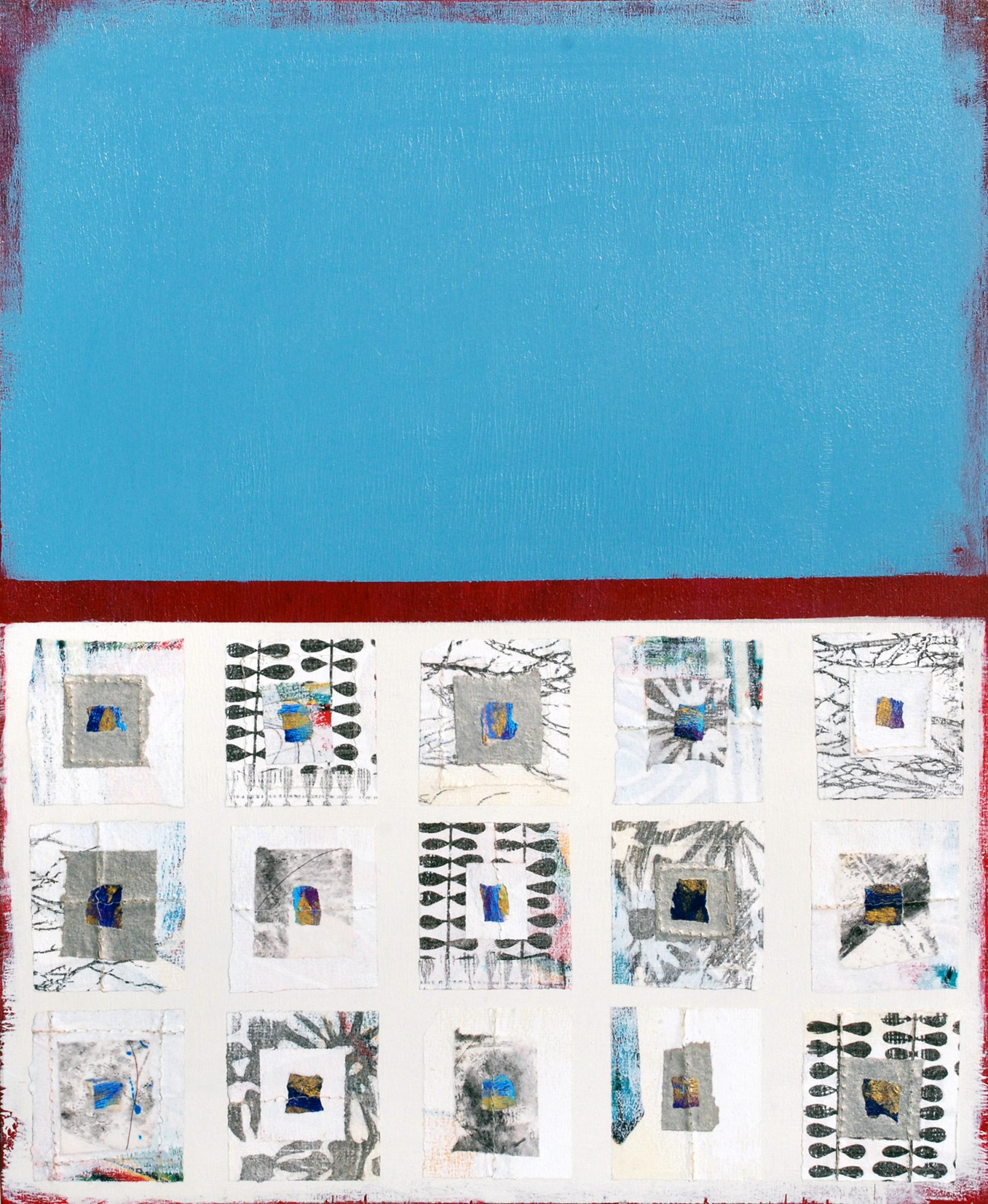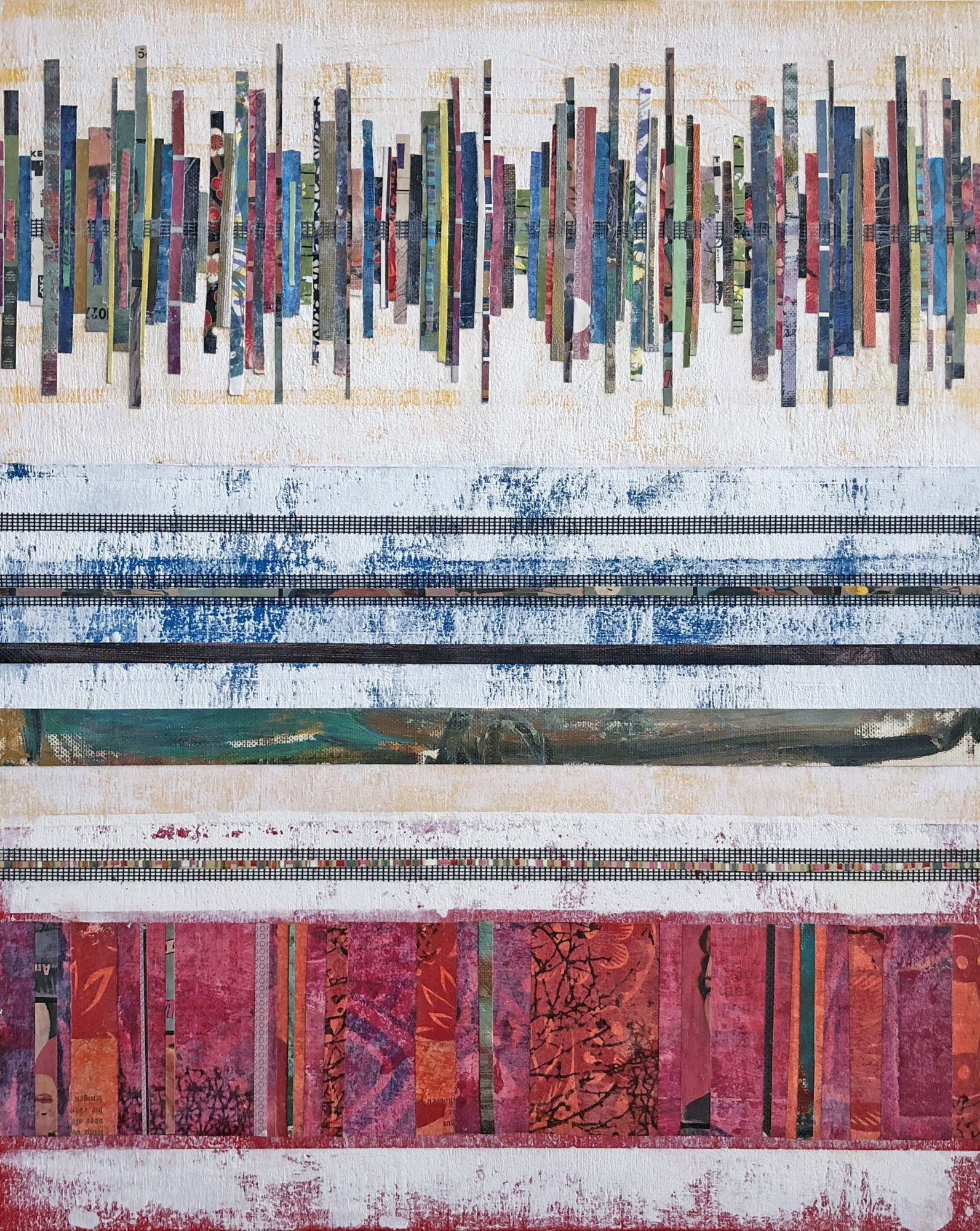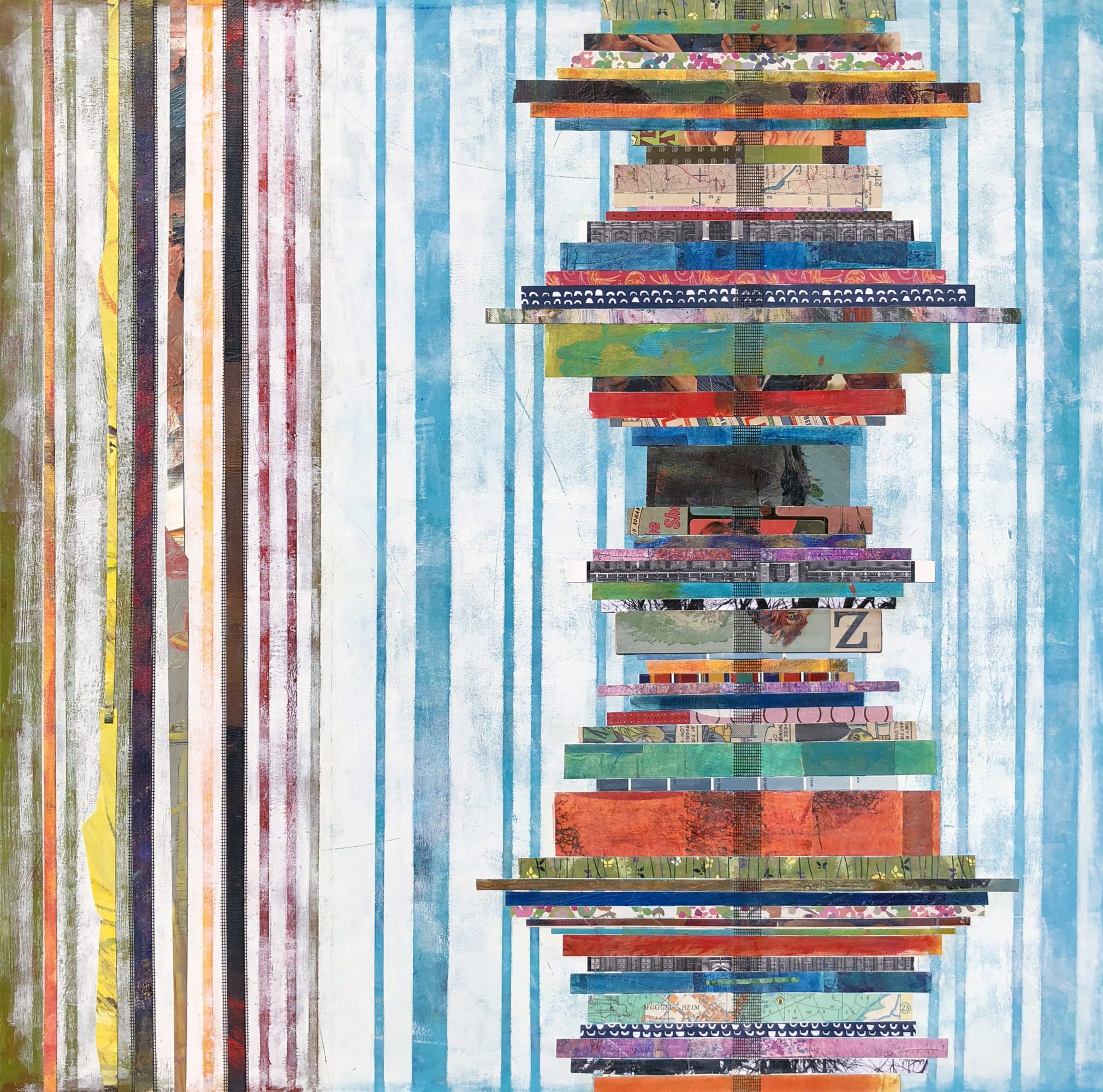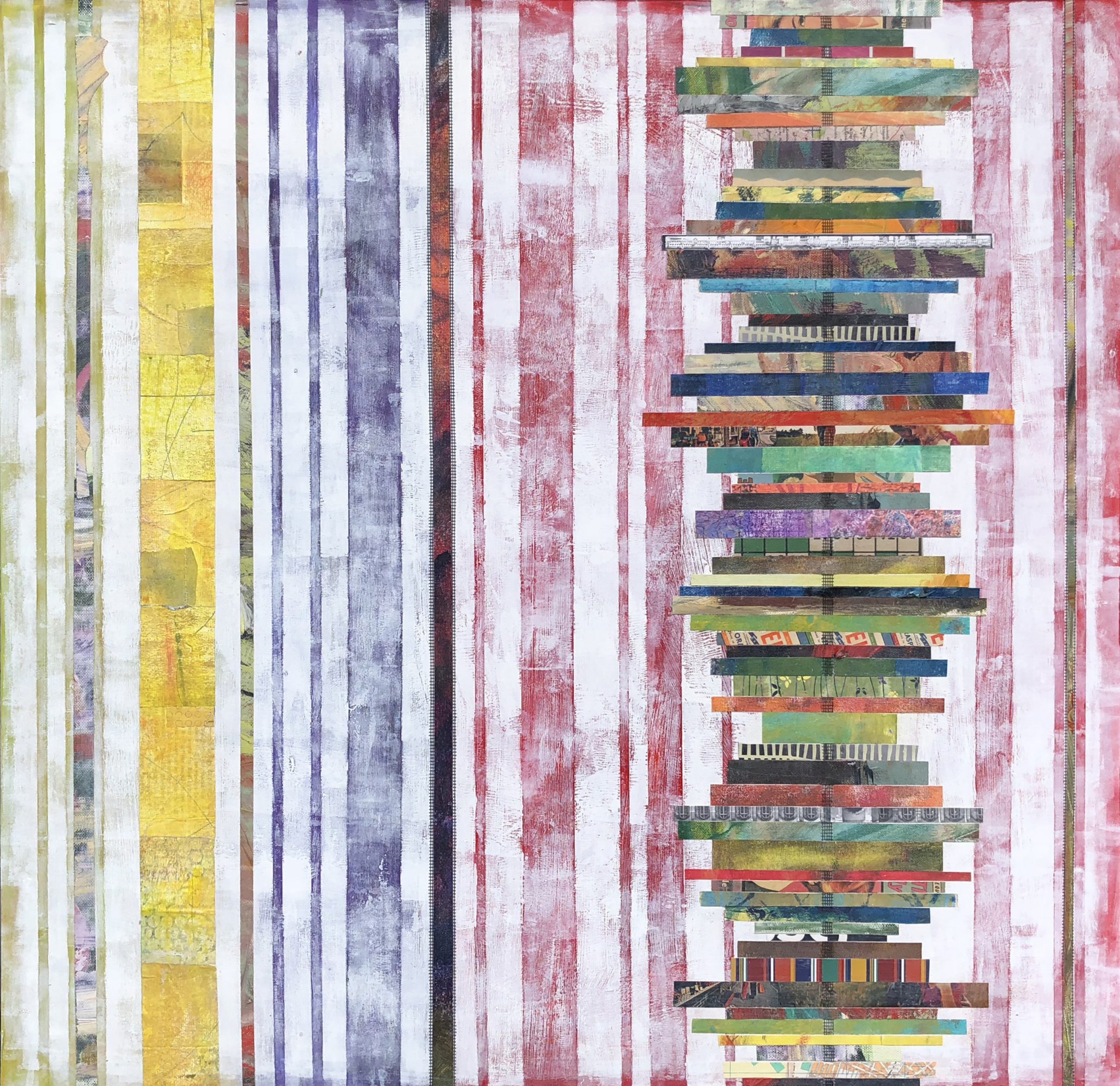 Image Credit:
Mixed-Media artwork by Holly Harrison
Getting in touch: BostonVoyager is built on recommendations from the community; it's how we uncover hidden gems, so if you know someone who deserves recognition please let us know here.