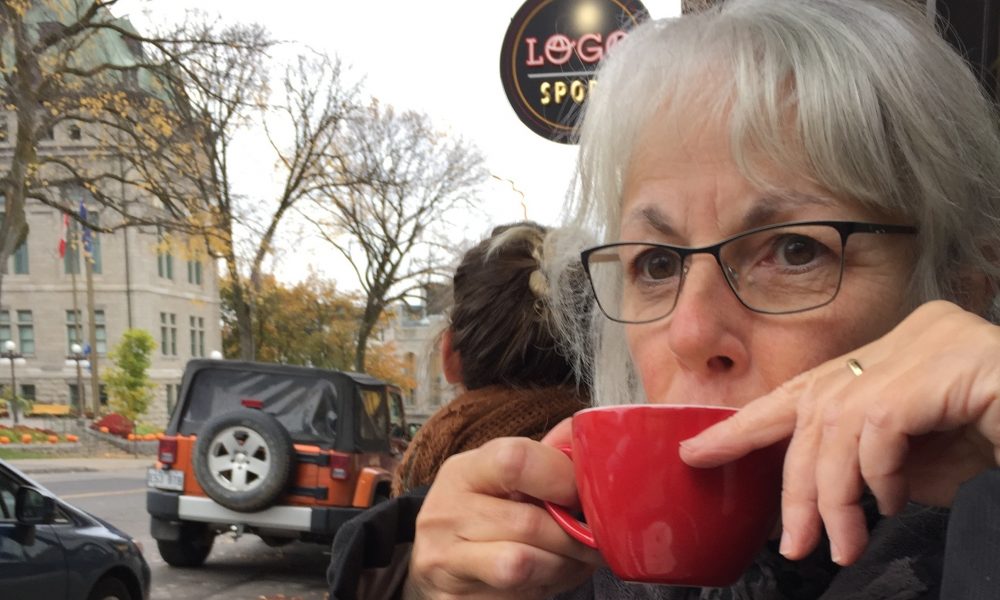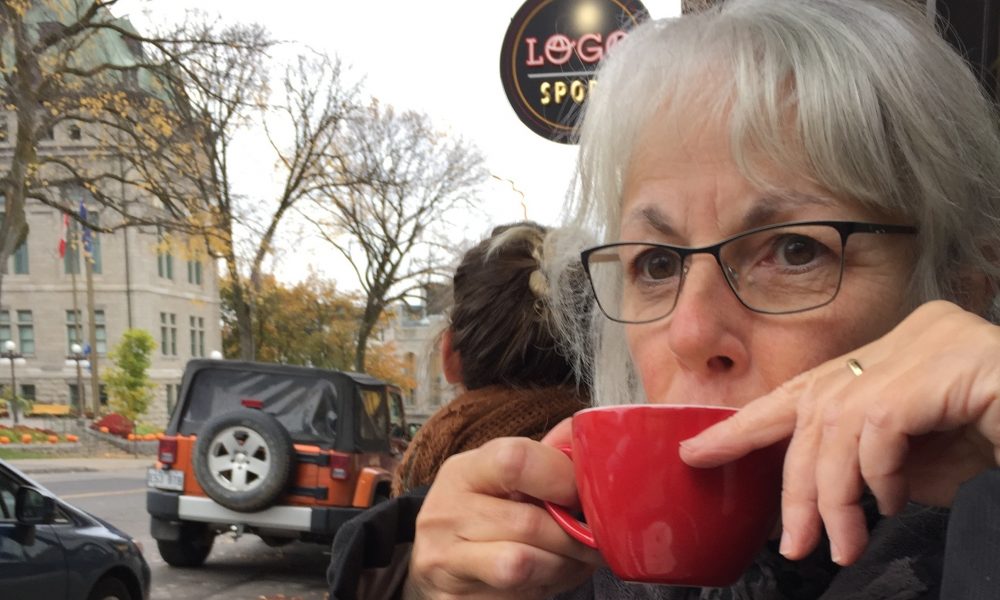 Today we'd like to introduce you to Jennifer Pazienza.
Jennifer, please kick things off for us by telling us about yourself and your journey so far.
Before I jump in, let me say thank you for the support Boston Voyager gives to artists. My appetite for the joys and responsibilities of living an aesthetic life, I owe to my short-lived life with my mom. She died 55 years ago this September. I was nine. She had the gift for making the ordinary, extraordinary. To me, "please, please, can I take ballet and piano lessons", she would gently say, "we'll see." Then she would tear open a large brown grocery store bag and tell me to draw! and draw, and paint I did. Usually at our Italian-American New Jersey kitchen table where at the stove she would be using the same kind of bag to drain the eggplant she was frying. The dull brown paper transformed into glistening hues of Umber, Sienna and Ochre. The flour, egg and fresh breadcrumb coating insured a crispy crunch that would give way to creamy melanzane interiors developing in me a taste for contrasting colours and textures, sights and smells, sounds too.
I'm in pretty good shape, but a walk through the years between Bloomfield, NJ 1954 and my life on Keswick Ridge, New Brunswick, Canada 2018, where I live with my husband Gerry Clarke and our dog Mela, would exhaust you and me. Here however are some highlights. Senior year at Bloomfield high school, 1972, I won a huge car in a Newark church raffle during the gas wars. That made it possible for me to attend the only college I applied to and eventually make my way from NJ to PA. It also meant I could easily get from school to whatever restaurant I was working in. 19 years of waiting tables earned me three university art education degrees! In undergraduate school I studied painting with the late Dr. David Raymond. He was lovely, but 70s hard edge tonal acrylic painting did not suit me. It was about that time too, that I made my first visit to Boston—north end—with my Rhode Island cousins! 1977-79 saw me teaching art in junior high school in rural Kane, PA. 1979-83 I taught elementary art in central PA to 1000 students each week, 7 buildings in 5 days.
Lots of colds, but it was in that setting that I decided to return to school. I had my first solo show and published my first article during my MEd at Penn State University, while taking a minor in painting and photography (https://www.tandfonline.com/doi/abs/10.1080/00043125.1984.11654203). Grad school opened up the world to me; so, I stayed on to complete a PhD in art education that first took me to Lubbock, Texas in 1987. It was as a young professor at Texas Tech University that I learned to blow glass, from colleague Bill Bagley who worked with Dale Chihuly. I made my first US-Europe flight that year too, to attend Documenta in Kassel, Germany before delivering my first international paper in Hamburg!
(https://www.documenta.de/en/)
The following year, 1988 I moved to the University of Wisconsin, Milwaukee, where I waited tables for the last time! I loved Milwaukee, however, it was there that I was introduced to, and escaped from workplace harassment. 3 years later UWM would offer me my job back with retroactive pay! (See link below.) I returned to PA that spring, before heading north on I 95 to the University of New Brunswick in Fredericton and its promise of academic freedom and a Collective Agreement that respects creative work as scholarly research. UNB gave me the start I needed to create and live the life I love as an artist and educator. If you'd like to read a more detailed account, please see the "About" page on my website at, http://www.jenniferpazienza.com/
Can you give our readers some background on your art?
Let the beauty we love be what we do. There are 100s of ways to kneel and kiss the ground. Rumi Handheld images arrive in nanoseconds. Super human art installations challenge market economies. Still, I maintain an old-fashioned affair with paint. Oil paint. Love and longing fuel my quest for meaning. Memory, beauty and a poetics of place shape the lyrical and figurative landscapes I make. They always have. In the liminal space–that is the gap, the breath–between representation and abstraction, I paint to know, to understand, to celebrate. To dissolve dualities and ease tensions–yours and mine.
How it is the contemplative approach I take to painting can make any difference in a world filled with so much NOISE is often a wonder to me. My paintings can't compete. They aren't meant to. They are simply there for anyone who wishes to experience a break from the chaos of contemporary life. That doesn't mean they're easy. It means they require a bit of time to take them in. So, my wish for viewers engaging my work is to look. I mean really LOOK. With your whole heart as well as your eyes. To give yourselves and the work the gift of time. To become a co-author, as poet Ted Hughes wished for his work, and bridge the divide between you, the world and me.
I have a history of working with a range of media; photography, blown glass and majolica ceramics, yet I return to oil paint. I love how sensuous it is. It's also the most challenging medium for me and I love that too. During my art education PhD work at Penn State University, I was fortunate to study with Brent Wilson
(http://www.brentartworks.com/about_bw.php) and Richard Mayhew (https://www.moadsf.org/exhibition/the-art-of-richard-mayhew/). Brent inspired me to live the life of an artist/educator and Richard, my painting professor, challenged me to ditch my tube of Payne's Gray. It was a holdover from my 1970s undergrad school days with an emphasis on tonal approaches to painting. He suggested I work from a limited palette just as I would prepare Sicilian food. A few key ingredients with endless possibilities. That was 1984. I have been living and painting that way ever since.
For as long as I can remember, the stuff of the natural world has been my go to place for refuge, renewal and re-creation. In my childhood NJ home, there was a single maple tree in front of the house and a peach tree, rose and vegetable garden in the back. In addition to my mother's cooking, they were entrees to the natural world beyond myself. In the poetry of those spaces I could daydream and play within the tensions between the organic and built landscapes. I write about this in Beautiful Dreamer; Landscape and Memory, a paper I gave in 2015 in Syracuse, Sicily for the closing plenary session of Art & Psyche: Layers and Liminality. It was an international conference dedicated to all things Jungian. I don't typically theorize my painting practice along Jungian lines, but apparently it and I qualify! I have former drama educator, scholar and Jungian author and analyst, Craig Stephenson to thank for making that dream come true. (https://www.craigestephenson.com/) Sicily is the landscape of my maternal heritage!
Beautiful Dreamer, at once poetic and political is my attempt to heal the psychic havoc wrought by early loss, domestic violence and the effects of Kantian aesthetics. I ask how it is I paint as I do, and of what value a painting practice may have in the world. How it is that over the course of a lifetime, that urban kid who filled those brown grocery bags with trees and rural landscapes may have exchanged paper for canvas, but not subject matter. Landscape imagery derived from the natural environment was then and is now the gloss through which I make sense of the world and my place in it. Beauty keeps it honest. In Beautiful Dreamer I rely on a whole host of thinkers who assist me in giving voice to my thoughts, feelings and reflections.
It is Harvard Professor Elaine Scarry and University of Pennsylvania's Wendy Steiner however, who have most helped me understand how beauty functions. Typically understood as a sought-after quality of objects, instead beauty is an interaction between two beings where generous mutuality, equality and justice can be achieved, just as it did all those years ago in my mother's kitchen. Spoiler alert. Be prepared, in Beautiful Dreamer, to encounter the flip side too. The aesthetic of ugliness: self-centered, unequal and unjust.
In your view, what is the biggest issue artists have to deal with?
To answer this question means I have to reduce the complexity of contemporary life to a single indivisible thing. Hmm. Where to begin? Neo-liberalism? Media generated fear and anxiety? As if the real stuff isn't bad enough? I'm going with DISTRACTION. The inability to attend for more than the Nano seconds it takes to constantly check emails, text messages, Facebook, Instagram, Twitter and Google Plus posts. Some years ago, there was a comedy radio show on CBC, Canada's NPR, called Madly Off in All Directions. Great title, isn't it? Since the program crisscrossed the country in search of the best comedy, it was an apt metaphor that derived from a Stephen Leacock novel where the character jumps on a horse and goes madly off in all directions. For me, it conjures up monkey mind.
What I am suggesting is that there is a whole whack of stuff coming at us from all directions, all the time, but we don't have to follow, on horseback, or otherwise. We need to find ways of attending to the stuff out there and the stuff that sustains us. Taking a news break, for example will not break us. Does not make us irresponsible citizens. Quite the opposite actually. Jon Kabat-Zinn, MBSR founder at the University of Massachusetts Medical School writes and speaks about this. (https://www.theguardian.com/lifeandstyle/2017/oct/22/mindfulness-jon-kabat-zinn-depression-trump-grenfell)
I don't mean to say artists ought to live with their heads in the sand. Psyche has her way of filtering our surroundings. What I mean is, that while I may not have up to the minute breakfast, lunch, or supper conversation, I will have painted that day, with a little less chatter in my head distracting me from my work. My work–which is to paint–in the best possible way I can. To honor what I have been called to do in the world.
What's the best way for someone to check out your work and provide support?
People can see my work in a range of real and virtual locations. For folks in the Boston area, or anyone visiting western Massachusetts, I regularly show my work in the Berkshires at the Artful Mind Gallery in Lenox at 22 Walker Street, https://www.theartfulmindgallery.com/.
The gallery is an extension of the 26 years in print and more recently online Artful Mind Magazine. Created and maintained by Harryet Candee that is free to readers! Here is a link to the latest edition,
https://issuu.com/theartfulmindartzine/docs/binder2_9746c59286e20b. That's me on the right leaning against the wall. Check out Early Spring on the back cover.
At Diana Felber Gallery in West Stockbridge this fall between September and December. Stay tuned for opening dates at, https://www.dianafelbergallery.com/
This link, https://vimeo.com/109699219, takes you to a video made by Sofia Sakharov from a show at Good Purpose Gallery in Lee, Massachusetts. Anyone in the Fort Lauderdale area can see my work live at Artblend Gallery, 2736 East Oakland Park Blvd any time. The gallery has their upcoming summer opening Saturday August 11, from 6-8pm. Their website is, http://www.artblend.com/.
During Miami Art Week, December 5-9, I will be exhibiting with Artblend Gallery, Spectrum Miami's award winning and largest exhibitor. Look for Booth 105. http://spectrum-miami.com/attend/. Two works will appear in the Artblend Gallery, Art Book, 2019, in print and at http://www.artblend.com/art-book/. My work is held in private, public and corporate collections including homes, universities, hospitals, schools and law firms in Canada, the US, the UK and Italy.
Should anyone be traveling to Sicily, I recommend staying at Azienda Agricola Alcala,http://www.alcala.it/ where you will find three commissioned pieces, two murals (the only time I've ever used acrylics!) and a majolica panel of 54 hand-painted tiles I made and installed with Sicilian artisans. In our first visit, we stayed with our two dogs for 4 months! This past April marked our 10th visit and a celebration of our 20-year long friendship. Contact Stefano and Lesya at, https://www.bed-and-breakfast.it/en/sicily/masseria-delle-arance-misterbianco/9160
Short of purchasing paintings, I would be grateful if folks visited my website, www.jenniferpazienza.com, shared my work via social media, and dropped a line occasionally. Nothing beats meeting face to face, so please, if anyone is planning a visit to Maritime Canada, contact me. I'd be happy to arrange a studio visit, over an espresso, or glass of wine!
Contact Info: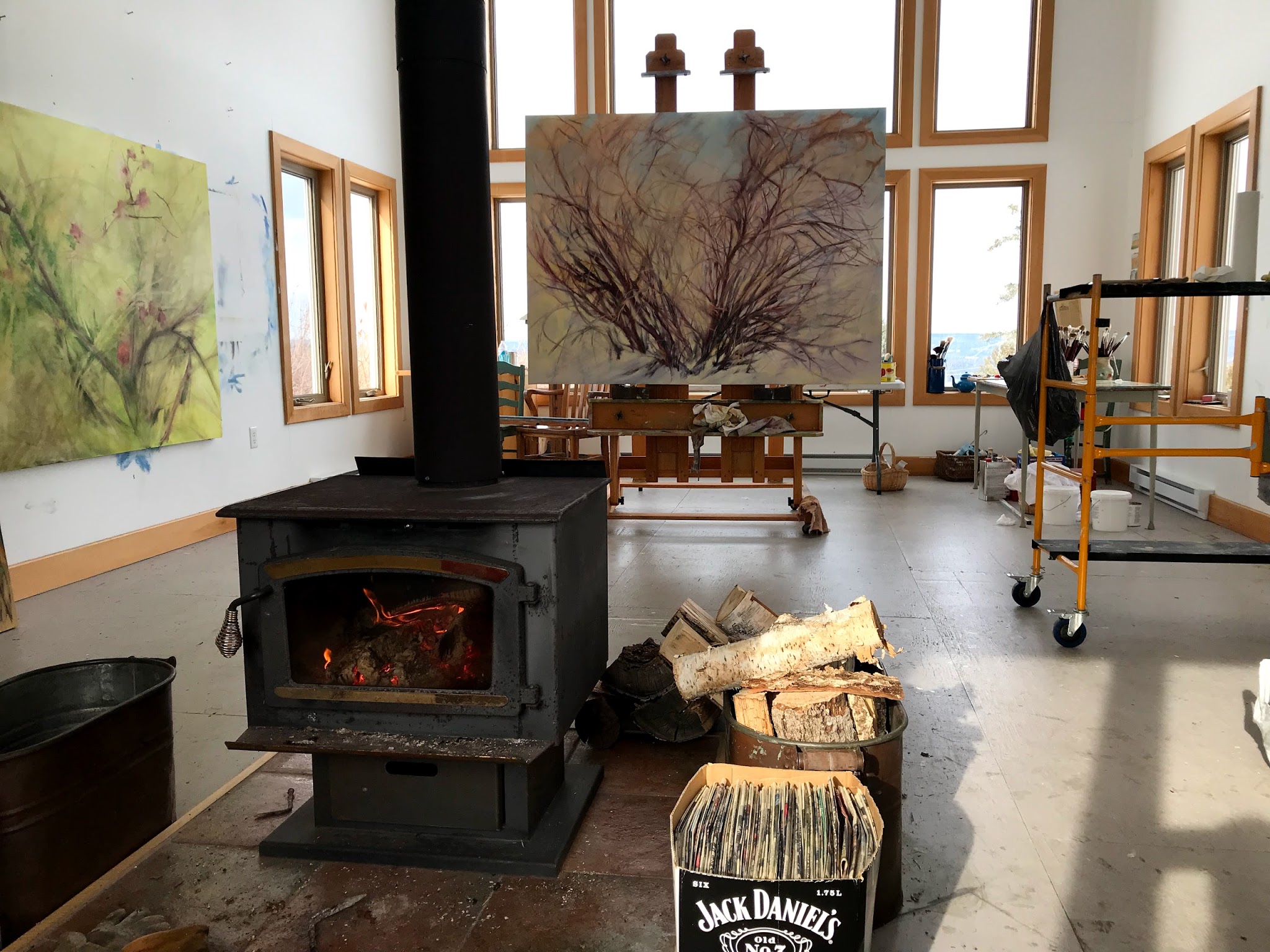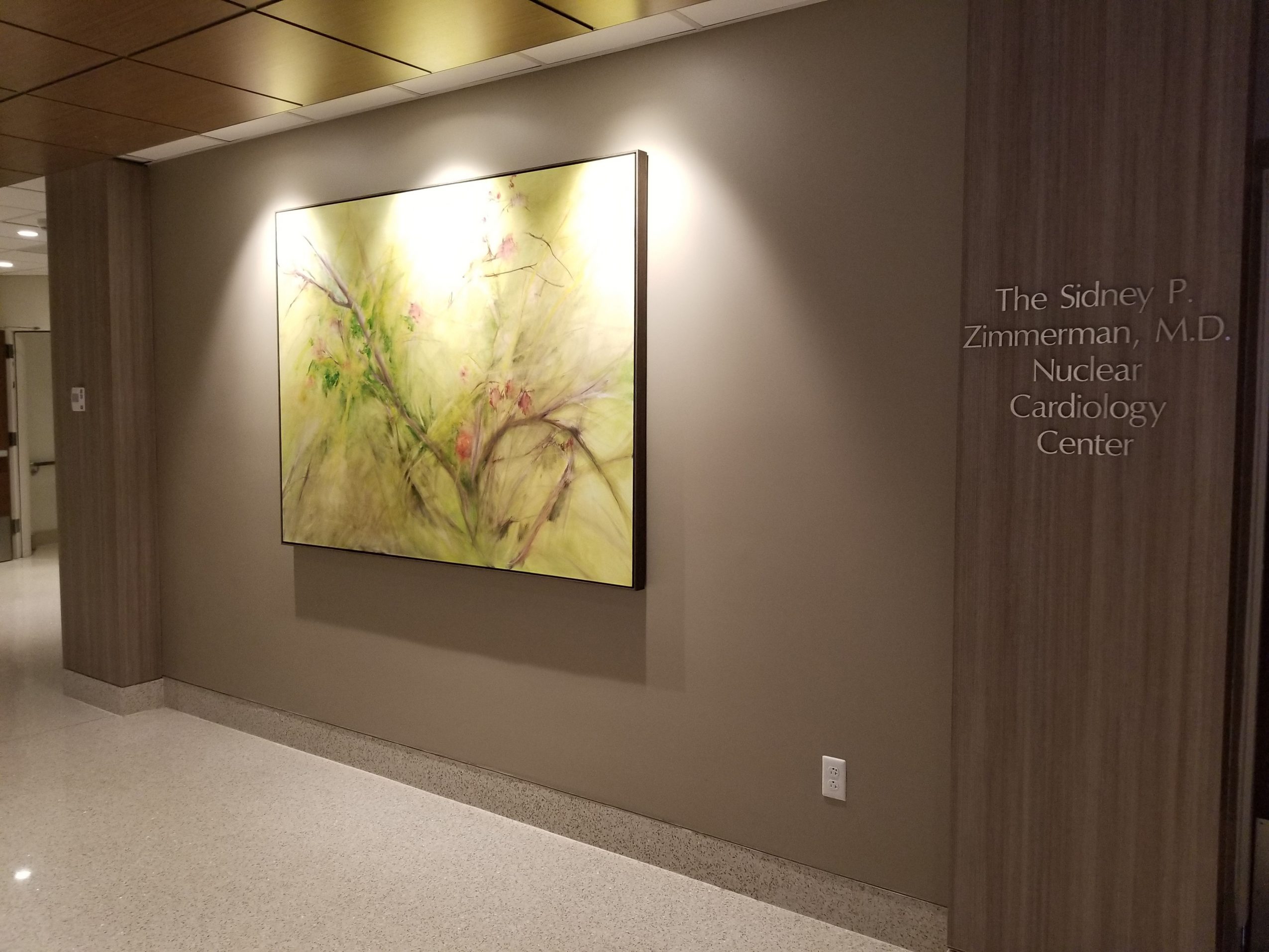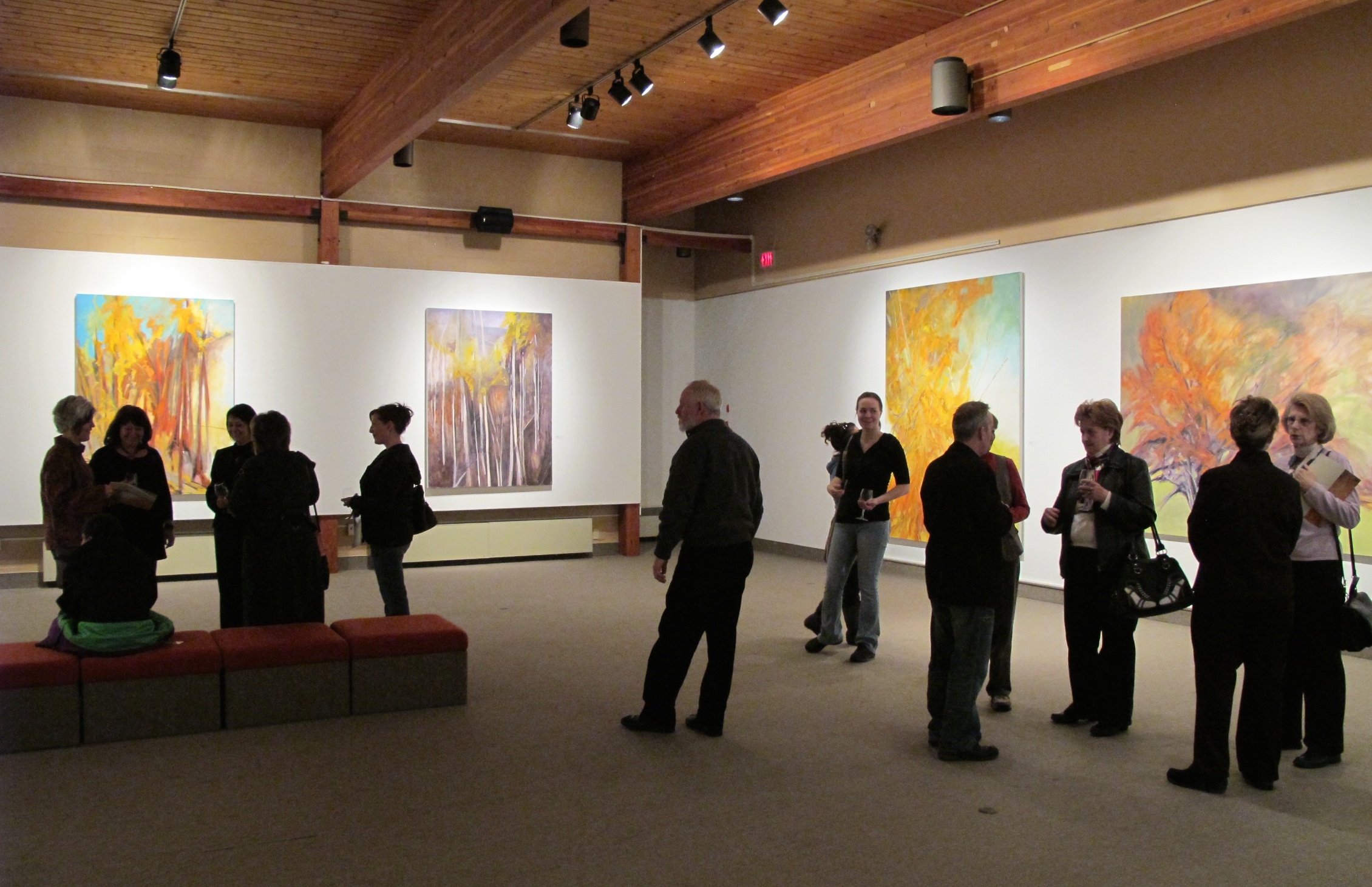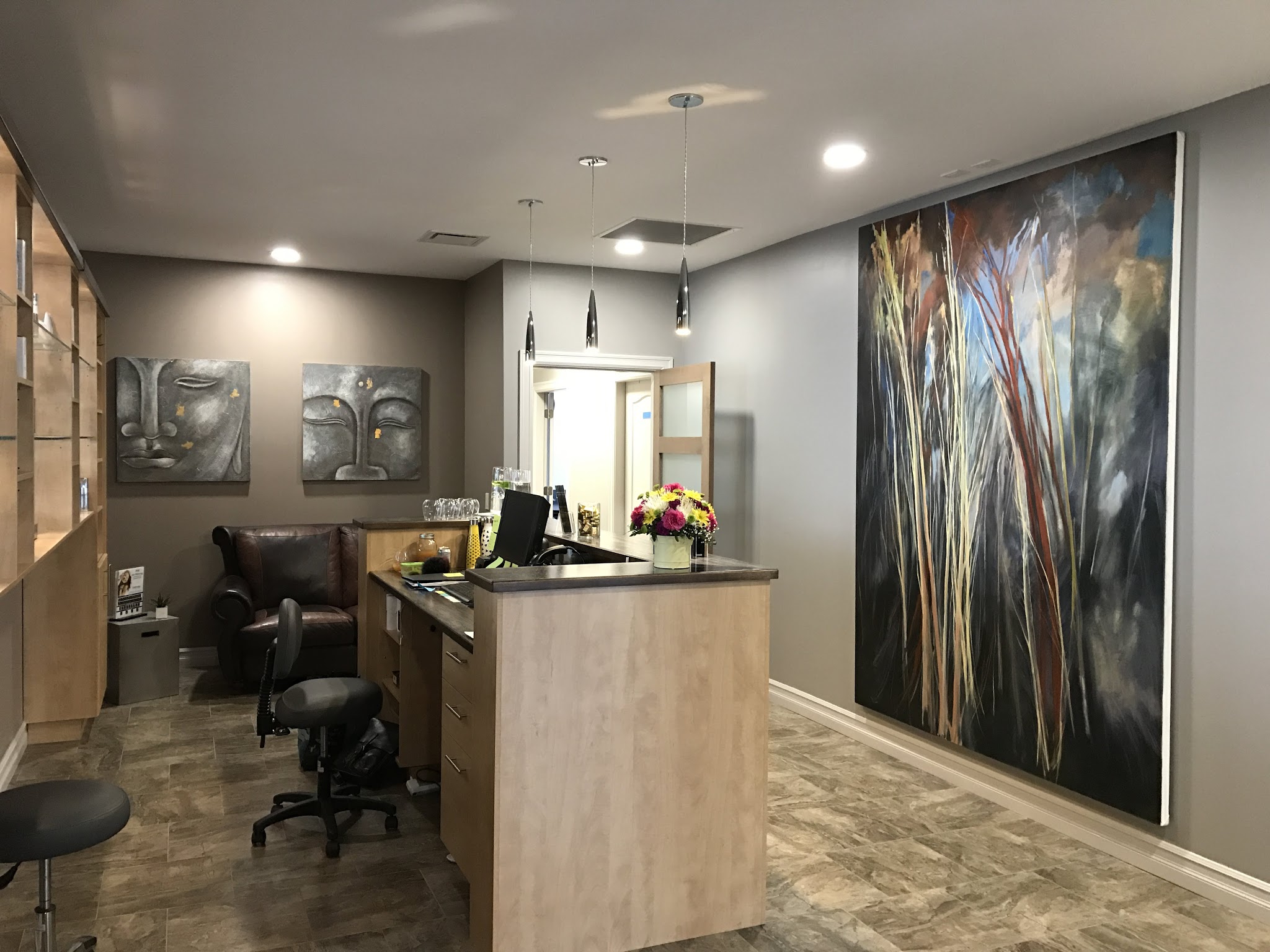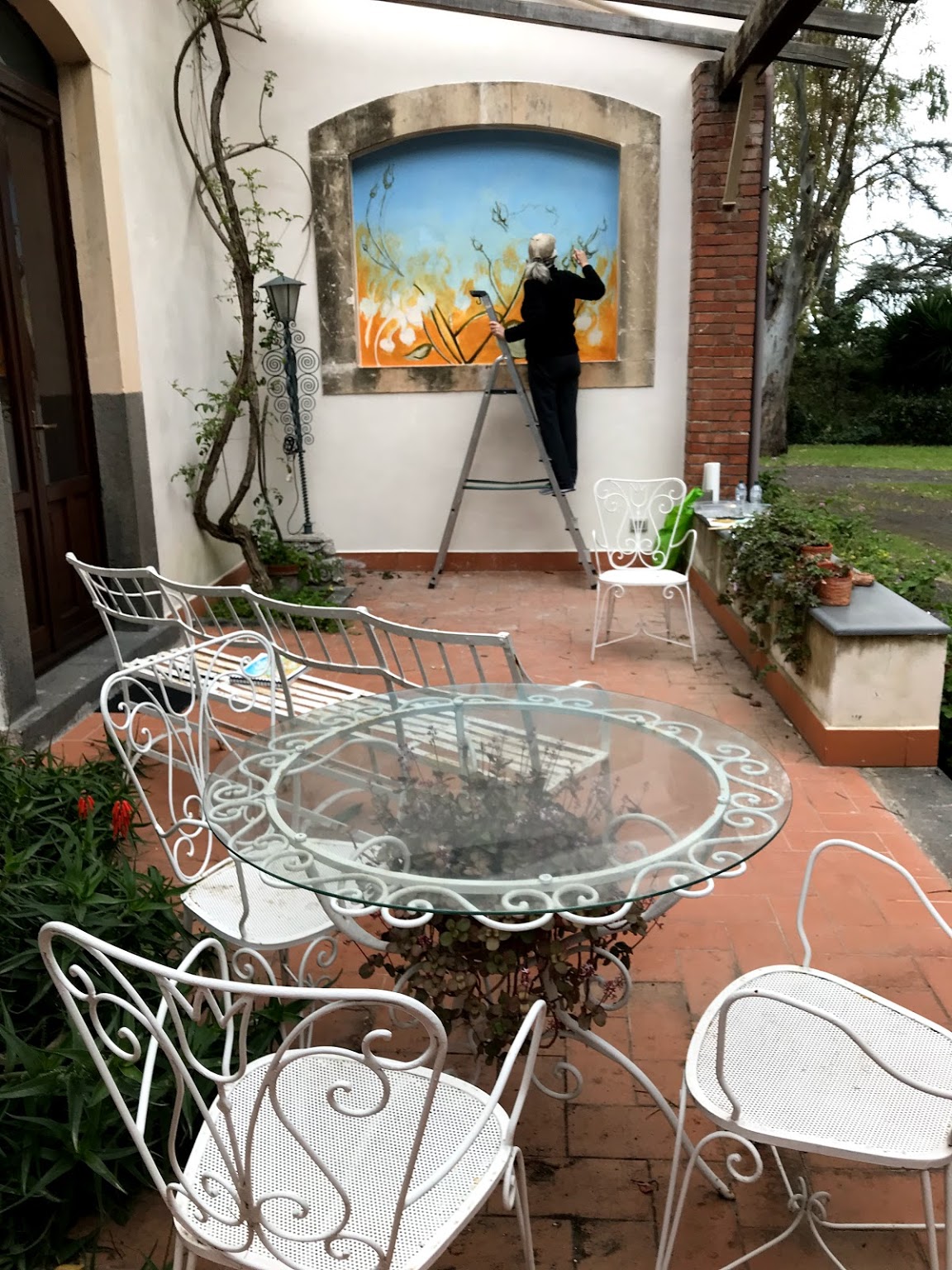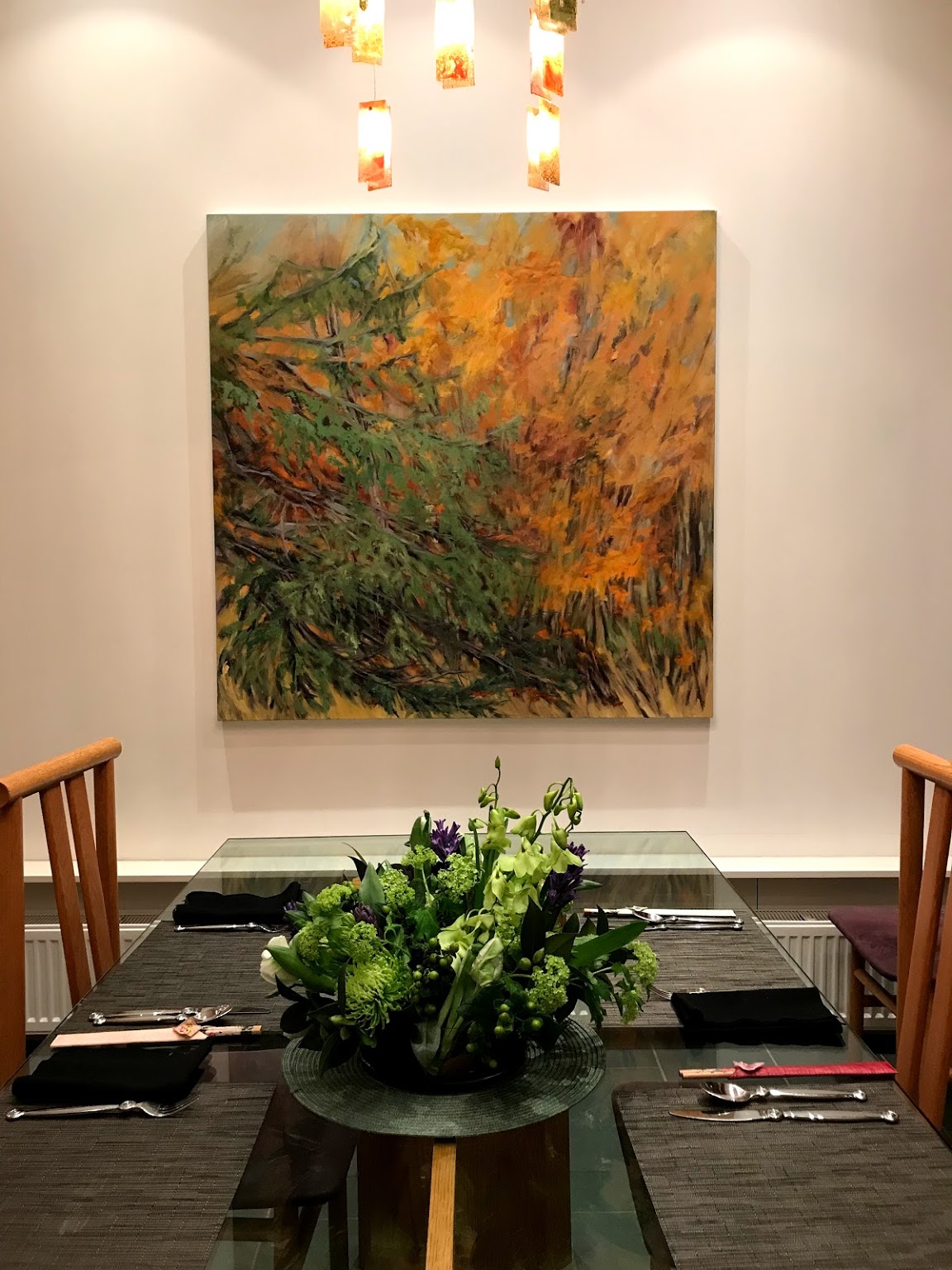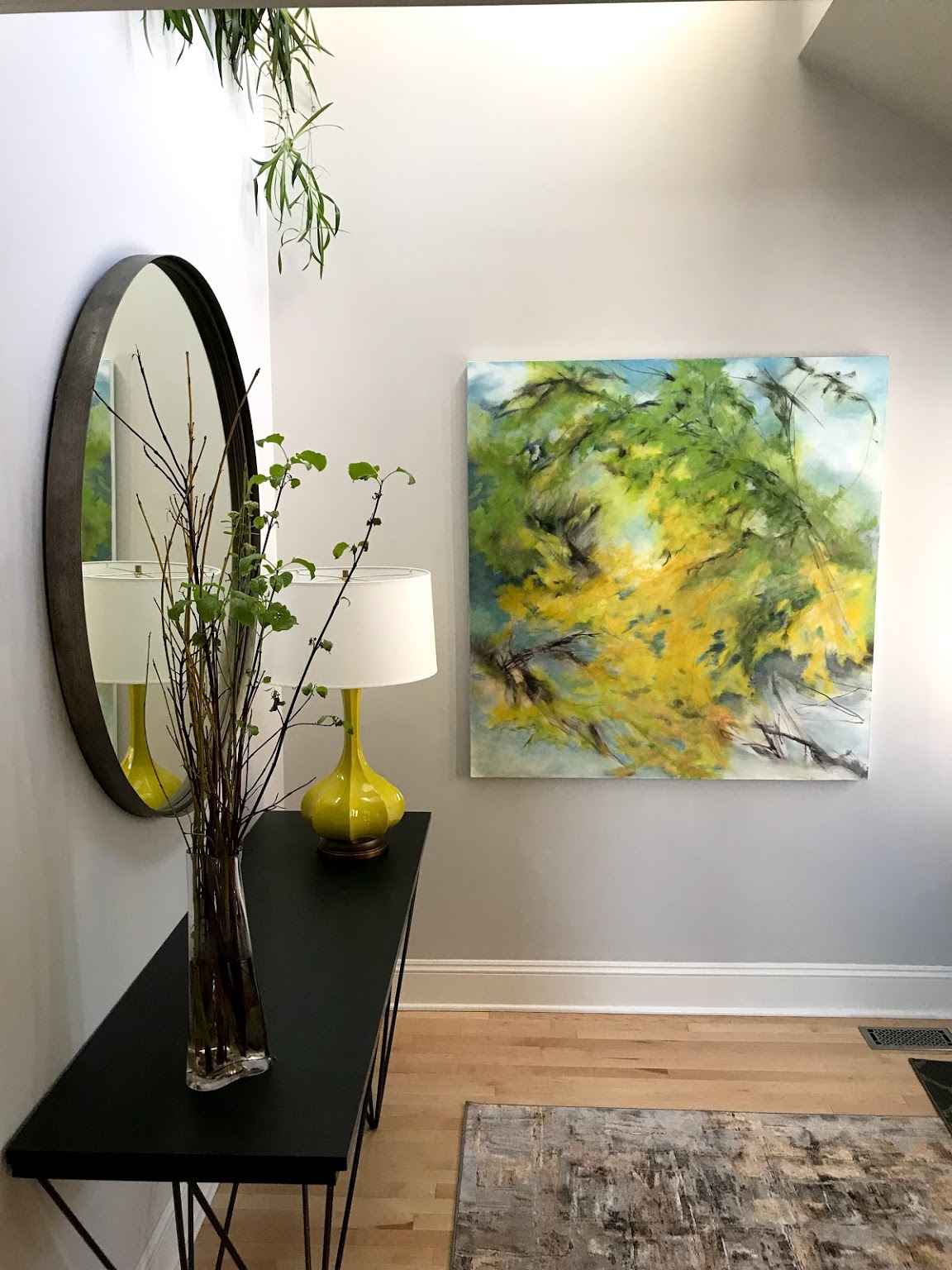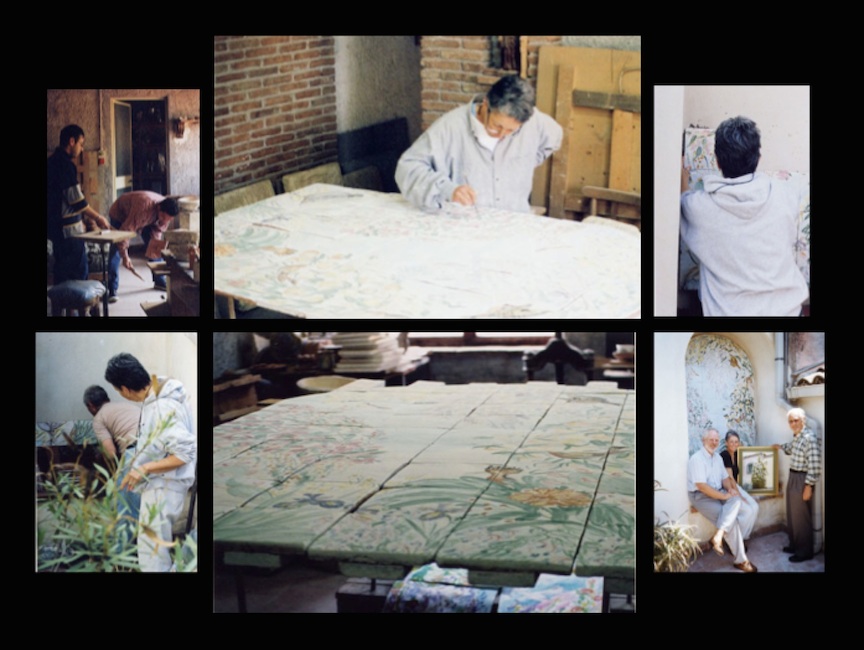 Image Credit:
Gerry Clarke
Vicky Lentz
Kevin Scott
Getting in touch: BostonVoyager is built on recommendations from the community; it's how we uncover hidden gems, so if you know someone who deserves recognition please let us know here.