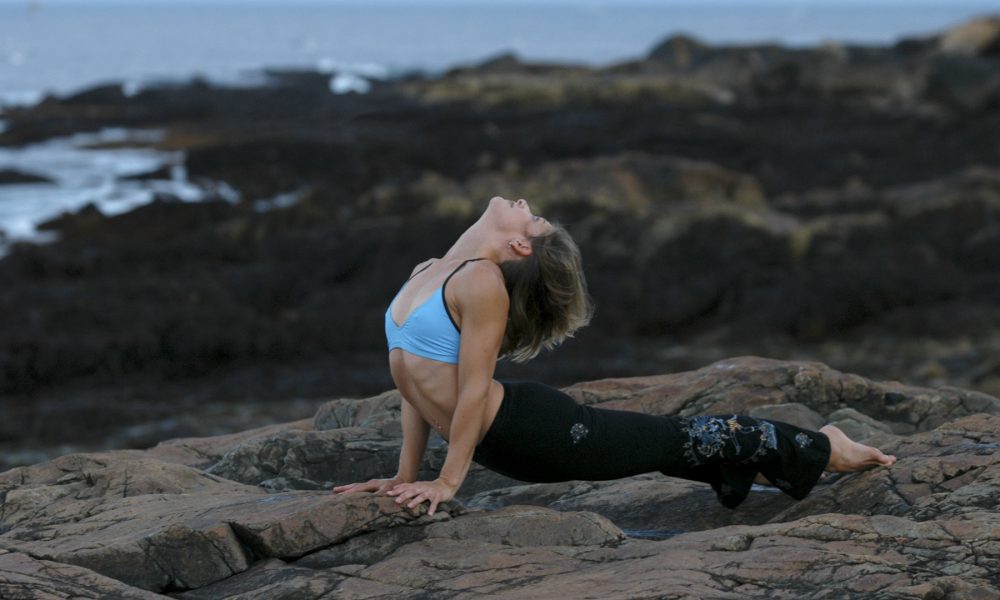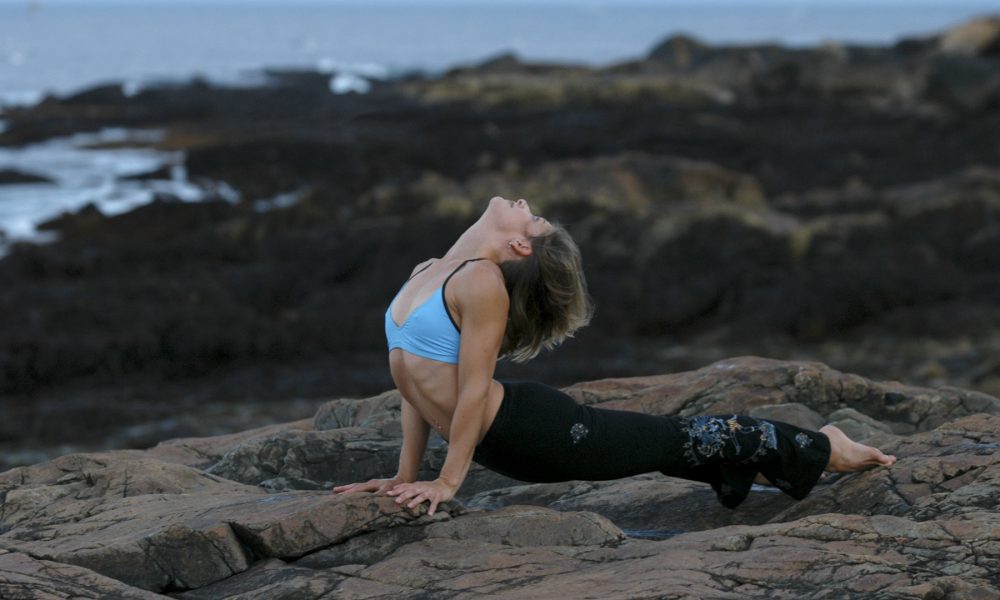 Today we'd like to introduce you to Nicole Grant.
Nicole, can you briefly walk us through your story – how you started and how you got to where you are today.
Yoga Mandala is a small community yoga studio and was founded on the heel of September 11, on October 27, 2001. At its foundation was my intention to simply be more available and accessible to my children and my family–my commute into Boston on a daily basis to the Boston Medical Center, managing the International/Refugee Clinic, and spending too many very long days away from my infant daughter were, quite literally, driving me crazy. The studio sort of snowballed from this simple idea of 'being around' so I could eventually take my child to preschool and pick her up at all these odd hours of the day, to actually materializing.
My son was born in July 2000, and I decided then to dedicate myself 'full-time' to teaching this practice of (astanga) yoga that I fell in love with back in 1992, shortly before my mother was diagnosed with aggressive non-Hodgkins lymphoma (today, she is a survivor of 23 years). For a few years, between travelling back and forth to Switzerland during my mother's treatments, trying to gain acceptance to medical school, completing a graduate degree, getting married–all the stuff life is made of–my yoga mat became my sanctuary. Later, when my husband and I moved to Winchester, my husband's travel schedule picked up, and we were raising two very young children at home with no extended family in the vicinity to help out, and complete newcomers to the Winchester community, I felt like Sisyphus watching my stone fall back of its own weight, running behind it desperately trying to keep up: Between 9/ 11 and yoga's growing popularity in this country at the time, once Yoga Mandala opened its doors, there was no turning back, just this very intense push to keep up with everything. It felt so antithetical on the most basic level to what yoga is about.
Back then, I had no website, no online scheduling, I was one of relatively few studios in the region, there were very few 'teacher trainings' if we even called them that, and a very new Ad Hoc Yoga Alliance was being talked about. Today, yoga is a multi-billion dollar industry, there's a studio or two opening up in every town, and registrations through the Yoga Alliance have been going through the roof since online registrations opened in 2010. While I need to meet my overhead and the requirements of those I depend on to keep my studio doors open (landlord, teachers, etc.), teaching yoga is still, for some of us, not always the most lucrative sort of enterprise if you measure it in dollars and cents. I can attest, however, that I am immeasurably wealthier today, in more ways than one: I got to raise my kids–and they are good human beings; I have a family of friends and a community in Winchester who have stood by me in good times and have done so in not so good; and while it could be said that opening up my yoga studio and my practice of yoga contributed on some fundamental level to the eventuality of my divorce in 2010, life has opened up to me in more ways than I could possibly have imagined. I can say with the utmost honesty and integrity that I am practicing daily everything I teach, on, and off the mat,
And because of how this journey has unfolded for me (and is continuing to unfold), and the fact of my children now heading for the world at large, my intention for the studio has shifted towards making each yoga experience at Yoga Mandala an extraordinary one and to continue to meet the needs of our really, truly amazing community.
Great, so let's dig a little deeper into the story – has it been an easy path overall and if not, what were the challenges you've had to overcome?
Of course not! I remember my teacher, Nancy Gilgoff, saying, beware the path of yoga: once you engage the practice and travel this path, your life will most definitely change, and not in ways you expect or desire.
My journey began in the Middle East where I was born, ironically halfway between East and West. At eight, living in England at the time, I sought, if not a direct experience of 'God,', at least an understanding of 'higher power' and 'spirituality' that persisted throughout my teenage years in Switzerland with an introverted obsession with the likes of Dale Carnegie, Richard Bach, Adele Davis, and any subject on health and spiritualism. First horses, then dance became the modality through which I discovered kinesthetic awareness of self and something far more vast, spacious and open-hearted. Failure to gain acceptance to medical school became my greatest opportunity to see the world through a wider lens. This lead me to Senegal, West Africa, as an intern, assessing the health and nutrition programs in local communities, and empowering women to take charge of their health and the well-being of their children; then, back in the United States, to managing the refugee health program and International Clinic at the Boston Medical Center.
My mother's diagnosis with aggressive T-cell non-Hodgkins lymphoma in 1993 became a turning point for me, dumping me straight into the rigorous, yet comforting arms of Astanga Yoga–a structured yet completely textured physical experience that offered me respite from psycho-emotional energies churning within and around me. My yoga mat became my 'safe space' where my practice became a portal for feeling, and I discovered a whole language through yoga that provided a framework for understanding and experiencing the substance of my emotions, discomforts and, one major general 'liability'–my suffering.
Twenty years later, my mother is alive and well and healthy and beautiful; I have two amazing children who both embody spirit in their own, individual ways; and I have not so much a yoga studio as a community of incredibly devoted, dedicated, loving and loyal yogins and friends. In 2003, I suffered the loss of my father, whose spirit most inspires what it is I do and who I am, and in 2010, the demise of a seventeen-year marriage around which my life revolved. All these events offered the trappings of misery, grief and anxiety, which I certainly indulged in, at times to the very brim; but, as it turns out, they also became opportunities to discover some freedom right in the middle of all the darkness and sadness and loneliness and restlessness. So with immense gratitude to the practices of yoga and meditation, I dove into some deep, dark, sad, lonely and restless places, not always with patience, compassion or understanding, but I did relearn to do so with awareness and curiosity and an intention of rediscovering my own 'loveliness.'
Yoga Mandala – what should we know? What do you guys do best? What sets you apart from the competition?
Yoga Mandala is first and foremost a community. Where so much of our world is rolled out in the digital marketplace, we are doing our very best to keep the personal touch alive and well. I respond personally to most emails and phone calls and make sure that there is room for everyone to feel heard. We don't reach as many people, yet our reach goes deeper, to the heart of what it means to be human. Our doors are open to anyone and everyone. Our intention is always to make each yoga experience an extraordinary one.
We are committed to sharing our belief in the healing capacities of yoga, meditation and reiki practices. The stories that our minds ruminate, the emotions and feelings that wear on the heart, and the symptomatic expressions of our physical bodies are common to every single individual and have huge import on our individual and collective health and happiness. Thus the practices of yoga and cultivating awareness have the capacity to reveal, open, and shift patterns of physical, emotional and karmic resistances within us that are both the cause of our suffering and the source of our greatest joy. Ultimately, the personal (on the mat) and universal (off the mat) dimensions of our practices are, respectfully, about honoring and loving what is unique about ourselves, and about letting go of the stuff that gets in the way of living life fully. So this is what we teach. Every teacher at yoga mandala has a personal story that they bring to their teaching and individual teaching styles. That's what I love most about Yoga Mandala–there is nothing mainstream about any one of us!
We get bogged down with all the stuff that Life throws at us, and there seems to be less and less time to just be by ourselves, or just plain and simple bored (in which event, the distractions are there at the ready). And for this reason, I intentionally bring a quality of lighthearted friendliness and inquisitiveness to my own teaching, Because so many of our daily tasks put us and keep us in our heads, I am passionate for instruction that gets each and every student into really feeling and being and moving in their own body. There are so many words in the Sanskrit language that serve to refine our definitions of, for example, how to befriend, to bestow beauty upon, to be gracious towards ourselves–mitraya, bhanave, bhadra, I simply ask that when you show up to practice, you practice curiosity instead of judgment, appreciation instead of blame, and that you remain open to the experience that shows up for you without deciding ahead of time what that will be. Through yoga or meditation or whatever it is we do to show up for ourselves, can we practice being in our natural perfection?
What moment in your career do you look back most fondly on?
It's not a moment. It's the collection of everything that Yoga Mandala is and has become, from its inception from something quite abstract (plus a $40'000 loan), to this conception of community. It's the perseverance it takes to see something through all its growing pains and the beauty that comes from that. It's literally the practice of yoga, of stepping (or in my case, leaping) into the unknown and learning to ride the wave. Its parenting: you really don't have much of an idea of what you're in for (I certainly didn't), then at every sticky point along the way you have to make the best decisions you are capable of in the moment. And then you have to let it go (still practicing).
Contact Info:

Image Credit:
Anastasia Sierra, Tom Norton, Stephanie Smith