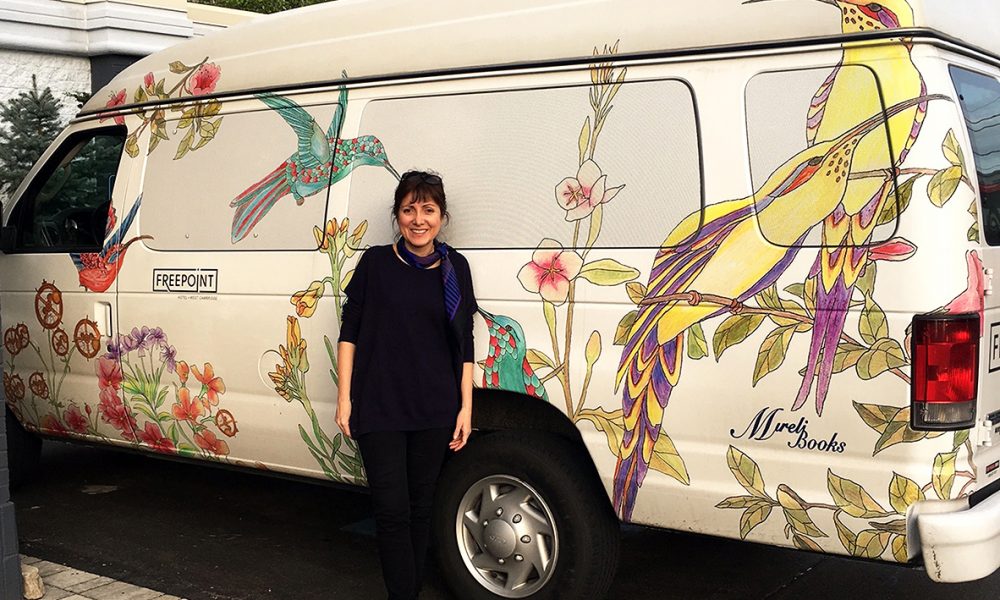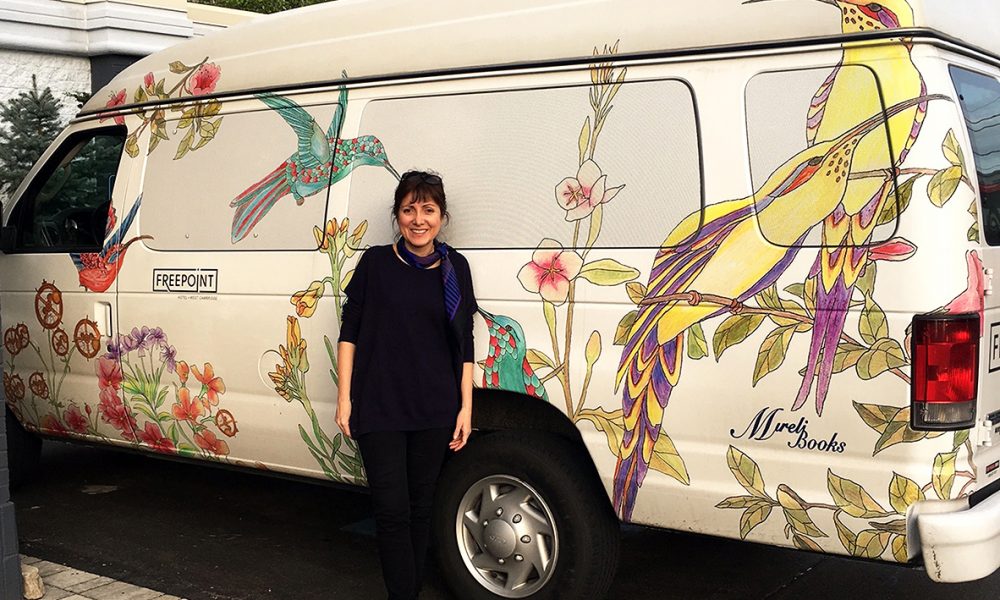 Today we'd like to introduce you to Miriam Bucheli.
So, before we jump into specific questions about the business, why don't you give us some details about you and your story.
I am passionate about art and science, and I strive to bring learning and creativity into my everyday life and my business.
I began drawing and painting very early. My parents recognized I had a talent and enrolled me in art classes at a local cultural arts organization. I enjoyed acrylics, oil, and other techniques but I was mostly drawn towards illustration. My passion for art went hand in hand with signs of an entrepreneurial spirit. I would draw and paint greeting cards to sell to family and friends. The designs were intricate and original, and to this day some of my relatives preserved the cards as keepsakes.
Up to the age of five, we lived in a very small town in the coastal region of Ecuador where my dad worked at a local hospital. I remember roaming around free, swimming in pristine rivers and playing with giant insects. After moving to a large city, my attention turned inward and I became somewhat introverted. Having been exposed to nature early on, it fueled my imagination and it poured into my art. After high school, I pursued two years of design but interrupted my studies, opting to travel instead. I met my husband in NY, and moved to NJ in 1987 to start a family. Eventually I returned to university, earned a PhD in science, and then worked in research for many years. With a degree in molecular genetics, I pursued subjects that were abstract, designing experiments to study molecular interactions. Throughout this time, I always turned to art in my spare time. With the years, I came to realize that those moments of engagement with art projects fed my creativity in science, and that art also provided a safe place where I could distress and meditate.
I moved to Boston in 2002, and then to Cambridge in 2009. After what felt like a necessary break from science, in 2015 I started an art/design company that would focus on fostering art, learning, and creativity. Currently, I am the illustrator/designer and writer, and my daughter helps with editing. Mireli is a combination of our names.
I feel comfortable having dual passions for art and science as each yields to the other from time to time. I see signs of the two potentially merging at least. This year I designed several covers for a scientific journal. In the future, this will potentially expand to new areas for my business.
Has it been a smooth road?
Not at all as most businesses take time to develop. I made a number of mistakes at the beginning, for instance, for my two first coloring books I printed a set number of books making an initial investment for print and other inventory. I have found there are alternatives, and that reducing costs from the beginning and focusing on sales is the highest priority. For my newest book, I am using print on demand. The quality of the books is very good and this helps me re-budget the funds for marketing and other areas.
Entrepreneurship, as any other endeavor, has a learning curve. When I was getting started, I spent a lot of time reading, watching videos, and attending events to gather input from other entrepreneurs. I was taking it all in. One of the most important lessons that I learned is to test a product directly with customers. Early on it can be with friends and family, but then it has to be directly tested with the public. Another area that has high yields for various reasons is creating connections. It takes time to establish relationships. Their value is intangible but they are truly precious.
At some stage as a researcher, I came to see an experiment's unexpected result as a critical point for learning. As long as I was able to keep an open mind, what first seemed as a failed attempt became a source of information about the biology or the technique. I have started to translate that way of thinking into my art business. I am constantly conducting experiments in my business and their success or nonsuccess teaches me where to go next or what not to do the next time. This helps me see attempted failures from a different perspective. Marketing is an area where I struggled in the past, and so for Amazing Cambridge, I am working with Molly Akin, a PR and marketing specialists who brings a wealth of experience that is specific to art. Finally, it is good to learn to celebrate successes, like our Kiva crowdfunding campaign that got fully funded in only 10 days!
We'd love to hear more about your business.
MireliBooks is dedicated to art/design, learning, and creativity. Right now, I focus on the design of coloring book collections of hand-drawn illustrations. My goal, and the thing I am most proud of with my business, is to help individuals tap into a creative space and release stress through coloring. I am the author of Creative Montage, Birds, Linescapes, Flowerlines, and a children's book, The Jungle Dream. My latest book is Amazing Cambridge.
Each of the books has a story behind it. The Jungle Dream was born of memories of travels with my family to the rainforest as a child. Creative Montage and Birds were similarly inspired by nature. Linescapes came about by my daughter's insistence to start the collection after seeing my geometrical patterns of mountains and meadows. Brains are wired to recognize patterns, and I innately translate landscapes to patterns and these are suitable for coloring. Inspiration for Linescapes came from road trips in New England, and other travels.
I am most fascinated by how the production of the books has led to other interesting ventures. Last year, my work was selected for the professional jury Cambridge Supported Arts Program or CSArt. The program provides a "harvest" of work from local artists to share purchasers. I was commissioned to create a series of fifty original artworks for my share. The inspiration for my "harvest" piece came from the striking architecture found in our City of Cambridge. My vision was to create a composition interpretive of the area's intellectual and cultural roots. I illustrated a poster which depicts five iconic sites: The Craigie House, City Hall, the Old Library, Kendall Square – MIT, and the John W. Weeks Bridge – Harvard. To evoke the City's innovation spirit, I used as backdrop a diagram of the first analogue computer, the Greek Antikythera Mechanism. The symbolism is evocative of the nickname often used for the area: The Athens of America. My participation in CSArt led to exhibitions at the Cambridge Artist Association, CCTV, and Lesley University.
Another interesting project was a commission for the Freepoint Hotel in North Cambridge. The original illustration came from one of my books Creative Montage, which I had colored in its entirety to give readers a better idea of the final image. Surprisingly, the Hotel marketing team selected the image as a finalist for a vehicle installation. After a brief discussion, they settled on an image I had submitted that was evocative of the interaction of nature with the mechanical. This fitted well with the art-science theme of the Hotel.
The CSArt project led to a body of work on Cambridge and my latest book Amazing Cambridge. The book showcases 28 iconic images and other architectural details. It features a brief history of the City's origins, a few famous works from poets/writers that were born or resided in Cambridge, a description of the universities, and general information about life in Cambridge. I started with the illustrations but I wanted to include more, eventually turning it into a research project, and I am glad for this change. It forced me to take notice of the rich history of my surroundings, the story behind each building, and to learn about the incredible diversity of Cambridge. As one of the first colonies, Cambridge was at the forefront. Early on, it was intended as the Capital. Ideas emanated from here to the rest of the country. In including writings from famous Cantabridgeans in the book, I wanted to shed light on those voices from the past. It is good to look back once in a while to help understand how we got here and guide where we are going.
What sets me apart from others is that I have unique attributes. I am multifaceted, which infuses my artwork and business, and I am willing to experiment, adapt, and follow a client's directive. Since MireliBooks started, I have tested various products and activities. Amongst this was a test for a playful event I named Coloring-Time. This was an opportunity for members in work-shared-spaces to enjoy a creative break during their day. Coloring-Time had a high attendance rate, and I am still working to develop it further in collaboration with a friend who is an art therapist. This would be a mindfulness activity intended to increase the flow of creativity and lead to relaxation.
Is our city a good place to do what you do?
These days, I don't think that most artists would be able to get started in Cambridge and that is because the cost of housing has increased substantially in the last 10 years. I was lucky in that I purchased my Kendall Square loft/studio right before its boom. The building, intended to house an artist community, was developed in the 1990's when the area was not very inviting for residents.
The City has programs to incentivize the artist community of Cambridge and to promote the work of local artists, an example being the CSArts program. I share the idea that there is always more that can be done. Neighboring Boston created housing requirements for developers that make it possible for Massachusetts certified artist to live and work in buildings around the City of Boston. We don't have that type of incentives in Cambridge. The artists that live and work here have done so for many years, or they were very well established as artists before they moved here, and many artists who used to live in Cambridge could no longer afford the cost of living. Some moved to neighboring Somerville which still seems to provide an attractive place for artists to get started and for new art business to flourish.
Pricing:
Amazing Cambridge – $15.99 – http://amzn.to/2uHwR1I
Linescapes – $12.99 – http://amzn.to/2eS0PvM
Creative Montage – $14.99 – http://amzn.to/2uHqZpa
Birds – $12.99 – http://amzn.to/2uHgDWg
Flowerlines – $9.99 – http://amzn.to/2vNVNEX
The Jungle Dream – $12.49 – http://amzn.to/2uCOrWc
The Jungle Dream Coloring Book – $10 – http://amzn.to/2uGS37L
Contact Info:
Getting in touch: BostonVoyager is built on recommendations from the community; it's how we uncover hidden gems, so if you know someone who deserves recognition please let us know here.