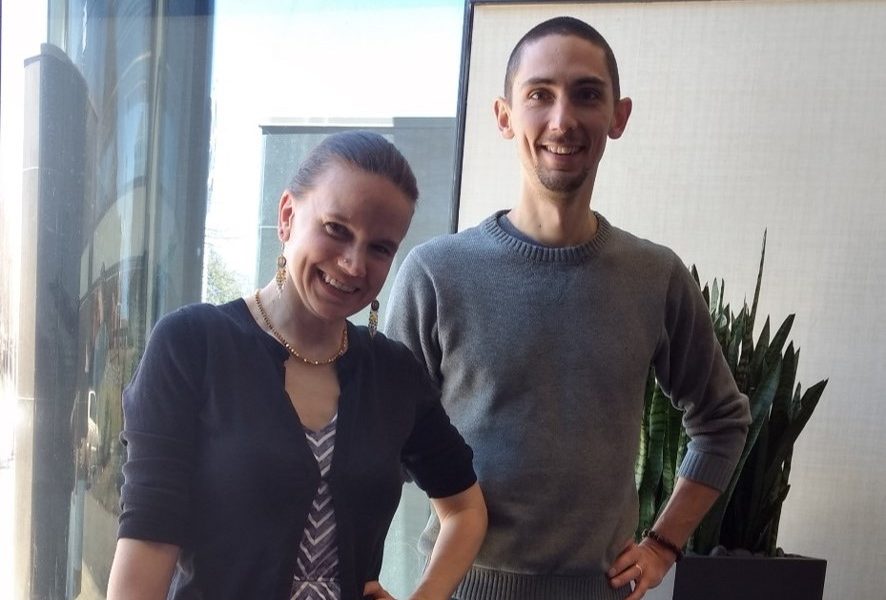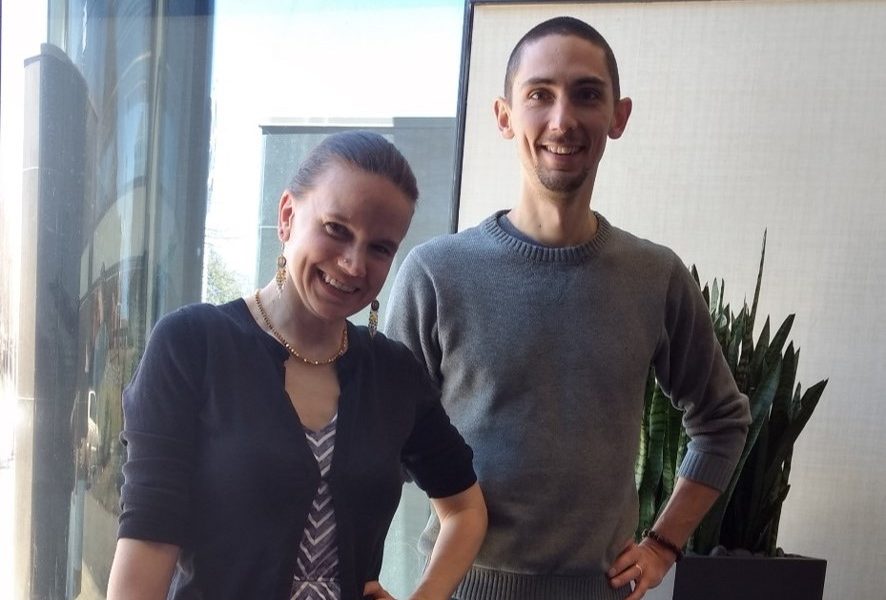 Today we'd like to introduce you to Marcie & Karl Bower.
Marcie & Karl, please share your story with us. How did you get to where you are today?
Marcie: I was first introduced to acupuncture when I was at Amherst College – I honestly just went the first time because I was curious. I was a competitive runner and a dancer, and I thought I was very in tune with my body. I remember at my first acupuncture appointment, I felt that my body was speaking a language and the acupuncturist knew how to speak it. I was fascinated. The more I read about acupuncture, and the more I experienced it, the more I wanted to know! I worked for a couple years in other jobs after college, and eventually made the decision to go to acupuncture school. I moved back to the area (I grew up in Natick) to go to the New England School of Acupuncture, then in Newton.
Karl: After I majored in psychology and East Asian studies in college and spent a semester in Japan, I came to appreciate the perspective of East Asian medicine. I was working as a carpenter in upstate New York and knew I wanted to go back to school to do something in a healing profession. A teacher recommended that I look into studying acupuncture. I applied and enrolled at New England School of Acupuncture in the eleventh hour and moved to Boston the weekend before orientation for the Master's program began!
Marcie: Karl and I met at NESA (New England School of Acupuncture), where we both got a great clinical education in acupuncture and East Asian Medicine. Karl studied both Chinese and Japanese styles of acupuncture, as well as Chinese Herbal Medicine. I focused on Chinese Herbal Medicine and Chinese style acupuncture. While we were in school, I worked in clinical research at a major hospital in Boston. That is honestly where I saw my acupuncture degree taking me – down the path of research and academia. I loved being challenged in that way. But then after we graduated in 2010, I met an osteopathic physician at a yoga class in Wellesley, and she told me she had space to rent to an acupuncturist. I went and looked at the space, loved it, and then joined forces with another good friend from NESA to start a small part-time practice there while I still worked at the hospital. And so Stepping Stone Acupuncture & Wellness began!
Karl: After acupuncture school, I was living at a Buddhist village temple in New York. While serving as an assistant at the temple, I was able to establish a small acupuncture practice in the local community. This was a crash course in running a business! I learned a lot in those first few years.
Marcie: In the meantime, I had become the single owner of Stepping Stone Acupuncture & Wellness, and was steadily growing the business. Our first massage therapist joined the practice in 2012, and soon thereafter it became clear that we needed another acupuncturist as well. Karl and I had started dating in those first few years after graduate school, and Karl moved back to the Boston area and joined Stepping Stone in 2013.
Karl: Over the past few years, Stepping Stone has steadily grown into a practice that we are really happy with. We moved into a new office in Wellesley Hills a few years ago, and now offer a wide array of therapeutic services.
Marcie: I think that as the practice has grown, we have also grown both as clinicians but also as business owners. We are incredibly fortunate to now have a great team of 8 practitioners in the office, as well as our amazing administrative staff. We both feel very lucky to get to do what we do each day.
Great, so let's dig a little deeper into the story – has it been an easy path overall and if not, what were the challenges you've had to overcome?
Marcie: I think there are always challenges to anything that is really worth doing. Overall, things have been relatively smooth…but starting a business from scratch definitely has its stressful moments! We were trained to be acupuncturists, but not necessarily trained to be business owners. So we learned a lot from trial and error in those first few years. But I also think that is really important – doing things that don't work, and learning what you can then do more efficiently, productively, successfully.
Karl: We have had the luxury of being able to take the time to learn and fix problems as they arose. As each aspect of the business grew, there was another steep learning curve! Working together has allowed us to have support for a mutual cause that we both feel passionately about.
Marcie: Working together can also be a challenge! I think we do it well – but we have had to be very conscious of making sure that any business stresses don't overwhelm our family life or family stress doesn't overwhelm our business! (Especially true now that we have a child.)
Karl: I've struggled with learning to balance the books, how best to market, how to advertise, along with finding my way as a practitioner.
Marcie: I struggled with each time we have had to make a real leap in the business – being scared of failing: when I left my steady hospital job to be full-time at the practice, when we took out a loan to move into a bigger (and beautiful) office space, when we hired our first employee, when we hired administrative staff, etc.
Karl: But overall, it has been amazing to be a part of Stepping Stone becoming what it is.
Please tell us about Stepping Stone Acupuncture & Wellness.
Karl: Stepping Stone Acupuncture & Wellness is a full-service integrative medicine clinic. We treat patients of all ages for a wide array of acute and chronic health issues. We offer acupuncture, massage therapy, Chinese Herbal Medicine, aromatherapy, Arvigo therapy (Mayan abdominal massage), Craniosacral Therapy, and cupping.
Marcie: What sets us apart? We work collaboratively with our patients to empower them to be agents in their own healing. We create treatment plans with patients so that patients and providers are on the same page and patients know what to expect. Our team brings a vast array of skills and perspectives which really strengthens our approach as clinicians. We focus on clear communication – both within our office, between providers, and with our patients.
Karl: The group dynamic and breadth of experience among our practitioners is something that we are proud of as a company.
Marcie: Personally, I offer acupuncture, Facial Acupuncture, Chinese Herbal Medicine, and cupping. I consider myself a general practitioner, which I actually love. I love having an 8-year old with ADHD in one room, a 30-year-old struggling to get pregnant in the next room, and an 80-year-old with osteoarthritis in the waiting room. It keeps it interesting, and I get to work with people at all stages of life, which is really rewarding. I would say the kinds of issues I treat most frequently are pain, women's health issues, and anxiety.
Karl: I offer acupuncture and cupping sessions. I typically treat patients experiencing pain – physical pain, emotional pain, and/or neurological pain. I vary my approach to best benefit each individual patient and provide their body a chance to heal itself. I tend to include a lot of manual therapy during acupuncture sessions, which I am told patients appreciate. Through my hands-on approach and patient education, I encourage more awareness of the body and how it impacts our lives. In turn, I hope that patients will learn more of how to take care of themselves and keep themselves healthy. I always say that health is a moment by moment choice.
Do you look back particularly fondly on any memories from childhood?
Marcie: Here's one: My family always went to Wednesday night track meets during the summer in the neighboring town growing up. It was a great event – they started each distance with the 2 year olds, then the next heat was the 3 year olds, then on up until it reached 14+. My younger sister was never really as into running as I was. When she was 3 or 4, and you cheered for her, she used to stop running and glare at you. Finally we asked her why she was always so angry when she ran. She said "Everyone keeps saying "go, go go!" But I AM already going!" So from then on, I always had to cheer "KEEP going!"
Karl: The freedom of summer. Growing up during the summers I lived in the upper Catskills of New York state. This hamlet was a safe haven for kids to explore nature and camp as often as they could. The camaraderie and the process of a group of kids gathering wood, setting up camp, and enjoying sleeping on the hard ground often brought the group of us closer together.
Pricing:
60-min Massage/Craniosacral/Arvigo: $100
75-min Massage/Craniosacral/Arvigo: $120
90-min Massage/Craniosacral/Arvigo: $140
30-min Cupping: $50
Contact Info:
Address: Stepping Stone Acupuncture & Wellness
316 Washington St.
Suite 1
Wellesley, MA 02481
Website: www.steppingstoneacu.com
Phone: 781-898-4083
Email: info@steppingstoneacu.com
Twitter: @stepstoneacu