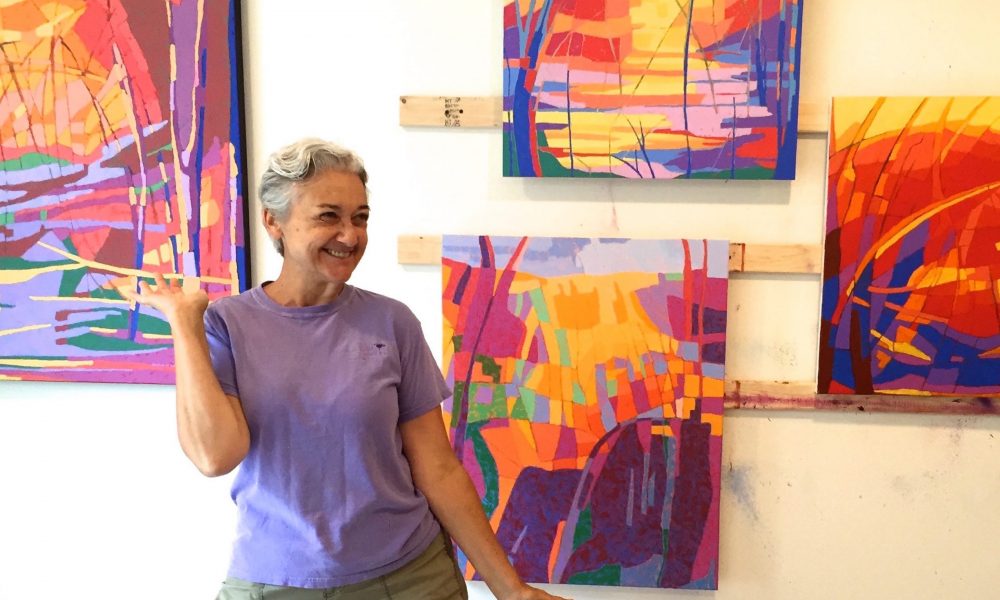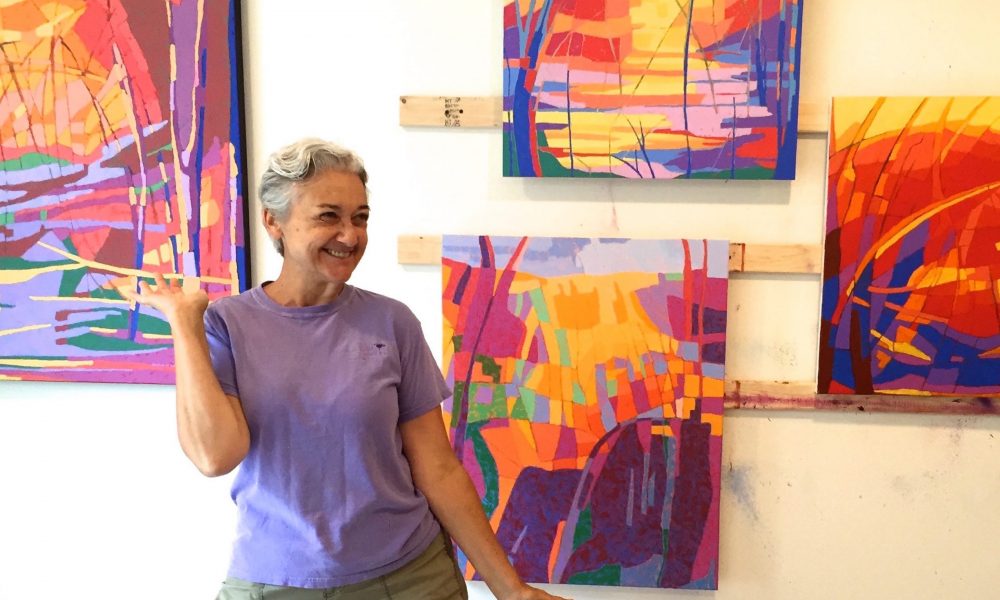 Today we'd like to introduce you to Marcia R. Wise.
Marcia, can you briefly walk us through your story – how you started and how you got to where you are today.
I started painting when I was 7, growing up on Cape Cod. I had found a book on Impressionism during my weekly visits to the library with my mom at age 6, and I drove her crazy until she found me a place to take painting lessons. Provincetown was vibrant with creativity and at 9 I found myself taking weekly classes at The Cape Cod School of Art, then owned and run by Henry Hensche. He was a protege to American Impressionist Charles Hawthorne who originally started the school. I continued with classes and each summer was able to be a part of a summer workshop. Later, after Henry passed, I continued to study with Lois Griffel in Ptown.
I was a shy and odd kid, but the color came to my aid and creating art was the best way for me to express myself. At age 10 I decided I would study at L'Ecole Nationale Superieure des Beaux-Arts in Paris, France, much to the dismay of my mother. I was an only child growing up with my mom and her parents, Italian immigrants. But I saw my dream manifest, in spite of all odds.
After college and returning to the states, I went back to school at The Art Institute of Boston and then to Boston University for Art Education. I was an art teacher for many years while also continuing with my own studio work and exhibiting. I've lived in many places in the states – Cape Cod, Martha's Vineyard, Santa Fe, NM, Boston, MA, Deerfield, MA, Los Angeles, CA, Sarasota, Fl, Montreal, Canada, and Norfolk, MA; and in other countries where I also worked as an artist – Paris, France; Barcelona & Formentera, Spain; Rome, Italy; Israel. My travels and work abroad informed my work as a painter and my love of travel has continued.
My journey of self-discovery also continued as did my desire to one day retire from working in education and jump into my art as a full-time painter. I was always itchy about this transition even though I loved teaching. I yearned to have the luxury of days on end to paint in solitude as well as to paint en plein air. So, needing to be self-supporting, I continued to teach and never let go of the desire for my own work to take its place as number one in my life.
My husband, Ed, who is a professional pianist, and I lived in Deerfield, Mass for over 20 years before moving closer to Boston. We had lived in Santa Fe, NM where I had a wonderful teaching job in an International boarding high school and we decided to settle in Western Mass since I had lived there years before and we had a few friends there. I was happy to soon discover that the arts community in the Pioneer Valley was thriving more so than when I had last been there, and so I entered that scene and worked hard. We also built a 740 square foot stand-alone studio on our property and I was soon settled and ready to go.
Of course, life steps into all our plans! I spent the next 10 years caring for 4 elderly parents. That journey alone was intense and being an only child, it was often very difficult. Just as I thought I would have all the time in the world to paint in my new studio! However, the time for that was made clear even during those years of struggle to advocate for elders. Painting in my studio, or out in the beautiful areas of Western Mass, saved me from depression and deep sadness. I was able to continue to exhibit widely in Western Mass as well as finding galleries in Santa Fe, Los Angeles, New York, and Cape Cod. Painting whenever I could, I amassed a huge number of pieces, sold work, exhibited widely and still cared for my home and my family.
I also decided to take on some private students and soon enough found myself developing my own painting workshop to teach. Although the workshop has changed and more have developed since then, I soon found out how much I missed the socialization with others as I did in education. After our elders had passed, I wondered if I would now, finally, have the time I had so wanted while working full time, to paint and to exhibit and maybe even find more avenues in which to exhibit and sell my work. Three years ago Ed and I decided to move closer to Boston. It was a daunting task to downsize and sell our home, and yet it felt as if we were freeing ourselves from things that no longer were needed.
The difficult part for me was in leaving the community in which I had worked hard in, to build recognition as an artist, and the many artist friends that I had made there. But besides the freedom of letting go of what was no longer useful for us, there was that great pull to be closer to grandchildren, the two youngest of which live in Boston.
Before we moved, I always made trips into Boston to begin to look for a place where I could have a studio that had the visibility I wanted. I found that place – 450 Harrison Ave. in SoWa and I placed my name on the wait list before we moved. At the same time, we were planning for the building of our new home, a condo in Norfolk, Mass. Luckily, we were able to have a studio built in our new home because it was only this January 2018 that I was finally offered a studio in my desired location.
Also, while downsizing my home in Deerfield, I unearthed another long-time dream which was to take people to Italy to paint. Within a year of moving, my dream unfolded and last year, July of 2017, was my first trip to Tuscany with 11 people who wanted to paint there. I will be taking another group this year in Sept., and hope to continue to go to this destination in future as well as to other locations in Europe. But why stop there? Yes, the gypsy in me is still alive and well.
Meanwhile, I have continued to hone my workshops and I now teach weekend and week-long workshops at many locations in New England from Snow Farm in Williamsburg, MA and Fletcher Farm School for the Arts & Crafts in Ludlow, VT, to Concord Center for the Visual Arts in Concord, MA., among other venues. Now, my teaching coupled with my new studio at 450 Harrison Ave., as well as my home studio in which to work, I feel very happy to finally be realizing this long-time dream. And, I found Fountain Street Gallery! They were in Framingham, MA when I found them and was accepted into the fold. Ah! Creative souls all around me again…
And then last year, with the Framingham building closed, we moved to 460 Harrison Ave. (This was before I rented my current studio at 450.) All I could think was, "pinch me!" Although I have other gallery representation, this is the one that offers me the creative comfort and challenges that I seek close to home, as well as an amazing group of people working together toward common goals. It's a fabulous experience. Now with my Boston studio, my new creative environments with the studio as well as with the Boston gallery, and having planned ahead to be on a commuter rail line, I am content.
I am hopeful that this is my time to create and create and create, as well as find outlets for the love and the joy that I seek to give to the world through my work. Education is still a part of my life for which I am grateful. In my past, I have had many opportunities which have all lead me always back to this need to paint. For me, it is like the need to breathe. And love of nature, the beauty of the natural world, is my inspiration.
We're always bombarded by how great it is to pursue your passion, etc – but we've spoken with enough people to know that it's not always easy. Overall, would you say things have been easy for you?
Not a smooth road, no. I've mentioned the elder care. Another struggle was as a young adult, heading off to college in another country. My first language was Italian, so French came quite easily and I did so well that I passed all the exams for entry into Beaux-Arts in Paris… reading, writing, comprehension and orals. Back then, there was no Junior year abroad. It was highly competitive and rather scary. But I got in and on a full scholarship. Once I arrived it was a different story. I had not realized the speed at which the language was spoken – after all, it was my first time abroad. All classes were in French and in order to keep my scholarship, I had to maintain a B or better… and my art history class was a lecture class.
During the first art history class, I couldn't understand any context, only a few words here or there, and I was sure this was the worst thing I'd ever wanted in my life. I took to recording all the lectures on an old tape recorder until one day another student suggested I go with him to meet his parents. So off to Lyon we went for a weekend, and there I met my savior! She quickly made some phone calls and soon after I was enrolled in the Sorbonne emersion class for foreigners to learn French. I had called my mother back in that states to tell her I couldn't handle this and needed to come home, to which my sweet and wonderfully supportive mom declared that she knew I could do this and she would not accept less. Three months at the Sorbonne and I was on my way. I kept that scholarship and after 4 years, I was fluent. WOW!
I have always been thankful to my father who was not so keen on me, his only child, going to art school. However, he constantly suggested that I teach after college, and upon his suggestion, I did just that. However, being an art teacher in the public school system didn't always mean I had a secure job. It was always the same, like the three musketeers, me – the art teacher, the music teacher and the physical education teacher, whenever there were budget cuts, we knew that meant one of us might not be offered a contract for the following year. After a while, I turned to private education and it was there that I stayed for my remaining years as an art educator.
Another time, I had thought it would be fun to learn to run a gallery myself. I had had a mentor in college, a fabulous painter, who was quite wealthy and had left education to start his own gallery in Montreal. He contacted me and offered me a position in his gallery as well as a studio space to use when I was there. I soon discovered that he was not very good at keeping good records, so it was difficult to learn that part of the business. I loved the interaction with other artists and all the submissions that came, well… maybe not all of them as I soon discovered it was almost impossible to keep up with that. But I had thought this might be a good way to get into the industry and if I was good at it, I might have found a way to help other artists as well as myself.
However, after 2 years, the challenges of keeping everything balanced began to take a toll and I found myself without the time I had hoped for my own work. Then, the owner announced he was opening another gallery in San Francisco and wouldn't I love to move there! Well, actually no I wouldn't, and back to applying for teaching jobs, I went!
Then there is gallery representation. I have been lucky. I was young and I worked hard with that old work ethic drummed into me from my Italian immigrant grandparents and my mom. I've had good galleries sell my work and then I've had not so good experiences. Maybe this is the same for most of us. However, one experience was rather devastating. It concerned representation I had in California. Los Angeles. They took a few paintings on trial basis and sold them all. I was then offered a solo exhibit. For one year I painted day and night, when I could and shipped 22 paintings, from small to very large, for the exhibit. We flew out for the opening which in itself was great. The show was exhibited for one month and what was sold was enough for the owners to want to keep me on as one of their artists. They pushed the larger paintings.
After a few months, I called the gallery to ask about a certain painting and they couldn't find it. I had a friend in LA go and ask them about that painting and then they really looked… and found it. I asked it to be shipped to me as I had a buyer. (My contract allowed for this as long as I paid for shipping the work back to me.) When it arrived, it was damaged. It looked like a motorcycle tire had taken off on it, leaving rubber on the painting. Luckily, I had varnished this piece, and I was able to slowly and carefully clean it without disrupting the painting itself. It wasn't a good omen for me, so I ended my relationship with them without any problems.
I've enjoyed wonderful gallery representation with great people and I've been lucky that I have not had a repeat or a bad experience since. However, there is always the issue today of shipping and cost and all the risk that artists take. It's not easy. Again, it brings me to my present and my long-time goal of wanting a studio of my own in a highly visible area such as in Boston's SoWa. With my own business now, Marcia R Wise Fine Art, and a place of business, I am very happy to have this opportunity to sell my work on my own. I continue to have representation in Boston and elsewhere, as well, but I often wonder what the future of the gallery scene will be.
We'd love to hear more about your business.
My business is my greatest joy… I am an oil painter. I began years ago studying the basics of composition, color, perspective, mostly in realism and impressionism and that continued in college. After trying everything from realism and impressionism to abstraction, I currently specialize in abstract landscapes and more abstract expressions. I am best known for my usage of color and have developed my own color system which I also teach in my workshops. As well as being known for my colorist approach, I have been a life-long art teacher and have continued this in the development of my own workshops which I call 'The Bold Palette – Full Color Painting Workshops.'
I am proud of my development as an artist in that I can approach just about any subject matter in any style, from realistic to abstract. Whether landscapes, seascapes, still life, portraiture or abstractions of all of these, I am a confident painter. I have always been an excellent draftsperson… drawing is something every artist needs to do more of! My journey into abstraction has taken all my life for me to feel comfortable to capture. Good abstraction is most difficult, demanding a clear understanding of what makes a good painting. For me, it has been a joy to now be able to feel the freedom of color, color placement, and the play of light and contrasts, forms and textures in a freer expression with abstraction.
I am also very proud of my teaching abilities. I'm a terrific teacher, partly because of my upbringing and maybe it's just very natural for me as well. I find I can understand where a students difficulty lies and find the way for them to uncover it for themselves. I pay special attention in my workshops to the emotional needs of my students. After all, creating art is an emotional process and can bring up feelings long repressed. I bring joy, my joy of painting and color into each class, whether individual sessions or in a workshop environment. I am proud to be able to bring out the very best in those who come to me for help.
What sets me apart is the way I use color and that I have an original artistic voice in the structure of my work. I look for this in all art I view – originality. I am dismayed when I can see a certain type of work repeated by many artists. I look for the difference, the truth within the voice of the artist, and as a teacher, I focus to bring that unique voice out of each student and into the light of day. Fearlessness! I thrive in being bold and fearless in my approach to my work and the way I teach. Oh, well… the way I live my life, too, many would say. I say, "Go for the joy!" What do we have to lose? Nothing and we have everything to gain when we open to passions that give us that kind of experience. Spread the love!
What were you like growing up?
I was a shy, yet a spirited child. My parents were divorced before I could walk and that found me and my mother living with her parents, my Italian immigrant grandparents, on Cape Cod in Massachusetts. I think I spent most of my young years hiding from people, not wanting them to look at me. This pain shyness continued until my Junior year of High School. What brought me out was art, music, dancing and gymnastics. And, although I have no idea how my mother, as a single mom, did all this, she was always aware that I was different than most kids my age.
I started art lessons early and also, at 7 years old, I began to learn how to play piano. I loved music and singing, so I also took dancing lessons at a local community center. The problem was performing. Being so shy, I simply would not agree to any recitals of any kind, but for my immediate family I would get on the kitchen table and re-enact any of the musicals that I saw. My mother opened the world to me with lessons and she took me to musicals and plays. I wanted so badly to perform and to sing, but that wouldn't happen until much later after I was able to push myself out of that shell of safety I was in.
I was crazy about animals and had so many as a child. My mother wasn't too happy with this because I found so many strays and always brought them home, claiming that the kitten or the rabbit or the snake, frog, dog, etc., didn't have a home and needed us to take care of them. My grandparents didn't help my mom in this because they had both been brought up on farms in Italy and they loved pets. We had a canary that I used to let out of the cage to fly because I couldn't stand the idea of a caged animal… she was Tweety and she loved to perch on my grandfather's bald spot. And even when I had multiple pets, they all cohabited easily… except Mr. McGregor who was my pet rabbit. He hid a lot from the cats, dogs, chickens, hamsters, etc. One day we found him in the crisper bin of the refrigerator! Nothing that a heating pad wouldn't take care of!
I would sit for hours drawing. That was what I loved most and my mom could take me anywhere and I was happy as long as I had my watercolors or colored pencils and crayons and my pad of paper. I was sure, absolutely sure, by the age of 10 that I would go to art school in Paris and that I would paint. I still find that interesting, that I would feel that direction so strongly at such a young age. However, my grandmother was a dress designer and she started me young on sewing my own clothes as well as knitting, crocheting, etc. And my grandfather was a shoemaker and had his own business both at home in his own shop near the house, as well as in another location on the Cape. So, I was always encouraged to explore my sense of creativity. And my mother was my greatest support, my biggest fan, and my truest friend.
Pricing:
Most paintings run from 12″ x 12″ at $450.00 to larger sizes up to 48″ x 48″ at $6,000.00
Contact Info: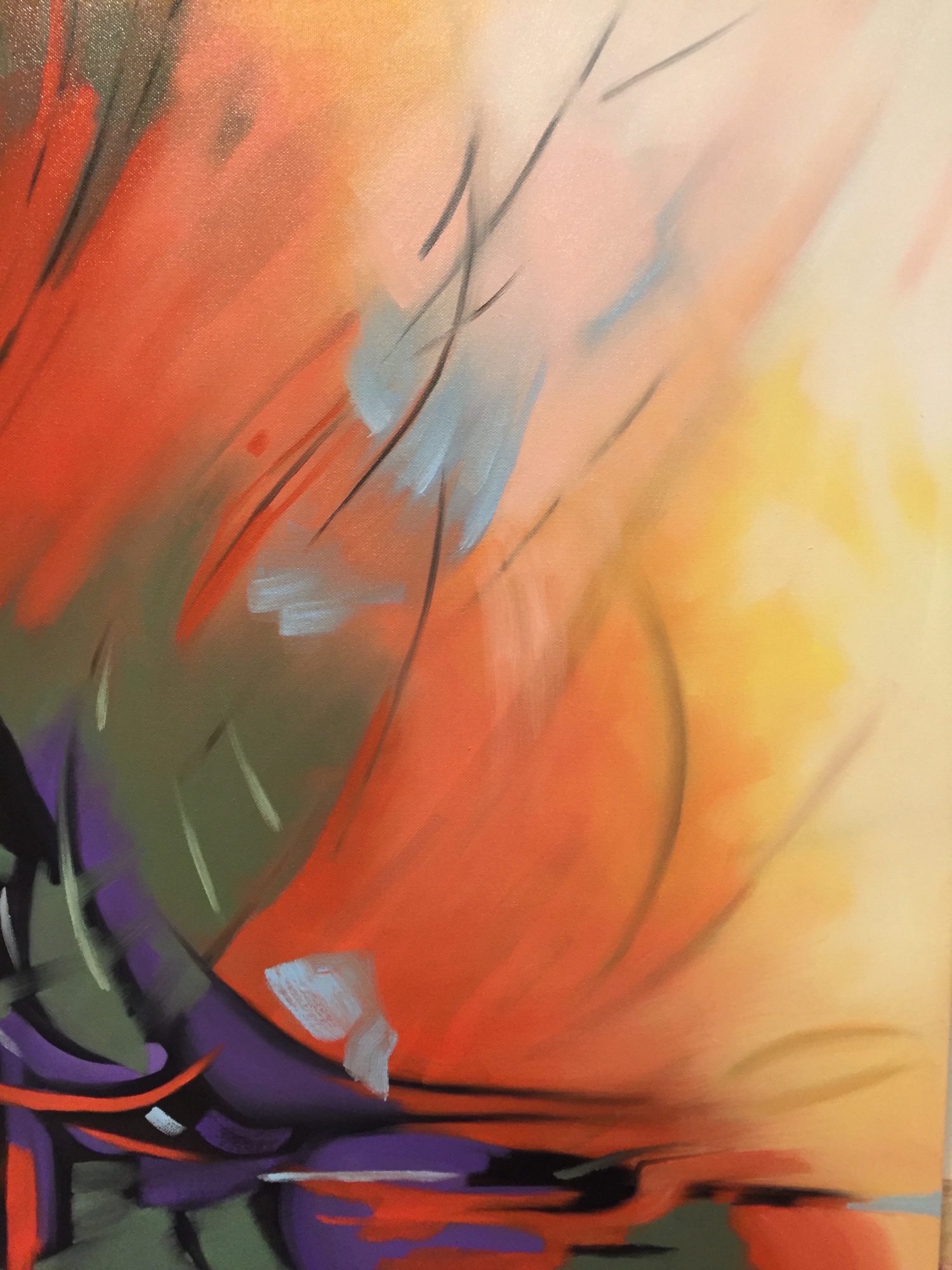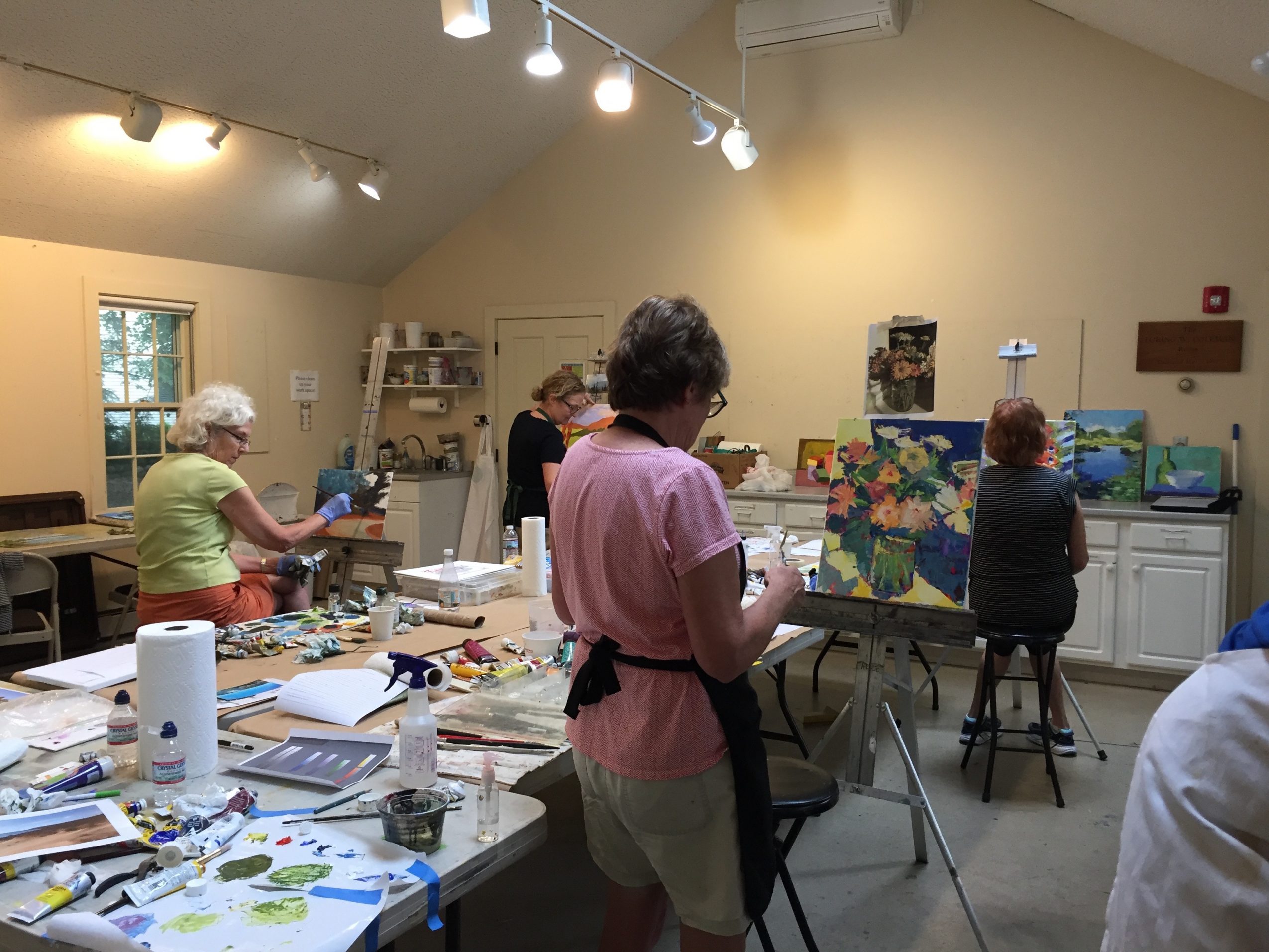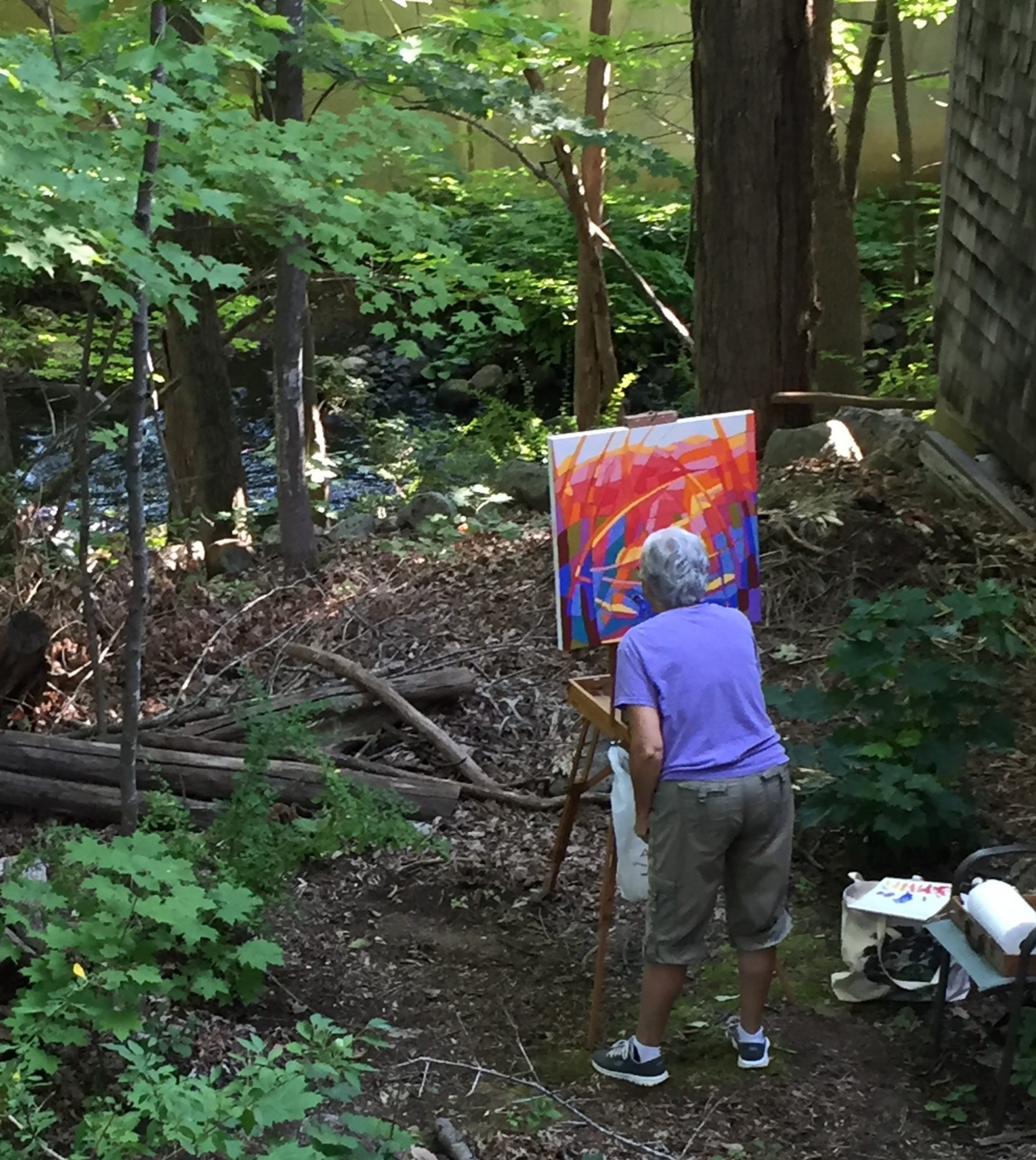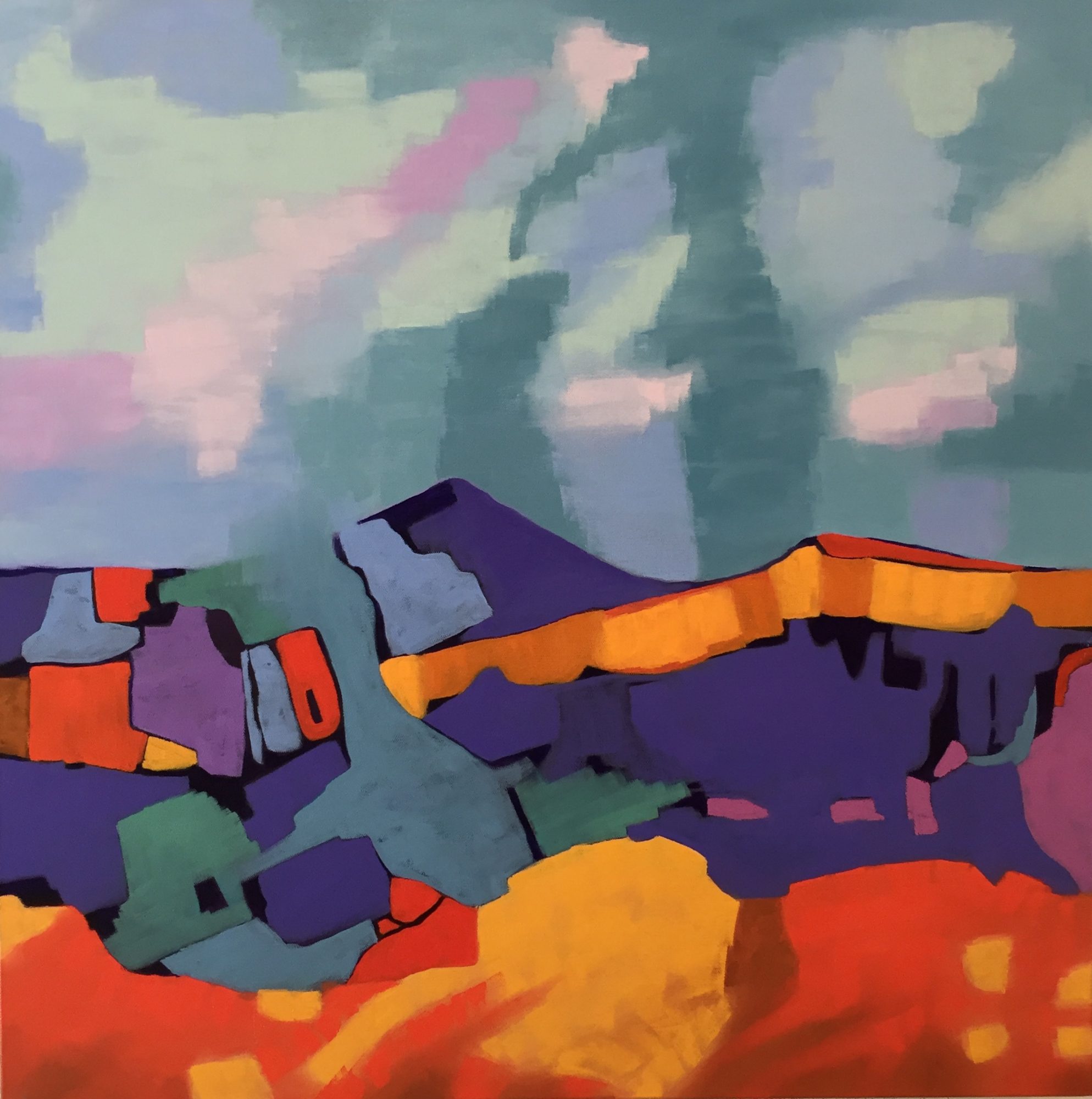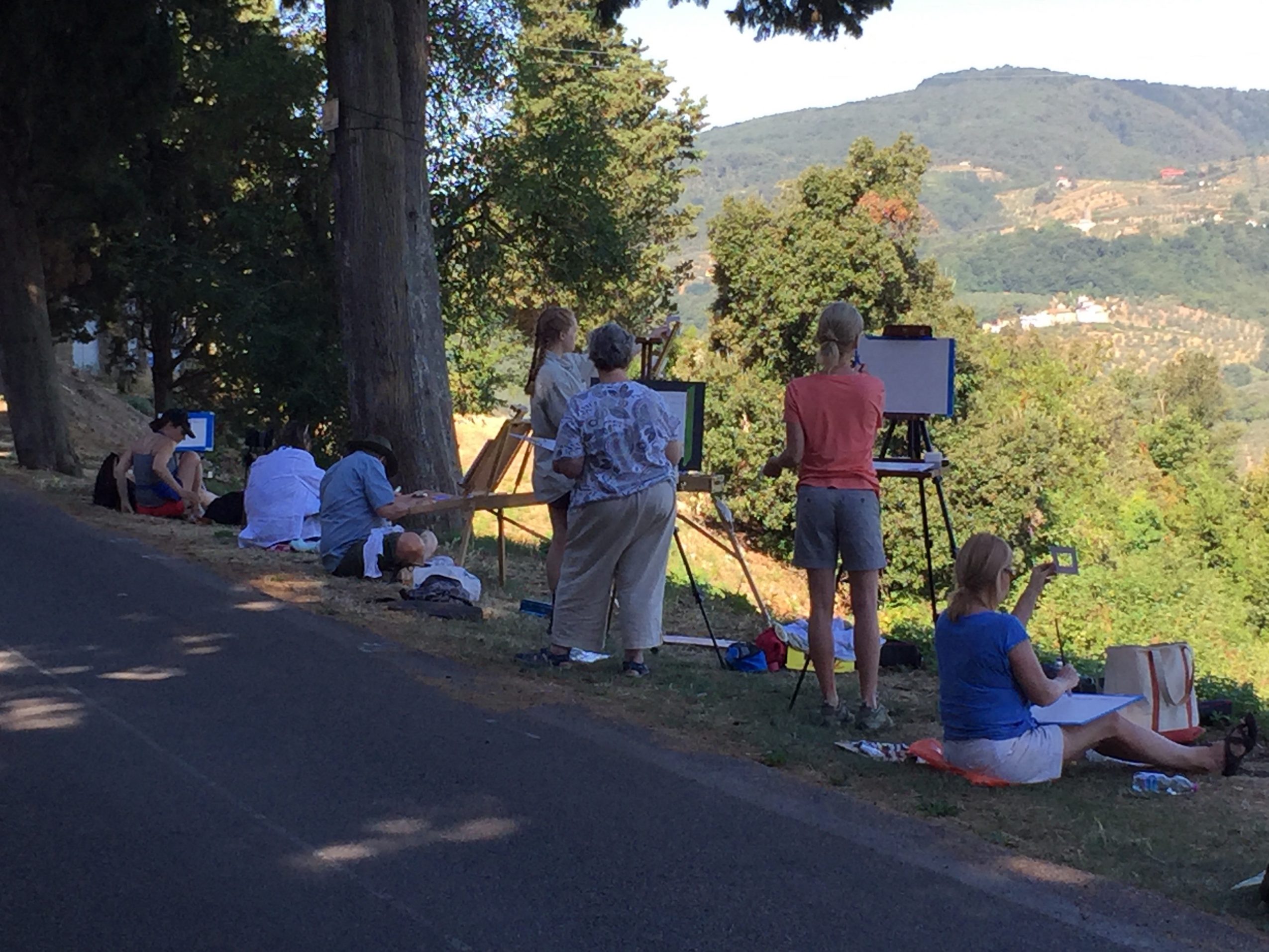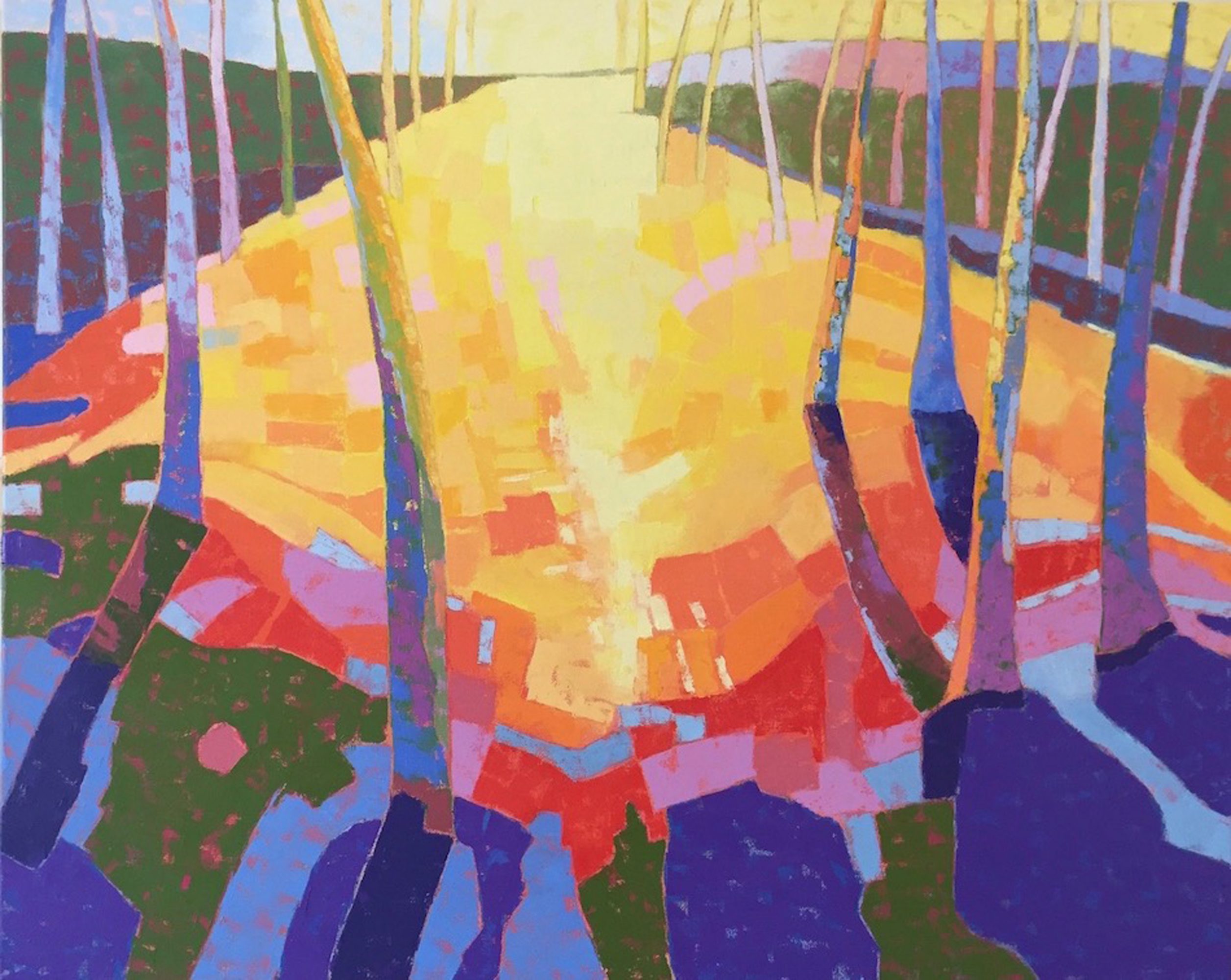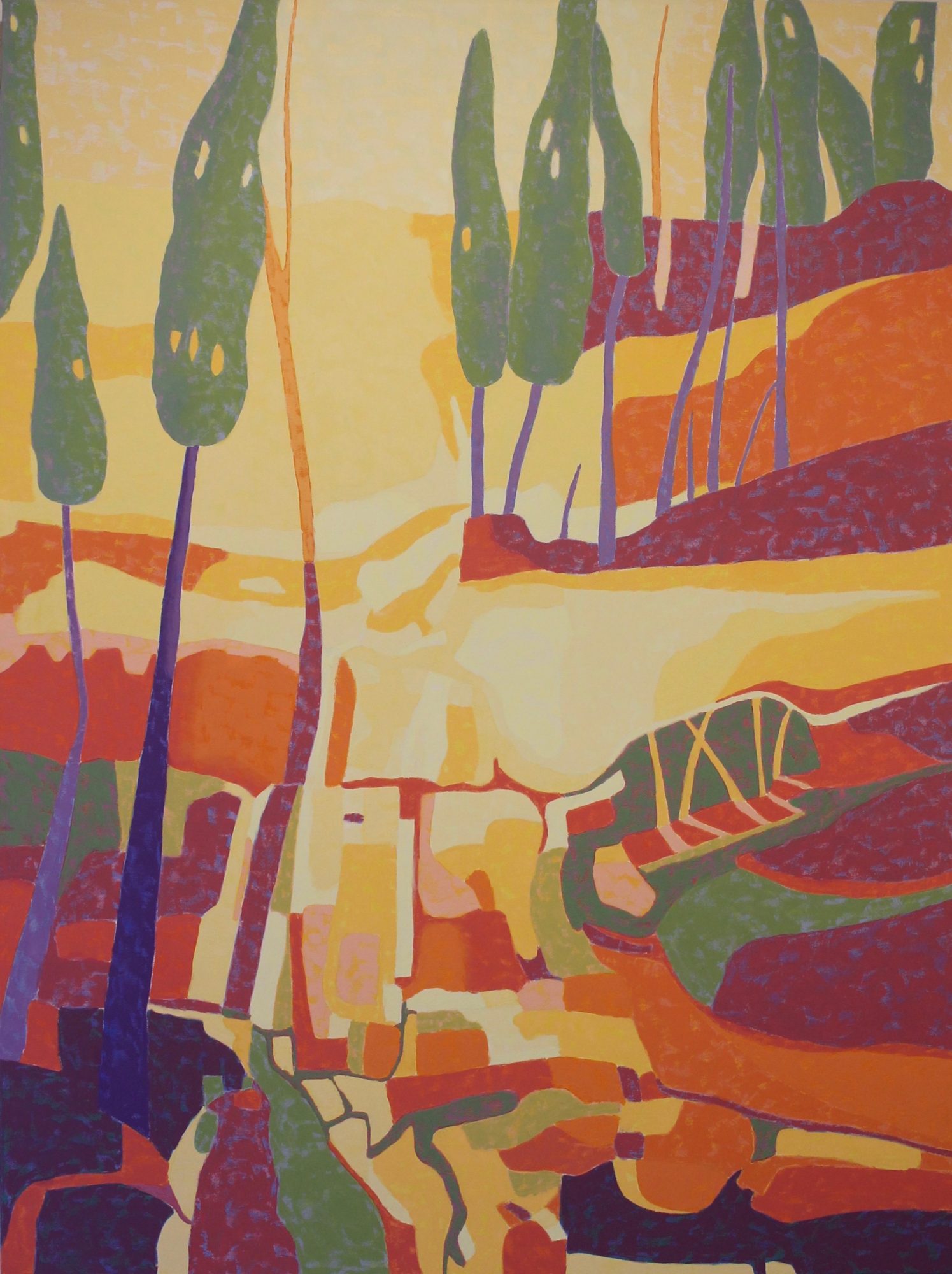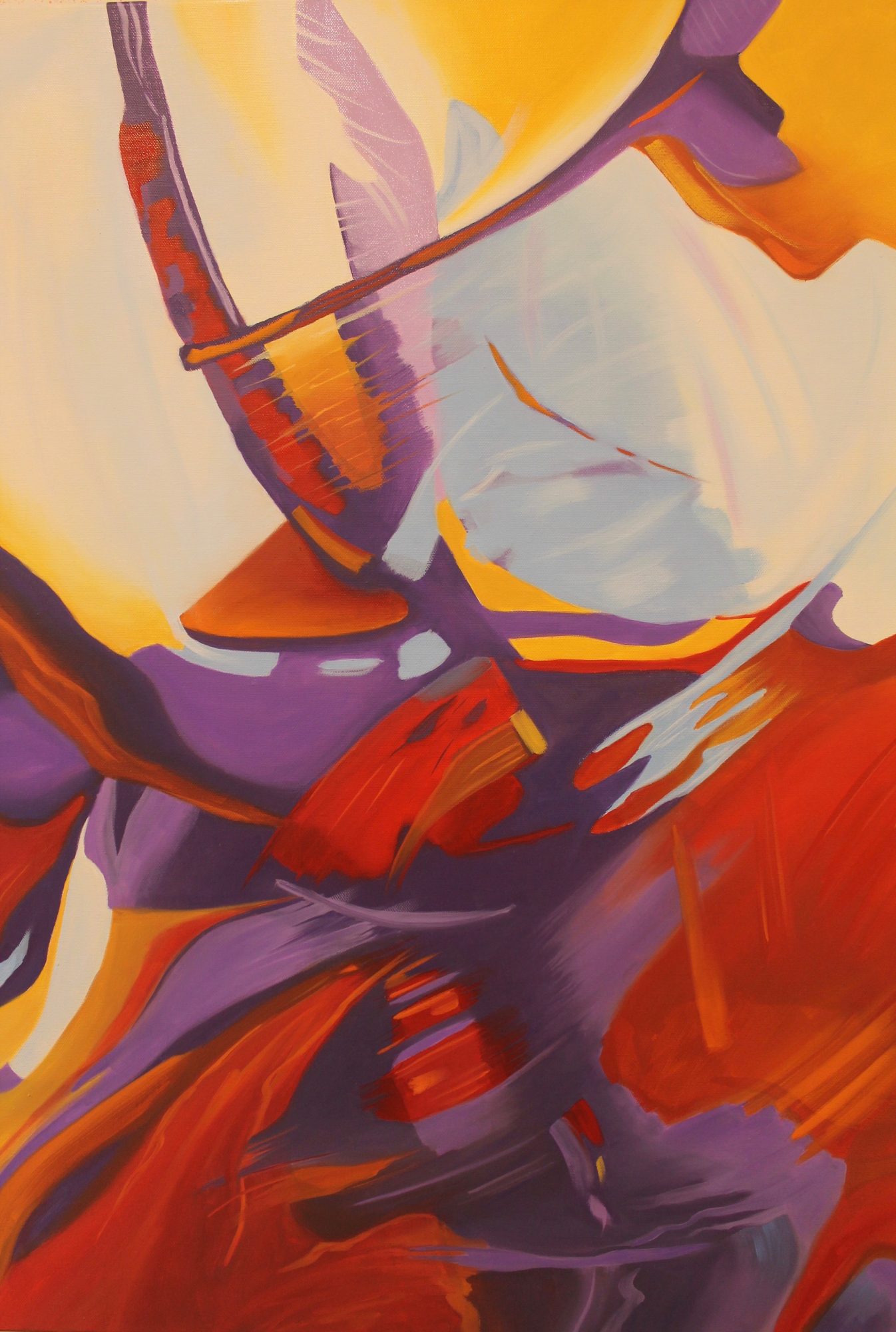 Getting in touch: BostonVoyager is built on recommendations from the community; it's how we uncover hidden gems, so if you know someone who deserves recognition please let us know here.