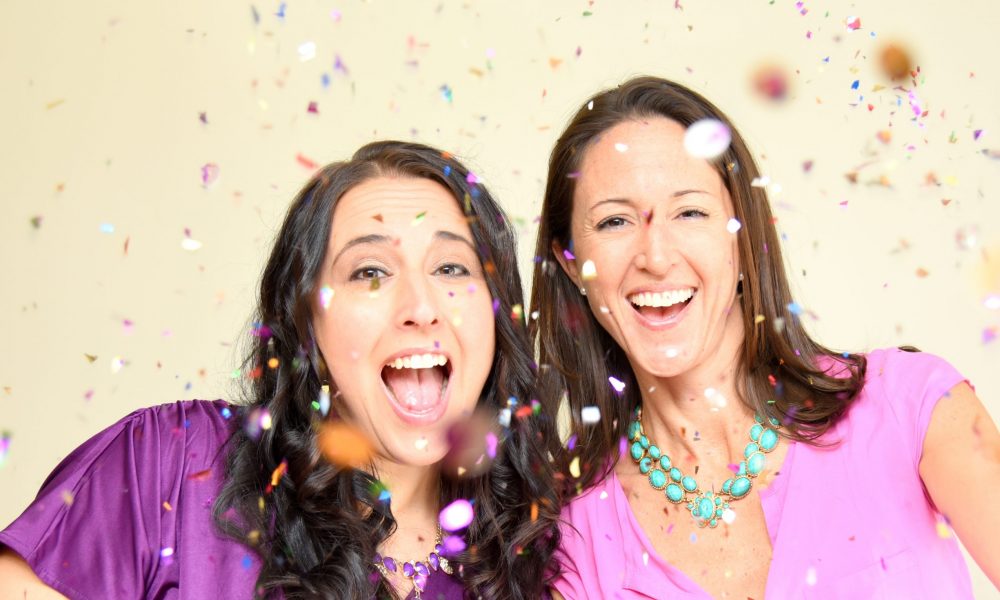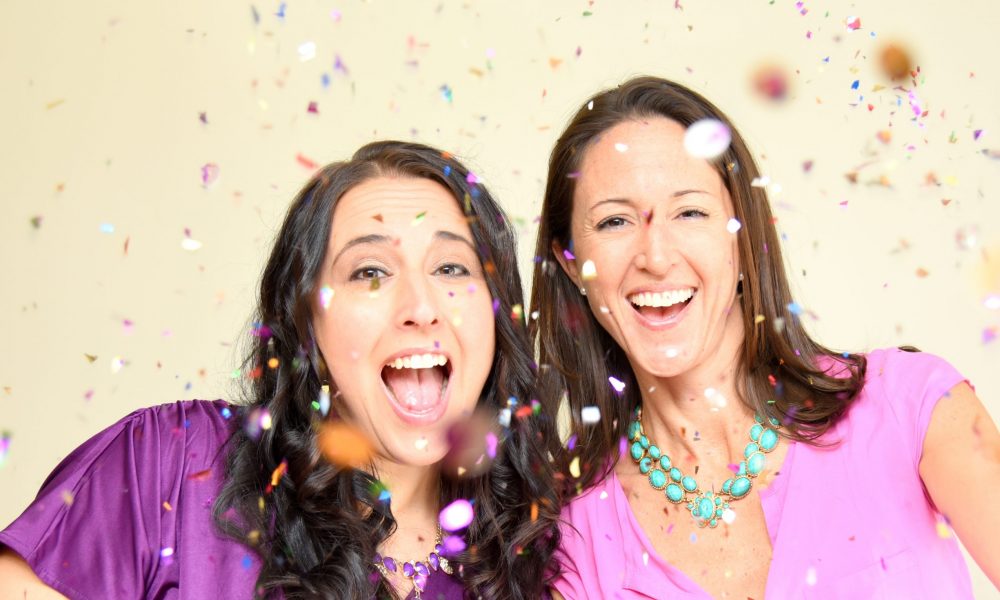 Owners, Krissy & Kellie have known each other for more than a decade and between them they have 6 kids, two husbands and two guinea pigs. Krissy is a master juggler and event planning is second nature to her.  Kellie has been snapping pictures for family and friends as a favorite hobby for years, and she noticed the growing popularity of photo booths at events.  In 2016, they took the plunge in becoming small business owners, and have been enjoying the ride ever since!
They continue to grow and expand PopIn Booths, adding new features and improving old ones.
Has it been a smooth road?
It has been a challenge getting the business off the ground.  The most difficult aspect is marketing.  A photo booth business can get some repeat clients, but many are for one-time events (major birthdays, bar mitvahs, weddings, etc.).  So, good word-of-mouth is critical.  PopIn has been deeply invested in social media, and they constantly try to improve online search engine optimization.  SEO is amazingly complex, but there are many great experts out there.  For example, we love watching webinars by companies like Predictable Profits.
Another challenge can be the charity factor.  Many local organizations seek "freebies", so it is difficult to balance the cost of time & materials as a donation, versus the return of getting your name out there.  Utilizing a sponsorship model (e.g.-a local bank sponsors the booth at an event), enables us to offer services to charities, while still covering costs.
So let's switch gears a bit and go into the PopIn Booths story. Tell us more about the business.
We are a Photo Booth company that provides a full service experience to clients for special occasions.  When someone hires us, they are getting a team that is dedicated to them and want to deliver a fun event.  Many competitors provide booths as addition to their core service (DJ'ing, etc.), and others simply "drop-and-leave".  PopIn focuses on the booth, and we stay for the event, to ensure it goes smoothly.
PopIn is always looking for ways to enhance the experience for clients.  One of our favorites is printing out real-time scrap books, pairing pictures with personalized notes from guests, to provide clients with an immediate memento of the occasion.  Guests have a great time doing it, and our clients love the end result!
How do you think the industry will change over the next decade?
Photo booths have an interesting outlook, with some headwinds and opportunities.  In this day and age, there is a strong trend for people to use handheld devices for pictures, and to go direct to social media.  However, booths can provide a unique & fun experience that provide customers with a tangible result.
Not only is it an element of entertainment but it's also capturing the memories.  It's often the guests who initially have no interest taking a picture who end up being the ones who love the process.  And, a good photo booth operator knows that it isn't just about setting up a camera.  It is providing guests with a fun experience that captures the magic of the occasion for the host and everyone attending.
We see the photo booth industry continuing to grow and evolve, and we are looking forward to being a part of it!
Pricing:
Contact Info: