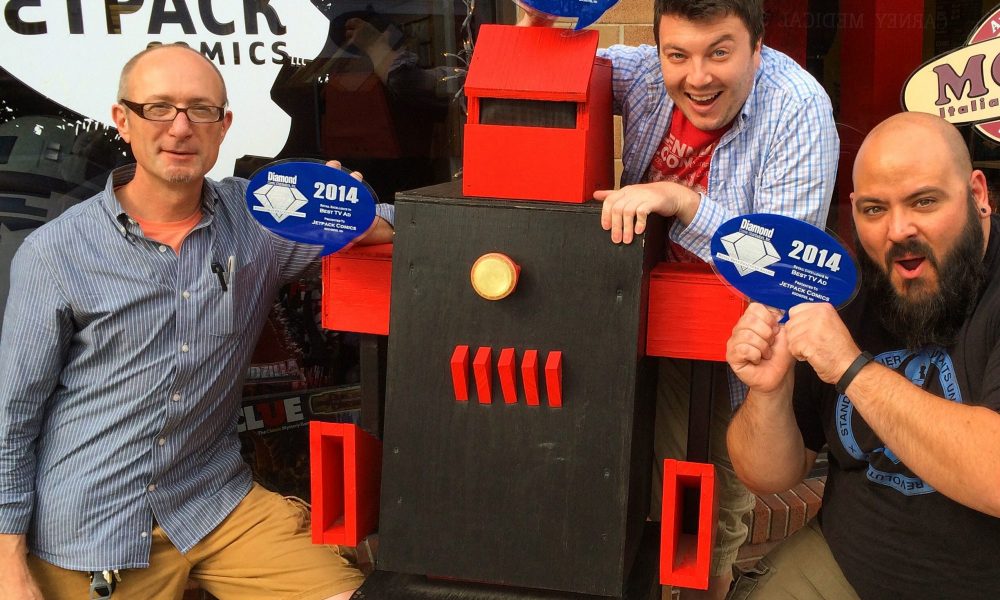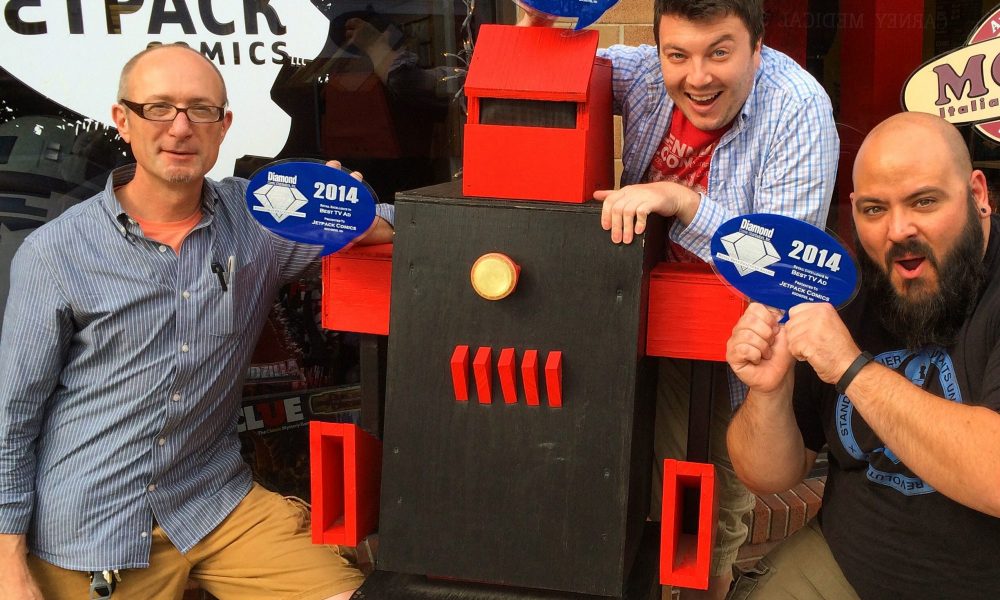 Today we'd like to introduce you to Jonathan Waugh, Richard Brunelle, Al Spader, and Ralph DiBernardo.
Thanks for sharing your story with us Jonathan, Richard, Al, and Ralph. So, let's start at the beginning and we can move on from there.
Jon:
I started off as a customer actually. I used to shop at the store Ralph managed in Somersworth NH (Paperback Bazaar) as a kid, and when they closed, I needed to get my comic book fix! Luckily he opened up Jetpack soon after Paperback ended. I was brought on in the summer of 2009 after I graduated college and worked part time for a few years, then went in as full time afterwards. So I've seen it all at Jetpack: from the customer to a part time worker to now one of the managers.
Rich:
Long time comic lover, after college I worked in a number of horrible jobs that sapped my will to live. Went on tour for a book I created with a friend and when that failed horribly and I returned to New Hampshire penniless, I had known Ralph from when he worked at Paperback Bazaar and he took pity on me and offered me a job at the new Jetpack. Been haunting the shop ever since, minus a brief stint where I lived in Seattle for bit. Now I help Jon lord over the Jetpack family as one half our Manager dynamic duo.
Ralph:
Started reading comic books as a kid. My dad would bring them home. By middle school I had a huge comic collection. By High school I was too cool for them so I started selling them a t local flea market. And I made a ton of money. This led to my selling comic books, at the flea market through high school. I organized and ran a comic convention that featured the premiere of the Teenage Mutant Ninja Turtles. Soon after I opened a comic shop in Portsmouth. Several years later they announced the closing of the local Air force and Naval bases (which made up 85% of my customer base) so I sold the shop. Spent a few years traveling the country and selling merchandise at Star Trek and Sci-Fi conventions. Returned to New Hampshire and spent several years in the Restaurant business …and fell back into the world of comic books. Eventually the Paperback Bazaar offered me a job to manage their shop. In a thriving economy and in a crappy economy rents go up. Our rent hit the $4000 mark and the owner of the shop decided it was time to close. With his blessing I took the mailing list and moved north. With the help of one of my PBBZ staff members we started delivering comics to the old customers and opened a small comic and game shop. Building on the comic community I had the honor of bringing on some great people who were able to help bring this small business into the craziness it is today. , Now we have end up with over 4x the space for half the price paperback Bazaar way paying. The largest comic shop in NH.
Great, so let's dig a little deeper into the story – has it been an easy path overall and if not, what were the challenges you've had to overcome?
Jon:
One of the biggest struggles we have is being a small business. While we're in rural New Hampshire, there's still plenty of competition from big box stores like Target and Wal-Mart that carry a lot of the same board games and card games that we do. While these big box stores don't carry comics, there's still the preconceived notion of what a comic book store looks like: dirty, dimly lit, and run by a fat guy behind the counter with no people skills.
We're constantly striving to make people rethink that notion. Our store is clean, well-stocked, bright, and full of awesome employees and customers. We strive to make a good first impression on new people, and try to find you the comic that might be of interest of you. The prospect of starting to read comic books can be pretty daunting for people who have never attempted it before, but we like to think that we can get you hooked pretty easily.
Rich: Jon really hits the nail on the head here. We are located in a rural area, not a big city. Therefore we have to make sure our shop is a destination location. If someone has to drive an hour to our shop, we make sure we have a shop, selection, and staff worthy of that hour drive. Considering we have a lot of customers who make a drive that long when they could go to shops closer to them every single week, I like to think we're doing a great job!
Ralph:
The hardest struggle for me was the time I had to devote to it, versus the time with my family. My wife says she was a single mother for the first 5 years of Jetpack Comics. The only way to make it work was to pour every minute I could into it. I still work an inordinate amount of hours but having a great management team allows me to actually spend time at home occasionally.
Please tell us about Jetpack Comics and Games.
Jon:
Obviously we specialize in comics, games, toys, and other kinds of nerdy endeavors. But I think the things that we are most known for (and the things that make me the most proud of Jetpack) are our food drives and Free Comic Book Day. Like most businesses, we put on big sales during the holidays. Unlike most business though, we require our customers to make a canned good or toy donation to take part in our sales. We certainly make it worth the customer's while sales wise, but the fact that we're able to do something for our community is really awesome, and I'm always blown away by the generosity of our customers.
When it comes to Free Comic Book Day, we really make it a whole giant festival that helps promote the other businesses in town. Free Comic Book Day (I'm going to shorten it to FCBD cause I'm lazy) is the first Saturday in May, and it's a day designed for, well, free comic books. Most shops just do a table in their store, but no us. Since the first FCBD we took part in we've made it a giant town wide affair. Business sign up with the Main Street program and they all get their own comic to give out as part of the town wide Scavenger hunt. It's a MASSIVE event that can bring upwards of 8,000 people to the area, and its great exposure for the town.
Rich: We have a connection with our community here that goes beyond just selling comics, Magic the Gathering and board games. There's not many interests like comics and gaming that bring you into a business sometimes multiple times a week. I see a lot of our customers more than I even see my own family so you really get to know people. You realize that we all share this great love for all things nerdy and when you're within the walls of Jetpack you have a place where you can chat about this stuff with the staff or other customers. Not everyone has that outlet at home or work so when they get excited about the new episode of Game of Thrones or Rick and Morty and want to chat about it, they swing by the shop. A lot of businesses boast having a family involving their staff and customers, but I honestly feel like that's how it is at Jetpack.
Ralph:
I think what makes us special is that we specialize in whatever is cool today, but with a friendly twist, a ton of knowledge and a true interest in the things that people don't ever need but love to own. First and foremost we are ALL fans of just about everything we stock and we can talk about it with genuine excitement and love for it. Shopping at Jetpack isn't like shopping in any other store. It's not just a job for any of us. It's our childhood. It's our passion. Sure, we all don't know everything about everything we stock, but we've got staff that cover the entire spectrum of nerd knowledge. Once in a while we'll follow a trend (fidget spinners) but generally you find us months ahead of the curve when it comes to fun. You don't get a job at Jetpack just because you apply. You have to show us the nerd in you to become a nerd with us.
Do you look back particularly fondly on any memories from childhood?
Jon:
Wow. I think it's probably visiting my Nana in Massachusetts. We'd always go visit at least every few months, and of course, I'd get to have comic books and other stuff to keep me company on the drive. Those visits were packed with visiting my favorite places in as short a time as possible.
Rich: The Death of Superman got me collecting weekly comics. I remember when I heard about it, I went into one of our local comic shops (We had two in our town at one time!) and the clerk told me about it. I was instantly obsessed with the idea that they were going to somehow Kill off the Man of Steel. One of my best friends to this day got into comics at the same time and we spent endless days discussing which of the Four Supermen could possibly be the real one. It was a big publicity stunt for DC, but it also created a lifelong reader in me.
Ralph:
There's so many when you love comic books and sci-fi. Trips to the newsstand for comic books. I knew what day they came in. I knew what time they put them out. Comic Books were my life as a kid. I remember buying Giant Sized X-Men #1 on the newsstand.
I fondly remember the TV commercials for Mr. Big Toyland. When I finally visited the store, as an adult, I actually cried. I remember my dad taking me to see Star Wars the week it released. I remember the first super-hero comic book I ever read and how exciting it was (Avengers #122).
Pricing:
Comics are typically $3-$4 depending on company and size of the issue
Magic / Pokemon / Yu Gi Oh cards are $3.99 a pack or 3/$11
Our sale room has TENS of THOUSANDS of comics that are just $1 each
Contact Info: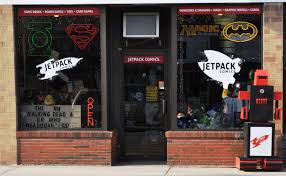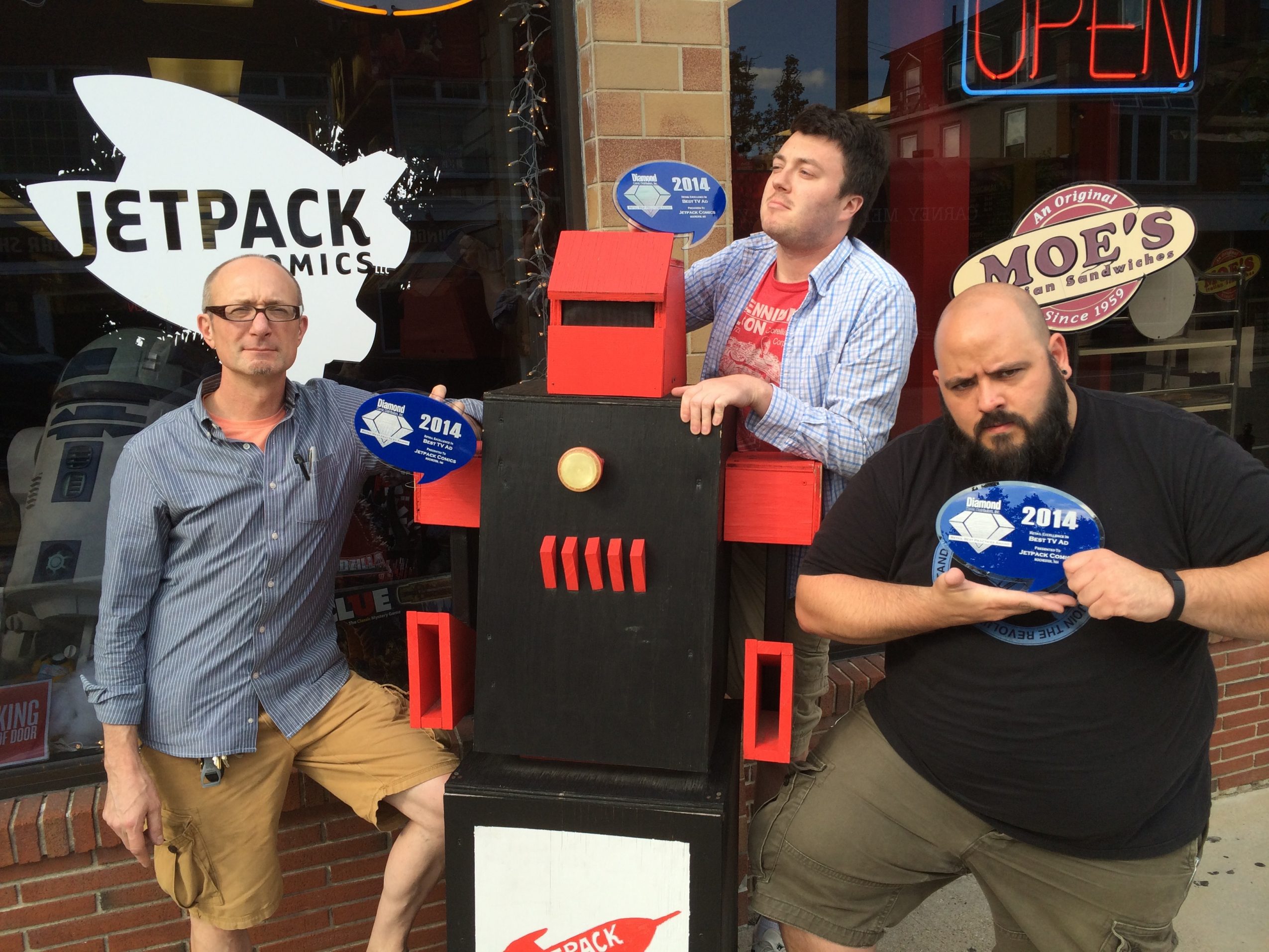 Getting in touch: BostonVoyager is built on recommendations from the community; it's how we uncover hidden gems, so if you know someone who deserves recognition please let us know here.