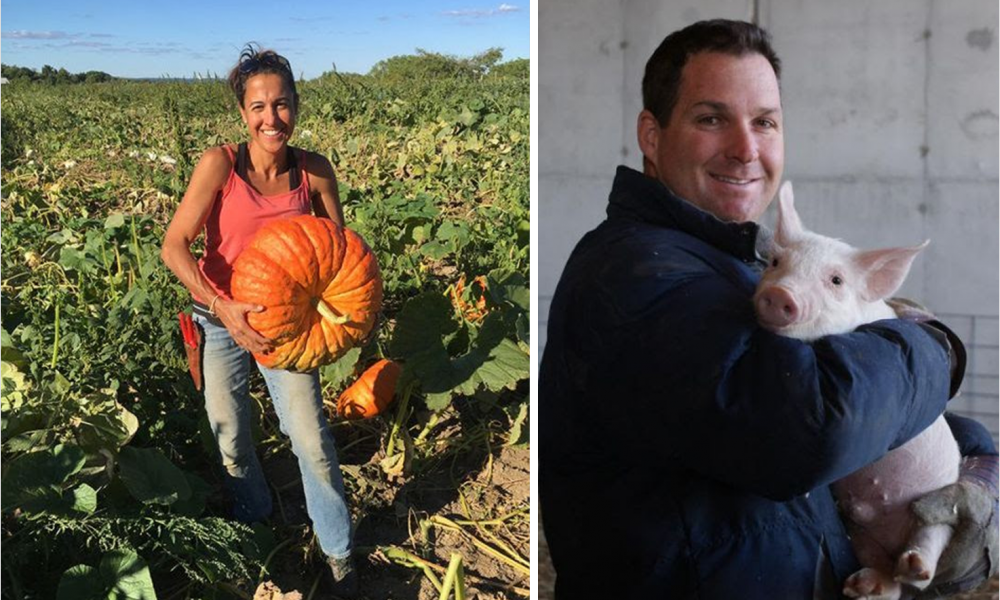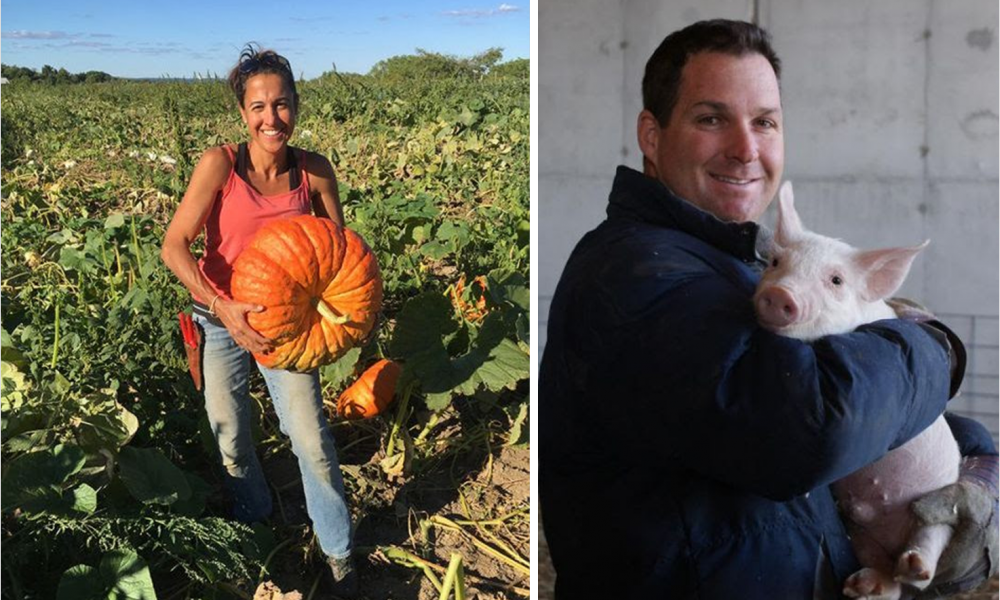 Today we'd like to introduce you to Erick and Patty Taylor.
The 93 acres of land that is now Devon Point Farm, was formerly known as Joy Orchards, a successful apple orchard owned and operated by Bob Joy and his family for over 40 years. When Bob passed away in 1989 the property was left to his niece, a non-farmer, who subsequently ceased farming operations on the property and sold the development rights to the CT Department of Agriculture in 1992. Without a farmer, the land lay fallow and neglected for over 18 years, reverting back to a transitional forest… brush, saplings, vines and invasive species took over the fields, most of the apple trees were smothered and dead, and all that remained besides the overgrowth, was the trash dumped by people who partied at the end of a dirt driveway unseen from the nearest road. Bob had left behind the relics of his farming days as well… three tractor-trailer loads of rusted, rotting farm equipment and vehicles, and three 30-yard dumpsters of trash left behind in partially collapsing barn. The prime agricultural soils that were the primary reason for the preservation of the land were lost to the overgrowth.
In 2007, Erick & Patty Taylor, bought the land from Bob Joy's niece. A couple in their mid-30's who had grown their herd of Devon Cattle as part-time farmers while working full-time, off-farm professional jobs, who had dream of making their living solely off a farm. The Taylor's used every penny they had ever made from their career jobs, the sweat-equity profits from the sales of two prior small farms with houses and barns they had built and lived in (first in RI, then in VT) only to sell in hopes of buying a bigger piece of land each time. They took out a mortgage, cashed in their 401K's, and sold personal possessions. They enlisted friends to camp in tents to help pound in fence posts and string barbed wire, so they could unload a tractor-trailer full of their Devon Cattle into the newly fenced overgrowth while they took the time needed to turn it back into fields. They set to work with chainsaws, a small tractor and a used bulldozer to clear the overgrowth to find the good soil beneath. They wore through pair after pair of work gloves to load trash into dumpsters. Erick dragged a plow and harrow to break and smooth the soils while Patty wore her feet to blisters hand-seeding almost 50 acres of fields back into pastures with a baby in a backpack. By their own financial resources, sweat, ingenuity and sheer determination, they took a wasteland, wreck of a property and turned it back into a farm.
One could say that the Department of Agriculture saved the land, but one could also say that while it prevented the farmland from being developed into house lots, the farm ceased to exist thereafter. It is only through the tireless efforts of the Taylor's that this 93-acre property is truly a bountiful working farm again.
Has it been a smooth road?
It has been a wild ride, buying a farm with a mortgage and attempting to pay for it solely with income the land generates is something of the past, a century ago when land was valued according to what the value of the crop it could produce, no one does this anymore. Farming by itself is an uphill battle, it's the only career that comes to mind where you can give 100% and still get paid nothing. You're working with nature, you don't get paid for the time, effort and expenses of planting your crops unless they live long enough to mature. Nature has a lot to say about that. If I call a Veterinary Doctor for help with one of my animals, they get paid full rate whether the animal lives or dies, farmers only get paid if it lives.
We've had struggles along the way, some of the most challenging struggles came when we were first getting started and had to do with financing and regulation.
Financing a farm is something Banks aren't used to dealing with. As a rule, Banks DO NOT FINANCE land without a home on it, once a home is on it and it's being operated as a farm the banks don't really know how to treat you, you're a residence but a business, an employee and an owner. So once you're making your living exclusively from the farm Banks want to sell you on the less favorable terms of a Commercial Mortgage. Even in our situation where we came into it with a significant down payment, excellent credit and heavy equity most banks didn't have a mortgage program for us. Just getting an Appraisal is challenging, we had Appraisers calling us for years after we purchased the land asking us how we came up with our value per acre for the land. The previous owners of our land had sold the right to develop the land to the State of Connecticut, so land must remain open and may not be used for house lots, Appraisers aren't well versed on how to value "prime agricultural" land as compared to other undeveloped open land.
Regulations from various State and Federal Agencies make permitting a long, confusing and at times expensive process. That said we have all of our permits in place now, we have a Bakery License, Retail Sales License, Raw Cider License and a State and Federal License to manufacture and sell Hard Cider. Our farm deals with the sale of meat, raw cider, veggies, apples, pumpkins and runs a farm camp. We have a state inspector for Farm Camp, Federal and State Inspectors for retailing meat that we raise that has been processed at a federally inspected facility, we have Inspectors for selling Raw Cider, a Federal Inspector for Hard Cider, a state Inspector for our Bakery License. Starting our Cider Mill operation was probably the most involved permitting process in terms of time and expense.
We've had struggles with neighbor's dogs and wild animals killing our livestock, deer destroying our crops, we've had 2 years back to back when hail storms have pounded our crops to death, we've had to fight off blights that have threatened our tomato entire crop and this year the Gypsy Moths defoliated almost all of our apple trees. We've had to manage living within our means, we pay for things by what we grow, when nature deals us a poor hand, we have to tighten our belts.
We'd love to hear more about your business.
We run a "beyond" Organic Farm where we give you a quality experience while you visit to buy your food. You can see your food growing in a park like setting and as we say "Know Your Farmer, Know Your Food". Whether it's our Grass Fed Grass Finished Beef, our Juicy Heritage Pork, tasty free-range Chicken, Blue Hen Eggs, Probiotic rich Raw Cider, Breath taking Autumn Pumpkin Patch or Nutrient Dense Vegetables you will create a lasting memory when you have the Devon Point Experience.
We are proud that we've been able to use our land, resources and skills to produce a product and experience that makes people feel good. We have done this while using our business as an incubator site for other young aspiring entrepreneurs who come to Intern and even Apprentice in our business.
What sets us apart from others is our commitment to excellence in each and every area of our business. That attention to detail is apparent in everything we produce, we use the most environmentally health conscious and humane methods to care for our land, livestock and crops so you and your family can experience your food before consuming it.
Is our city a good place to do what you do?
Our area has a growing health conscious aware population and it's a great area for a Farmer to grow and then sell their products.
The city of Boston/Worcester and neighboring areas could look for ways to convert old Industrial sites/ Brown fields into repurposed incubator farms. Our area is filed with financial institutions that could develop lending packages for small farm entrepreneurs. Regulation could be relaxed and scaled accordingly, one size fits all regulations set up to manage the Monsanto's of our economy are crippling to a budding entrepreneur.
Pricing:
Grass Fed Beef by the half cow $6.50 per lb
Heritage Pork by the half (dressed hanging weight) $5.35 per lb
Free Range Antibiotic Free Chicken $6.00 per lb
Winter CSA Beyond Organic Veggies (8 weeks worth) just $245.00
Pro Biotic Rich Raw unsprayed Apple Cider $7.50 per gallon
12 Mini Cider Donuts for $4.00
Our Field grown Pumpkins just .69 per pound
Heirloom Pumpkins .79 per pound
Free Range Eggs $6.00 a dozen
Contact Info:

Image Credit:
Devon Point Farm
Getting in touch: BostonVoyager is built on recommendations from the community; it's how we uncover hidden gems, so if you know someone who deserves recognition please let us know here.