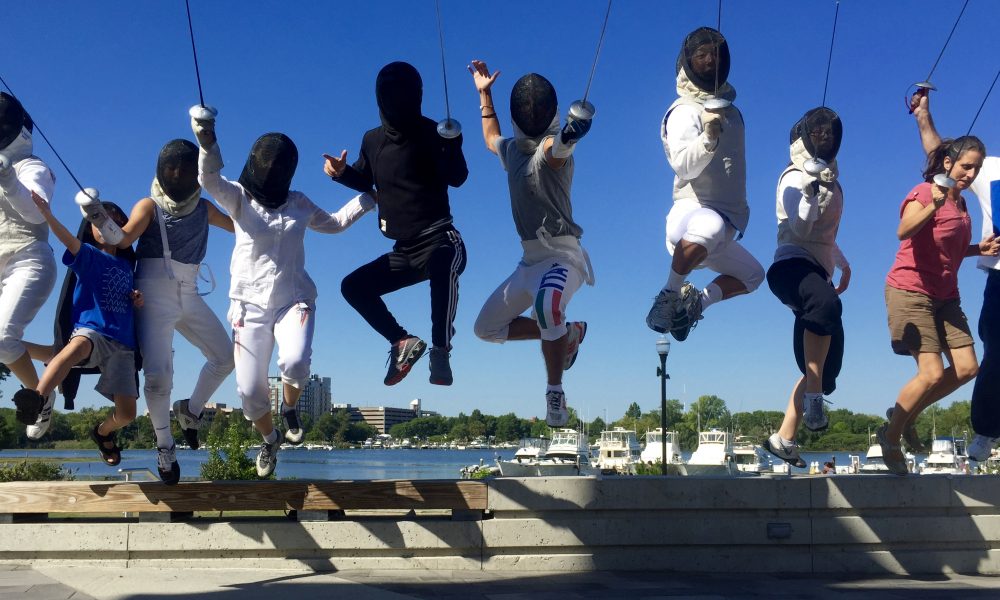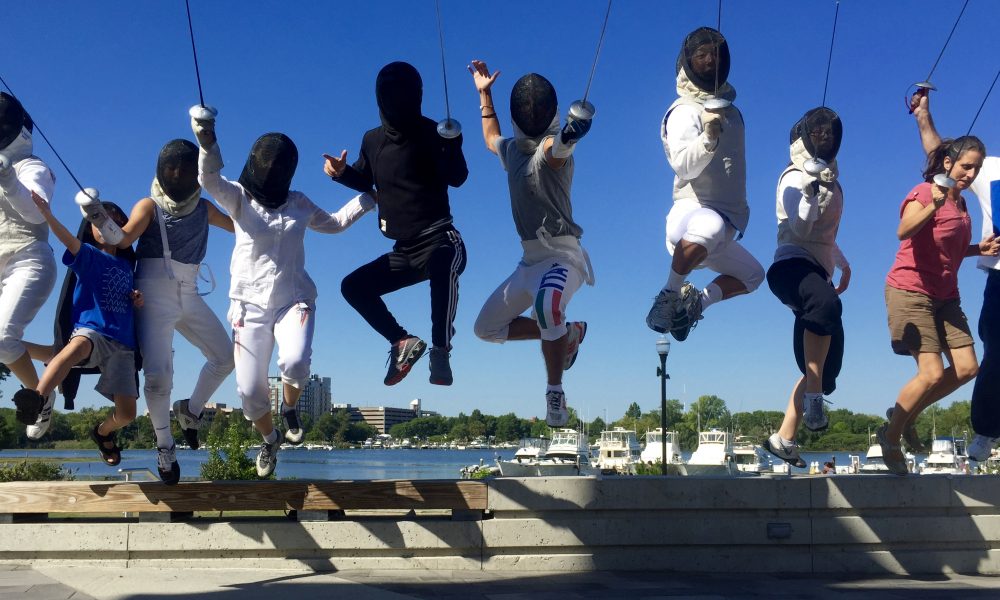 Today we'd like to introduce you to Elif Soyer Sachs.
Elif, please share your story with us. How did you get to where you are today?
I fell in love with my husband 28 years ago and shortly thereafter fell in love with the Olympic sport of fencing (my husband had already been fencing for 7 years at that point.) I trained hard, and in spite of my late entry into the sport I managed to climb the US rankings all the way to top 16 in the team selection rankings (top 4 make the US team) and to #1 in my own age group. Within 3 years of my start, I was already coaching high school teams and college club teams. As I continued to strengthen myself as a competitor I also developed my coaching skills and coached at the NCAA level for many years. I was fortunate to be able learn from 5 Olympic coaches along the way. 8 years ago I decided to open my own training facility. I had an idea developing in my head for a few years of an innovative curriculum that I felt would scaffold the needs of fencers from 6 to 70, from weekend warrior to national team member. Turns out I was right.
In 2007 my husband and I leveraged everything we had ever worked for into the mortgage of a commercial space in Somerville. We signed papers on Halloween right before the mortgage crisis shut the door on would-be dreamers like ourselves. With the help of 7 of our best friends (all fencers) we gutted 5500 square feet into one big rectangle. We couldn't afford to hire pros to do the demolition work so we gather our tools together and got to work. Nearly 3 months later we were open for business. Since then we have put two fencers on national teams, we have 6 year olds working with national champions, coaches from 4 different countries working together including a Croatian Olympian, a former leader in Soviet fencing and a woman whose arthritis was so debilitating 10 years ago before all these great new meds came out that she couldn't make it upstairs! We even have an Olympic gold medalist and former world champ training with us whom we helped get into grad school and realize his dream of transitioning from career athlete to academics at the age of 31. I have stood beside 7 year olds at tournaments and seen them cry when they win or lose because their little bodies are so drained, I have travelled around the world including 2 trips to Havana, and I have seen my best friend pass and his son win US National Championships less than a year later with his grandfather watching him in his father's stead. When he won we all burst into tears – people thought we were nuts.
There is so much more to say about why I started and how I got to where I am. There has been a lot of blood, sweat and tears along the way (literally and figuratively) and I wouldn't change a thing!
We're always bombarded by how great it is to pursue your passion, etc – but we've spoken with enough people to know that it's not always easy. Overall, would you say things have been easy for you?
No way!!!! We didn't realize we needed a dumpster permit when we were doing the demo. Somerville shut us down for two weeks and delayed our opening by a two months. We were paying mortgage before we had income. We have had coaches come in and steal students. We have had crazy parents tell us we weren't mean enough to their kids and didn't have high a clue how to motivate them – funny since my husband (co-owner and coach) has a doctorate in early childhood education from Harvard and is the Director of early ed for the Boston Public Schools. These people did not last long with us. We have had folks tell us that we take things too personally, that we should see this as just a business. Uh – no thanks. We are not selling forks. We are bonding with human beings, helping them set goals and achieve them, and well using our bodies and minds to do it. Coaches are hit hour, after hour, after hour in this pursuit. In competition we are strip side giving our fencers energy when they have lost all of their own! I personally have stepped up to receive the coaches' medal at US Nationals only to be asked my male colleague who was giving out the medal "do YOU really coach him?" Our curriculum (as I said it's innovative and unique) has many levels and ages working together. We have upwards of 10 nationalities integrally involved in out teaching staff not to mention the diversity of the fencers. This in itself makes out ecosystem a fragile one in need of constant care and consideration. One bad apple really does affect the community!
We'd love to hear more about your business.
We are a profit fencing club as an LLC and a non-profit as a 501-c-3 Inc. We train Olympians, we train weekend warriors. We have people who can pay full price. We have people with no homes. We serve people who cannot pay anything but occasionally bring us our meals. We serve people who can send their kids abroad for 2 weeks on vacation. They all, support one another. We have gained a national reputation for excellence in 8 short years. What I am most proud of is an ever-evolving curriculum and a strong and ever-evolving community of people who have come together based on an interest in this great sport, but who stay together for a million other reasons. We are not just a "business", we are a family. If you step into the facility you are immediately aware that this is not just any training facility. You will see kids' drawings on the wall, Olympians in action, markings of the younger fencers' heights as they grow, photos of weddings and births. It's a really special place. It's a place that creates fencers who perform well at the highest levels of competition, but it's also a home.
What were you like growing up?
I was a nerd. I grew up as an immigrant in Birmingham, Alabama. I was active but uncoordinated. I was and continue to be an artist (I am a member of the Kingston Gallery in SOWA) I was the youngest stage manager of my public high school's very good theatre program and very good at math. I did not miss a single one of our high school's football games. I got to see The Who from 2nd row center in the early 80's because my friend and I sold the most tickets for a fundraiser for our school. The girls who sold the most turned down the 1st place prize (tickets to see The Who) because it was the "devil's music". My Muslim Turkish father bought me a '72 Cutlass Supreme V8 when I turned 16 because he believed it would make me more independent. I loved animals. I climbed up a huge magnolia tree in our back yard every few weeks and screamed and screamed until somebody would help me down. It didn't keep me from climbing up a few weeks later. I loved Gilligan's Island and MASH. I stayed up late with my mom to watch Columbo. I was smart, pretty (I realize that now – wish I believed it then), energetic, sensitive and was developing a pretty strong temper. I got into art because drawing transported my to another world if I needed to ignore the one I was in. I loved my family. I loved animals.
Contact Info: