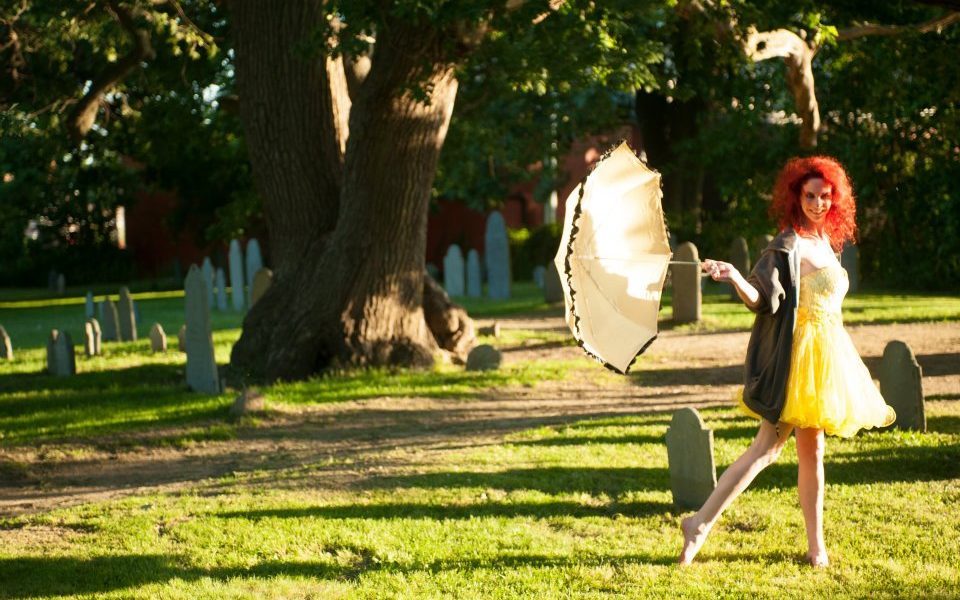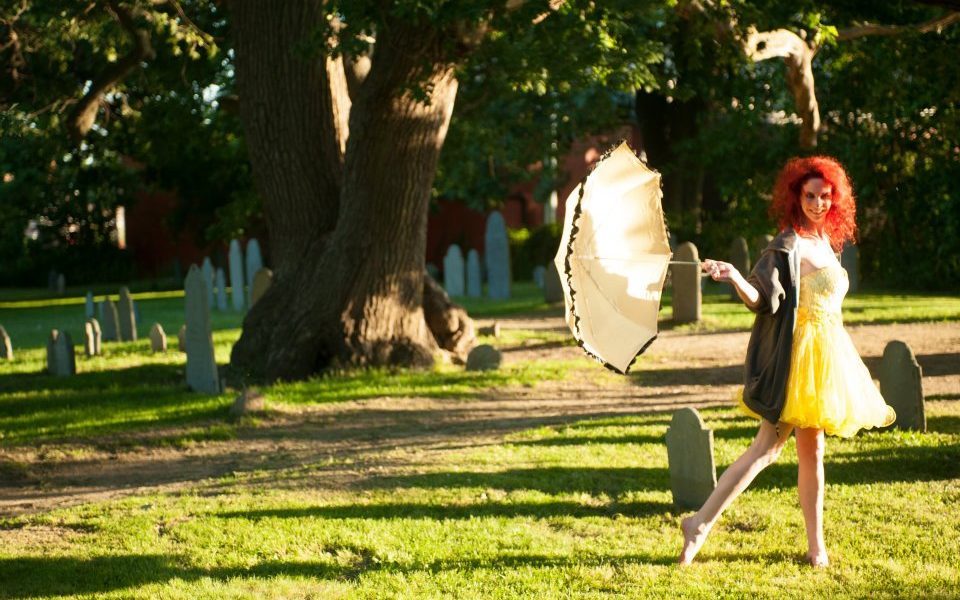 Today we'd like to introduce you to Christine Baze.
So, before we jump into specific questions about the business, why don't you give us some details about you and your story.
"Where is my cervix?" That was the question I asked my gynecologist when he told me he saw some abnormal cells on my cervix. I was 31 years old, had a history of 13 normal Pap tests and thus surprised to hear him make that statement. He reassured me that I would be fine, that sometimes cells change for a variety of reasons. Then he took three biopsies from my "hooch" (that's how I would refer to my lady bits "down there") and sent me on my way. He was wrong. I was not ok.
On April 18th of 2000, I got a phone call from a woman I did not know, confirming an appointment I did not know I had, with a doctor I did not know. My confusion led the woman on the other end of the line to eventually say, "I'm so sorry Christine… Dr. D is a gynecologic oncologist and I am calling from the North Shore Cancer Center." Stunned, I said "OK I will be there," looked at my husband and said the words you never want to say or hear someone you love to say… "I have cancer."
I was diagnosed with invasive cervical cancer with extensive lymphatic invasion. Hysterectomy, daily pelvic radiation, chemotherapy, and internal radiation took the place of Red Sox games and playing gigs with my band that summer of 2000. The physical impact of cancer often can be seen on the outside in the form of scars, loss of weight, loss of hair, and discolored skin. What you can't see is the emotional destruction it leaves behind. For me, this became a serious challenge and I fell into a deep, dark, depression. After sitting in the dark for months, I recognized that I needed to fight for my life in a new way, and attacked the depression with every tool I could find including talk therapy, anti-depressant, acupuncture, reiki, cancer groups, and eventually, a puppy(!) named Lexa (after the anti-depressant I was taking, lol)… and eventually, I began to feel like myself again. Only one thing seemed to still be missing… the drive to do music.
I played classical piano for 17 years before I started writing my own music. Music has ALWAYS been the thing that made me feel like me. Prior to my diagnosis I was a regular on the music scene in Boston and loved playing with my band. Once cancer entered my world, I lost all drive and desire and didn't think I would perform again. But then, inspiration rocked my world when I watched the movie 'Harold and Maude' for the first time. I was truly inspired by the eccentric character that is Maude, as well as the Cat Stevens soundtrack. The song 'Trouble' in particular spoke to me, and I was moved to go to my piano and sing it. That is the day the music returned to my life.
Once I felt like me again, I felt like I wanted to DO something to help others because I was so grateful to be alive. Before cancer, I was clueless as to any issues with regard to gynecologic health because I never had any problems. During this experience, I learned a lot about myself and a lot about my HOOCH! When I asked my doctor why I got cervical cancer, she answered very matter of fact "HPV caused your cancer." I had never heard of HPV before and I had no idea what she was talking about. She went on to explain the human papillomavirus is super common (like 80% of everybody gets it), for most people, it's a transitionary virus that comes and goes without causing problems. She then explained that you can be exposed to it from one person one time and it can lay dormant in your system, only to pop out later. She said typically the Pap test catches the cell changes before they become cancerous, but that the Pap is not perfect and that is why it didn't catch mine. Upon further questioning, my doctor then stated that it was a newer, more accurate liquid Pap, a "Thin Prep Pap Test" that actually caught my cancer. I was confused and asked if every woman now gets the new Pap and she said: "no, it usually depends on insurance or that particular office's practice." I thought that seemed unfair.
My curiosity grew and I wondered why I had never heard of HPV before, given how common it is. My doc then explained that there wasn't much they could do before, but recently (2002) they just came out with a DNA HPV Test that can be done with the liquid Pap. If a woman and her health care provider know she has HPV, she can be monitored more closely, so that if the cells start to change they catch them early, BEFORE they become cancer. As I absorbed all this information, I decided I wanted to tell every woman I know, and every man that loves a woman about how important it is to go to her Pap regularly, and advocate for themselves asking for the better, new liquid Pap as well as ask for the HPV test (if 30 or older). I literally told anyone who would listen to do what they can to keep the HOOCH happy and healthy. Then, I realized I wanted to tell everyone, not just people I love, I wanted to bring the conversation to a larger level. I decided I would use the universal communicator, music. I would use pop music to talk about pap smears.
I called the concert POP SMEAR!
Catie Curtis, The Mudhens and Jim's Big Ego agreed to help out, The Paradise Rock Club let us do it there and Amy Brooks from 92.9 volunteered to emcee, most Boston papers, magazines, and TV networks helped promote and cover the story, thus, increasing the reach of message. We raised $10k that night that I proceeded to donate to the ACS, GCF, and NCCC. I had found a new purpose and it worked! I knew I wanted to keep it going, so I established my non-profit PopSmear.org which eventually became The Yellow Umbrella Organization (named after a scene in Harold and Maude and one of the songs I wrote post-cancer).
I took this concept and created 'The Yellow Umbrella Tour', and with the help of sponsors, grants, and donations, over the next several years, we did more than 75 tour dates in clubs across the country. It was an unbelievable experience, living my dream of playing music with my band in amazing clubs, all while spreading this message of "Save the HOOCH!"
In 2006, the conversation expanded as the first HPV vaccine was introduced for girls and young women 9-26 (and now for boys and young men as well). I took my music and the message into colleges, high schools, and middle schools. People would question if students could handle this type of topic… talking about "the HOOCH" and gynecologic health and sex and cancer… and the answer is YES because at the end of the day it's all about stopping cancer. Nobody wants someone they love to get cancer. That is universal. So, after all these years, I continue to sing to save the cervix in front of any audience that will listen and am proud to be part of the Down with HPV movement!
Your courage in the face of adversity in terms of medical and emotional wellbeing is inspiring.  Looking back, how do you feel about the road? 
It has definitely NOT been a smooth road! Physically I have faced two other major health crisis, including 2005 removal of part of my upper right lung lobe to be told I had a form of TB, and then in 2009, having an infection in my spine called Propriobacteriamacne Osteomyelitis that ate an entire disc and part of my spine, leaving me in incredible pain and unable to walk for months. Both are freaky weird medical conditions that were most likely a result of me having a compromised immune system from my treatments. In addition, I have chronic radiation enteritis and random bleeding because of the ongoing radiation damage. But at the end of the day, I would do it all again because I am still here, I'm still not dead yet!
With regard to The Yellow Umbrella Organization, it has also been anything but a smooth road. My goal and intention has always been and always will be consistent – I don't want anyone else to have to go through what I went through, lose their fertility, or lose their life to cervical or any HPV cancer. Period. My ability to share that message and empower people with accurate information about the HPV Vaccines, HPV Tests and liquid Pap Tests has varied over the years depending on the opportunities to speak in front of different audiences. I literally have stood in front of 5000 global scientists working in the HPV world, and also in front of three middle school girls, delivering the same message. From senators to sales reps to cytologists to 7th graders, in rock clubs or after school clubs, I appreciate each and every opportunity, no matter how big or how small, and hope to make a difference. But the reality is that having financial support often dictates what level, the extent of reach and breadth of audience you can reach. In my case, I have periods of zero financial support, and periods of incredible financial support in the form of grants and donations. It is an unpredictable market, but I have learned over time to just breathe through the low times, work on the local level, utilize the support of my awesome community, and then when larger national and international opportunities arrive – I embrace those too!
So, as you know, we're impressed with The Yellow Umbrella Organization – tell our readers more, for example, what you're most proud of and what sets you apart from others.
The Yellow Umbrella Organization is all about educating and empowering people about preventing cervical and other HPV cancers. I wanted to make it easy for people to talk about this topic that is NOT easy to talk about, so our branding is very friendly, bright and makes most people smile. When I decided to actually create a smiling cervix and utilize the phrase 'Save the HOOCH' – some of my friends and board members thought I was crazy but turns out that has been a very marketable/memorable saying. I have had over 20,000 buttons made and given out over the years! People will see it and sometimes ask if its a bagel, or a cheerio, or a donut… which then leads to starting the conversation… "it's a smiling cervix! I saw this crazy redhead who had cervical cancer and this is her smiling cervix reminding boys and girls to get that HPV vaccine and for ladies to get the liquid Pap and HPV test"… or something like that! I'm proud that The Yellow Umbrella Organization represents what it truly means to work together for the greater good.
Let's touch on your thoughts about our city – what do you like the most and least?
I LOVE Boston and I LOVE Salem for the same reason – the amazing eclectic artistic communities! The number of creative people and positive energy that exists in this area is amazing. In Salem, I love that being able to skip and twirl down the red line and find a friend at any given moment. I would have to say my least favorite part of this area would be driving into and around Boston. UGH! We are fortunate to have a great public transportation system, but it is not always user-friendly. When you go out in Boston to see live music, most gigs get out after the T has stopped running to the north shore, which is a huge bummer and limits opportunities to support awesome live music.
Contact Info: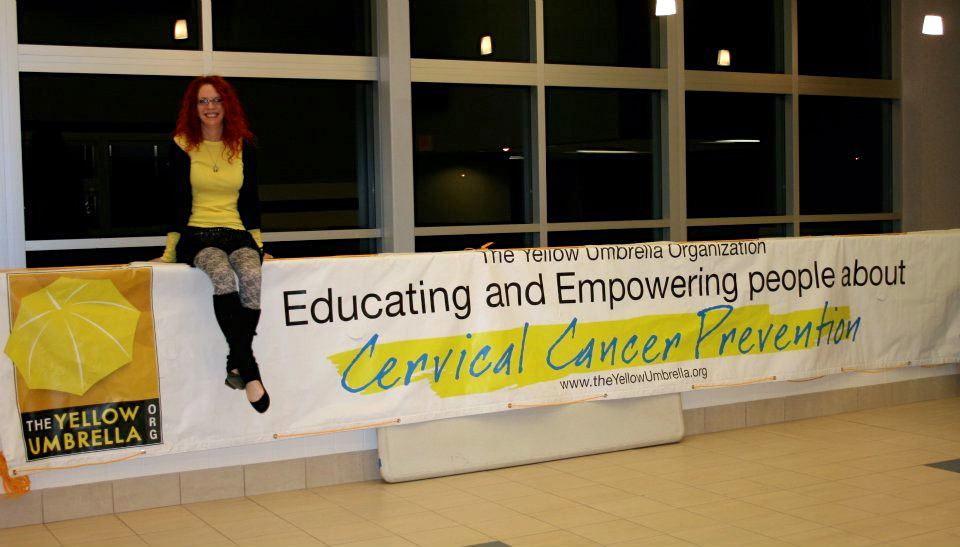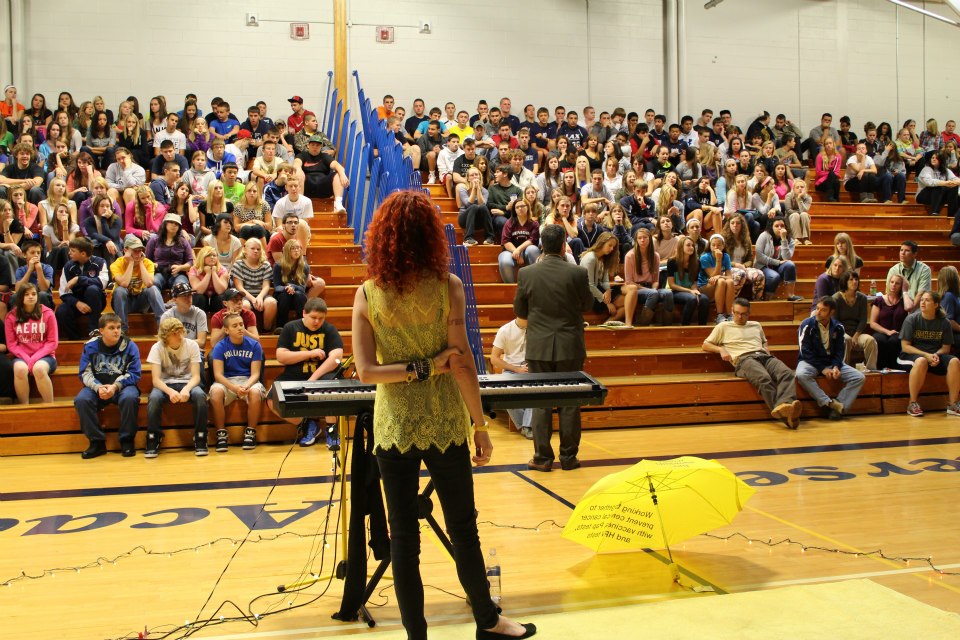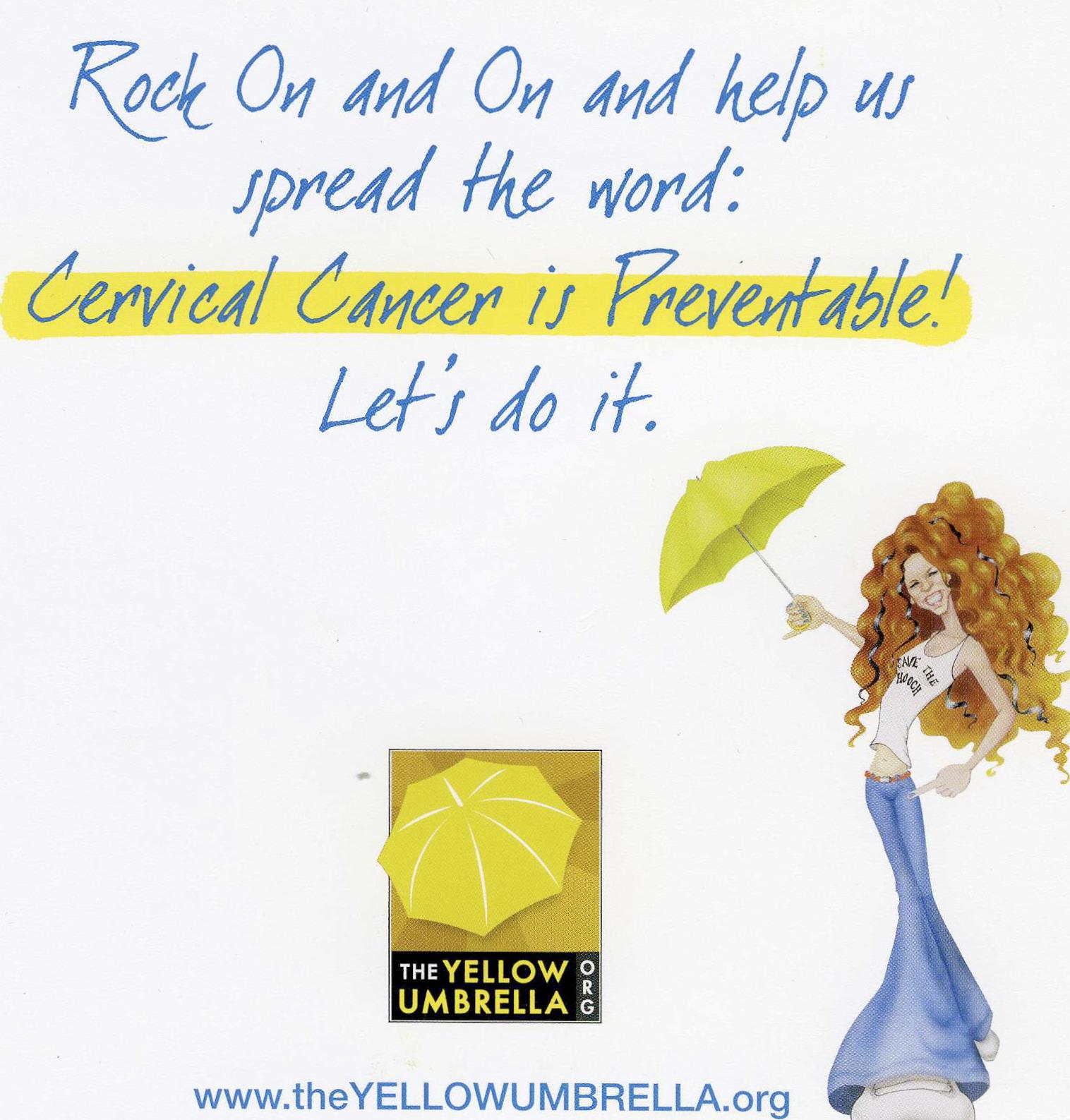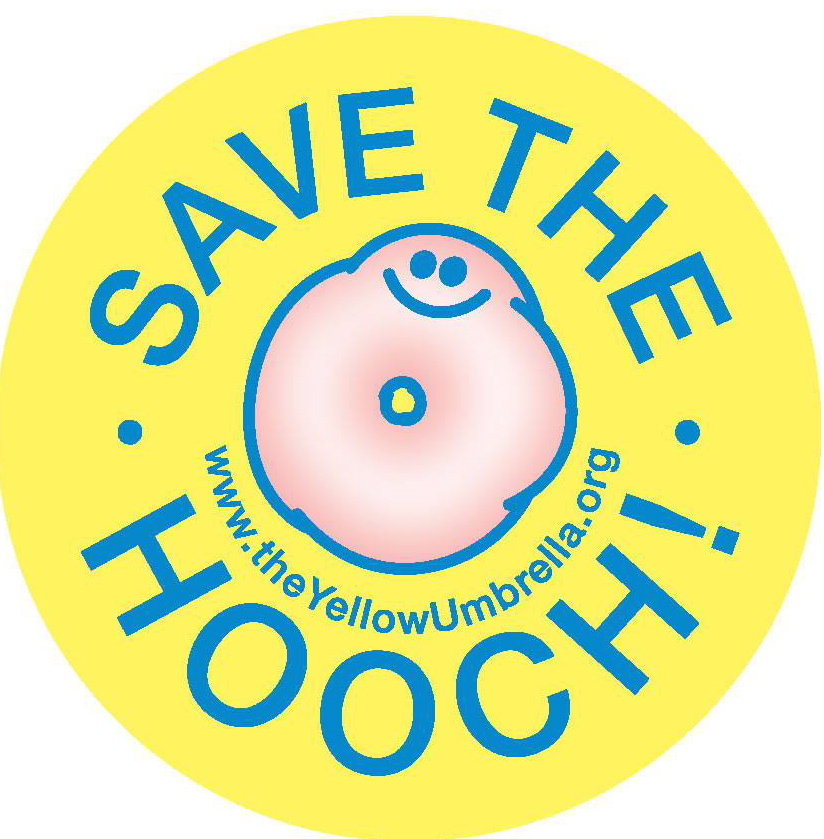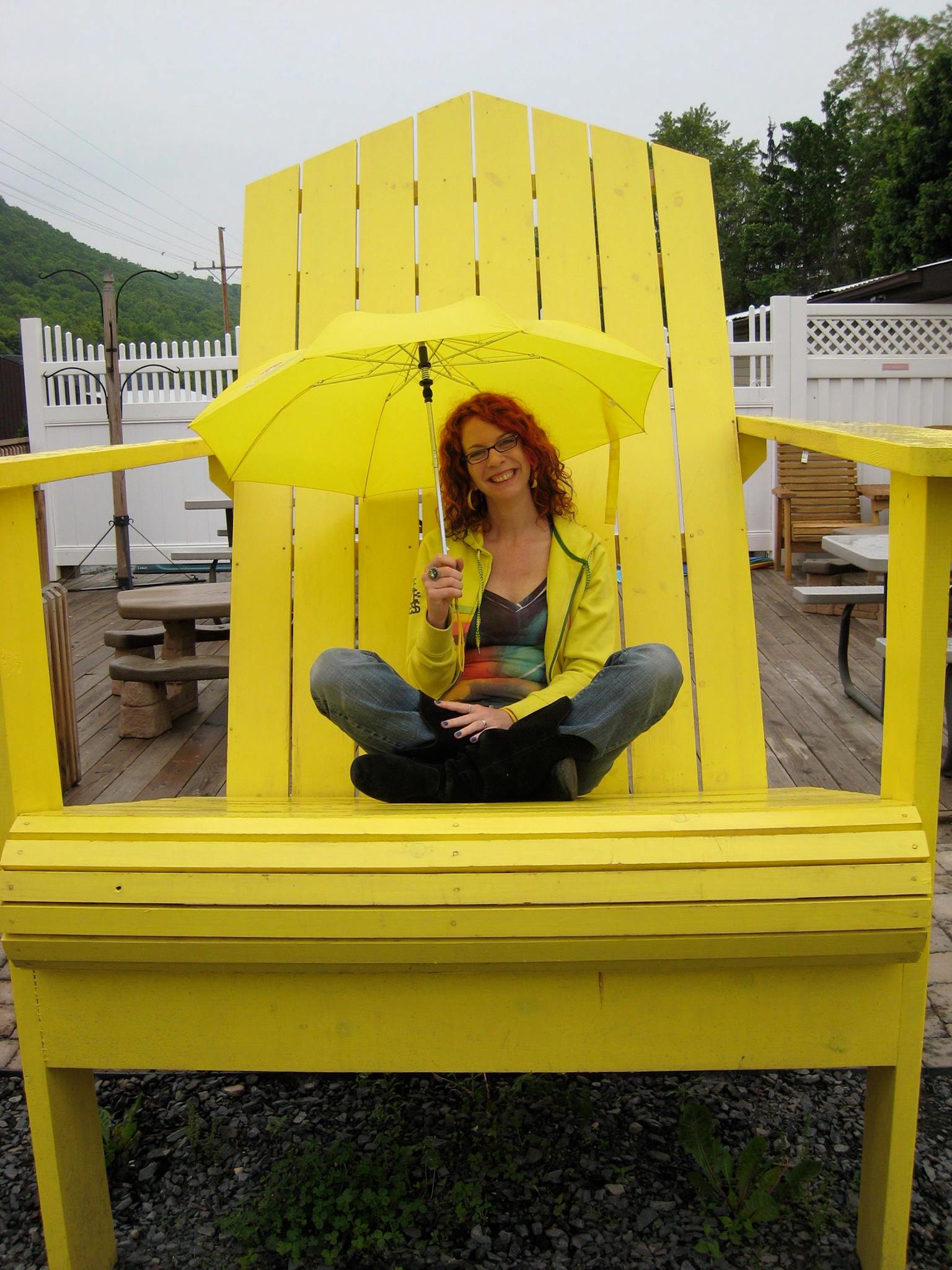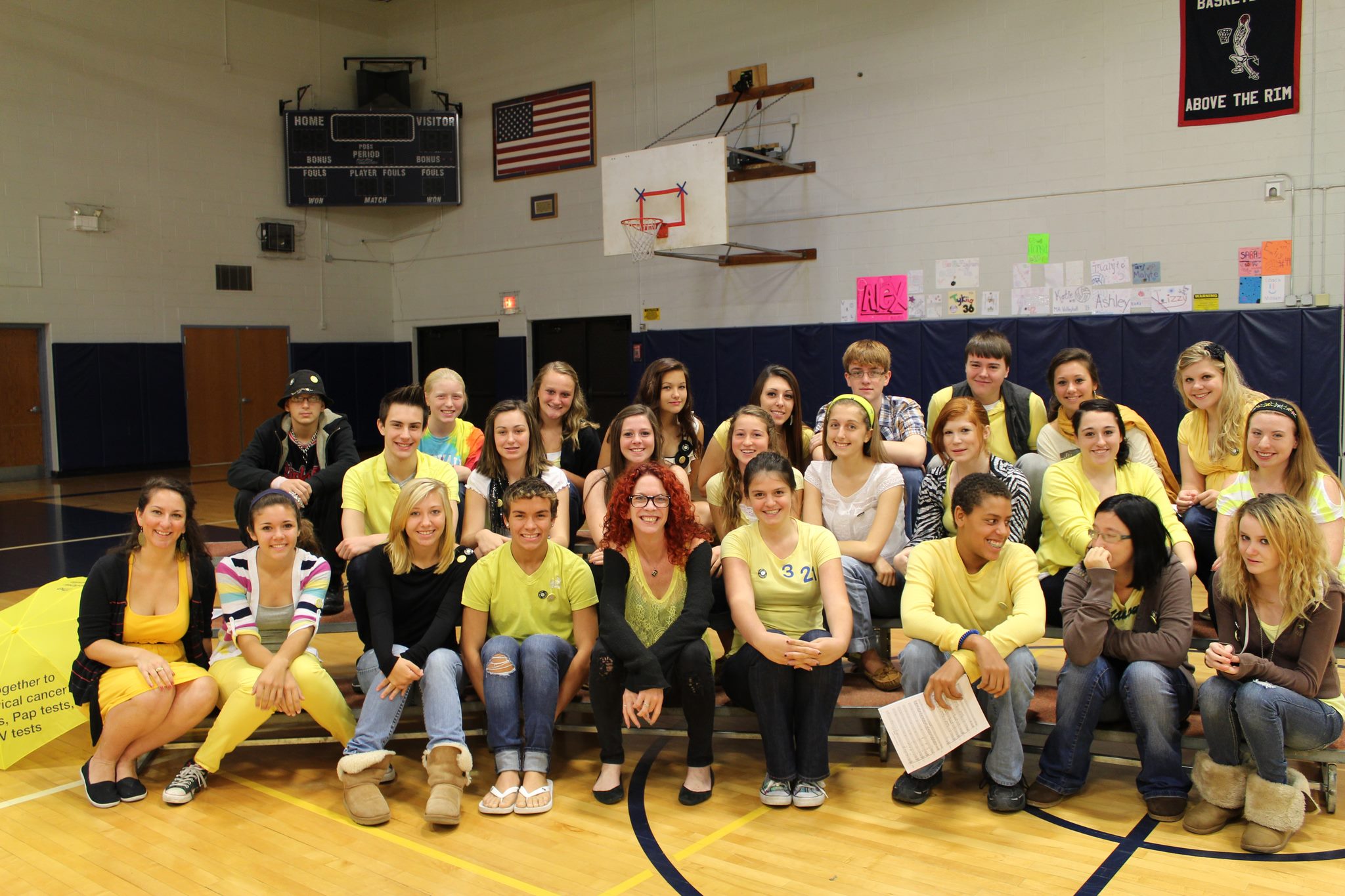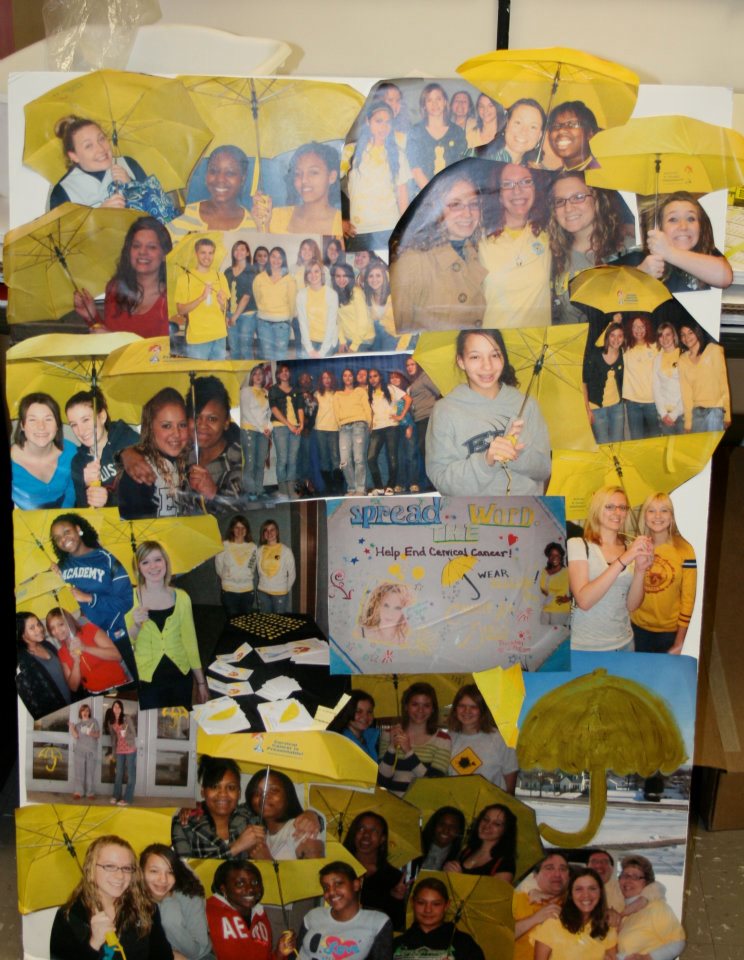 Getting in touch: BostonVoyager is built on recommendations from the community; it's how we uncover hidden gems, so if you know someone who deserves recognition please let us know here.