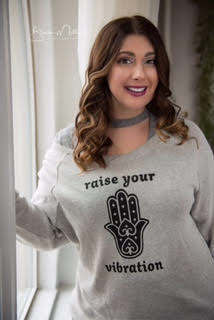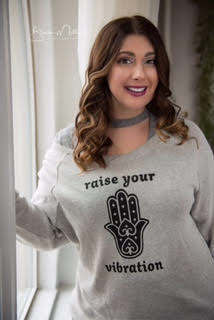 Today we'd like to introduce you to Amber McMahon, M.Ed., LMHC.
Amber, please share your story with us. How did you get to where you are today?
As a lifelong intuitive, Reiki Master, and licensed psychotherapist, who has a background in crisis management working with many different populations including; children and families involved with the Massachusetts Department of Mental Health and Department of Children and Families, survivors and whiteness of domestic violence, and families of motor vehicle homicide victims, I have been blessed with the capability to help countless numbers of individuals.
In 2014 my father passed away, seeing my father take his last breathe had an ever lasting impact on me. He had a tough life and struggled with alcoholism. After his passing I could no longer brush my gifts under the carpet. I set out on a mission to live every day to the fullest and make each moment count, wanting to help facilitate healing in others and to empower them to be the best version of themselves.
I have always had the ability to connect with loved ones who have passed and had the ability to use energy to decrease pain in others. In 2015 I received my Reiki I and Reiki II certifications from Libby Barnett, after receiving these two attunements there was no turning back. I opened my office in Arlington Massachusetts seeing clients for Intuitive reiki sessions, reiki and guidance sessions, life coaching, spiritual guidance, angelic mediumship readings, and therapy only on a part time basis. In July of 2016, after my second daughter was born I decided to take a total leap of faith and go into private practice on a full time basis. I have helped countless number of amazing individuals of all ages overcome obstacles, succeed in new directions, and have supported them healing on a variety of different levels. I have supported clients carving out the time to make self-care a priority as I believe that Self Care for the Soul is of utmost importance so that one can be balanced Mind. Body. And Spirit, from clients starting from newborn through 71, it has been a sheer joy for me to be able to combine my disciplines together to empower individuals to be the best version of themselves on their journey of manifesting their soul's desires. It is my passion to work with a wide variety of people to bring much comfort and forward healing.
My Background is in crisis management. When serving clients in great distress, I realized that so much support and guidance was necessary after the immediate threat was managed. I realized that I could help people heal completely, and founded my business with that objective. I guide people out of distress, whether it be physical, mental, or emotional. This is the reason that I started both sides of my businesses. I came to the realization that the clients who coupled reiki sessions with coaching and guidance had miraculous results. I realized that I should offer these together. Since the start of my business the majority of my clients see me for these sessions on a biweekly basis. They report feeling balanced, having clarity of mind, a new direction, decreased physical pain, emotional pain, have more hope, are better able to manage daily situations and stress that arise. My clients report that sessions are life changing. Words do not give reiki the justice that it deserves. Reiki is a holistic wellness practice, it uses universal life force energy which travels through my hands which ignites the cells within the body to awaken the body's own natural healing ability. Reiki puts the mind in a delta/meditative state where healing occurs.
People who know me best consider me to be spiritual, caring, no nonsense, focused, and a consistent guide. I start each day with gratitude and meditation so that I can be the best for my clients. Together I support my clients with setting intentions to manifest their SOUL desires. Most recently I received my Reiki Masters and Reiki Masters Teacher attunements and certifications, again from Libby Barnett, and it is my mission to make this holistic wellness treatment modality mainstream. I am excited to teach others my passion so that they can pass on and share reiki with others. In all aspects of my business I am heart centered and grateful to be able to work with amazing individuals for all services that I provide.
Great, so let's dig a little deeper into the story – has it been an easy path overall and if not, what were the challenges you've had to overcome?
Starting a business is always challenging but my background in crisis management prepared me to consider a problem, and form a solution that I could achieve.
I do not believe that there are many struggles, just countless numbers of opportunity for growth.
Alright – so let's talk business. Tell us about Amber the Karma Queen – what should we know?
Essentially I have two business, Amber the Karma Queen (Reiki, guidance, Coaching, Angelic Messaging Mediumship and Spiritual Energy Healing) and Amber D. McMahon, M.Ed., LMHC. (Psychotherapy Practice).
At Amber the Karma Queen, I offer Reiki Sessions, Reiki with guidance/Coaching sessions, intuitive guidance, angelic mediumship sessions, teach Reiki I and Reiki II and am about to launch several small group workshops.
My passion is facilitating others on their journey. The majority of my clients combine reiki sessions with Coaching/Guidance and have experienced miraculous results. Many clients report a decrease in anxiety, worry, depression, stress, and a decrease in physical and emotional issues. Many clients have reduced the use of traditional medication for emotional and physical problems that they were having. Some clients, who had been experiencing fertility issues and being on several trials of IVF and completely upset and frustrated with the system and treatments decided to stop IVF, and have ended up pregnant on their own after doing reiki on a consistent basis. Each session is individualized. I meet each client where they are at. I am all about connection and aligning individuals with their soul's desires'. A reiki session with me is about connection, intention setting and the reiki energy; universal life force energy that works through me to ignite the cells within the body to awaken the body's own natural healing ability whether it be physical, mental or emotional.
Many describe a reiki session with me to be relaxing and rejuvenating. You will experience a feeling of wellbeing that permeates the whole body. Part of what sets me apart from other Reiki Masters is my gentle yet potent connection to pure source I am able to reconnect you with parts of yourself in a soothing way that will leave you feeling energized and affirmed. I am most well known in my reiki sessions to intuitively to be able to locate and soothe any spots of discomfort be they physical, or emotional, spiritual imbalance's that might be known to you, but are affecting your daily life and energy levels, ability to focus. Clarity of thought will be worked on with healing activations. Because of my background working with children, I have been able to support some amazing young individuals who are just figuring out that they are empaths and healers by using reiki and providing education to them on how to be able to manage and work with their divine and special gifts.
Coaching and guidance are a passion for me. Coaching sessions are action oriented and self-directed. Sessions give you guidance, tools, and steps to assist you in reaching your soul's desires and life goals. Working together to be able to let go of fear, worry, and resistance. People come for coaching and or guidance for a variety of reasons such as career, spirituality, relationships, family, and health.
Angelic, Psychic, and Mediumship Sessions are extremely healing they give peace of mind, and hope. My connection to spirit starts prior to the clients' arrival to my office. As loved ones begin to connect with me, I begin to write messages and images from loved ones who have passed. Angelic guidance and intuitive wisdom that pertains directly to you can be held in a standalone session or in combination with your Reiki Session.
For clients who are seeking therapy, I am a licensed mental health counselor in the state of Massachusetts. As a therapist I am solution focused and come from the Cognitive Behavioral Therapy (CBT) school of thought and practice.
My spiritual connection to the angelic realm, holistic and individual approach to sessions, intuitive ability, coaching, clinical background, and natural heart centered practices, provides a solid basis for which both of my businesses flourish.
Is there a characteristic or quality that you feel is essential to success?
What qualities or characteristics do I feel is most important to my success…..? That is a difficult question as everyone defines success differently.
Because of my background in crisis management the same skills that make my business successful served me while I was building my business. Everything people say is true: it is a lot of hard work and it is gratifying. What is most gratifying for me is when my clients move pass the problem or crisis, and become able to consider a new path, or a new life and we work to achieve this together.
My background in crisis management has given me all of the time management tools to be able to prioritize the daily tasks of running two business. The many years of hands on experience working with individuals from many walks of life clinically has been so crucial to who I am as a practitioner and facilitator.
It is because of hard work, dedication, support from others, and amazing clients that I have a successful practice and love what I do each moment of the day.
I believe that I have been successful because I bring my true authentic self, compassion, a whole lot of heart, and authentic hand on experience and knowledge to both of my practices, and clients.
I am dedicated and my passion is empowering and facilitating others of all ages on being the best version of themselves. I am heart centered, I meet each of my clients where they are at and hold my clients healing and self-care for the mind, body, and soul of utmost importance.
Contact Info:
Address: Amber the Karma Queen
Reiki Master Teacher, Mindset Empowerment Coach, Spiritual Energy HealerAmber D. McMahon, M.Ed.,LMHC.
Website: amberthekarmaqueen.com and amberdmcmahon.com
Phone: 339-707-0348
Email: amberthekarmaqueen@gmail.com
Twitter: @amber_mcmahon
Yelp: Amber D. McMahon, M.Ed.,LMHC.
Image Credit:
Photos by Black Mill Photography Manchester New Hampshire
Hair and Makeup by J. Gallant Hair and Makeup Londonderry New Hampshire
Getting in touch: BostonVoyager is built on recommendations from the community; it's how we uncover hidden gems, so if you know someone who deserves recognition please let us know here.